Welcome! This blog tracks the real estate market in the Central Shenandoah Valley, featuring market data and analysis, an exploration of common buying and selling questions, and candid commentary on all things real estate.
If you are interested in discussing any of the topics on this blog, or the details of your specific real estate situation, call or e-mail me!
Townhomes



Have you heard about that new development on Boyers Road?




There are quite a few of them!





Here's an overview of what exists or is coming soon, numbered as per the map above...

Those are all of the major developments I'm aware of along Boyers Road - but who knows what else is to come along this increasingly busy corridor!






If you have a townhouse to sell in the City of Harrisonburg, built in the past 20 years, that would be priced under $200K, this may be an excellent time to sell it.




Here's why...




Over the past three months, there have been (15) sales of such townhouses -- so, around (5) buyers per month are buying townhouses built in the past 20 years, priced under $200K in the City of Harrisonburg.




Not surprisingly, then, there are (9) such townhouses currently under contract.




But wait, what!? There is only (1) single solitary townhouse for sale in the City of Harrisonburg under $200K right now that was built in the past 20 years.




So -- if you own a townhome in Avalon Woods, Beacon Hill, Harmony Heights, Liberty Square, etc. -- this might be an excellent time to sell.





Email me

to chat about your townhouse and its value in the current market.






It can be hard to find a townhouse for sale these days -- many of them are under contract within days or even hours of being listed for sale.




So if you are a buyer looking to purchase a townhouse in or near Harrisonburg -- you should start thinking about the process sooner rather than later.




Some first steps...

Talk to a lender to become pre-approved for a mortgage to purchase the townhouse.


Explore different townhouse communities to get a sense of which ones will be of interest to you.


Track new listings to be alerted as soon as properties become available.

And here are a few resources you might find helpful...

HarrisonburgTownhouses.com - an overview of townhouse communities in or close to Harrisonburg.


Newest Townhouse Listings - a quick link to the latest townhouse listings.


NewListingsInHarrisonburg.com - sign up for email alerts of new listings, and email me (scott@hhtdy.com) if you want me to refine your email alerts to a specific set of criteria.

Let me know if I can be of assistance to you as you start the search for the townhouse you hope to purchase in or around Harrisonburg.







Over the past few months I have listed several townhouses for sale that went under contract quickly after a LOT of showings in a very short timeframe. For one such recent property there were six offers within 48 hours.




One of the things that struck me as we worked through that process was that there were five other buyers who really (!!) wanted to buy that townhouse and couldn't -- because there was only one townhouse to be purchased. As such, I feel bad for townhouse buyers in the current market. Townhouse buyers have a LOT of competition and I can imagine a single buyer making an offer on multiple townhouses and missing out every time.




So, a few tips for would be townhome buyers...

Talk to a lender immediately to have a pre-qualification letter (or even better - a pre-approval letter) in hand when you are ready to make an offer.

Track new listings closely so that you know as soon as a townhouse hits the market.

Schedule an appointment ASAP to see the townhouse once it comes on the market.

If you want to make an offer, put aside time right away to meet with your agent to do just that.

If there are (or are likely to be) multiple offers, consider offering the full asking price, or even going a bit above the asking price - depending, of course, on how reasonable the list price is.

Offer as sizable of a deposit as you are comfortable with offering. $2,000 is better than $1,000 is better than $500.

Offer as short of a timeframe as is possible for the home inspection contingency - or forgo the inspection altogether if you are comfortable doing so, based on the property.

If you don't need a closing cost credit, don't ask for one, even if the combination of the requested closing cost credit and your offering price still provide a desirable net price for the seller. Asking for a closing cost credit when you don't need one unnecessarily inflates the contract price, creating more of a potential issue of having appraisal issues.

Include as short as possible (20, 25 or 30 days) of a timeframe for obtaining loan approval. You'll more easily follow through on this commitment if you are pre-approved instead of pre-qualified. Ask me if you aren't sure about the difference here.

Include as short of a possible timeframe for closing on the purchase, while still taking into account any ramifications of the seller's situation or timetable.

Include a cover letter to the seller if you so desire, to explain who you are, why you want to buy the townhouse, where you work, whatever is going to help personalize the offer and help the seller to see you as people rather than just proposed contract terms on paper.

Be patient in waiting to hear back from the property owner. They may very well have quite a few showings over the first few days and may understandably want to let multiple buyers view the property and consider an offer before responding to the very first offer that they received.


I suppose one critical aspect that I did not list above would be to hire a buyer's agent to represent you in finding, pursuing and purchasing your townhome. I'd suggest you select someone who is highly responsive, professional and knowledgeable about the market.





Happy townhouse shopping!





(Or may it just not be too unbearably difficult, frustrating and tiring.)







Townhouses in the City of Harrisonburg are selling QUICKLY!





The "Days On Market" referenced above is the number of days between when a property is listed for sale and when it goes under contract.




Just three years ago, the median days on market was 24 days - which means that half of the townhouses that sold went under contract in fewer than 24 days, and half took longer than 24 days.




But now, the median days on market has dropped down to just FIVE days in 2020.




Oftentimes, sellers of townhouses who want to buy a single family home are worried that they won't be able to sell their townhouse quickly enough to then make an offer on the house they want to purchase - this should be at least somewhat less of a concern now given the speed at which townhouses are going under contract!







Depending on your short and long term financial goals - yes, it may be an excellent idea in the current market to do just that - list your rental property for sale for one month between tenants...





In a recent conversation with the owner of a rental property, they were reflecting on the fact that after a tenant recently vacated their rental property (a townhouse) they were making quite a few updates and improvements to the townhouse based on some aging components and finishes in the property. They realized that the townhouse would be in better shape than it had been for years -- and that the condition would likely start to deteriorate (even if just a bit) as soon as they moved tenants back in.




So, they wondered whether they should go ahead and just sell the townhouse instead of renting it again -- since it would be in great shape.




But they lamented the fact that they'd need to keep it off the rental market for several months to see if it would sell at a price that would suit their financial goals - in other words, a sales price whereby it would make more sense for them to sell it than to continue to rent it.




Here are a few thoughts I shared with this owner of an investment property...

Townhouse values are relatively high right now - higher than they have been in a while. It could be a good time to sell a townhouse rental property.

Indeed, selling a rental property just after having made improvements -- instead of after tenants have worn the property down again -- can be an excellent idea.

It is definitely easier to sell a rental property between tenants because an owner occupant or an investor can buy it.

An owner occupant is likely to pay more for your rental property than an investor would pay -- reinforcing that you'd really want to sell it between tenants, or at the very end of a lease cycle.

Many to most townhouses have been going under contract quickly of late -- in fact, of the 107 resale townhouses in the City of Harrisonburg that have sold in the past year, 69% of them were under contract within 30 days.

So - here's an idea, if you own an investment property and you are about to have a tenant move out and you are about to make some improvements to the townhouse...




Move the tenant out. Make the improvements. List the townhouse for sale for one month at a price for which you'd be happy to sell instead of continuing to rent the property -- so long as that value is generally in line with recent sales prices for similar townhouses.




With this concept you don't have to commit to listing the property for six months, missing out on rental income, etc. -- but you can quickly determine if you could sell the townhouse while it is at its peak (from a condition perspective) at a price that would make it worthwhile for you to do so.





OK - that was a lot. I'd be happy to talk it all through with you as well - in person, by email, by phone, etc. If you own a rental property and *might* want to sell it soon - be in touch (

scott@hhtdy.com

or 540-578-0102) and let's talk strategy...






Some time ago, I created a website (

HarrisonburgTownhouses.com

) for exploring townhouse communities in and around Harrisonburg, Virginia. This allows you to explore sales trends, value trends, see recent sales, current listings, etc.




So -- feel free to explore the website -- but don't expect to find many townhouses listed for sale.




If you were a buyer looking to buy a townhouse, built in the past 10 years, you'd have some difficulty. Current inventory (as of 1/8/2019) includes:

one vacant townhouse in Liberty Square II
four townhouses under construction at The Townes at Bluestone that won't be complete for another four+ months

So - as excited as a first time buyer might be to purchase a townhouse in the City of Harrisonburg - they will find that they have very (!!) limited options right now.







This is a somewhat limited analysis, but I think it can be helpful to understand what we're seeing in changes in demand for new-ish townhouses in the City of Harrisonburg and just surrounding. The analysis above includes the following townhouse developments of properties built since 2000:

Avalon Woods
Beacon Hill
Cedar Point
Harmony Heights
Liberty Square
Stonewall Heights
Taylor Spring
The Townes at Bluestone
The Townes at Wellington Park

As shown on the chart, there are an increasing number of sales happening in these developments (88 sales in 2018 is for the first eight months of the year) and the median sales price is rising -- more quickly now than a few years ago.




I expect sales of this type of townhouse to continue to be strong over the next few years -- though if we see a large number of new construction townhouse developments coming online it could affect the pace of sales in resale townhouse developments.



The last few townhouses listed for sale in the City of Harrisonburg (under $175K, built since 2000) have gone under contract QUICKLY -- with multiple offers.

So far, we have not seen a wild uptick in median prices of townhouses based on this excessive demand (and limited supply) but we could start to see that at some point....

Median Townhouse/Condo Sales Price in Harrisonburg and Rockingham County:

Jan - Dec 2014 = $151,750
Jan - Dec 2015 = $151,750
Jan - Dec 2016 = $149,500
Jan - Nov 2017 = $159,000

If you are fortunate enough to own one of these -- and be in the market to sell it -- you should not have difficulty in securing a buyer.

If you are unfortunate enough to want to buy one of these -- bid early, bid aggressively, and if you keep missing out on properties, be prepared to bid often.

Well -- I was going to remind you of this great web site or exploring our local townhouse communities where you might consider purchasing a home or investment property....

HarrisonburgTownhouses.com

And then, in the process of poking around to see what types of townhouses are currently on the market, I discovered that....

There are ZERO (zip, zilch, nada) townhouses currently for sale in the City of Harrisonburg, that exist (not "to be built") that have been built in the past 10 years, that do not have a tenant living in them.

That long sentence might make it seem like I am looking for a very narrow category or properties -- but I don't think I am. If a buyer wanted to buy a City townhome built in the past 10 years, and close on their purchase in the next two months, they would need the townhouse to already exist (not something that requires another 4 - 5 months of construction) and they would need the townhouse to not be tenant occupied.

There are some townhouses on the market at

The Townes at Bluestone

that are under construction and could be available in a few months.

There are some townhouses on the market in

Beacon Hill

(and on

Norwood Street

) that currently have tenants in them.

But as far as recently (past 10 years) built townhouses ready for an owner occupant to move in -- buyers currently have ZERO options -- yet another example of

how low our inventory levels have become

.
Given continued low interest rates and some increase in home values, let's take a new look at the opportunities of buying versus renting.

RENT = $1050/m.

There are regularly options for renting a two-story townhouse in Harrisonburg for approximately $1050 / month in Avalon Woods, Beacon Hill, Stonewall Heights, Liberty Square, etc.

BUY = $1012/m.

With a 95% loan, buying such a townhouse apparently may cost as little as $1,012 per month assuming a $155K purchase price and a 4% interest rate per SunTrust Mortgage's

payment calculator

....

This shows a rather small, $38/month, cost savings of buying instead of renting. If we then look at the difference between renting and buying over a five year time period, the advantages start to pile up.

As you can see, this builds a rather compelling case for buying instead of renting if you are going to be living in this potential townhouse for the next five years. Two other factors to keep in mind....

Your cost savings will potentially be even greater than outlined above based on your tax savings you will see each year because of having paid mortgage interest.


The analysis above does not factor in your closing costs when buying.

Your "buying" costs could end up being higher than outlined above because of any property owners association fees as well as any home maintenance you would need to pay for during that time of owning the townhouse.


If you are renting a townhouse now, but suspect you will be living in Harrisonburg for the next five years, let's chat about what could make the most sense for your housing situation.
OK, admittedly, there are still SOME townhouses remaining to be purchased in Harrisonburg and Rockingham County -- but the inventory levels are declining relatively quickly.

In fact, there are now just 68 townhouses (and duplexes and condos) for sale in all of Harrisonburg and Rockingham County -- which is a 59% decline from two years ago. Wow!

Some part of this is that buyer demand is increasing -- and the situation also isn't helped by the very small number of new townhouses that are being built these days.

Over the past 10-15 years we saw many new townhouse developments that (at the time) fell into that price range, including:

Now, however, there are significantly fewer options available when it comes to newly built townhouses in or near Harrisonburg, under $200K....

It is not clear if or when the townhouse market will start to see any significant increases in inventory levels.
If you were hoping to buy a townhouse at

The Townes at Bluestone

, act quickly! There is one remaining building in Section One, with seven townhouses. Of those seven....

2 townhouses are sold
3 townhouses are under contract
2 townhouses remain for sale

Click here to view the available townhouses, floor plans, standard features, or photos of the new model home at The Townes at Bluestone.

Why are these townhouses selling so rapidly?

A great location in the Blue Stone Hills area, with close proximity to shopping, dining, etc.
Well thought out floor plans with one-car or two-car garages.
Exciting standard features and flexible upgrades and options.

Let me know if you'd like to take a peek at the new model home at The Townes. Just call me 540-578-0102 or send me an email: scott@HarrisonburgHousingToday.com.



HarrisonburgTownhouses.com

has been updated with sales data from 2013-Q2, and many townhouse communities are (finally) starting to see median prices increase again.

So, are you wondering about property values in your townhouse community? Or considering purchasing an investment property? Whatever the reason for your interest in townhouses in Harrisonburg, you will likely find the information you need at

HarrisonburgTownhouses.com

, including (for each townhouse community):

a photo tour
the size and age of the neighborhood
an overview of the floor plans available
property owner association dues
trend data showing the pace of sales and changes in market value (just updated for 2013-Q1)

a neighborhood map
properties currently for sale
recent sales in the neighborhood
restrictive covenants and a plat

The townhouse communities featured on HarrisonburgTownhouses.com include:

Learn all about Harrisonburg's 22 townhouse communities on

HarrisonburgTownhouses.com

, now updated with 2012-Q3 sales trend data.
After staying relatively stable over the past few years, townhome values are dropping quite quickly in 2011 -- per the median home value of Harrisonburg and Rockingham County townhomes....

Townhome Sales between January and March 2010:

42 sales
Average Sales Price = $171,260
Median Sales Price = $155,000

Townhome Sales between January and March 2011:

32 sales
Average Sales Price = $144,608
Median Sales Price = $126,000

I believe what we're seeing here is that the median (and average) sales prices are coming down because of the composition of which (townhome) properties have actually sold in the first quarter of 2011. If my theory is correct. the median (and average) sales prices might increase quickly as the year continues. Alternatively, they could stay quite low if the smaller, older, more remote townhomes continue to sell -- at lower prices than most.

Properties selling in 2011 (1Q) under the $126,000 median sales price included:

$49K - 1346 Hunters Road (Hunters Ridge, student condo)

$74K - 423 Wirt Avenue (Elkton)

$90K - 3602 Killy Court (Massanutten)

$90K - 1171 Rosedale Drive (Rosedale)

$100K - 116 Granny Smith Drive (Timberville)

$100K - 118 Granny Smith Drive (Timberville)

$100K - 120 Granny Smith Drive (Timberville)

$107K - 1642 Buttonwood Court (Harmony Heights)

$113K - 964 Rosedale Drive (Rosedale)

$116K - 1017 Misty Court (Misty Meadows)

$120K - 136 Olivia Dawn Lane (Broadway)

$120K - 1151 Commercial Court (Park Crest)

$123K - 206 A Fourteenth Street (Grottoes)

$125K - 3004 Kidd Court (Massanutten condo)

$125K - 206 D Fourteenth Street (Grottoes)

$125K - 1211 Mountain View Drive (University Court)



The bottom line (if you made it down here) is that

the data thus far from 2011 does not necessarily mean your townhome's value has taken a nose dive

. It may just mean that small, less expensive townhomes are the ones that are actually selling these days.
It's rather puzzling. Despite fewer (and fewer) townhome buyers, prices are holding relatively steady....

One of my clients hypothesized that perhaps prices are holding steady because the townhomes that buyers are actually buying these days (2010/2011) are new townhomes, and are thus worth more.

To test this theory (which I definitely agreed with) I examined the median age of the townhomes that sold for each year between 2006 and 2010....

Based on the information above, it doesn't seem that townhomes are holding steady in price because buyers are just buying new townhomes these days. In fact, the reverse is true, more of the townhomes purchased 4 and 5 years ago were new than of those purchased in 2010/2011.

Examining the data from another perspective, I thought I'd check the percentage of the townhome market that is made up of sales of new townhomes....

Again, the data shows that fewer and fewer (proportionally) of the townhomes being purchased are new townhomes --- thus the theory that prices are holding because newer townhomes are what is actually selling does not seem to hold true.

So, what could it be? Any other theories that I can test? Why are townhome values so resilient in Harrisonburg and Rockingham County?
In working with several townhome buyers over the past few months, I developed the map below outlining the main "new-ish" townhome developments in and around Harrisonburg. There are certainly other smaller and/or older subdivisions, but this map shows the location of your main options for two and three story townhomes. Take a look below the map for links to properties for sale in each subdivision.

New-ish townhomes for sale in and around Harrisonburg:

Taylor Grove
The Gables

Twin Gables


For more information about any of these townhome communities, or for any other smaller, older subdivisions, e-mail me (

scott@HarrisonburgHousingToday.com

) or call me at 540-578-0102.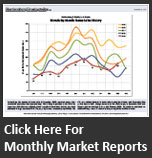 Subscribe

Receive notifications of new content on this blog, via e-mail or RSS reader.