Welcome! This blog tracks the real estate market in the Central Shenandoah Valley, featuring market data and analysis, an exploration of common buying and selling questions, and candid commentary on all things real estate.
If you are interested in discussing any of the topics on this blog, or the details of your specific real estate situation, call or e-mail me!
Find out more about this Mountaintop Retreat on 46 acres with a cabin, hiking trails, canyon and river

here

.

I just published my most recent monthly market report, and as usual, you can read on for an overview,

download the full report as a PDF

,

read the entire report with commentary online

, or tune in to my monthly video overview of our local housing market...

Now, let's take a closer look at some of this month's data....

As can be seen above....

Home sales declined during November 2016 to 94 sales -- a 17% decline from last November.

Home sales are down 6% thus far in 2017 as compared to the past 11 months of last year.

The median sales price has risen 3% over the past year, when comparing January through November of this year to last year.

Homes are selling a good bit faster this year than last -- with a 35% decline in median sales price, down to 33 days.




Last year certainly was interesting!?! Or odd!?!


Last August, September and November were OFF THE CHARTS as far as a record number of home sales for those months -- which then makes this year's sales trajectory seem as slow as mud in August, September and November. This November's sales were a good bit higher than in 2014 and 2015 -- but were solidly below November 2016.




So -- despite the fact that 2017 is hiding in the shadows of a towering year of sales in 2016 -- it is interesting to note that the 11 months of home sales thus far in 2017 (all 1,149 of them) has already surpassed the full 12 months of sales seen in 2013 (1067 sales), 2014 (1085 sales) and 2015 (1125 sales). As such -- while total home sales will likely be 5% to 6% lower this year than last -- that will still mark a solid improvement as compared to any other recent year.




After quite a few years of steady increases in buyer activity -- we are starting to see a decline. Over the past six months we have seen buyer activity taper off and start to decline. I believe this is a direct result of the drastic reductions in the availability of homes for those buyers to buy. As the number of sellers in the market at any given time has declined, eventually that also resulted in a reduction in the pace of buying activity.




Yeah, so, about those inventory levels. They are low and getting lower!?! And, realistically, when and how do we think that would or could change? In theory, inventory levels will rise this coming Spring -- except they didn't during 2017. Looking back, the end of last November was the highest inventory level we saw for the following 12 months!?! So -- hmmm -- absent any outside factors (new home construction, anyone?) it is possible that the current inventory level (322 homes for sale) could be the highest inventory level we will see for the next 12 months!?! Stop and think about that for a moment....




Somewhat interestingly, as shown above, there has been a larger (proportional) decline in inventory levels for attached properties (townhouses, duplexes, condos) than for single family detached properties. There are now only 56 townhouse/duplex/condo properties available for sale in all of Harrisonburg and Rockingham County!

And finally -- one last look at some interesting trends....




As shown above, nearly half (46%) of homes that are selling (not of all that are listed) are selling (going under contract) within 30 days of hitting the market. So -- yes -- the market is moving pretty quickly in many locations and price ranges!

OK -- I'll stop there for now. There is plenty more in my full market report, so feel free to download it as a PDF, read the entire report online, or watch/listen to a video overview of this month's report.


And, my reminders for buyers and sellers last month still apply....

SELLERS -- even though it is a seller's market in many price ranges right now, you must still focus on price, condition and marketing.


BUYERS

-- it can be difficult and frustrating to buy right now -- make it a bit easier for yourself by

knowing the market

,

knowing the process

,

knowing your buying power

, and

closely monitoring new listings

!

For further reading on buying or selling in this area, check out....


scott@HarrisonburgHousingToday.com

.



Numbers are funny.

All of these statements are true based on current projections:

City Council might decide to pay $76 MILLION for a new high school.


City property owners might see a 16% increase in their real estate taxes!

The owner of a $350K home in the City would pay nearly $500 ($473) of extra real estate taxes each year!?!


This tax increase would result in the owner of a median priced city home paying $26 more in real estate taxes each month.

I'm guessing that if you ask most parents of school aged kids in the City if they'd be willing to pay $26 per month such that their child would not be in an overcrowded, not-so-ideal, learning environment for high school, they'd likely be quick to say yes.


That said, this $26 per month increase would need to be paid for 25 years -- but for a parent of a child in the school system, I'm guessing that would still seem to be a reasonable cost.

I'm also guessing that City property owners who do not have children in the local school system would LOVE for their property taxes to NOT increase. And I'll even go a step further -- I am guessing that they don't really want school aged children to have an overcrowded, not-so-ideal, learning environment -- it's probably just more about the increased tax burden.

Anyhow. Numbers are funny.

Read today's Daily News Record article, and feel free to form your own opinions. There seem to be plenty of them circulating through our community about this topic. :)



If you are looking for a qualified home improvement contractor in the Harrisonburg and Rockingham County, you may want to check out the Shenandoah Valley Builders Association's

updated website

and

online directory

!

There, you will find a listing of contractors and other professionals in a variety of categories, including:

Additions & Remodels
Architects & Engineers
Bathrooms
Concrete, Brick & Stone
Decks & Porches
Driveways, Patios & Walks
Drywall & Insulation
Electrical
Fences
Flooring
Garages & Openers
Heating & Cooling
Kitchen & Bath
Landscaping
Painting & Staining
Plumbing
Roofing, Gutters & Skylights
Siding, Windows & Doors

If you need further recommendations, feel free to

email me

, but the SVBA's

list of professionals

is a great starting point when you are looking for a professional to hire in this area.
Purchasing a home can be fun, exciting, thrilling, and fulfilling....but that very same process can also have its moments of being hard, frustrating, disappointing and overwhelming. In my role as a Buyer's Agent, I will be working with you through the entire home buying process to make it as educational and stress-free as possible.

The very first step in this process is for us to discuss your needs, goals, dreams and desires. This may involve specifics such as the number of bedrooms and bathrooms, or may focus more on the layout of homes, the feel of a neighborhood, and the long term plans for your growing family. I will be focusing on listening well, and hearing what it is you are working to achieve with your home purchase – and then helping to identify the best housing options for accomplishing those goals.

An important, parallel, part of starting the home buying process is to identify a target price range. This can best be determined through consultation with a reputable, local mortgage lender (just ask... I know who they are) but will involve more than just determining the highest priced home that they would allow you to purchase. It will be important to consider both your purchasing power, and your goals for how your housing costs will fit into your overall budget. You will also talk with your mortgage lender about how different loan programs might work better (or worse) for your situation.

Once we have a shared understanding of what you are hoping to purchase, and we know what the price tag can and should look like, we can start to evaluate homes that are currently on the market. This will usually start online, perhaps through an exchange of emails, and saving some searches in your account on my web site. Then, you might choose to drive by some of the prospects before determining a list of homes to go view – or you may be ready to start seeing all of the homes on the list right away. As we view this first set of homes, we will learn a lot – about the opportunities in the market, and about your preferences.

If we don't identify a home after looking at all of the homes on the market that seem to offer what you are looking for in a new home, we will either re-evaluate our criteria to expand our search, or we will wait to view new listings that come on the market. This extended home search process might take us weeks, or months, depending on the type of property you are hoping to purchase, and how often such a property becomes available. All along the way, I'll be following up on previous homes we have viewed to let you know if their prices have dropped, and will be letting you know of new opportunities as soon as those houses hit the market.

Once we have identified the home you are hoping to purchase, we will prepare to make an offer. This will include researching similar home sales to guide our discussions of price, creating a negotiation strategy, and preparing and reviewing the pertinent contract documents. There is quite a bit of paperwork involved in making an offer on a home, and I want to make sure that you understand these contract documents and make sure that we have drafted them in a way to protect your best interests.

Negotiating the final deal on the property you purchase may take a few hours, or a few days. We may go back and forth with the seller on price alone, or on many terms of the contract such as timing, contingencies, and more. Once we have a final agreement, all parties will sign and initial the final documents, and we will have a full ratified contract.

Immediately following the ratification of the contract, we will need to schedule and perform a home inspection and radon inspection (assuming you are conducting both) to learn more about the property you are purchasing. If these inspections reveal new (detrimental) information about the property, we will have the opportunity to request that the seller make repairs to the property, which may result in a renegotiation on price. Typically, we are able to work through this second round of negotiations relatively quickly, so long as the seller is being realistic and rational given the new information about their property.

Simultaneously with conducting these inspections, you will need to be starting the financing process to work towards obtaining full loan approval. This will start with signing your loan application and paying any applicable loan application or appraisal fees. Your lender will then be diligently working to further qualify you as a purchaser as well as the property via an appraisal. You will be providing many documents to your lender during this process as they work towards securing a loan for you to purchase the property.

Within the first few weeks after your contract is in place, we will need to select service providers to coordinate the additional aspects of your home purchase. This will include a settlement agent or attorney who will conduct a title search of the property and prepare all documents for your settlement. You will also need to set up a new homeowners insurance policy on your new property, as well as schedule utility service to start in your name as of the settlement date.

We'll now be just a few weeks before closing, and the final pre-settlement details will include reviewing the settlement statement (which shows all of the funds coming into and going out of the closing), conducting a final walk though of the property (to confirm the condition is as we expect it to be), and obtaining a cashier's check to bring the necessary funds to settlement. All of the details should be falling in place now, and if all goes well, we will be set for an on-time settlement.

In nearly all real estate transactions (in this area) you will sign all of the loan and settlement documents at your real estate closing as well as receive the keys to your new property. The house will be your new home, and you can take possession and start moving in immediately after settlement. Later that day, the settlement agent will record the deed at the courthouse that officially transfers ownership of the property into your name.

You are bound to have questions about the home buying process – before you begin, as we go, and even after settlement. I am here to answer all of those questions, or to guide you to the professional who can. There is plenty to learn about the home buying process, and I am here to help guide you through it and to help you make excellent decisions about your purchase of a home.

Learn more about the home buying process at BuyingAHomeInHarrisonburg.com.



In some ways, NO, you should NOT take your house off the market -- because

there is a historically LOW number of homes for sale right now

.

And yet, still, some folks will take their homes off the market for the winter. Our local MLS requires a house to be off the market for 90 days before the "Cumulative Days on Market" statistic resets. So, if you take your house off the market today, you could put it back on the market on March 8, 2018 and have that statistic reset.

During these 90-ish days of being off the market, we will want to talk about price, condition and marketing....

Let's meet to chat about the value of your house in the current market so that we can be priced well for the Spring market (pending any changes in the market between now and then).


Let's walk through your house together to determine if there are any small (or large) projects you could be taking care of during "the off season" to have your house shine when it comes back on the market in the Spring.


Let's review our marketing plans to make sure we have a strategy in place for exposing your property to the broadest possible pool of potential buyers.

Again -- you might be just fine leaving your house on the market over the Winter, as there are SO FEW homes for sale right now -- but if you choose to take it off the market for a few months, now or soon is a fine time to do so.
Just as there is a

land use guide for the City of Harrisonburg

, there is also a Conceptual Land Use Plan for many areas of Rockingham County. Above, I have included the Conceptual Land Use Plan for the areas just outside Harrisonburg (but in Rockingham County) for the year 2050.

You can find many more maps -- showing different time frames, and different areas of the County -- on

the County's comprehensive plan website

.

Of note, as you glance at the map above (or

this PDF

) you might note that the bright yellow regions are intended to be developed for residential use. It is not surprising that the largest contiguous section of such land is just East of the City, in what is referred to as the Urban Development Area.

Industrial uses seem to largely be focused just North of the City and just South of the City.

Enjoy exploring many more maps

here

.
There's a map for that, it seems!

Check out the

Draft Comprehensive Plan

(chapters) for the City of Harrisonburg where you'll find all sorts of interesting maps, including:

Existing Land Use Maps
Zoning Maps
Draft Land Use Guide Maps

The Land Use Guide (draft for inclusion in the 2019 comprehensive plan is shown above) recommends future land uses, but is not regulatory. That is to say that if a piece of undeveloped land is zoned for residential use, but is shown in a "Mixed Use" area in the Land Use Guide map, then staff would likely look favorably upon a future request for rezoning to a mixed use designation.

Check out all of the draft chapters of the Comprehensive Plan here.

The number of homes for sale in the City of Harrisonburg keeps dropping. That's not to say that homes aren't selling -- a total of 378 homes have sold in the City of Harrisonburg during the first 11 months of the year -- putting us at a pace of 34 home sales per month.

But the number of homes available to buyers continues to decline -- now down to 75 homes for sale, after having fallen below 100 homes for sale for the first time at the beginning of this year. Here's a bit longer of a context....

End of 2012 = 179 homes for sale
End of 2013 = 162 homes for sale
End of 2014 = 150 homes for sale
End of 2015 = 152 homes for sale
End of 2016 = 92 homes for sale !?!

If we finish out 2017 with only 75 homes for sale, that's a 50% drop from two years ago!?!

Of note, those 75 current listings are comprised of:

45 detached homes and 30 attached homes
24 homes under $200K, 14 homes over $400K and 37 in between

If you're looking to buy a home in the City of Harrisonburg it might be difficult to find a home that is a perfect fit or you given a very limited supply of homes for sale. And when a home does come on the market that works for you, it is likely to sell quickly.

click here for a larger version of this image

While you might not know it from driving by on Route 33 East, construction is steadily moving along on Albert Long Park, located on the North side of Route 33 just before Indian Trail Road / Cross Keys Road when heading away from Harrisonburg.

I don't have any specific updates on the park plans or timeline other than having noticed (from Indian Trail Road) that the site work and development of the park is progressing nicely.

Below is the Master Plan for the park as approved in 2014.

click here to download the Master Plan as a PDF
Multi Family Properties can be a means to more quickly and simply make a larger investment purchase. Whether it is a duplex, triplex, quad, or a small apartment building, you will often be able to purchase these properties at a lower price per unit, and more quickly increase your total rental income as compared to purchasing one individual property at a time.

HOWEVER - there are very few multi-family properties that are offered for sale in Harrisonburg and Rockingham County.

A few tools for you if you are potentially interested in purchasing a multi-family property in this area. This one has been around for a bit....

Current Multi-Family Listings

- bookmark this page on HarrisonburgInvestmentProperties.com to come back and review current multi-family listings at any time.

This is the new one....

Email Alerts for New Multi-Family Listings

- sign up to receive an email alert every time a new multi-family property is listed for sale in Harrisonburg or Rockingham County via the HRAR MLS.

Enjoy -- and

let me know

if you have questions about multi-family properties, or real estate investing in general.
Most of the time, it seems, a contract will result in a closing.

OF NOTE -- this is a very (very!) imprecise analysis. In some ways, it is most useful as an indicator of trends over time, but here goes nonetheless....

Per the data above, in 2016....

1,331 contracts were signed by buyers and sellers
1,309 closings took place between buyers and sellers

Does this mean that only 22 contracts fell through? Well, sort of....

Some of the contracts signed in 2016 resulted in closings in 2017.
Some of the closings in 2016 were the result of contracts in 2015.

But, despite that slight fuzziness, it seems that the success rate of contracts rose to a new high in 2016 -- and thus far in 2017 has been a bit slower than last year -- though on pace with 2015.


So -- if, as a buyer, you see your dream home go under contract -- the chances are, it will really sell to that lucky buyer. And -- if, as a seller, your home goes under contract -- the changes are, the buyer will really make it all the way to closing. That's not to say that you won't, as a seller, have to navigate some speed bumps when it comes to the home inspection (for example) but most of the time (> 90%) contracts are resulting in closed sales in Harrisonburg and Rockingham County.
In the first 21 days of November, this year, 61 buyers have signed contracts to purchase homes in Harrisonburg and Rockingham County. Compare that to last year, when 72 buyers had signed such contracts, and you'll note that there has been 15% decline in contract activity when examining this relatively small window of time.

Why might this be happening? Perhaps it is because buyers have fewer and fewer options of homes to purchase. Also shown above, you'll note that in early November of this year, buyers had 356 listings from which to choose -- and last year they had 480 choices. This marks a 26% year over year decline in options for buyers.

I am hopeful that we'll see this inventory situation turn around at some point, but until or unless it does, buyers are not likely to have very many options for homes to purchase.
The graph above examines what percentage of active listings went under contract in each of the past12 months -- thus, accounting for both fluctuation in buyer activity as well as fluctuation in inventory levels.

It seems you are least likely to sell your home (have it go under contract) in January or February -- when less than 1 in 5 homes goes under contract. That is in stark contrast to May through July where approximately 1 in 3 homes goes under contract each month.
Sellers are usually quite shocked, dismayed or disheartened to receive a low offer on their house, for example, an offer of $225K on a $275K listing. But it is important to remember that even that low offer really is a compliment!

If you have not yet had an offer on your house (that is listed at $275K) and you receive an offer of $225K, that doesn't necessarily mean your house is only worth $225K, nor does it necessarily mean that you should accept $225K or something close to it. It does, however, mean something quite exciting ---

somebody wants to buy your house

!!!

Of course, negotiations won't always work out with low offers -- but recognize a low offer for what it is --

a buyer who wants to buy your house

, and perhaps the first buyer who has declared as much through a written offer!

If there is any way to put a deal together with those buyers, you ought to pursue it, as it's hard to know when the next buyer will work up the courage to tell you that they want to buy your house!
Zillow seems to be at least a somewhat frequently used reference for folks looking to buy homes in this area. Their data is usually (or at least "often") accurate -- though with some frequency there are some issues with their data.

A funny one that I have only recently recognized is that the way they count bathrooms is a bit different than most buyers and sellers would count them.

Basically, their main "4 Bedrooms, 4 Bathrooms" (for example) description does not necessarily mean that there are four full bathrooms. It could mean any of the following....

Four Full Bathrooms
Three Full Bathrooms, One Half Bathroom
Two Full Bathrooms, Two Half Bathrooms
One Full Bathroom, Three Half Bathrooms

Right -- so -- when checking out homes on Zillow....

Scroll down until you find the actual bathroom count.

Feel free to double check with me (or visit scottprogers.com) to double check any other potential listing accuracy issues.

Contract activity in July, August and September 2017 (295 contracts) was a good bit slower than last year when there were 348 contracts during that same timeframe. Some of this decline in the number of contracts being signed is certainly a result of lower inventory levels. Thus, it was somewhat of a surprise that contract activity in October 2017 (112 contracts) was slightly higher than last October when there were only 109 contracts signed.

So -- a slight uptick in buyers being able to successfully negotiate deals with sellers -- BUT don't forget, Winter is coming!

Over the past eight months there have been an average of 119 contracts signed per month. If last Winter (+/-) is any indication, that is likely to drop slightly in November, and then much more significantly in December, January and February. Last Dec-Feb, there were an average of 72 contracts signed per month -- a good bit less than the 119/month average from the past eight months.

Read more about our overall housing market in my most recent monthly market report....
As shown above, this has been a strong year for "attached home sales" -- which includes duplexes, townhomes and condominiums -- but does not include single family detached homes....

In only 10 months (Jan-Oct) we have seen 316 sales thus far in 2017, as compared to 331 in the full 12 months of last year. As such, it seems likely, or almost certain, that we'll surpass last year's sales pace.

After two years without an increase in the median sales price of these homes, it appears we may be poised to see a 6.3% increase in the median sales price of these properties in 2017.

Stay tuned for the end-of-year results, but the sales trajectory in this property category is looking promising.

Read more about our overall housing market in my most recent monthly market report....



Find out more about this new listing in Lakewood Estates shown above by

clicking here

.

I just published my most recent monthly market report, and as usual, you can read on for an overview,

download the full report as a PDF

or

read the entire report with commentary online

.

Taking a look, first, at a high level overview of the market thus far in 2017....

As shown above....

Home sales dipped ever so slightly in October 2017 -- down to 96 from 97 last October.

Year-to-date home sales are 4.62% slower than we saw last year.

The year-to-date median sales price has risen 2.1% to $196,025 over the past year.

The median sales price over the past 12 months is $196,125 -- which is a full 3.22% higher than in the previous 12 months.

Homes are selling quickly! Median days on market has dropped 36.54% down to 33 days thus far in 2017.

So -- while slightly fewer (-5%) homes are selling this year, they are selling at higher (+2%) prices, and are selling much (+37%) more quickly!


As shown above, this year lost its momentum in August and September -- where monthly home sales (118, 105) were no match for last year (158, 129). Things leveled out, a bit, in October -- with just about the same number of home sales (96 vs. 97) this year as last year. Where things will go next month is anyone's guess -- looking at the past three years, November home sales have ranged from 68 all the way up to 113!

Above, visualized slightly differently, you can see that 2017 home sales were on par with (actually exceeding) last year up and through July before we then fell behind in August, September and now October. It seems certain that we'll finish out the year with fewer home sales this year than last, but more than in 2015. All that said -- as one of my clients pointed out --

maybe we shouldn't care if home sales slow down

?

Indeed -- a slightly slower pace (-5%) of home sales might not be an negative indicator of market health -- that decline could be a result of declining inventory levels. Perhaps a better sign of a robust and improving local real estate market is the 7% increase in the median sales price of single family homes between 2015 and 2016, and the apparent 5% increase we seem likely to end up with in 2017.

Speaking of slowing sales possibly being a result of lower inventory levels -- yes -- inventory levels are still way (-26%) below where they were last year at this time. And -- no good news here -- it would seem that we will likely see a further seasonal decline in the number of homes on the market as we continue through November, December and January!? Home buyers will likely have a tough time finding options over the next few months -- depending on their price range, where they want to (or are willing to) buy, etc.

Let's pause there for now -- though I will continue to explore the latest trend in our local housing market in the coming days on

my blog

.

Until then -- feel free to download and read my full market report as a PDF, or read the entire report online.


Also -- if you're thinking about buying a home in the near future, you may find these websites helpful....

And if you will be preparing to sell your home soon, you might find these websites helpful....


scott@HarrisonburgHousingToday.com

.
No new news here -- I've been saying it for some time -- fewer and fewer options exist for buying a home in our city/county for less than $200K, and even under $300K. But this visualization (

click here for a larger version

) was inspired by a comment from Brad - thanks Brad!

We know that

housing inventory, overall, is at a 10+ year low right now

, but Brad observed that not all price ranges are created equal. As (somewhat clearly) shown above, the $300K - $400K and $400K+ price ranges have maintained a relatively stable/healthy supply over the past ten years -- and the under $200K and $200K-$300K price ranges have been the most significant declines.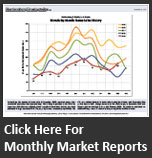 Subscribe

Receive notifications of new content on this blog, via e-mail or RSS reader.