Welcome! This blog tracks the real estate market in the Central Shenandoah Valley, featuring market data and analysis, an exploration of common buying and selling questions, and candid commentary on all things real estate.
If you are interested in discussing any of the topics on this blog, or the details of your specific real estate situation, call or e-mail me!
Fall is, however, the second-worst time of the year to sell your home. :)

The data above reflects the timeframe during which properties went UNDER CONTRACT -- not when they closed. Plenty of the Summer contracts turned into Fall closings -- but the 295 figure is a reflection of how many buyers made buying decisions (signed contracts) between September and November of last year.

So....if you want to sell your home (and close on it) in 2017, you should be thinking about getting it on the market sooner rather than later.
The two maps above were generated

here

based on changes between 2000 and 2014 in the senior population -- those age 65 or greater.

A few observations and thoughts....

Many areas of Rockingham County have higher percentages of seniors now (2014) than they did in 2000.

Some areas of the City of Harrisonburg have lower percentages of seniors now (2014) as they did in 2000.

The increase of seniors in the County could certainly at least partially be attributed to the fact that all County residents would be 14 years older in 2014 than they were in 2000. :-)

The proportional decline in seniors in the City might have more to do with an increase in the number of non-seniors, both in the form of kids, families, college students, etc.

The areas in the County with the highest proportion (as compared to the total population) of seniors are both east of the City.


As you look at these maps, remember that the darker colors do not necessarily mean that there are higher NUMBERS of seniors -- but rather a higher PERCENTAGE of seniors as compared to the overall population.

Perhaps it is worth noting that two of the darker areas (north end of Harrisonburg and just southeast of Harrisonburg) are home to VMRC and Sunnyside. :-)




The price per square foot of homes in Harrisonburg and Rockingham County has been steadily increasing over the past six years....

Up 4% over the past year.
Up 11% over the past three years.
Up 17% over the past six years.

That said -- while the median sales price ($223K) has nearly climbed backup to the high we saw in 2006 ($227K) -- the median price per square foot ($118) has actually not come anywhere closer to that 2006 high ($129).

Which would seem to mean that you're getting slightly more house for your money now (as compared to 10-11 years ago) even if you're paying a similar price.



Most housing market analysts consider six months of inventory (active listings) to be an indicator of a balanced market (between buyers and sellers).

The "BUYERS" trend line above is illustrating how many buyers are buying in a six month period. The "SELLERS" trend line above is illustrating how many sellers are in the market (active listings) at any given time.

Over the past four years we have seen a steady increase in buyers and a declining number of sellers. In June 2016, these two trajectories crossed, and there was no turning back.

There are now many more buyers buying in a six month period than there are homes for sale -- creating a seller's market. Instead of having a six month supply of homes for sale, we now have a four (3.95) month supply.

Of note -- it is not a seller's market in every price range, in every location, for every property type -- but overall, we are definitely seeing a seller's market.

Find out more about our local housing market by clicking below for my monthly market report.
The beautiful home shown above is located in Kentshire Estates. Find out more

here

.

July 2017 has come and gone -- and even if the temperatures don't yet feel like August -- that last month of summer is really upon us.

I just published my most recent monthly market report, and as usual, you can read on for an overview,

download the full report as a PDF

,

read the entire report online

, or tune in to my

monthly video overview

of our local housing market...

You'll find that the video is in a new format this month, which I think you'll find much more helpful. Let me know. (click above to watch it)

And now, a few items on our overall housing market....

As shown above, home sales slowed, ever so slightly, in July 2017 -- to 114 sales, as compared to 115 last July. Home sales for the entire first seven months of the year, however, remained strong, at 731 home sales -- an increase of 1.39% over the pace of last year's home sales.

Also of note, the median sales price has increased 2.41% over the past year, to a price of $195,600 --- and homes are selling 19% faster this year, in a median of 42 days.

And....where do we go from here? We saw strong home sales in May and June -- but then a decline in July that put us in the middle of the pack as far as a typical July. Now, though, will we see a huge bump like last August? Or will home sales stay relatively steady, or even decline, in August?

Based on the slowing rate of buyers signing contracts (shown above) I'm guessing we'll won't see a big upward spike in home sales in August. And perhaps, the slightly slower sales we're starting to see this year is a result of continually declining inventory levels....

While we did see a slight upward tick in our inventory levels in July, overall, buyers still have significantly fewer options when buying in Harrisonburg and Rockingham County. And what does an increasing demand and decreasing supply lead to?

First of all, homes are selling quickly! Over half of the homes that sold in the past year went under contract within 60 days of being listed for sale. Actually, almost half of them (44%) went under contract in less than 30 days!?!

And, not only are homes selling faster, they are selling at higher prices as a result of more buyers and fewer sellers. The median sales price of single family homes has been increasing in recent years, which is likely at least in part due to more buyers buying and fewer sellers selling. Will we see another 5% or 7% increase in this median sales price this year? Only time will tell - but my money is on a 4% - 5% increase.

There are actually quite a few astonishing tidbits in this month's report, but I'll get into those in the coming days on

my blog

.

Until then -- feel free to

download and read my full market report as a PDF

, or

read the entire report online

.

And, my reminders for buyers and sellers last month still apply....

SELLERS -- even though it is a seller's market in many price ranges right now, you must still focus on price, condition and marketing.


BUYERS

-- it can be difficult and frustrating to buy right now -- make it a bit easier for yourself by

knowing the market

,

knowing the process

,

knowing your buying power

, and

closely monitoring new listings

!

For further reading on buying or selling in this area, check out....


scott@HarrisonburgHousingToday.com

.
OK, OK, that's probably not true -- Harrisonburg probably does not have an infinite need for student housing. Just consider my title, then, to be an intro to all of the alternative perspectives that have been shared with me since I wrote these two posts....

Does Harrisonburg need more Off Campus Student Housing?Does New College Student Housing Increase the Demands on Local Elementary Schools?

OK -- here goes -- all the reasons I might be wrong, and all of this new student housing might be OK, or even a good thing....

1. JMU is growing!

All of this student housing is necessary -- JMU is continuing to grow, and they are not building on campus fast enough for their growth, so the private sector must build and rent housing to students in order to meet that growing demand.

2. Denying growth just pushes it elsewhere.


If the City decided to stop permitting new student housing communities to be built, that would just push developers to build them in the County, or push students to live in otherwise owner occupied neighborhoods.

3. This is an affordable way to get workforce housing.


There isn't much truly affordable rental housing being built -- and older student housing complexes being effectively turned into workforce housing by virtue of students being attracted to new student housing communities is not necessarily a bad thing. It may be the most affordable way to create affordable or workforce housing.

4. Bring on the wrecking ball.


If even more student housing is built, the rental rates will fall even lower on the oldest complexes, devaluing those properties to the point where it will make sense to just knock them down and build new housing -- thus, eliminating the older, outdated housing.

5. How much regulation do you want "the government" to do?

If the government (planning commission, city council, staff) should start making judgement calls about how much student housing is too much student -- and thus regulating what landowners (and student housing developers) can and cannot do -- should they also start governing other segments of the private sector? Should they regulate how many hair salons exist? How many banks are permitted to operate? How many restaurants can open? How many Realtors can sell homes? :)

OK -- again -- I don't necessarily agree with all of the perspectives above, but I believe it is important to consider these counterpoints when thinking about how our community should be planning for the future as it pertains to student housing, land use, property taxes, schools, etc.

And, as I mentioned to a reader in response to their comments....

I don't know if new student housing projects should or should not be denied - but I think the local community needs to fully understand the impact of continuing to approve more student housing communities.

If older student housing communities become workforce housing, great, no problem -- but let's realize that this is the result of approving new student housing communities, and make sure that infrastructure (schools, for example) are in place for the new workforce housing that we have indirectly created.
16% fewer buyers signed contracts in July 2017 as compared to July 2016.

It's hard to say if this is related to lower buyer interest (I doubt it) or lower inventory levels (I suspect it).

I suspect we will still end up seeing just as many home sales in 2017 as we saw in 2016 -- but I don't think we'll see a significant increase in the number of homes selling this year.
Traditional logic would say no -- the construction of new college student housing in Harrisonburg won't increase the load on elementary schools, as most college students do not have elementary school aged children....

Going a step further, I would guess that some local government staff and elected officials MIGHT (?) use this traditional logic when thinking about whether to approve rezonings, or other approvals, for new student housing to be built in the Harrisonburg area.

But wait - what if the following sequence happens (thanks

Deb

, with some revisions)....

Shiny new student housing is built.
College students flock to the new living options.
Vacancy rates increase at older, run down student housing complexes.
Families start moving into older student housing complexes.
These families increase the elementary school aged population.

Local elementary schools have more students to educate.


I think we have seen this happen over the past 20 years in Harrisonburg, in cycles, as large quantities of student housing is built in waves.


And think about it, from the other direction, for a moment -- we all know that the local elementary school population is growing -- but why, and where? It's not as if local developers and builders are out building an extraordinary number of townhomes or starter homes for young families, causing an influx of new elementary school students. So -- if the elementary school population is rising, and it's not because of an increase in the stock of owner occupied real estate in Harrisonburg, then....

1. Perhaps this elementary (or K-12, really) school enrollment growth is, contrary to what we'd otherwise believe, a direct result of an increase in college student housing.

2. Perhaps we need to think about the fiscal impact of educating more elementary (and then middle and high) school students when we think about approving yet another student housing complex.

3. Perhaps, if building new student housing when we might not really need it, leads to increased demands on our local K-12 schools, then maybe we need to pay more attention to whether that student housing is needed.


Just some thoughts to ponder as we think about and plan for the future here in the City of Harrisonburg -- and Rockingham County.



There have been two very unique four year periods in recent history where the local median sales price increased to $192K.

When home values increased between 2003 and 2006 up to a high of $192,983 -- they did so by increasing by 13% - 17% per year!! As we now know, this was NOT sustainable! Household income was not increasing at that same rate during that timeframe, house prices became too high for many to afford, and we experienced a significant market correction downturn.

In contrast, over the past four years our median sales price has increased by 1% - 4% per year up to last year's level of $192,500. This seems like MUCH more sustainable growth and provides hope that today's home prices are stable and will continue to slowly increase over time.
Another month -- and still no meaningful changes in the 30 year mortgage interest rate. Since the beginning of the year, these rates have slowly edged downward, and have now been below four percent for most of the past three months.

This continues to provide a great opportunity for home buyers -- likely spurring on continued buyer interest in our local market.

As I commented to someone last week, I have been thinking mortgage interest rates were going to start increasing for at least five years now -- and I have been wrong for at least five years now.

Will they ever increase? Possibly. When? How? By how much? It's anyone's guess at this point. I think there is probably a 75% chance (maybe a 90% chance?) we'll finish out this year at or below 4.5% -- which is hard to believe.
Perhaps not quite as interesting (or pervasive) as

JMU's ownership in the Forest Hills neighborhood

-- but interesting nonetheless.

This is another older residential neighborhood adjacent to the JMU campus. It will be interesting to see over time if JMU purchases more of these homes as another potential direction in which to expand the campus.

Thus far, their focus seems to be mainly on the corner of South Main Street and Port Republic Road.

Download a larger (23MB) map

here

.
Download a larger (21MB) version of this map

here

.

This past Spring, JMU's student newspaper (The Breeze) published a very informative article about the Forest Hills neighborhood....

JMU purchases most of neighborhood for over $4 million

Some pertinent excerpts from that article follow....

Over the last four years, JMU has purchased 14 homes in the 16-home neighborhood for approximately $4.2 million, according to public housing records obtained by The Breeze.


Bill Wyatt, director of communications and university spokesperson, said the area was purchased to provide JMU faculty and staff with the opportunity to rent homes from the university, and that there are currently no long-term plans for the area.


The funding for these purchases comes from JMU's auxiliary reserve account, which consists of funds held back on an annual basis for things like property acquisition and unexpected maintenance. The rent that faculty and staff pay back to the university makes it a breakeven proposition.


Since I understand things better visually, I created the map at the top of this post to better show the context of these real estate transfers. You can download a rather large (21 MB) version of this map

here

.

(the Breeze article as a PDF can be found

here

)
Altitude at Stoneport

will soon be built on Port Republic Road, with room for 425 students.

The Retreat

is nearing completion on Reservoir Street, with room for 700 students.

JMU enrollment

is growing

, but only by about 350 students per year.

And now, a

22 unit apartment building

is proposed for the edge of the Purcell Park neighborhood -- which is and is not applicable to the matter at hand....

So, here's the deal....

1. A local resident (developer) is intending to replace two older single-family homes with a mixed-use complex with restaurants, retail space and (22) one-bedroom apartments. STAFF recommends approving it. PLANNING COMMISSION does not. CITY COUNCIL might, or might not approve it. Read more here:

Planners Discuss Decision

.

2. Many neighbors of the proposed development are opposed to this potential development - because it would increase traffic, change the nature of the neighborhood, increase the population density in that area, and because some believe it will just be filled up with college students.

3. A JMU official (coordinator of off-campus life) wrote a letter on JMU letterhead to City Council and residents of the neighborhood indicating that JMU has no need for more off-campus housing. Read the entire DNR article here (

JMU: Official's Letter On Zoning Issue Not Official

) or an excerpt of the LETTER here....

"Additional apartment-based housing is not needed at this point in the community, and might actually be detrimental to current properties who are having difficulty reaching capacity with tenants and profiting,"

4. The developer's engineer indicates that the apartments are not designed for college students.

OK -- so -- let's sidestep the issues of the aforementioned letter not really being JMU's official position on the matter AND whether or not the apartments are or are not intended for or suited for college students.

Instead, let's think about (talk about?) whether Harrisonburg needs more off campus student housing.

So -- do we need more?

Most student housing developers coming to the area would say that we do -- but they might always say that? After all, the newest and nicest student housing (almost) always leases quickly.

In contrast, I would argue that all income college students (for 2018-19) could easily fit into existing on and off campus housing, even without the addition of The Retreat or Altitude.

So, why do these new complexes keep showing up? Because the newest and nicest complexes always lease quickly. And because a student housing developer can make money by building such a development in this area. And because the City and/or County continues to approve these developments -- perhaps not feeling it is their place to decide whether there is a need for more housing.

Side note -- should City/Council decision making bodies approve or disapprove student housing based on whether there is a need for more? I do not recall any instances when this is a question that these governing bodies discuss -- they seem to assume that the developer wouldn't be proposing it unless it were needed (which is not necessarily true -- see above) and then just move on to whether it is reasonable to develop the proposed land in the proposed manner.

So, if student housing developers will always want to build more, and local decision makers might keep approving the developments independent of whether there is a need or not, I might just be wasting my time to continue to think about all of this -- but I'll continue nonetheless.

I think we (citizens, tax payers, elected officials) need to realize what happens when more student housing is approved when there is not necessarily an actual need for more such housing. And the place to look to best understand this is the oldest student housing.

What typically happens when new student housing is built is that the oldest (and/or least conveniently located and/or least upgraded) student housing eventually starts having higher occupancy rates, and then eventually starts being leased to folks who are not college students. All of that is well and fine and good -- except that it means that the rental income often declines, the properties aren't maintained as well, vacancy rates climb higher, rental income drops lower, property maintenance declines further, etc.

So -- we end up having (or will end up having) older apartment complexes that used to be college student housing -- that are now rented to non-students -- often to low income individuals and families -- and that are often not maintained as well as when the rental income allowed for them to be better maintained.

Is this (college housing potentially becoming low income housing) a bad thing? Not necessarily -- but I think that we need to realize that this is often the eventual, market driven, impact of continuing to approve new student housing developments. Are we comfortable with this long term end to our short term decisions? Is this the way that we want to grow our housing stock?

Hopefully I have provided MANY more questions than answers. :) Feel free to

drop me a line

to discuss, or offer your opinions and perspectives.
With great regularity, potential buyers (either investors or parents of JMU students) will ask if a single family home can be purchased and rented to a group of JMU students -- often an intended group of four or more students.

I let them know that it will be no problem at all -- the adjoining property owners in the quaint neighborhood probably won't mind as long as the students aren't too bothersome -- and the City doesn't mind at all if their zoning ordinances are violated, so long as it's just "nice college kids"....

WAIT! NOT REALLY! READ ON!!!!


It seems that some buyers are really getting that feedback of "sure, it will be fine" -- though I'm not sure if they're getting it from their Realtor, or from someone else advising them in the transaction, or if they just aren't thinking about whether their planned use of a property is allowable.

The REAL answer, and the feedback that I ACTUALLY provide to my clients is....

1. We need to check to see how this property is zoned, and whether that zoning classification allows for that number of unrelated people to live in the property.

2. We need to check to see if there are recorded restrictive covenants for this neighborhood that restrict the number of unrelated people who live in the property.

A few notes....

1. Most single family homes in the City of Harrisonburg are zoned R-1 or R-2 and do NOT allow for three or more unrelated people (students or otherwise) to live in the property.

2. If a property has been used in a non-conforming manner (for example, four students living in it) since before the zoning ordinance was put in place, without a 24 month gap in the non-confirming us, it MIGHT be possible to continue to use the property in that non-conforming manner.

And, if #2 above is starting to get confusing, then we arrive at my main reason for writing today....

CALL

COMMUNITY DEVELOPMENT

TO UNDERSTAND ALLOWED USE OF A PROPERTY!

Yes, in fact, there are very helpful City staff in the

Community Development department

-- who can very quickly help you understand whether a property can be legally used as you intend to use it.

And it is imperative that you make this call BEFORE you buy the property, and even BEFORE you make an offer on the property!
You can't necessarily buy a recently built four bedroom house on 1+ acres for around $350K in Rockingham County -- but just a few minutes further south, in Augusta County, you can!

This expansive home located at

134 Bailey Road

with a two attached car garage on a 1.65 acre lot offers long views in a private setting. Enjoy upscale features such as hardwood floors, maple cabinets, granite countertops and ceramic tile in the bathrooms. The main level offers an office, formal dining room, living room, kitchen with breakfast nook plus a main level guest bedroom and full bathroom. Upstairs you will find a spacious master suite, and three additional rooms plus an unfinished bonus room for storage. Don't miss the covered front porch, two-story foyer, crown moulding, chair rail, large linen closet and much more!

Visit

134BaileyRoad.com

to find:

Interior, Exterior and Aerial Photos
3-D Walk Through
Floor Plans


If you're interested in taking a look at this property, just call (540-578-0102) or

email me

to set up a time to do so.
We should have another solid 60 days of strong buying activity (contracts being signed) before things start to slow down into the Fall, and then slow down even further in the Winter. If you are intent on selling your home before the end of the year, you may want to consider a price reduction now, rather than later.

If you reduce your list price on July 24, you have a good 60 days of exposure to a larger pool of buyers before contract activity slows down.

If you wait, and reduce your price on October 1, you have already had a large number of buyers pass your house by.

Think strategically about how your house is priced to best position it to realistically be under contract within a timeframe that best works for you.
Seems like this will be an attractive structure -- and not just a big box with vinyl siding. Read more about the plans for this student housing complex

here

.
view a larger image

The property shown above was sold for $1.76 million to a new developer from Richmond, VA who will start site work in August for this 250,000 square foot student housing complex planned to be open for Fall 2019.

Some highlights from yesterday's

Daily News Record article

...

Altitude will be modeled somewhat after the 865 East building on Port Republic Road.

Walker said he thinks the security features, popular at 865 East and with James Madison University student and parent focus groups, and the nearly 2,500-square-foot deck space with garage-type doors that can be opened or closed based on the weather "will really resonate" with potential renters.

"We wanted to take a cue from the 865 East product type," he said, "and rather than do another garden-apartment project, with walk-up steps, we wanted to do something with interior corridors, key-fob entrance and elevators. With some of my partners, we concluded that was a void within the market."

Eighty-seven of the units will have four bedrooms and four bathrooms, and Walker said those spaces should rent for about $650 per bedroom. Altitude also will have two- and one-bedroom units, with the one bedrooms leasing for about $1,100 a month.


Here is the original rendering of the planned student housing complex....
As shown above, fewer buyers (696) signed contracts in the first half of 2017 as compared to the first half of 2016 when 718 buyers signed contracts to buy homes in Harrisonburg and Rockingham County.

Based on all of the conversations I have had with buyers, lenders and Realtors, this is likely primarily a result of low inventory levels. The buyers are there -- ready to buy -- the sellers (and their homes) are not.

Of course, there are homes listed for sale right now, but quite a few less than we'd normally see at this time of year, which leaves many buyers on the sidelines -- with the desire to buy, but without a house for sale that is a good fit for them.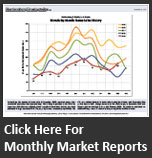 Subscribe

Receive notifications of new content on this blog, via e-mail or RSS reader.