Welcome! This blog tracks the real estate market in the Central Shenandoah Valley, featuring market data and analysis, an exploration of common buying and selling questions, and candid commentary on all things real estate.
If you are interested in discussing any of the topics on this blog, or the details of your specific real estate situation, call or e-mail me!
If you will be selling your home to buy another, there are a lot of numbers floating around....

what you'll sell for
your closing costs when selling
your mortgage payoff
how much you'll pay for your new home
how much of the purchase price you will finance
how much your mortgage payment will change

Above you will see a spreadsheet I put together to help you think about some of these numbers as you are evaluating if and when you will make a move to a new house.

In yellow, are all of the inputs you will need to provide, or that you and I can determine together, such as your current payment, your home's current value, your mortgage payoff, whether you will be putting any additional money into the transaction, etc.

In green, I have identified your potential future mortgage payment and the net change in your monthly payment.

All of the numbers without a background color will automatically calculate for you.


Click here to download this worksheet as an editable Excel file.



If you are purchasing a home, before you call the listing agent to see that home, you should understand a bit more about buyer representation.

In representing you as a buyer in your home purchase, your buyer's agent would be performing tasks such as:

assisting in your home search

providing data about each property

explaining financing options

creating a negotiation strategy

drafting and presenting offers

researching restrictive covenants, etc.

coordinating property inspections

coordinating property appraisal

conducting final walk-through

preparing for settlement

answering questions and providing counsel and guidance as needed

Best yet, your buyer's agent's compensation for representing you would (in almost all cases) be paid by the seller.

So -- you can call the listing agent (who is contractually bound to represent the seller's best interests) or you can hire a Realtor to represent YOUR best interests as the buyer. Clearly, I recommend the second option.

Beyond buyer representation, there is a lot more to know about and think about regarding the home purchasing process. Read more at....
OK -- no numbers today. Just a few thoughts that have been coming up in conversation after conversation over the past year.

Inventory levels (the number of houses for sale at any given time) have been quite low when looking at the City of Harrisonburg and immediately surrounding areas. Many buyers are having a tough time finding a home to buy. Many houses are selling quickly because there are many buyers who want to buy them when they hit the market.

I believe a significant reason why housing inventory levels are so low is because people are deciding they want to live in (or stay in or move to) Harrisonburg faster than builders are building new homes for them to purchase.

Sometimes it is young adults who just graduated from JMU, EMU, or Bridgewater College and who want to stay in the area. Sometimes it is a local college grad moving back after having had a taste of life in the big City. Sometimes it is parents of these college grads turned Harrisonburg residents who are moving to Harrisonburg to be close to the grand kids.

Whomever it happens to be -- more and more people are deciding they want Harrisonburg (or close to it) to be their home. And I believe they are deciding this at a faster rate than new homes are being built.

Side note -- lots of rental housing is being built right now. This sort of helps -- people can rent if they can't find something to buy -- but it is not a viable long-term solution.

So -- builders -- let's get to building some new homes, why don't we? It is time -- the home buying population is growing, and needing housing....
Today is the day!

Join me in the first of its kind "day of charitable giving" for Harrisonburg and Rockingham County -- aptly named, the

Great Community Give

.

Folks throughout our community will be coming together today to financially support 50+ nonprofit agencies participating in the Great Community Give.

This is our opportunity to join together as Harrisonburg and Rockingham County residents to show our love for this community.

Click the link below to explore the nonprofits in our community that YOU can support today to be a part of the Great Community Give!

Donate HereView the Leaderboards
Should You Be Dejected If Your House Does Not Sell In One Week?

It depends.

For example -- in the City of Harrisonburg, 26% of homes that have sold thus far in 2018 have been under contract within seven days of having been listed for sale!?!

So -- if day 8 rolls around, should you worry, complain, cry, immediately drop the price, what???

Maybe none of those.

Having your home under contract within one week depends on demand for your home being high -- your type of home (detached or not), size of home, price of home, location of home, etc.

If all of those overlays leave large portions of the home buying public finding your home to be interesting - then you are likely to have a speedy sale.

If the type, size, price or location of your home (or multiple of those factors) limit the number of buyers who will have interest in the house -- then you may have to wait longer for your to be under contract.

We can predict this, somewhat, looking at sales of similar homes, current inventory levels of similar homes, etc.

If you are getting ready to sell your home, read up on the process and philosophy at

SellingAHomeInHarrisonburg.com

.
Just how historic are the current low housing inventory levels? Quite historic, it seems. The graph above shows the inventory level at this time of year (end of March) for each of the past 11 years.

As you can see, we have been seeing steady declines since 2010 -- though things were relatively steady with around 600 homes for sale between 2013 and 2016. Last year, however, we saw a 33% decline -- and this year we have seen another 20% decline.

Low inventory levels leads to homes selling much more quickly, and buyers often having a more difficult time securing a home to purchase. Stay tuned to see whether we start to see increases in inventory levels as we continue through the Spring and Summer.

Read more about our local housing market at

HarrisonburgHousingMarket.com

.
Indeed -- this year is off to a FAST start. As shown above, we saw more home sales in the first three months of this year than any other year in the past 10 years! Wow!Read more about our local housing market at HarrisonburgHousingMarket.com.
Some homes are absolutely FLYING off the shelf -- under contract within 48 hours, with multiple offers, sometimes over the asking price.

So -- are all homes selling that quickly? Nope. Homes are selling faster in the City than the County, so I thought I would break things down in the City based on sales thus far in 2018 -- 1/1/2018 through 4/16/2018.

As shown above, about 25% of the homes that have sold this year did go under contract within a week. That is significant -- those were speedy sales, without much time for a buyer to think and process and decide what to do. Add in the homes that go under contract within the first month (but not in the first week) and you are starting to approach half of the homes in our market.

So -- yes,depending on your desired location, price range, etc., you may need to be ready to act FAST! But -- all City homes listed for sale are not going under contract within a day or two. There are plenty that are taking a somewhat longer, normal, period of time.

Read more about our local housing market at

HarrisonburgHousingMarket.com

.
Find out about this newly listed custom-built home with amazing views:

973SmithAvenue.com

.

I just published my most recent monthly market report, and as usual, you can read on for an overview,

download the full report as a PDF

,

read the entire report with commentary online

, or tune in to my monthly video overview of our local housing market...

Now, let's dive into some of the latest data from our local real estate market....

As shown above, most market indicators are quite positive....

Home sales rose 3.19% in March 2018 to 97 sales as compared to last March.

Year-to-date home sales are up 3.02% this year as compared to last.


The annual pace of home sales has slipped, slightly, down 4.3% to 1,268 home sales.

The median sales price has risen 4.17% over the past year to $200,000.

Homes are selling 39.22% faster this year than last with a median of 31 days on market.




As shown above, after the strongest February in recent memory (maybe ever) we then saw the strongest March as it relates to the number of homes selling each month. Where might we be headed from here? 105 home sales in April? 150 in May? The busier months of home sales are quickly approaching.

Two important items to note above....

This is the first time (ever!) we have seen an annualized median sales price of $200,000 in Harrisonburg and Rockingham County. We have climbed to new heights as far as local home values.

After some recent declines in the annualized pace of home sales activity, it seems that sales activity may be leveling out and perhaps increasing in pace again.

One last tidbit....




As shown above -- contract activity declined slightly in March 2018 -- but -- wait for it -- year-to-date (Jan-Mar) contract activity is still 3% higher than last year. So -- perhaps we will still have a reasonably strong month of closed sales in April and May after all.

OK -- I'll stop there for now. Again, you can download the full report as a PDF, read the entire report with commentary online, or keep reading my blog in the coming days for further commentary.

AND -- if you're thinking of buying or selling soon ---


SELLERS -- even though it is a seller's market in many price ranges right now, you must still focus on price, condition and marketing.


BUYERS

-- it can be difficult and frustrating to buy right now -- make it a bit easier for yourself by

knowing the market

,

knowing the process

,

knowing your buying power

, and

closely monitoring new listings

!

For further reading on buying or selling in this area, check out....


scott@HarrisonburgHousingToday.com

.

Enjoy this cold-again, hot-again month of April!
Most buyers looking to spend over $400K (or certainly those looking over $500K) will also be considering building a new home.

Typically, the tension between buying vs building is one of:

1. Goals

2. Money

3. Timing

If you build, you can get the house you want, but you'll pay more for it and it will take a lot of time and attention.

1. Goals = Win

2. Money = Lose

3. Timing = Lose

If you buy an existing home, you won't get exactly what you want, but you will pay less for the house and the process will not be a drain on your time.

1. Goals = Lose

2. Money = Win

3. Timing = Win

Don't let my oversimplification of this issue fool you -- this is something that buyers can get stuck debating for months, or even years, often while looking at resale homes to try to convince themselves to buy instead building.

If you are stuck in this quagmire, I'd be happy to meet with you to talk through some of the pros and cons and try to help you come to a decision you'll be pleased with in the short and long term.
The budget shown above is the proposed budget for 2018-19 in Rockingham County, VA. This reflects no change in the real estate tax rate -- it would remain at $0.74 per $100 of assessed value -- though the tax revenue will increase due to increases in assessed values.

Interestingly (above) the real estate tax rate in the County has been above $0.70 before -- between 2000 and 2005 -- and at that time it was well above the City's real estate tax rate!

Stay tuned for news of changes in the City real estate tax rate....
Two rezoning proposals are going before the Rockingham County Planning Commission this week....

54 Acres on Island Ford Road in McGahesyville

(shown above)




220 single family home lots
Adjacent to Whispering Pines subdivision
Within walking distance of the Thunderbird Cafe

13 acres of open space / park
County staff recommends approval
Download the full packet of information here


75 Acres on Pear Street just outside Harrisonburg

(shown above)

Adjacent to additional parcel in the City also owned by the property owner requesting this County rezoning.

175 duplex lots (or single family home lots)

225 townhome lots
Total density (number of lots) not to exceed 400
Development of the property causes concern for City staff - including water supply and traffic issues.

This area of Pear Street is not planned for attached residential units -- such as townhouses and duplexes.
It is the City's view that the density and type of development would not be compatible with future development on adjoining city property.
Staff recommends tabling this rezoning request
Download the full packet of information here




Update after Planning Commission meeting....

Island Ford Road rezoning recommended by Planning Commission

"In other business, the commission unanimously recommended approval of Gary Sandridge's request to rezone 54 acres on Island Ford Road in McGaheysville from agricultural use to planned single family. Sandridge plans to build 220 units that would connect to the existing Whispering Springs subdivision, which is at the intersection of Island Ford Road and McGaheysville Road."

Pear Street rezoning tabled by Planning Commission

"Commissioners Brent Trumbo, Rodney Burkholder and Keith Sheets voted to table the request. Commissioner Bill Loomis, who raised concerns over the density of the project and its compatibility with planned development in the city, abstained from voting. Commissioner David Rees was absent."

Read more here....

County Planning Commission Tables Housing Request
Daily News Record, April 4, 2018



As a buyer, when you are walking through a home, keep in mind that the seller might be listening. These days, there are plenty of ways that a seller could be monitoring their home, with a security camera, or other recording device that could allow them to hear every word you are saying while you are in their house.

So.....

1. Don't insult their house. It won't help during negotiations.

2. Don't discuss negotiations. You might be revealing your strategy.


By the way, sellers, it may not be legal for you to record conversations in your home while you are gone. You should likely either NOT record conversations, or disclose that it is taking place.

P.S. I am not an attorney. Consult one if you want an actual legal opinion. Ask me if you need a recommendation.
Harrisonburg City Council has agreed to further explore an unsolicited proposal to build a downtown park from

Build Our Park

, a community-led nonprofit organization committed to facilitating the creation of a public park in downtown Harrisonburg.

Full disclosure - I serve on the board of Build Our Park.

This new downtown park would be built on 1.2 acres of City-owned property directly adjacent to the Harrisonburg Farmers Market pavilion and the City Hall Building parking lot, featuring amenities including:

Second Pavilion
Village Green
Discovery Playground
Splash Fountains
Donor Garden, Wall and Fountain
Grand Promenade
Set up for Portable Stage
Pergolas, tables and seating
Atrium Plaza
Multiple unique activity spaces
Landscaping featuring native trees and flora
Sustainably designed park amenities with educational signage
One-eighth-mile multi-use path (that can one day link the Northend Greenway and the Bluestone Trail)

View

renderings of the conceptual design for this downtown park

.

During the next 45 days, City staff will review the proposed project and can receive additional competing proposals for building this downtown park. After 45 days, the City will decide to either proceed with the second review stage or to not proceed further with the proposal. If the City ultimately decides to work with Build Our Park on the project, they will enter into a comprehensive agreement where details will be determined regarding potential bonds, insurance, and terms and conditions.

A group of Harrisonburg stakeholders formed in 2013 with the goal of facilitating the creation of a public park in downtown Harrisonburg. Originally known as Plan Our Park, the group rebranded and formed the nonprofit organization Build Our Park. In 2017, in order to balance parking needs and the desire for a community recreation amenity, the City directed Build Our Park to redesign its park concept to fit in the space behind City Hall between the Turner Pavilion and the tree line south of the Pavilion. Local architects who are members of the Harrisonburg Downtown Renaissance Design Committee, Adam Steiniger of Eugene Stoltzfus Architects and Randy Seitz of Blue Ridge Architects, volunteered to create the final concept design plan that the PPEA proposes.

The Build Our Park Board of Directors has been working with City staff to plan the park's new design and would continue to work with them to plan the park's construction as well as on-going maintenance and operations. During this process, fundraising for the park has been on hold. On April 18, the organization looks forward to restarting its fund- raising effort in conjunction with The Community Foundation's Great Community Give. The Great Community Give is a single day of giving aimed at promoting charitable giving in Harrisonburg and Rockingham County. Through this initiative, the entire community will be invited to support Build Our Park and other nonprofits that meet needs, enrich lives, and build a community we can all enjoy.

As Harrisonburg's downtown continues its reemergence as a dynamic environment in which to live, work, eat and shop, the thoughts of many have turned to the need for more public green space for gathering in the City's core. The downtown park's concept features a multi-use path, expanded pavilion, open space, play area designed to resemble nature, pergolas for shade, and splash fountains. It will incorporate the area adjacent to the Turner Pavilion that currently is used for community programming and events. The park would be designed to be flexible to accommodate a growing farmers market, public events, community gatherings, and wellness.

Learn more about this potential future downtown park at

BuildOurPark.org

.
It's exciting if your home value is increasing, right? Well -- mostly, it seems.

Certainly, if you bought your home for $250K and it is now worth $260K or $270K or even $300K -- that can be a good thing. At some point in the future, you'll recoup that equity when you sell your home -- plus or minus any shifts in value between now and then.

But in the near-term, increasing home values can actually hurt a bit.

The amount of real estate taxes that a homeowner pays to their locality (city, county) are based on two factors -- the assessed value of the home, and the local real estate tax rate.

In Rockingham County, the current real estate tax rate is $0.74 per $100 of assessed value....

Tomorrow, the Rockingham County Board of Supervisors will hold a public hearing to receive input before adopting a real estate tax rate for fiscal year 2019 -- which runs from July 1, 2018 through June 30, 2019.

But here's the thing -- even if the tax rate remains the same (at $0.74) there are many homeowners who will see an increase in their real estate taxes -- because of increases in home values, and thus increases in assessed values.

Rockingham County revises their property assessments once every four years -- and the most recent increase resulted in a 2% increase in the assessed value of an average home.

This is good news for the County, as the increase in property values, even with no change in the real estate tax rate, will likely generate over $2 million in additional tax revenue.

It is sort of good news for County property owners -- because it means your property value is (likely) increasing -- but it is also potentially bad news, as your tax bill will likely be increasing.

To put some numbers to it:

The median sales price of homes in Rockingham County over the past 12 months was $212,500.

Assessed values are typically a bit low in the County, but we'll ignore than fact, and pretend that a house that sold for $212,500 is also assessed at $212,500.

A home assessed at $212,500 would pay $1,572.50 per year in real estate taxes.

A 2% increase in the value of a median priced home would be an increase of $4,250.

The resulting increase in real estate taxes would be $31.45 per year.


If you're interested in attending the public hearing, it will be held at 7:00 PM on Wednesday, March 28th at the Rockingham County Administration Center, located at 20 East Gay Street, Harrisonburg, VA 22802.

And -- you can both celebrate and mourn the news that property values are increasing, and that your real estate tax bill likely will be as well.
(Post updated afternoon of 3/26/2018 with additional notes per the second phase of the East Campus residence hall -- thanks Matt Phillippi)

The

updated Master Plan for James Madison University

offers a fascinating read as to the future plans of this institution that is a central part of Harrisonburg.

Download the full master plan here

.

One area of interest from a housing perspective is JMU's analysis of current housing offerings and demand.

As shown above....

Current on-campus housing includes 6,944 beds -- including a new East Campus residence hall (500 beds) currently under construction to open in Fall 2019.


Projected Full Time Enrollment is 23,471 -- at an unknown date.

JMU would like to house 35% of their students on campus -- which would be 8,215 students based on the projection of 23,471 FTE.

Current housing (with the new residence hall) shows a shortage of 1,271 beds for students.

The Master Plan identifies nine residence halls (in "the Village" area) that are in poor condition and need to be demolished -- and Chandler Hall will be torn down to make room for an expanded College of Business facility.

Eliminating these 10 residence halls reduces the beds by 1,991 students -- at which point JMU will only have 4,953 on campus beds for their projected demand of 8,215 students.

The nine residence halls at The Village currently house 1,748 students. The Master Plan recommends a new "Village Housing" complex to replace these residence halls -- which would be (6) separate 4-story residence halls housing a total of 2,800 students.

The new East Campus residence hall with 500 beds -- currently under construction -- is only half of the planned East Campus residence hall. An additional 500 beds will be added at some point in the future.


In summary -- 6944 current beds (including residence hall under construction), minus 1991 demolished beds (Village + Chandler), plus 2800 new beds (in the Village), plus 500 new beds (East Campus residence hall phase 2), equals 8253 beds -- which meets the target of 8215 beds.

Also of interest, today there are 6444 students living in "on campus" residence halls if you subtract out the new 500 bed East Campus residence hall that is being built -- compared to the 8215 students intended to live in campus at some future point -- whenever the FTE enrollment gets to 23,471.


New layout of Village area residence halls....




In the past 12 months -- properties in the City of Harrisonburg have sold with a median "days on market" of 18 days!?! That is fast!! Perhaps faster than the speeding train shown above -- which, if it does in fact travel through Harrisonburg, must do so at speeds so fast that none of us see it. :-)

The "days on market" metric measures the number of days between when a property is listed for sale and when it is under contract. Median indicates that half of all homes that sold were under contract in less than 18 days and half took more than 18 days. So -- of the 415 home sales in the past year, more than 200 of them were under contract within 18 days. Wow!

So, then, let's say you list your home for sale in the City of Harrisonburg.

And then Day 1, 2, 3, 4, 5, 6, 7, 8, 9, 10, 11, 12, 13, 14, 15, 16, 17 and 18 pass.

It is now Day 19. Hmmm. How do you feel? How should you feel?

Is your price too high? Has the market cooled? Will your home ever sell?

Maybe. Probably not. Probably.

A few thoughts...

It is possible that your price is too high - but we cannot conclude that based on the lack of a contract within 18 days.

The size of the buyer pool that would consider your property (based on price, size, location, etc.) will greatly affect whether your home sells above or below that median of 18 days.

When we're just 18 days in, don't look at the lack of a sale as the best indicator of whether your price is appropriate -- look at recent sales and competing listings.

What time of year is it? The pace of buying activity certainly ebbs and flows through the year, so if it is the "off season" it might take longer for your home to sell.

New buyers on Day 19+ won't consider your home to be a home that has been rejected by all other buyers. Maybe after 90 or 180 days they might....

So, as Day 19 comes and goes, don't (necessarily) despair. It is certainly a good idea to constantly evaluate how your home price fits into the market, but just because your home did not sell as quickly as half of the homes in the past year does not necessarily mean that the price is too high.

If a buyer is buying over $400K, or even over $300K, the layout of the home becomes very important to them. That is not to say that it is unimportant for a $200K buyer -- but someone buying a more expensive home oftentimes plans to stay in it for a longer time frame.

If not the #1 feedback, the #2 feedback I receive from showings of homes priced over $400K is that the layout just didn't work for the buyers....

They wanted another bedroom here, instead of there.

They wanted a more open floor plan.

They wanted more of a formal dining room.

They wanted a more spacious basement.

This room is a bit too big.

That room is a bit too small.

They don't like how close this room is (or is not) to that room.

And on and on.

Challengingly, the layout is something that is hard (nearly impossible) for a seller to change in order to appeal to a wider segment of buyers. Thus, if your home has a layout that continues to not work for buyer after buyer, you must either wait (and potentially wait and wait and wait) for the buyer who loves that layout -- or adjust the list price to make the house (even with its layout) more appealing to more buyers.
Back in 2015, Lakeview decided to sell off as much as 75 acres of their land, moving from a 36 hole golf course to a 27 hole golf course. Many (myself included) speculated that this land would be purchased by a developer or builder as the land is located in the midst of many upper end single family home neighborhoods.

We were all wrong.

Fifty acres (as shown above) were sold by Lakeview to Sunnyside Retirement Community in January 2017, for $1.2M. So, it seems, you will not see new roads going in and houses built in that area in the near future.

But now we know a bit more what Sunnyside is planning for this newly acquired land.

Sunnyside plans to add 28 acres of the newly acquired land to their master plan, to include:

12 single family detached homes
26 villas
2100 SF for a cafe
Memory care and health care center
Clubhouse and wellness center
Welcome center and corporate offices


Download the

rezoning request packet

or check out the

master plan

....
Mortgage interest rates are edging up again, as you may have heard. The average 30 year fixed rate at the end of February was 4.4% -- up from 3.9% just three months prior.

Could this (slight) rise in the cost of financing your home be affecting the pace at which buyers are signing contracts? Possibly.

It seems that 14% more buyers signed contracts this January and February as compared to last year during the same timeframe.

This is a likely indicator that we'll see stronger months of closed sales in March and April.

Then, the questions will be....

Will the pace of contract activity keep increasing?

Will mortgage interest rates keep increasing?

Let's hope for yes and no, in that order.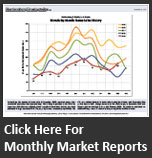 Subscribe

Receive notifications of new content on this blog, via e-mail or RSS reader.