Welcome! This blog tracks the real estate market in the Central Shenandoah Valley, featuring market data and analysis, an exploration of common buying and selling questions, and candid commentary on all things real estate.
If you are interested in discussing any of the topics on this blog, or the details of your specific real estate situation, call or e-mail me!
I recently created

HarrisonburgAssessments.com

, which analyzes the relationship between sales prices and assessed values. And then it hit me -- what if we compared list prices to assessed values -- might we find the best buying opportunities in and around Harrisonburg?

Introducing . . . . BestDealsInHarrisonburg.com!


Are the 30 properties on this new website REALLY the best deals in Harrisonburg? Possibly.

The properties featured on

BestDealsInHarrisonburg.com

are being offered at a low list price compared to their assessed value. This is likely to mean that they are a "good deal" -- though if their assessed value happens to be high (relative to their market value) then the deal won't be as sweet.

As always, consult a Realtor (such as myself) for expert advice on whether any particular property really is a great deal.

BestDealsInHarrisonburg.com

is simply shuffling some good prospects to the top of the pile for your consideration.

What are you waiting for? Go check it out at

BestDealsInHarrisonburg.com

.
How, you might ask, do you find the assessed value of your home?

You could dig out your most recent property tax bill.


In Rockingham County, you could search the GIS for your property.


In the City of Harrisonburg, you could search the REIS for your property.


Or....possibly the easiest solution....

You can now search for your home's assessed value on HarrisonburgAssessements.com.

Before you go search, however, please remember that....

The Assessed Value of your home is the value assigned to a property by the local assessor's office, to determine how much you will pay in taxes.


The Market Value of your home is the price for which a property would sell in the current real estate market.


The Assessed Value of your home is not necessarily equal to the Market Value of your home.
As shown above, 37% of homes that sold in 2014 closed within 90 days of being listed for sale. Homes that are prepared well for the market (repairs, improvements, staging), and priced well (know thy market) and are marketed well, will often sell relatively quickly.

All that said, don't forget that

there are some factors outside of your control

as a seller.
Take a few minutes to

walk through this updated duplex

on a cul-de-sac, located in a private, wooded, highly convenient location in close proximity to Sentara RMH Medical Center, James Madison University as well as dining, shopping and much more. Enjoy an open floor plan on the first level with a large living room, kitchen with dining area, office/sunroom and a bedroom with attached full bathroom. Upstairs you will find an additional large bedroom with full bathroom as well as a walk in unfinished attic space for additional storage. Don't miss the two back decks, gas fireplace, stainless steel appliances (gas range!), hardwood floors, fresh paint, updated light fixtures, blinds on all windows, two bay windows, ceiling fans, storage area on the back deck and hardwood treads on the stairs.

Click here to walk through this home now

, on your computer, phone or tablet.

Or, visit this home's

property website

.

Or,

view lots of pretty photos of this home

by clicking the collage below....
As shown above, we are starting to see fewer foreclosures in Harrisonburg and Rockingham County.

With some regularity, I am asked by potential purchasers how they would go about buying a foreclosure. First, here is a

list of upcoming foreclosure sales

, but more importantly, below is a description of a few ways to buy what you might be thinking of as a foreclosure.

If you are in the market to buy a home, some of the properties you might be considering are foreclosures – but there are some distinctions to be aware of at different stages of the foreclosure process. It is possible to buy a home from the owner before they are foreclosed on even if they cannot pay off their mortgage – this is called a short sale. Or, you might buy a property at the courthouse steps when it is being auctioned – this is called a trustee sale. Finally, if a property does not sell at the auction, you can buy the property from the lender after they have taken ownership of the property – this is called a bank owned property or REO property.

SHORT SALES

: Some homeowners must sell their home, but market conditions won't allow them to sell it at a high enough price to be able to pay off their mortgage(s). In this example, a homeowner might have a $250,000 mortgage balance but can only sell the property for $230,000. As a prospective buyer, it is sometimes possible to purchase this type of a property through a process called a "short sale." In such an arrangement, the homeowner petitions their lender to accept less than the full payoff of the mortgage and in return to still release the deed of trust so that ownership of the property can be transferred over to you, the new owner. This can benefit the lender, as they skip the time delays and cost of the foreclosure process. This can also benefit the homeowner, as a short sale will have a slightly lesser negative impact on their credit as compared to a foreclosure. As a buyer, however, you must know that there are challenges to buying a property as a short sale. The biggest challenges of late seem to be the uncertainty of the purchase and the time table. Even if you and the homeowner agree to a price of $230,000, the homeowner's lender must still agree to accept that price – since it won't allow the homeowner to pay off their $250,000 mortgage balance in full. This process of waiting to hear back from a lender, and then complying with all of their various terms can sometimes take 60 to 120 days – or longer! Visit

HarrisonburgShortSales.com

for a list of potential short sale properties currently on the market.

TRUSTEE SALES

: If a short sale does not take place, and a homeowner is behind on their payments (or not making them at all), eventually the property will be sold by the lender on the courthouse steps. Buying a property at a "trustee sale" can be exciting, and can be a great opportunity – but there are challenges as well. If a property to be sold at a trustee sale is also listed for sale with a Realtor, you can usually view the property ahead of time by calling your Realtor. Otherwise, you will likely not have the opportunity to see inside the property before the trustee sale, and thus you will not know too many details about the condition of the property. Furthermore, your purchase of the property at the trustee sale cannot be contingent upon viewing the property, or inspecting the property. In this instance, you are purchasing the property in "as is" condition, regardless of what you then find out about the property. It is also important to note that many times the lender will have an opening bid at the trustee sale that is close to (or sometimes higher than) the amount that they are still owed on the mortgage. Thus, in the example above, they might make an opening bid of $250,000. As a result of this opening bid process, many (or most) properties available for purchase at a trustee sale are not great opportunities. Occasionally, a property will be foreclosed upon that has had a mortgage in place for many years, whereby the balance of the mortgage is much lower than current market value – these are great opportunities for a buyer. Visit

HarrisonburgForeclosures.com

for a list of upcoming trustee sales.

BANK OWNED PROPERTIES

: If you don't buy the property before the auction (as a short sale), and don't buy it at the trustee sale, you'll have a third opportunity to buy it once the bank owns it. These properties are called "bank owned properties" or REO properties ("real estate owned"). Oftentimes, the prices on these properties are quite realistic, if not under market value. It would not be atypical for a house such as the one mentioned above to come on the market after the trustee sale at a price of $210,000. In such an instance, you should expect to be buying the property in "as is" condition, and you will also be buying with a slightly different contract document. Most lenders have a long standard contract or contract addendum that spell out a variety of additional contract terms designed to protect them from any future liability – and rarely will a lender agree to have these contract documents changed in any way. As you can see above, oftentimes buying the property as an REO property is where the best opportunity lies. Visit

HarrisonburgREO.com

for a list of bank owned properties currently on the market for sale.

When a home goes into foreclosure it is often for very sad and unfortunate reasons – such as the loss of a job – and I do not wish such circumstances on any homeowner. However, if you are a buyer in today's market it is important to be familiar with different methods for buying a property when it will be, is being, or has been foreclosed upon.
How do Assessed Values compare to Market Values?

Wonder no longer! You can now find out via

HarrisonburgAssessments.com

.

You'll want to visit this new site for full details, but here is a quick snapshot....

Find out more about the relationship between market values and assessed values at

HarrisonburgAssessments.com

.
Here's my monthly updates on long-term mortgage interest rates and they (AGAIN!) have dropped over the past month. The average rate is now 3.66%. It is a great time to lock in your interest rate if you are buying a home!
After a huge spike in sales (408 lot sales in 2004) and in median prices ($99,900 in 2006), the sales of building lots cooled quite a bit between 2004 and 2009.

The last few years, have shown slow but steady growth in this segment of our market -- 60 . . . 61 . . . 79 . . . 83 sales over the past four years.

This has also resulted in stability in the median sales price, which has been right around $55,000 for the past five years.

The next question is -- where (and when) will we see the next new development of single family home residential lots....
For the second year in a row we are starting out in January with a six month supply of homes for sale, which is traditionally seen as a sign of a balanced housing market.

A few years ago (2009-2011) we were consistently starting the year with enough homes on the market for every buyer that would buy in that year. That equates to 12 months of housing supply, and those were years of having a significantly oversupplied market -- which caused sales prices to decline and gave buyers the upper hand in negotiations.

In 2015, we should expect that buyers and sellers will have relatively equal amounts of negotiating power, depending on the other factors affecting the sale.

Important Notes:

1. The 2015 sales (1083) is an estimate of the number of sales we will see this year.

Read more here

.

2. The number of months of housing supply available varies by price range. See my

full market report

for further details.
Showings were up again in December 2014 -- showing a 20% increase over December 2013. And looking at the second half of 2014, there was a 24% year-over-year increase over the number of showings in 2013.

Exciting times!

All that said, there is (clearly) quite a seasonal decline in the number of overall showings in November and December, which is likely to continue into January.
Here are my official predictions for the 2015 Harrisonburg and Rockingham County real estate market....

4% Increase in the Pace of Home Sale (to 1,083 sales)


3% Increase in the Median Sales Price (to $184,885)

Who else would like to make a prediction?

Click here for a larger version of my prediction graph.



Despite increases in the number of single family homes selling per year over the past four years (yellow bars above), the median price of single family home sales (blue line above) has drifted downward by 1% per year over the past two years.
I just published my monthly report on the Harrisonburg and Rockingham County real estate market. Jump to the

full online market report

, or

download the PDF

, or read on for highlights....

Here's the big news -- all of the data is in for 2014 and over the past year our market has seen....

a 3% improvement in the pace of sales
the highest number of home sales in the past seven years

a 2% improvement in the median sales price
the highest median sales price in the past four years


As is to be expected, there are significantly fewer homes on the market now as compared to this past summer -- buyers are choosing from 24% fewer homes today as compared to in July. Year-over-year, however, inventory levels are trending up slightly (+1.7%).

It is certainly easier to find a townhouse/duplex/condo these days than a single family home. Over the past year, inventory levels of single family homes have dropped 5%, while inventory levels of attached dwellings have increased 23%.

Foreclosures are significantly less of a problem in our local market (163 in 2014) as compared to some recent years (a peak of 270 in 2010).

Long-term mortgage interest rates continue to stay quite favorable -- currently below 4%, which has certainly contributed to plenty of buyer enthusiasm.

If you are buying or selling now, or will be soon, I encourage you to become a student of the housing market. Learn what has been happening recently, what is happening now, and what is likely to happen next. Being informed will allow you to make better real estate decisions. You can continue your studies by reading the entire January 2015 market report

online

, or by

downloading the PDF

.

Also, as always, if you're interested in talking to me about buying a home in Harrisonburg or Rockingham County.....or if you are interested in selling your current home.....just drop me a line by email (

scott@HarrisonburgHousingToday.com

) or call me at 540-578-0102.
29 sellers in Harrisonburg and Rockingham County would say YES!

Many homeowners took their house off the market over the holidays, some of whom will wait until Spring to put them back on the market. And why not? There couldn't be too many people buying homes over the Christmas holiday, right?

Looking back at this past holiday season, if you took your house off the market 10 days before Christmas (Dec 15) and waited until the first Monday after the New Year to put it back on the market....

You would have missed out on the 29 buyers who signed contracts to buy homes between those dates.

I'll remind you before Christmas, next year, rather than pointing it out afterwards. Now we know!
Quite a few buyers committed to buy properties last month. The graphics below show what those buyers chose to buy. And

here are the lucky sellers

whose homes are currently under contract.
Take a few minutes to

walk through this spacious, upgraded townhouse

at The Townes at Bluestone is ready for you to move in, and is located in the Blue Stone Hills area, convenient to dining, shopping, JMU, and everywhere you want to be. Upgrades include granite countertops, hardwood floors, ceramic tile, crown moulding, tray ceiling in master suite, peninsula gas fireplace, security system, custom window treatments and much more. Enjoy two large master suites on the top level, plus a finished bonus room (with full bathroom) in the basement that could serve as a rec room, den or third bedroom. Don't miss the two car garage and deck with views.

Click here to walk through this home now

, on your computer, phone or tablet.

Or, visit this home's

property website

.

Or, view

lots of pretty photos of this home

by clicking the collage below....
Do I sell homes in Broadway, VA? You bet. So, if you are interested in buying a property in Broadway, or selling a property in Broadway, you are welcome to

contact me

about that.

However....my associate,

Mattias Clymer

, knows even more about

Broadway, VA real estate

than I do....so I'll probably be working in tandem with Mattias to best serve your needs.

Interested in exploring homes for sale in Broadway, or learning more about market fluctuations in that area? Look no further than Mattias' new website....

BroadwayVAHomes.com
Happy (almost) New Year! A few more December sales will likely still trickle into the MLS over the next week, likely helping December 2014 exceed December 2013 home sales levels.

Stay tuned for a full analysis of December (and 2014) home sales in early January.
As shown above, the price (per acre) of land sales in Rockingham County is starting to improve in several price ranges.

After three years of declines, the median price per acre of 5 - 10 acre parcels has improved slightly (+2%) over the past year to $11,036 per acre.


The median price per acre of 10 - 20 acre parcels declined again in 2014 to $9,000 per acre.

The median price per acre of parcels of 20 or more acres continues to increase, now to $6,846 an acre, a 57% increase over last year.

Read on for more details on the pace of land sales....




As shown above, the pace of sales of 5 to 10 acre parcels is (slowly) increasing.






As shown above, the pace of sales of 10 to 20 acre parcels is also slowly improving.






The increase in the sales of 20+ acre parcels has steadily increased over the past few years.
Sellers are usually quite disheartened to receive a low offer on their house, for example, an offer of $250K on a $300K listing. But it is important to remember that even that low offer really is a complement!

If you have not yet had an offer on your house (that is listed at $300K) and you receive an offer of $250K, that doesn't necessarily mean your house is only worth $250K, nor does it necessarily mean that you should accept $250K or something close to it. It does, however, mean something quite exciting --- somebody wants to buy your house!!!

Of course, negotiations won't always work out with low offers -- but recognize a low offer for what it is -- a buyer who wants to buy your house, and perhaps the first buyer who has declared as much through a written offer!

If there is any way to put a deal together with those buyers, you ought to pursue it, as it's hard to know when the next buyer will work up the courage to tell you that they want to buy your house!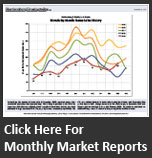 Subscribe

Receive notifications of new content on this blog, via e-mail or RSS reader.