Welcome! This blog tracks the real estate market in the Central Shenandoah Valley, featuring market data and analysis, an exploration of common buying and selling questions, and candid commentary on all things real estate.
If you are interested in discussing any of the topics on this blog, or the details of your specific real estate situation, call or e-mail me!
What???

Average mortgage interest rates (on a 30 year fixed rate mortgage) are back below 4% again. I truly did not think we'd see that this year -- or possibly ever. It seemed likely we'd stay between 4% and 4.5% or even up to 5% during 2017.

Anyhow -- if you're in the market to buy, and have a contract signed on a house you are purchasing -- LOCK IN YOUR INTEREST RATE!

Of note -- if you can swing it to finance your mortgage over 15 years instead of over 30 years, you'll be even happier at 3.23%!
So many homes these days are going under contract QUICKLY and sometimes with MULTIPLE OFFERS!

Depending on the house, and the location, and the condition, and the price, it may garner a lot of attention very quickly from buyers. This is mainly a result of the very low inventory levels we are seeing right now in many price ranges.

So, what does it mean to be ready as a buyer?

Know the market. Start looking at homes now, even if they aren't the ideal, perfect home for you. This will educate you about how homes and prices relate, so that you will know if a house is a good deal when it comes on the market.

Know your purchasing power. Talk to a lender sooner rather than later to know exactly how much you can afford to buy, how a variety of price points relate to monthly payments, and so that you have a pre-approval letter on hand.

Know about new listings. Monitor new listings carefully and constantly -- or ask me to do so. Use the website of your choice -- my favorite is NewListingsInHarrisonburg.com, where you can sign up for email alerts of all new listings. If you want me to filter down to just send you some new listings by email, just let me know.

The new listings are coming -- and one could be just what you are looking for -- will you be ready?



If you are entering the market to buy a home, the number of homes you will have to choose from will vary widely based on what you are looking for in a new home. Some buyers have a very narrow scope and find themselves on a prolonged hunt for what seems to be an elusive or mythical home. Some buyers find plenty of options, evaluate quite a few, make a decision and move forward with an offer.

However -- keep in mind that as you consider the 403-ish homes currently on the market for sale, that some of them have been on the market for 3 months, 6 months, 9 months or even longer. The freshest of fresh listings are those that have come on in the past 30 days -- which (this time of year) is less than 100 of the 403-ish homes currently listed for sale.

Depending on your time frame for buying, and the narrowness of your scope, sometimes it makes sense to quickly evaluate the current options -- and then to wait and see what new and exciting listings will be coming on the market in coming days and weeks.

Steps to get started include talking to a lender to get a sense of your target price range, and then chatting with me (in person, by email, by phone) so that I can also be keeping an eye out for suitable properties for you.

Learn more about the home buying process at....
view a larger image by clicking

here

Have I mentioned that I enjoy flying my drone? For business purposes, of course -- definitely just a business tool....

Anyhow -- the drone does (in my opinion) well capture the property shown above -- which offers privacy (2.12 acres), space (3,184 finished square feet) a pool (20x46) and mountain views in nearly every direction!

Find out more about the house by visiting the

property website

.

Do you want a photo of your property by drone? All you have to do is sell it! :) Just kidding -- I'm always looking for an excuse to fly my drone....

As a bonus, here is another shot taken above (or somewhere near) the property referenced above....

view a larger image by clicking

here
Click on the image above for a PDF of this summary of the proposed 2017-18 Rockingham County budget.

As shown, this would require the real estate tax rate to increase from $0.70 to $0.74. Which turns out to be less than the proposed increase in the City of Harrisonburg....

Read lots more about WHY the tax rate needs to increase here....

County Eyes More Taxes, Fees

Daily News Record, April 5, 2017

No Comments At Budget Hearing

Daily News Record, April 13, 2017
Last year (2016) was a startlingly strong year in the residential real estate market in Harrisonburg and Rockingham County -- and thus far, 2017 seems as if it will hold its own.

The graph above shows the number of contracts signed per month over the past three months of 2017 (orange) -- and how that compares to the pace of contract signing in 2016. As you can see, despite a slightly slow start in January, both February and March of this year showed MORE contracts being signed than the year below.

How, then, are we doing thus far in April??? Could we possibly see a jump all the way up to 158 contracts signed??? Here's what we can see so far....

April 1 - 18, 2016 = 91 contracts

April 1 - 18, 2017 = 92 contracts ! ! !

So, yes, it seems April might continue on the strong streak of home sales in 2017!
The City of Harrisonburg has published their proposed 2017-18 budget, which includes a proposed increase in the real estate tax rate from $0.78 per $100 of assessed value to $0.85. This would mark a 9% increase in the real estate tax rate in one year, and a 35% increase over a four year period.

A budget summary follows, or you can find the entire proposed budget

here

.
The graph shown above is an illustration of changing inventory levels (blue line) and the number of buyers buying in a six month period (orange line).

The point at which the two lines meet is when there was exactly six months of inventory of homes on the market for sale.

All of the months prior to when the lines met are times when (to varying degrees) there were many more homes on the market (housing surplus) than there were buyers to buy them (low demand).

All of the months after the point when the lines met are times when (to varying degrees) there have been far fewer homes on the market (housing shortage) than there are buyers to buy them (high demand).

Perhaps what has surprised me the most in the past year is how quickly the balance seems to be swinging towards a seller's market (low supply, high demand) when I thought we might stay in a relatively balanced market (high supply, high demand or moderate supply, moderate demand) for some time.
Rockingham County's budget for the 2018 fiscal year (which begins July 1) includes a proposed $0.04 increase in the real estate tax rate, which would increase from $0.70 to $0.74 per $100 of assessed value.

Some context....

It would appear that this $0.74 real estate tax rate may be the highest real estate tax ever levied on property owners in Rockingham County. The previous high was $0.71, which was in place between 2000 and 2005.


It seems that this will be the third consecutive year of increased taxes -- which will have jumped from $0.64 (2014) to $0.68 (2015) to $0.70 (2016) to $0.74 (2017). This will mark a 15.6% increase in the real estate tax rate over a three year period.

The median sales price of homes in Rockingham County in 2016 was $203K. If all homes were assessed at their market values, this $0.04 increase between 2016 and 2017 would equate to an annual increase of $81.20 in real estate tax on a median priced home. This would be an increase of $6.76/month -- just a bit less than a Starbucks Venti, Quad-Shot Caramel Macchiato.

Rockingham County held a public hearing this week and nobody (that's right, count them, zero people) made any comments about whether they thought it was OK for these tax rates to increase.


Read lots more about WHY the tax rate needs to increase here....

County Eyes More Taxes, Fees
Daily News Record, April 5, 2017

No Comments At Budget Hearing
Daily News Record, April 13, 2017

Housing inventory levels are declining in Harrisonburg and Rockingham County, but perhaps none so precipitously as the under $200K market.

As shown above, there are HALF as many homes for sale under $200K now as compared to one year ago. This leaves many buyers in this price range in a difficult spot of trying to find a home to purchase that will fit their needs.

I believe some of this is related to a lack of new construction of homes in this price range.

Read more about our local housing market at

HarrisonburgHousingMarket.com

.
This beautiful home is 2930 Brookstone Drive - check it out here!

Wow! March was a

wild and crazy

month in the real estate world in Harrisonburg and Rockingham County. Let's put it this way -- in the past three years, there have only been three months when more buyers have signed contracts than in March 2017! But I'm getting ahead of myself -- read on....

As you'd guess from the header image above, I have published my monthly market report, which you can

download as a PDF

, or

read online

. For the abridged version of the most important things for you to know, read on....

First -- for those that would rather listen/watch than read -- tune in to my monthly video overview of our local housing market....

And now, some general indicators of market performance....

Some basic notes from this general market overview:

There were 7% more home sales this March as compared to last March.
YTD, we're seeing 4% more home sales in 2017 as compared to 2016.
Home sales in the past 12 months are 14% higher than the previous 12 months.
The median sales price increased 1.3% in March as compared to a year ago.
The 2017-YTD median sales price is actually 1.6% lower than last year.
The median sales price over the past 12 months ($192,000) is 2.95% higher than the previous 12 months when it was $186,500.
Homes are selling 5.56% faster in the past 12 months as compared to the previous 12 months.




As shown above, each month of 2017 (so far!) has barely surpassed the same month of the previous year. That said, we may be about to see a significant change in that trend because....




As shown above, homes were flying off the shelf (buyers were signing contracts) faster (slightly) than I can eat donuts from Peace, Love and Little Donuts. No joking, though, as noted above, the 140 signed contracts in March 2017 exceeds all but three months from the past three years. So -- it seems likely that we'll see a pop in April 2017 home sales!

With all of these homes selling, are we running out of homes for folks to buy?




Why yes, we are! There has been a 30% decline in the number of homes for sale over the past year. And -- get this -- if we look solely at homes under $200K, there has been a 50% decline in housing inventory levels!


OK -- so, more homes are selling, at higher prices, more quickly -- sounds good for sellers, right?

Yes, but I would still remind all sellers that even in a seller's market it is still essential to focus on price, condition and marketing.


And what is a buyer to do in some crazy times as these? Be prepared! Know the market, know the process, know your buying power, and monitor new listings closely!


If you're interested in even more market data, read my full online market report, download the PDF, or click here to sign up to receive my real estate blog by email.

And -- as is always my encouragement -- if you will be buying or selling a home in the near future, start learning about our local housing market sooner rather than later! Being informed will allow you to make better real estate decisions.


Here are two handy references to prepare yourself to buy or sell a home....


scott@HarrisonburgHousingToday.com

.
If you are looking to purchase a rental property for your JMU student to live in while they are a student at JMU, there are two basic paths you could go down....

Option 1 -- A property in a traditional student housing neighborhood. These will allow the most students to live in the property and will maximize the rental income per dollar spent on the purchase. However, it will also expose you to a more turbulent segment of the market, as rental rates and sales prices of these properties can vary quite a bit over time as the supply of competing student housing ebbs and flows based on large complexes being built by student housing developers. You can find purchase options in this category

here

.

Option 2 -- A townhouse in a community that has many owner occupants, some non-student renters and some student renters. Many of these will not allow as many un-related students to live in the property (per zoning regulation or restrictive covenant) and will not provide quite as much rental income per dollar spent on the purchase price. However, they will be in segment of the real estate market that is much more predictable and less volatile from a rental rate and/or sales price perspective. You can find purchase options in this category

here

and

here

.

I work with parents of JMU students each year who go down each path outlined above, each for different reasons. Most of the time, though, it boils down to their tolerance for risk or their desire for reward. It can also be related to their intended time horizon for owning the property.

If you are interested in buying a rental property for your son or daughter to live in while they are at student at JMU,

let me know

.
Get this -- you can support Downtown Harrisonburg AND have the opportunity to win funds to use as your down payment on a house! :)

Harrisonburg Downtown Renaissance has launched

FRIENDLY CITY FORTUNE

-- a large scale raffle with $250,000 of prizes to be given away on July 4, 2017.

Prices include thousands of dollars of cash (including a $3K winner, $5K winner, $10K winner and $30K winner!!) and a 2017 Ford F-150 4x4!

Tickets are $100 -- 5000 of them will be sold -- and all raffle proceeds will support the vitality of downtown Harrisonburg through important redevelopment, beautification and community-building initiatives.

Learn more about the Friendly City Fortune

here

, or buy your raffle ticket

here

.
Don't miss the inaugural

Shenandoah Valley SING OFF

, this Saturday, at Harrisonburg High School, featuring the following groups....

Camerati (All-male a cappella chamber ensemble)
Cantore (Male vocal ensemble)
Desperate Measures (Barbershop quartet)
Exit 245 (All-male a cappella group-JMU)
Good Company (Six member a cappella group)
Harrisonburg Harmonizers (Barbershop chorus)
Low Key (Co-ed a cappella group-JMU)
Shekinah (Female vocal ensemble)
Flying V's (Co-ed a cappella group-UVA)
Overtones (Co-ed a cappella group-JMU)

These a capella groups will be competing for these three prizes:

1st place-$750 cash prize
2nd place-$500 cash prize
Audience Favorite-$250 cash prize

Vocal Judges include:

Larry Taylor, Music Chair, Bridgewater College Music Chair
Jeffrey Bush, Director of the School of Music, James Madison University
Joy Anderson, Assistant Director, Shenandoah Valley Children's Choir

Audience Judges include:

Deanna R. Reed, Mayor, City of Harrisonburg
George Hirschmann, City Council member

This event is a fundraiser for the

Shenandoah Valley Children's Choir

. I'll be there this Saturday -- will you join me? It is bound to be a fun event!

Shenandoah Valley SING OFF

April 8, 2017 @ 7:00 PM @ Harrisonburg High School

1001 Garbers Church Road, Harrisonburg, VA 22801

Buy Tickets Online Here
Mortgage interest rates ticked back downwards a bit yesterday to finish out the month of March at 4.14%. If we can keep going through 2017 between 4% and 4.25%, I'd be delighted -- though I suspect we'll end up in the 4.5% - 4.75% range.

All that said, despite not being sub-4%, interest rates should not necessarily be drastically changing buying behavior.
How, you might ask, do we go about getting from the point of wanting to make an offer --- to actually making the offer? Here's a brief overview....

Obtain a pre-approval letter from a lender.

View the property.


Ask follow up questions of seller. (utility costs, age of house components, reasons for selling, motivation level, timing logistics)


Research comparable sales to determine market value.

Research restrictive covenants, deed restrictions, septic system details, survey, etc.

Discuss negotiation strategies.

Determine main terms of offer. (price, timing, contingencies)

Draft and review offer documents.

Sign (in person or electronically) offer documents.

Submit offer documents to the seller and (patiently?) wait.


Let me know if you have questions about this process -- and know, of course, that the process looks slightly different for each buyer and for each property. This is a general guide, but not a required list and sequence.

When we get to step seven, above, we will be discussing and deciding on the terms of the offer. Below is a list of the main contract terms we will need to discuss in preparing to make an offer.

Your Full Name:

Your Current Address:

Personal Property to Convey:

Offering Price:

Type of Financing: LTV: Rate Cap:
Earnest Money Deposit:
Request for Closing Cost Credit?
Financing Deadline:
Settlement Date:
Home Inspection? Radon Inspection?
Inspection Deadline:
Do you want to purchase a home warranty?
Other Terms?

When making our offer, it will be important to remember that there are a variety of terms that will be important to the seller - not just price, but also timing, contingencies, etc.

Before and after making an offer, there is a lot more to know about and think about regarding the home purchasing process. Read more at....
If a buyer is buying over $400K, or even over $300K, the layout of the home becomes very important to them. That is not to say that it is unimportant for a $200K buyer -- but someone buying a more expensive home oftentimes plans to stay in it for a longer time frame.

If not the #1 feedback, the #2 feedback I receive from showings of homes priced over $400K is that the layout just didn't work for the buyers. They wanted another bedroom here, instead of there. They wanted a more open floor plan. They wanted a more formal dining room. They wanted a more spacious basement.

Challengingly, the layout is something that is hard (nearly impossible) for a seller to change in order to appeal to a wider segment of buyers. Thus, if your home has a layout that continues to not work for buyer after buyer, you must either wait (and potentially wait and wait and wait) for the buyer who loves that layout -- or adjust the list price to make the house (even with its layout) more appealing to more buyers.
Buyers were at it again in March 2017 -- with a 10% increase in buyer activity in the first 26 days of March as compared to the same timeframe a year ago.

Look for a strong month of closings in April based on these strong March contract figures!
Sellers are certainly enjoying themselves these days. Perhaps because it wasn't too many years ago that sellers were having a difficult time selling their homes. My oh my how the tables have turned.

PRICES ARE UP

- this is good for sellers, as they are likely to sell their home for more than they would have a year or so ago.

INVENTORY IS DOWN

- this is good for sellers, as they have fewer homes to compete against in the current market.

DEMAND IS UP

- this is good for sellers, as there are more buyers potentially interested in buying their home as compared to a year ago.

TIME ON MARKET IS DOWN

- this is good for sellers, as they are likely to sell their home more quickly than they would have a year ago.
If you will be selling your home to buy another, there are a lot of numbers floating around....

what you'll sell for
your closing costs when selling
your mortgage payoff
how much you'll pay for your new home
how much of the purchase price you will finance
how much your mortgage payment will change

Above you will see a spreadsheet I put together to help you think about some of these numbers as you are evaluating if and when you will make a move to a new house.

In yellow, are all of the inputs you will need to provide, or that you and I can determine together, such as your current payment, your home's current value, your mortgage payoff, whether you will be putting any additional money into the transaction, etc.

In green, I have identified your potential future mortgage payment and the net change in your monthly payment.

All of the numbers without a background color will automatically calculate for you.


Click here to download this worksheet as an editable Excel file.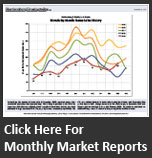 Subscribe

Receive notifications of new content on this blog, via e-mail or RSS reader.