Welcome! This blog tracks the real estate market in the Central Shenandoah Valley, featuring market data and analysis, an exploration of common buying and selling questions, and candid commentary on all things real estate.
If you are interested in discussing any of the topics on this blog, or the details of your specific real estate situation, call or e-mail me!
Schools
Have you heard? There are more high school students to be taught in Harrisonburg than can readily fit inside of the high school!

There are three options being considered:

Built an Annex (+800 students, $48M)
Build an Addition (+800 students, $45M)
Build a School (+1300 students, $88M - $100M)


A rendering of the potential ANNEX from Mosely Architects....

A rendering of the potential ADDITION from Mosely Architects....

There are pros and cons of each option, but the High School Space Study Committee has recommended building a new high school.

But YOUR OPINION is wanted, needed, welcomed!

Click here to read up on the options, pros and cons.Click here to voice your opinion.
click the image above for a larger version of this photo

Construction is moving right along on Bluestone Elementary, being built on Garbers Church Road across from Harrisonburg High School.

Excerpts follow from an April 23, 2016 Daily News Record article....

"Bluestone is meant to alleviate overcrowding within the division, especially at Skyline and Thomas Harrison middle schools."


"Once the school opens in fall 2017, Kizner said that fifth-graders will no longer attend the middle schools and will instead continue attending their respective elementary schools."


"The $25.9 million facility will sit on 10.8 acres across the street from Harrisonburg High School and adjacent to Heritage Oaks Golf Course. It will be 112,000-square-feet and consist of three floors."


View the final Elementary School Redistricting Plan

here

.
Here is a grand oversimplification:

Harrisonburg High School is filled beyond capacity.
The school-aged population in the City of Harrisonburg is continuing to grow.
The high school needs to be expanded or a new high school built.
Any such expansion or new build will be very expensive.
This large expense is likely to be paid for primarily via an increase in real estate taxes.


So, then, how much will real estate taxes increase?

As shown above, it depends on the value of your home. These examples are based on the potential need for a $0.175 increase (per $100 of assessed value) in the tax rate.

Increasing the tax rate from $0.85 to $1.025 would result in....

The owner of a $150K property paying $22 more per month.
The owner of a $250K property paying $36 more per month.
The owner of a $350K property paying $51 more per month.
The owner of a $500K property paying $73 more per month.

So -- yes -- this would be a drastic increase (20.5%) one-year increase in the real estate tax rate. But when broken down to the actual increased cost per month, it does not seem quite as overwhelming.

Further reading from the Daily News Record:
The City of Harrisonburg School Board has approved the redistricting plan for the City elementary and middle schools to go into effect this coming (2017-18) school year. The final public hearing took place this past Tuesday, and no members of the public spoke to provide any additional feedback about any further recommended changes.

Some excerpts from today's Daily News Record....

The division must change its attendance boundaries to accommodate its new $25.9 million school, Bluestone Elementary School, which will open on Garbers Church Road next fall for up to 750 students.

With the opening of Bluestone, fifth-graders will remain at their elementary schools instead of advancing to the middle schools.

Most of Bluestone's future students now attend Keister Elementary. Students from Waterman and Spotswood will take the place of former Keister students.


Read the full DNR article here.


Download the full maps for the redistricting (and other notes)

here

.
Click here to download the proposed Elementary School and Middle School maps

.

(current as of 11/7/2016, check

here

for updates)

If you haven't heard, Harrisonburg City Public Schools are in the midst of a redistricting process, which may change which elementary school or middle school your child will attend in the City of Harrisonburg. This redistricting is a result of the changes required by the forthcoming opening (Fall 2017) of Bluestone Elementary School on Garbers Church Road.

A few highlights to address some FAQ's....

Students in Dual Immersion classes will have the option of staying at their current school.
Rising 5th grade and 8th grade students can stay at their current school contingent on space.
Consideration will be given for younger siblings of rising 5th and 8th grade students to stay at their current school until the rising 5th or 8th grade student graduates.


You can review all of the information about the redistricting and view the most up to date maps on the

HCPS website

.
view a larger image

Dirt is moving on Garbers Church Road as the City of Harrisonburg works to construct a new elementary school -- next to Heritage Oaks Golf Course and across the street from Harrisonburg High School.

Read all about the plans for this school in this

Daily News Record article

from April.
Join Harrisonburg City Public Schools as they launch their first ever

Science, Technology, Engineering, and Mathematics (STEM) Day

today.

There will be over 50 interactive exhibits, displays, hands on experiments and so much more! Bring the kids out and foster their love for fun and entertaining education.

Click here to view

details of the exhibits at today's STEM day

, including Wind Energy, Tower of Cards, Hovercrafts, Sink and Float, Puff Mobiles, Recycle Regatta, Robotics, Lego League, Square Wheel Bike, Ooblek Jog, Star Lab, Engineering, Chemistry Sizzles, Computer Drawing, and more!

Visit the STEM Day web site here to view a promotional video....
Do you live in the City of Harrisonburg, but want your son or daughter to attend school in Rockingham County?

Are you considering moving from the County to the City, but still want your son or daughter to attend school in Rockingham County?

Rockingham County is continuing a program that will allow students that do not live in Rockingham County to apply to attend school in Rockingham County. A few notes....

You must go through the application process each year.

You must pay a $3,000 per year tuition.
Accepted students are sent to the school closest to their residence unless designated to another school due to limited space.


How many students, you might wonder, participated in this program last year? Only five, it seems -- two from the City of Harrisonburg, and three from Augusta County.

Read today's DNR article on this topic here

.
Thanks to

Justin

, we easily figure that out (see the map below)! I found this

great map

on the "

Schools

" page of the Rockingham County Public Schools web site. You'll find links to each school, and other great information

there

as well.

View Larger Map
Late notice, I know, but on

Monday, March 31, 2008

at

10:00 a.m.

the groundbreaking will take place for East Rockingham High School and River Bend Elementary School. The location (14652 Rockingham Pike, Elkton, VA) is indicated below.

View Larger Map

Due to a schedule conflict, I will not be able to attend. If anyone makes it, let me know how it goes, or e-mail me some photos!
If you're

reading my blog in a browser

, as opposed to in a

rss reader

, you'll always see a property in the upper right corner of my blog. It is labeled as a "Top Property" with a number beside it --- and several of my blog readers have asked what this is all about. Now you'll know . . .

Coldwell Banker Funkhouser Realtors operates over 60 web sites with property listings --- this includes our

company web site

, and a web site for

each agent in our company

. Each day, consumers perform thousands of property searches on all of these sites combined.

We keep track of which properties are being viewed, and each night we sort through all of the properties on the market to find the

100 properties

that consumers have

viewed most frequently

in the

most recent 30 days

.

Curious to see how these properties rank?

Visit my blog

, and click on the

button next to the "Top Property" section. You'll be able to see a list of the top 100 most viewed properties. Enjoy!
Continued growth in

Harrisonburg

and

Rockingham County

has brought on the construction of many new schools:

Smithland Elementary School (2008 - Harrisonburg)
Skyline Middle School (2008 - Harrisonburg)
Cub Run Elementary School (2008 - just east of Harrisonburg)
River Bend Elementary School (2009 - Elkton)
East Rockingham High School (2010 - Elkton)


The map to the right shows the (proposed) new elementary school districts in Rockingham County.

The

Rockingham County Public Schools

and

Harrisonburg City Public Schools

web sites seem to be the best source of information for keeping up to date on the redistricting.

In Rockingham County, there are four public hearings planned:

January 22, 6:30 pm
Montevideo Middle School


January 29, 6:30 pm
Turner Ashby High School


January 31, 6:30 pm
Broadway High School


February 12, 6:30 pm
Pleasant Valley Elementary School


I am intrigued to see the process unfolds. Everything I've heard about school redistricting is that it can be controversial.
As seen below, the Harrisonburg and Rockingham County real estate market experienced a change in direction this month.

October

and

November

of 2007 showed sales quite a bit stronger than 2006. However, December 2007 numbers fell quite a bit below

October '07

,

November '07

, as well as December '06.

January sales figures should be interesting, as they have been very consistent for the past several years.

The Details:

The graph above shows the number of sales per month as reported by the Harrisonburg/Rockingham MLS in all of Harrisonburg and Rockingham County
Five local schools were recognized by U.S. News & World Report

as being amongst "

America's Best High Schools

."

According to the report, "A three-step process determined the best high schools. The first twosteps ensured that the schools serve all of their students well, usingstate proficiency standards as the measuring benchmarks. For thoseschools that made it past the first two steps, a third step assessedthe degree to which schools prepared students for college-level work." (

read more

)

The local schools ranked in this report were:

SILVER MEDAL

Ft. Defiance High School (Augusta County) -

view report

BRONZE MEDAL

Buffalo Gap High School (Augusta County) -

view report

Riverheads High School (Augusta County) -

view report

Turner Ashby High School (Rockingham County) -

view report

Wilson Memorial High School (Augusta County) -

view report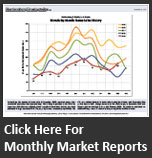 Subscribe

Receive notifications of new content on this blog, via e-mail or RSS reader.