Welcome! This blog tracks the real estate market in the Central Shenandoah Valley, featuring market data and analysis, an exploration of common buying and selling questions, and candid commentary on all things real estate.
If you are interested in discussing any of the topics on this blog, or the details of your specific real estate situation, call or e-mail me!
Buying
Find out more about this newly built home in Lakewood Estates at

1644CumberlandDrive.com

.

I just published my most recent monthly market report, and as usual, you can read on for an overview,

download the full report as a PDF

,

read the entire report with commentary online

, or tune in to my monthly video overview of our local housing market...

OK -- now, let's take a look a few of the main indicators for our local housing market....

As shown above....

Home sales slowed slightly in January 2018 to 61 home sales -- down 11.59% as compared to January 2017.

The annual pace of sales has dropped 4.79% over the past year -- from 1,315 sales to 1,252 sales.

Prices continue to trend upward -- having risen 4.11% over the past year, from $192,000 to $199,882.

Homes are selling much more quickly -- with median days on market having dropped 32.65% from 49 days to 33 days!






As shown above, January 2018 home sales were right in the middle of the pack as contextualized by the previous three years. And in some ways, we should expect to see around 70 home sales next month -- however....




Contract activity in January 2018 was much stronger than could have been expected. Buyers (and sellers) signed 85 contracts in January -- as compared to only 67 last January. Thus, it is reasonable expect we'll probably see somewhat of a bump in home sales in February.




But what are these buyers buying, you might ask? A great question -- as there are 24% fewer homes on the market now as compared to a year ago. As such, there is tough competition among buyers in many price ranges. It is not unusual to see multiple offers on properties under $200K.

And perhaps that is why so many homes are selling so quickly. Almost half of the homes that have sold in the past year have gone under contract within 30 days of coming on the market!

OK -- I'll stop there for now. Again, you can download the full report as a PDF, read the entire report with commentary online, or keep reading my blog in the coming days for further commentary.


If you're thinking of buying or selling soon ---


SELLERS -- even though it is a seller's market in many price ranges right now, you must still focus on price, condition and marketing.


BUYERS

-- it can be difficult and frustrating to buy right now -- make it a bit easier for yourself by

knowing the market

,

knowing the process

,

knowing your buying power

, and

closely monitoring new listings

!

For further reading on buying or selling in this area, check out....


scott@HarrisonburgHousingToday.com

.
Many of my savvy investor clients wait for these winter months to acquire additional rental properties. Their reasons are pretty logical....

In the Spring/Summer/Fall they have to compete with more owner occupant purchasers.

In the Winter, many sellers are less hopeful about the likelihood of finding a buyer, and often are more flexible on price.

Of note -- this advice is most applicable to townhouse properties that might be purchased by investors or owner occupants. This does not necessarily apply to multi-family properties or student housing properties.

If you are looking for some advice on how to get started with real estate investing, check out HarrisonburgInvestmentProperties.com.



As you can see above, Rockingham County is in Zone 1 -- which means we are in an area that is likely to have high radon levels.

What is radon, and what does it mean for you? Read on, from the EPA....

Radon is a radioactive gas that comes from the natural breakdown of uranium in soil, rock and water and gets into the air you breathe. Radon typically moves up through the ground to the air above and into your home through cracks and other holes in the foundation. Radon can also enter your home through well water. Your home can trap radon inside.

Any home can have a radon problem. This means new and old homes, well-sealed and drafty homes, and homes with or without basements. In fact, you and your family are most likely to get your greatest radiation exposure at home. That is where you spend most of your time.

Nearly 1 out of every 15 homes in the United States is estimated to have an elevated radon level (4 pCi/L or more).


Learn more about radon and real estate

here

.
A buyer agrees to pay a price for a house based on what they know about the house at that time. The home inspection process allows them to learn more about the house to confirm that it is the house that they thought. But sometimes, they discover problems with the house that they'd like the seller to address....

So, how do these home inspection negotiations usually proceed?

The short (and vague) answer is -- well, it depends on the terms of your contract. But, overall, here is how the inspection process typically flows....

As you can see above, after a buyer requests repairs (based on the home inspection) the seller can choose to make some, all or none of the requested repairs. The transaction (and negotiations) can then go in a few different directions based on that response.

Learn more about the home buying process at....
If you have lived in Harrisonburg for a while (more than a few years) which side of I-81 do you live on? The East or the West?

Would you consider moving to the other side of I-81?

Regardless of which side you are on now, I'm guessing most of you wouldn't flip-flop to the other side.

Most people stay on one side of I-81 after they buy on that side -- because they get used to the patterns of life on that side of our community. Nothing is necessarily better or worse on one side or the other -- but they are different, that's for sure.

EAST

: Most of the residential development over the past 15 to 20 years has been on the East side of Harrisonburg, in the general vicinity of the new hospital. This makes it an exciting place to live -- for some people. There are many newer developments where homes have recently been built, and there are newer commercial destinations (Stone Port, Martin's grocery store, Target, etc) all on the East side of town. But this also makes it a bit more hectic for getting around. Of note, there is also plenty of outbound traffic East of town, towards Massanutten, Elkton, Charlottesville, etc.

WEST

: There hasn't been as much residential development West of Harrisonburg over the past 15 to 20 years (other than Belmont and Monte Vista Estates) and this is just fine with most people who live on the Western side of Harrisonburg. Things are a bit calmer, without as much hustle and bustle, and in some cases with more established neighborhoods. The towns of Dayton and Bridgewater end up falling into this side of town as well for many people.

I am not doing justice to all of the differences between the East side of town and the West side of town, but I believe that most people in this area are oriented towards one side of town or the other, for very specific reasons. Furthermore, most people who have spent any considerable amount of time living on one side of Harrisonburg likely wouldn't think about moving over to the other side of Harrisonburg.

So -- if you're just moving to the area -- choose East or West carefully -- you might never switch to the other side!
With some regularity, I am asked by potential purchasers how they would go about buying a foreclosure. First, here is a

list of upcoming foreclosure sales

, but more importantly, below is a description of a few ways to buy what you might be thinking of as a foreclosure.

SHORT SALES

: Some homeowners must sell their home, but market conditions won't allow them to sell it at a high enough price to be able to pay off their mortgage(s). In this example, a homeowner might have a $250,000 mortgage balance but can only sell the property for $230,000. As a prospective buyer, it is sometimes possible to purchase this type of a property through a process called a "short sale." In such an arrangement, the homeowner petitions their lender to accept less than the full payoff of the mortgage and in return to still release the deed of trust so that ownership of the property can be transferred over to you, the new owner. This can benefit the lender, as they skip the time delays and cost of the foreclosure process. This can also benefit the homeowner, as a short sale will have a slightly lesser negative impact on their credit as compared to a foreclosure. As a buyer, however, you must know that there are challenges to buying a property as a short sale. The biggest challenges of late seem to be the uncertainty of the purchase and the time table. Even if you and the homeowner agree to a price of $230,000, the homeowner's lender must still agree to accept that price – since it won't allow the homeowner to pay off their $250,000 mortgage balance in full. This process of waiting to hear back from a lender, and then complying with all of their various terms can sometimes take 60 to 120 days – or longer!

TRUSTEE SALES

: If a short sale does not take place, and a homeowner is behind on their payments (or not making them at all), eventually the property will be sold by the lender on the courthouse steps. Buying a property at a "trustee sale" can be exciting, and can be a great opportunity – but there are challenges as well. If a property to be sold at a trustee sale is also listed for sale with a Realtor, you can usually view the property ahead of time by calling your Realtor. Otherwise, you will likely not have the opportunity to see inside the property before the trustee sale, and thus you will not know too many details about the condition of the property. Furthermore, your purchase of the property at the trustee sale cannot be contingent upon viewing the property, or inspecting the property. In this instance, you are purchasing the property in "as is" condition, regardless of what you then find out about the property. It is also important to note that many times the lender will have an opening bid at the trustee sale that is close to (or sometimes higher than) the amount that they are still owed on the mortgage. Thus, in the example above, they might make an opening bid of $250,000. As a result of this opening bid process, many (or most) properties available for purchase at a trustee sale are not great opportunities. Occasionally, a property will be foreclosed upon that has had a mortgage in place for many years, whereby the balance of the mortgage is much lower than current market value – these are great opportunities for a buyer. Visit

HarrisonburgForeclosures.com

for a list of upcoming trustee sales.

BANK OWNED PROPERTIES

: If you don't buy the property before the auction (as a short sale), and don't buy it at the trustee sale, you'll have a third opportunity to buy it once the bank owns it. These properties are called "bank owned properties" or REO properties ("real estate owned"). Oftentimes, the prices on these properties are quite realistic, if not under market value. It would not be atypical for a house such as the one mentioned above to come on the market after the trustee sale at a price of $210,000. In such an instance, you should expect to be buying the property in "as is" condition, and you will also be buying with a slightly different contract document. Most lenders have a long standard contract or contract addendum that spell out a variety of additional contract terms designed to protect them from any future liability – and rarely will a lender agree to have these contract documents changed in any way. As you can see above, oftentimes buying the property as an REO property is where the best opportunity lies. Visit

HarrisonburgREO.com

for a list of bank owned properties currently on the market for sale.

When a home goes into foreclosure it is often for very sad and unfortunate reasons – such as the loss of a job – and I do not wish such circumstances on any homeowner. However, if you are a buyer in today's market it is important to be familiar with different methods for buying a property when it will be, is being, or has been foreclosed upon.
Apparently, 2016 was a special year for single family home sales in Harrisonburg and Rockingham County.

After three years straight (2013, 2014, 2015) of seeing a very consistent number of single family homes in the City and County (813-819) there was a 20% increase in 2016 to 978 home sales!

Then, in 2017 -- sales of single family homes fell 10% to 884 sales.

Hmmm.....

This was likely at least partially an inventory issue....

At the start of 2016 there were 408 single family homes on the market.

At the start of 2017 there were 318 single family homes on the market.

And inventory levels got even worse during 2017....

At the start of 2018 there were 234 single family homes on the market.

All that is to say that I would be shocked if we saw more than 978 home sales in 2018. I think we may have peaked in 2016 -- and we might not return to that peak for some time.


Perhaps some home builders need to start creating new single family home supply in this area??

It is no surprise that buying activity (signing contracts, not closings) slows down over the Winter. As shown above -- an average of 72 buyers sign contracts in January, which then jumps up to 90 in February, and then an even larger jump in March to an average of 130/month.

So, we're going to say the March is when we first seem a big jump in buyer activity. For that reason, many sellers wait until March (or even April) to put their homes on the market -- though the Spring market brings more competition from other sellers in addition to meaning that we'll start to see more buyers.

Of note -- staying relatively true to form, there have been 75 contracts signed thus far in January 2018. Who knows, maybe we'll come out slightly ahead?
Now, for the annual showdown between the City of Harrisonburg and Rockingham County, though first noting that:

City of Harrisonburg = 17.41 square miles (around 13K properties)


Rockingham County = 853 square miles (around 86K properties)


So, let's see how home sales compare between these two regions....

There always seem to be more home sales in the County than in the City, at least when looking at the past five years. Last year, 67% of buyers bought in the County, and 33% bought in the City.

Sales are growing faster in the County than in the City, as over the past five years, sales have increased 23% in the County, while only increasing 9% in the City. That said, over the past year, sales in the County and the City both declined.

Properties sell much more frequently in the City of Harrisonburg, as last year, approximately 3% of City properties changed ownership, while only approximately 1% of County properties changed ownership.

There are any number of factors that affect whether buyers end up buying in the City or County, including what type of property they are seeking, how much land they desires, school systems, employer locations, and much more.
Buying and selling at the same time can be tricky -- and a common question is whether you should go ahead and make an offer on a house if you do not yet have your house under contract. If you do so, you'll likely then be dealing with a kickout clause.

What is a Kickout Clause?

If a buyer who needs to sell their home in order to a buy a new home finds a home that they want to purchase – they can make an offer that is contingent upon the sale of their current home.

If a seller is willing to entertain such an offer they will typically counter back with a "kickout clause" which allows them to continue to market the property to other buyers who do not have to sell a home in order to buy.

If a second buyer comes along and makes an offer, that is not contingent upon the sale of a house, the seller then provides notice to the primary buyer that they are being "kicked out" – and that primary buyer has a set period of time (typically 48 or 72 hours) to either get their house under contract (to satisfy the home sale contingency) or remove the home sale contingency by showing proof that they can proceed with the purchase without selling their current home.

If the primary buyer cannot do this, and the timeframe passes, then the first contract will be null and void and the seller can then proceed with the second buyer.

OK -- and no -- a kickout clause does not have anything to do with soccer. :)
Looking and waiting.Exciting and frustrating.Fun and boring.

Whatever we call them, there are usually two phases of looking for a home to purchase once you have (decisively or tentatively) made a decision that you are going to buy a new home.

First

-- we'll take a look at all of the homes currently on the market that might fit your ends.

Second

-- we'll wait for new listings to hit the market that might fit your needs.

These days -- with very low inventory levels in many price ranges and market segments -- the first part of the process (looking at current listings) is often a brief exercise. Most of the homes of interest that have been listed in the past 90 days may very well have already been snatched up with another buyer. As such, don't be surprised if it doesn't take long to go see the houses currently on the market that are a good potential match for you.

We're then stuck in that second phase -- waiting. How exciting. There will (likely) be new listings hitting the market in coming weeks or months that will be a potential match for what you're seeking in a new home, but we'll have to wait around for a homeowner to be ready to list their home for sale.

When a local housing market experiences low levels of housing inventory, more of our "looking for a home" time is typically spent waiting rather than looking.

What an exciting opportunity to practice patience! ;-)
How does one determine an offering price in a neighborhood?


Start 5% below asking price?

Start at the tax assessed value?

Start at the price the seller paid, adjusted per market changes since that time?

Start $1K lower than the list price for every day it's been on the market?

Start at full price if it's a new listing and you think it will sell quickly?

Many or all of these strategies are likely to lead you astray.


In theory -- you should be willing to pay approximately the same price as other buyers have paid for approximately similar homes in the recent past.

For example....

Buyer A paid $250K for a 3 BR, 2 BA, 1800 SF, circa 2000 home
Buyer B paid $255K for a 3 BR, 2 BA, 1850 SF, circa 2001 home
Buyer C paid $245K for a 3 BR, 2 BA, 1750 SF, circa 1998 home

When you then are considering a new listing of a 3 BR, 2 BA, 1800 SF, circa 2000 home -- it would seem reasonable to think that you'd likely pay between $245K and $255K.

Of course, there are a variety of other extenuating factors that can affect this pricing:

Garage vs. no garage
Basement vs. no basement
Updates vs. no updates
All SF above grade vs. some SF in the basement
Level lot with large yard vs. steep lot with small yard

So -- how does one best research what homes are selling, and at what prices?

I'll remind you of -- HarrisonburgNeighborhoods.com.


On this handy new website, among other things, you can find a three year history of the sales prices in each of 34 neighborhoods in and around Harrisonburg.

I hope that

HarrisonburgNeighborhoods.com

continues to serve as a helpful resource to you as you research home values, monitor for new listings, and more. Don't forget -- you can sign up to receive email alerts of all new listings and recent sales in any of the 34 neighborhoods!
If you are buying a home in the County, I strongly suggest that you have the septic system (tank, distribution box, etc.) inspected by a qualified company. Just because everything is neatly tucked away underground, and seems to be working fine, that does not mean that, in fact, all is well.

Septic tanks can crack.

Connections to/from the distribution box can crack.

Distribution lines can be crushed or crack.

Regardless of whether the buyer or the seller is paying for it, as a buyer, it is worth having the septic system thoroughly evaluated when purchasing a home on a septic system.
Well -- I was going to remind you of this great web site or exploring our local townhouse communities where you might consider purchasing a home or investment property....

HarrisonburgTownhouses.com

And then, in the process of poking around to see what types of townhouses are currently on the market, I discovered that....

There are ZERO (zip, zilch, nada) townhouses currently for sale in the City of Harrisonburg, that exist (not "to be built") that have been built in the past 10 years, that do not have a tenant living in them.

That long sentence might make it seem like I am looking for a very narrow category or properties -- but I don't think I am. If a buyer wanted to buy a City townhome built in the past 10 years, and close on their purchase in the next two months, they would need the townhouse to already exist (not something that requires another 4 - 5 months of construction) and they would need the townhouse to not be tenant occupied.

There are some townhouses on the market at

The Townes at Bluestone

that are under construction and could be available in a few months.

There are some townhouses on the market in

Beacon Hill

(and on

Norwood Street

) that currently have tenants in them.

But as far as recently (past 10 years) built townhouses ready for an owner occupant to move in -- buyers currently have ZERO options -- yet another example of

how low our inventory levels have become

.
Admittedly, a new home would be quite an expensive Christmas gift -- but still -- I'll press on....

As shown above, inventory levels are getting lower than ever before -- except, perhaps, decades ago when the local population was smaller? My data only goes back about 10 years.

There are currently 315 homes for sale in all of Harrisonburg and Rockingham County -- a significant 24% decline from a year ago -- and a 44% decline from two years ago.

When might things get "better" you ask? Well, hard to say! We're likely to see further declines over the next month or two -- maybe down into the 200's??? Come March, we should start to see inventory levels (hopefully!) increase again.
FYI -- yes, I now see I have a double "not" in the title of this article. No, I did not intend for that to be there, but I'll leave it there for now to see who is paying attention. ;-)

Thanks,

Nate

, for pointing me to

this insightful article at MarketWatch

...

There's not enough homes for sale. Here's why to blame.

Here is a summary of the reasons why we're lacking inventory:

Boomers won't move


Landlords won't sell


Owners are hooked on low mortgage rates


Builders ignore entry-level buyers


Regulations add costs


Owners want to restrict supply

And, the author's ideas for how buyers can respond to the situation:

Be realistic about how long it will take to find and buy a home. Real-estate agents can provide an estimate, based on market conditions.


Save plenty of money for a down payment and reserves.


Improve your credit score to get a good mortgage deal.


Be ready to make a competitive offer when a suitable home comes on the market.


It's a great article -- read it all here -- and I think much or most of what they are talking about from a national perspective applies very directly to the Harrisonburg and Rockingham County housing market.



Find out more about this Mountaintop Retreat on 46 acres with a cabin, hiking trails, canyon and river

here

.

I just published my most recent monthly market report, and as usual, you can read on for an overview,

download the full report as a PDF

,

read the entire report with commentary online

, or tune in to my monthly video overview of our local housing market...

Now, let's take a closer look at some of this month's data....

As can be seen above....

Home sales declined during November 2016 to 94 sales -- a 17% decline from last November.

Home sales are down 6% thus far in 2017 as compared to the past 11 months of last year.

The median sales price has risen 3% over the past year, when comparing January through November of this year to last year.

Homes are selling a good bit faster this year than last -- with a 35% decline in median sales price, down to 33 days.




Last year certainly was interesting!?! Or odd!?!


Last August, September and November were OFF THE CHARTS as far as a record number of home sales for those months -- which then makes this year's sales trajectory seem as slow as mud in August, September and November. This November's sales were a good bit higher than in 2014 and 2015 -- but were solidly below November 2016.




So -- despite the fact that 2017 is hiding in the shadows of a towering year of sales in 2016 -- it is interesting to note that the 11 months of home sales thus far in 2017 (all 1,149 of them) has already surpassed the full 12 months of sales seen in 2013 (1067 sales), 2014 (1085 sales) and 2015 (1125 sales). As such -- while total home sales will likely be 5% to 6% lower this year than last -- that will still mark a solid improvement as compared to any other recent year.




After quite a few years of steady increases in buyer activity -- we are starting to see a decline. Over the past six months we have seen buyer activity taper off and start to decline. I believe this is a direct result of the drastic reductions in the availability of homes for those buyers to buy. As the number of sellers in the market at any given time has declined, eventually that also resulted in a reduction in the pace of buying activity.




Yeah, so, about those inventory levels. They are low and getting lower!?! And, realistically, when and how do we think that would or could change? In theory, inventory levels will rise this coming Spring -- except they didn't during 2017. Looking back, the end of last November was the highest inventory level we saw for the following 12 months!?! So -- hmmm -- absent any outside factors (new home construction, anyone?) it is possible that the current inventory level (322 homes for sale) could be the highest inventory level we will see for the next 12 months!?! Stop and think about that for a moment....




Somewhat interestingly, as shown above, there has been a larger (proportional) decline in inventory levels for attached properties (townhouses, duplexes, condos) than for single family detached properties. There are now only 56 townhouse/duplex/condo properties available for sale in all of Harrisonburg and Rockingham County!

And finally -- one last look at some interesting trends....




As shown above, nearly half (46%) of homes that are selling (not of all that are listed) are selling (going under contract) within 30 days of hitting the market. So -- yes -- the market is moving pretty quickly in many locations and price ranges!

OK -- I'll stop there for now. There is plenty more in my full market report, so feel free to download it as a PDF, read the entire report online, or watch/listen to a video overview of this month's report.


And, my reminders for buyers and sellers last month still apply....

SELLERS -- even though it is a seller's market in many price ranges right now, you must still focus on price, condition and marketing.


BUYERS

-- it can be difficult and frustrating to buy right now -- make it a bit easier for yourself by

knowing the market

,

knowing the process

,

knowing your buying power

, and

closely monitoring new listings

!

For further reading on buying or selling in this area, check out....


scott@HarrisonburgHousingToday.com

.



Purchasing a home can be fun, exciting, thrilling, and fulfilling....but that very same process can also have its moments of being hard, frustrating, disappointing and overwhelming. In my role as a Buyer's Agent, I will be working with you through the entire home buying process to make it as educational and stress-free as possible.

The very first step in this process is for us to discuss your needs, goals, dreams and desires. This may involve specifics such as the number of bedrooms and bathrooms, or may focus more on the layout of homes, the feel of a neighborhood, and the long term plans for your growing family. I will be focusing on listening well, and hearing what it is you are working to achieve with your home purchase – and then helping to identify the best housing options for accomplishing those goals.

An important, parallel, part of starting the home buying process is to identify a target price range. This can best be determined through consultation with a reputable, local mortgage lender (just ask... I know who they are) but will involve more than just determining the highest priced home that they would allow you to purchase. It will be important to consider both your purchasing power, and your goals for how your housing costs will fit into your overall budget. You will also talk with your mortgage lender about how different loan programs might work better (or worse) for your situation.

Once we have a shared understanding of what you are hoping to purchase, and we know what the price tag can and should look like, we can start to evaluate homes that are currently on the market. This will usually start online, perhaps through an exchange of emails, and saving some searches in your account on my web site. Then, you might choose to drive by some of the prospects before determining a list of homes to go view – or you may be ready to start seeing all of the homes on the list right away. As we view this first set of homes, we will learn a lot – about the opportunities in the market, and about your preferences.

If we don't identify a home after looking at all of the homes on the market that seem to offer what you are looking for in a new home, we will either re-evaluate our criteria to expand our search, or we will wait to view new listings that come on the market. This extended home search process might take us weeks, or months, depending on the type of property you are hoping to purchase, and how often such a property becomes available. All along the way, I'll be following up on previous homes we have viewed to let you know if their prices have dropped, and will be letting you know of new opportunities as soon as those houses hit the market.

Once we have identified the home you are hoping to purchase, we will prepare to make an offer. This will include researching similar home sales to guide our discussions of price, creating a negotiation strategy, and preparing and reviewing the pertinent contract documents. There is quite a bit of paperwork involved in making an offer on a home, and I want to make sure that you understand these contract documents and make sure that we have drafted them in a way to protect your best interests.

Negotiating the final deal on the property you purchase may take a few hours, or a few days. We may go back and forth with the seller on price alone, or on many terms of the contract such as timing, contingencies, and more. Once we have a final agreement, all parties will sign and initial the final documents, and we will have a full ratified contract.

Immediately following the ratification of the contract, we will need to schedule and perform a home inspection and radon inspection (assuming you are conducting both) to learn more about the property you are purchasing. If these inspections reveal new (detrimental) information about the property, we will have the opportunity to request that the seller make repairs to the property, which may result in a renegotiation on price. Typically, we are able to work through this second round of negotiations relatively quickly, so long as the seller is being realistic and rational given the new information about their property.

Simultaneously with conducting these inspections, you will need to be starting the financing process to work towards obtaining full loan approval. This will start with signing your loan application and paying any applicable loan application or appraisal fees. Your lender will then be diligently working to further qualify you as a purchaser as well as the property via an appraisal. You will be providing many documents to your lender during this process as they work towards securing a loan for you to purchase the property.

Within the first few weeks after your contract is in place, we will need to select service providers to coordinate the additional aspects of your home purchase. This will include a settlement agent or attorney who will conduct a title search of the property and prepare all documents for your settlement. You will also need to set up a new homeowners insurance policy on your new property, as well as schedule utility service to start in your name as of the settlement date.

We'll now be just a few weeks before closing, and the final pre-settlement details will include reviewing the settlement statement (which shows all of the funds coming into and going out of the closing), conducting a final walk though of the property (to confirm the condition is as we expect it to be), and obtaining a cashier's check to bring the necessary funds to settlement. All of the details should be falling in place now, and if all goes well, we will be set for an on-time settlement.

In nearly all real estate transactions (in this area) you will sign all of the loan and settlement documents at your real estate closing as well as receive the keys to your new property. The house will be your new home, and you can take possession and start moving in immediately after settlement. Later that day, the settlement agent will record the deed at the courthouse that officially transfers ownership of the property into your name.

You are bound to have questions about the home buying process – before you begin, as we go, and even after settlement. I am here to answer all of those questions, or to guide you to the professional who can. There is plenty to learn about the home buying process, and I am here to help guide you through it and to help you make excellent decisions about your purchase of a home.

Learn more about the home buying process at BuyingAHomeInHarrisonburg.com.



Multi Family Properties can be a means to more quickly and simply make a larger investment purchase. Whether it is a duplex, triplex, quad, or a small apartment building, you will often be able to purchase these properties at a lower price per unit, and more quickly increase your total rental income as compared to purchasing one individual property at a time.

HOWEVER - there are very few multi-family properties that are offered for sale in Harrisonburg and Rockingham County.

A few tools for you if you are potentially interested in purchasing a multi-family property in this area. This one has been around for a bit....

Current Multi-Family Listings

- bookmark this page on HarrisonburgInvestmentProperties.com to come back and review current multi-family listings at any time.

This is the new one....

Email Alerts for New Multi-Family Listings

- sign up to receive an email alert every time a new multi-family property is listed for sale in Harrisonburg or Rockingham County via the HRAR MLS.

Enjoy -- and

let me know

if you have questions about multi-family properties, or real estate investing in general.
In the first 21 days of November, this year, 61 buyers have signed contracts to purchase homes in Harrisonburg and Rockingham County. Compare that to last year, when 72 buyers had signed such contracts, and you'll note that there has been 15% decline in contract activity when examining this relatively small window of time.

Why might this be happening? Perhaps it is because buyers have fewer and fewer options of homes to purchase. Also shown above, you'll note that in early November of this year, buyers had 356 listings from which to choose -- and last year they had 480 choices. This marks a 26% year over year decline in options for buyers.

I am hopeful that we'll see this inventory situation turn around at some point, but until or unless it does, buyers are not likely to have very many options for homes to purchase.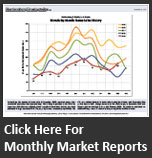 Subscribe

Receive notifications of new content on this blog, via e-mail or RSS reader.