Welcome! This blog tracks the real estate market in the Central Shenandoah Valley, featuring market data and analysis, an exploration of common buying and selling questions, and candid commentary on all things real estate.
If you are interested in discussing any of the topics on this blog, or the details of your specific real estate situation, call or e-mail me!
Buying



This is a common question at this time of year -- as new listings start to trickle onto the market -- but before the deluge (hopefully!?!?) of new listings in March and April.




As a buyer in a low inventory environment, you (hopefully) know that you may have to compromise on some of what you're hoping for in your next home. Otherwise, you may be sitting here a year from now, still not having moved forward with a home purchase. But how much (!!??!!) should you compromise -- that is the tough question at this time of year.




After seeing absolutely NO new listings that would work for you in November, December and January...




...when a new listing pops on the market in February that *could* work -- sort of -- but would requirement some relatively major compromises in areas A, B and C -- what do you do??




Do you go ahead and pull the trigger because it is much better than anything we've seen in months?




Do you commit to buy because you're just tired of waiting around and you want to get this home buying show on the road?




Do you decide to wait and then kick yourself a few months from now when we haven't found anything better for you to buy?




These are not easy questions to answer -- but we can and should and will talk it through on a house by house basis.





We'll be evaluating how far off the mark the house really is -- and how likely we think it is that another, better, option will come on the market in the coming months.





So, don't just buy *anything* that comes on the market just because we've passed through a desolate winter without many new listings -- but at the same time, don't let a good (or good enough) option pass you by! Easier said that done, right? ;-)







I've said this (it's hard to find a City home for under $200K these days) in about 10 different ways over the past year using data.




In conversation with a fellow Realtor yesterday, while inside a house I'll reference in a moment, we reflected on this reality. If you're looking to buy a home in the City of Harrisonburg and were hoping to have a budget of $200K -- you'll have some difficulty doing so.





Just a few (4 or 5?) years ago we recalled decent single family homes selling for $180K - $200K in the City. Now days, if a home is price under $200K it is likely either tiny, or still needs some updates.





OK - reverting to what is most natural to me when thinking about real estate - here is the data to back up our observation...




Detached homes sold in the City between under $200K with 1000+ SF...


In 2014 (five years ago) = 91 homes


In 2018 (last year) = 54 homes


So, it's not QUITE as terrible as I described above (data saves the day from my extreme rhetoric) but there has been a significant (41%) decline in sub-$200K homes selling (or able to be purchased) in the City of Harrisonburg




In fact, today, there are only two such homes currently for sale...

I'll be listing another sub-$200K home (just barely under that price point) later today -- and I expect it may sell relatively quickly. Buyers are hungry for homes in this affordable price range and there just aren't too many options any longer.




Yes, there are plenty of townhouses under $200K, but detached homes are much harder to find in this price range.






Not all price ranges are created equally, it seems.




The hardest hit price range, perhaps unsurprisingly, is the under $200K price range -- where we have seen a 52% decline in the number of homes for sale over the past two years. Of note -- part of the problem here is increasing home values -- which prices some homes out of the "under $200K" price range. Regardless, though, buyers looking to stay under $200K for their home purchase are having an ever more difficult time doing so.




The $200K - $300K market also had a sizable (28%) decline in the number of homes actively listed for sale as compared to two years ago.





The $300K - $400K inventory levels stayed relatively level and the "over $400K" market saw a decline in the number of homes for sale, though this would certainly impact a much smaller number of buyers.




Depending on the price range (and location, property type, condition, size, age) you are shopping in, you are bound to find something slightly different as to the current inventory levels and recent trends in those levels.







Some time ago, I created a website (

HarrisonburgTownhouses.com

) for exploring townhouse communities in and around Harrisonburg, Virginia. This allows you to explore sales trends, value trends, see recent sales, current listings, etc.




So -- feel free to explore the website -- but don't expect to find many townhouses listed for sale.




If you were a buyer looking to buy a townhouse, built in the past 10 years, you'd have some difficulty. Current inventory (as of 1/8/2019) includes:

one vacant townhouse in Liberty Square II
four townhouses under construction at The Townes at Bluestone that won't be complete for another four+ months

So - as excited as a first time buyer might be to purchase a townhouse in the City of Harrisonburg - they will find that they have very (!!) limited options right now.




Purchasing a home can be fun, exciting, thrilling, and fulfilling....but that very same process can also have its moments of being hard, frustrating, disappointing and overwhelming. In my role as a Buyer's Agent, I will be working with you through the entire home buying process to make it as educational and stress-free as possible.

The very first step in this process is for us to discuss your needs, goals, dreams and desires. This may involve specifics such as the number of bedrooms and bathrooms, or may focus more on the layout of homes, the feel of a neighborhood, and the long term plans for your growing family. I will be focusing on listening well, and hearing what it is you are working to achieve with your home purchase – and then helping to identify the best housing options for accomplishing those goals.

An important, parallel, part of starting the home buying process is to identify a target price range. This can best be determined through consultation with a reputable, local mortgage lender (just ask... I know who they are) but will involve more than just determining the highest priced home that they would allow you to purchase. It will be important to consider both your purchasing power, and your goals for how your housing costs will fit into your overall budget. You will also talk with your mortgage lender about how different loan programs might work better (or worse) for your situation.

Once we have a shared understanding of what you are hoping to purchase, and we know what the price tag can and should look like, we can start to evaluate homes that are currently on the market. This will usually start online, perhaps through an exchange of emails, and saving some searches in your account on my web site. Then, you might choose to drive by some of the prospects before determining a list of homes to go view – or you may be ready to start seeing all of the homes on the list right away. As we view this first set of homes, we will learn a lot – about the opportunities in the market, and about your preferences.

If we don't identify a home after looking at all of the homes on the market that seem to offer what you are looking for in a new home, we will either re-evaluate our criteria to expand our search, or we will wait to view new listings that come on the market. This extended home search process might take us weeks, or months, depending on the type of property you are hoping to purchase, and how often such a property becomes available. All along the way, I'll be following up on previous homes we have viewed to let you know if their prices have dropped, and will be letting you know of new opportunities as soon as those houses hit the market.

Once we have identified the home you are hoping to purchase, we will prepare to make an offer. This will include researching similar home sales to guide our discussions of price, creating a negotiation strategy, and preparing and reviewing the pertinent contract documents. There is quite a bit of paperwork involved in making an offer on a home, and I want to make sure that you understand these contract documents and make sure that we have drafted them in a way to protect your best interests.

Negotiating the final deal on the property you purchase may take a few hours, or a few days. We may go back and forth with the seller on price alone, or on many terms of the contract such as timing, contingencies, and more. Once we have a final agreement, all parties will sign and initial the final documents, and we will have a full ratified contract.

Immediately following the ratification of the contract, we will need to schedule and perform a home inspection and radon inspection (assuming you are conducting both) to learn more about the property you are purchasing. If these inspections reveal new (detrimental) information about the property, we will have the opportunity to request that the seller make repairs to the property, which may result in a renegotiation on price. Typically, we are able to work through this second round of negotiations relatively quickly, so long as the seller is being realistic and rational given the new information about their property.

Simultaneously with conducting these inspections, you will need to be starting the financing process to work towards obtaining full loan approval. This will start with signing your loan application and paying any applicable loan application or appraisal fees. Your lender will then be diligently working to further qualify you as a purchaser as well as the property via an appraisal. You will be providing many documents to your lender during this process as they work towards securing a loan for you to purchase the property.

Within the first few weeks after your contract is in place, we will need to select service providers to coordinate the additional aspects of your home purchase. This will include a settlement agent or attorney who will conduct a title search of the property and prepare all documents for your settlement. You will also need to set up a new homeowners insurance policy on your new property, as well as schedule utility service to start in your name as of the settlement date.

We'll now be just a few weeks before closing, and the final pre-settlement details will include reviewing the settlement statement (which shows all of the funds coming into and going out of the closing), conducting a final walk though of the property (to confirm the condition is as we expect it to be), and obtaining a cashier's check to bring the necessary funds to settlement. All of the details should be falling in place now, and if all goes well, we will be set for an on-time settlement.

In nearly all real estate transactions (in this area) you will sign all of the loan and settlement documents at your real estate closing as well as receive the keys to your new property. The house will be your new home, and you can take possession and start moving in immediately after settlement. Later that day, the settlement agent will record the deed at the courthouse that officially transfers ownership of the property into your name.

You are bound to have questions about the home buying process – before you begin, as we go, and even after settlement. I am here to answer all of those questions, or to guide you to the professional who can. There is plenty to learn about the home buying process, and I am here to help guide you through it and to help you make excellent decisions about your purchase of a home.

Learn more about the home buying process at BuyingAHomeInHarrisonburg.com.






One year ago, the average 30-year fixed mortgage interest rate was 3.94%.




Today, that same average rate is 4.81%.




Does this rise in mortgage interest rates impact buyers? It sure does!




A buyer purchasing a $200K home would pay $82/month more for their mortgage payment -- with the increased interest rate causing it to increase from $942/month to $1,024/month.




A buyer purchasing a $300K home would pay $123/month more for their mortgage payment -- with the increased interest rate causing it to increase from $1,413/month to $1,536/month.




A buyer purchasing a $400K home would pay $164/month more for their mortgage payment -- with the increased interest rate causing it to increase from $1,884/month to $2,048/month.




Of note -- the estimated mortgage payments above include principal, interest, taxes and insurance -- and assume that the buyer is financing 80% of the purchase price.




So.....

If you're about to buy a home, you'll be paying more per month than if you had purchased a year ago. Hindsight is 20/20.

You will still be locking in a pretty low (sub 5%) mortgage interest rate.

It seems that mortgage interest rates will likely continue to (hopefully slowly) rise over the next year, so buying sooner rather than later may serve you well.

As always -- for actual payment scenarios, you'll need to consult a mortgage lender. Shoot me an email (

scott@HarrisonburgHousingToday.com

) and I can make some recommendations.






Only

seven building lots

remain in

Heritage Estates

, an active adult (55+) community in the western edge of Harrisonburg, Virginia.

With low maintenance French Country style architecture, and single family homes with partial basements

starting below $400K

, this community has been a popular destination for many buyers both from Harrisonburg and retiring to the Shenandoah Valley.

Call (540-578-0102) or

email me

to set up a time to meet with the developer/builder at Heritage Estates, Jerry Scripture.






Here's a good opportunity to practice patience...




If your dream home is on the market -- either as a new listing, a newly reduced listing, or an old and stale listing -- it might be tempting to go ahead and make an offer to buy the house, even if you still need to sell your house.




I'll recommend, in almost all instances, that we wait to make the offer until we have secured a contract on your house. And here's why...




NOTHING GAINED - In almost all instances, the seller of your dream house will counter back (to our contingent offer) with a "kick out clause" allowing them to continue to market their house for sale to other buyers, and to allow them to move on to an alternative buyer who does not have to sell their home after giving you 48 or 72 hours to remove your home sale contingency after the new offer comes in. As such, unless you can buy without selling, having a contingent contract with a kickout clause is pretty similar to not having a contract at all. If another buyer comes along to buy your dream house, the only reason why you'd have an upper hand (over that new buyer) in already having a contingent contract in place is if you can somehow pull together a contract on your current house within that 48 or 72 hours period after that new buyers hows up. So -- having the contingent contract (with kick out clause) doesn't do a whole lot to defend your spot in line to buy your dream home.




NEGOTIATION - We are likely to do better in negotiating a deal for you to buy your dream home if we already have your current house under contract. The seller of your dream home is not likely to be willing to negotiate as much if you still don't have your house under contract (or if you haven't even listed your house for sale) as your purchase of their house will seem significantly less certain.





LEVERAGE - Any savvy seller (or seller's agent) will use your (contingent) offer against you. It's not personal of course, they're just trying to do their best to sell their home. If there have been other recent showings of your dream home, the moment your contingent offer is received, they are likely to notify all of those other buyers that they have received an offer -- and will try to use the existence of your (contingent) offer to generate enough interest and urgency for another buyer to also make an offer, which they would hope would not have a home sale contingency. Now, even if we make an offer once your current house is under contract, the seller will likely still try to generate additional offers to compete with us -- but at that point we can compete much better, already having your house under contract. Why allow the seller to use your contingent offer (with your house not yet under contract) to drum up other actionable interest from other buyers?





So -- as hard as it may be for you to do -- I will almost always recommend that we **wait** to make an offer on your dream house until we have your current house under contract.







Mortgage interest rates keep on rising. The current average rate for a 30 year mortgage is 4.81%.




These two statement are equally true...




1. Current mortgage interest rates are now higher than they have been for the past eight years.




2. Current mortgage interest rates have been higher than the current rate for 38 out of the past 46 years.




The lingering question over the past few years has been whether rising interest rates, which pushes monthly housing costs higher, will eventually slow down buyer ability and buyer interest. We don't seem to be seeing that as a current widespread effect, but the more the rates increase the more likely that becomes.







If you have been looking for a new home to buy all Spring and Summer and Fall of this year -- and didn't find one, which you blame on having very few homes from which to choose -- are you likely to have better luck next year?




I'm guessing not.




The graph above shows that inventory levels have dropped significantly over the past two years based on how many homes are on the market at the start of the main buying season, which I'm defining as April in the graph above.

So -- after seeing a 20% decline in inventory levels between April 2017 and April 2018 -- are we likely to see inventory levels start increasing again in 2019? Again, I don't think so, and here's why....

To reverse this trends of declining inventory we would need one or more of the following to happen in our local market....

A decline in buyer interest / activity -- which only seems to be happening (slightly) because of lower inventory levels.

A decrease in the rate of people moving to this area. Seems unlikely -- we're one of the fastest growing areas in Virginia.

An increase in the rate of people moving out of this area. Seems unlikely -- it's pretty nice here, unemployment is low, quality of life is high, etc.

More new homes being built. This is not currently happening at a very rapid pace in and around Harrisonburg.

Sellers selling who don't have to buy. This could be older homeowners who are moving into a retirement community, or people selling to then build themselves a home on their own land, etc.

Again -- none of the changes above seem likely to happen at a scale that would allow inventory levels to see much, if any, of an increase next year. As such, I am expecting we'll see relatively similar inventory levels next Spring and Summer.


Sorry to be the bearer of bad news -- as always, just trying to give folks realistic expectations for the future.






Zillow often has helpful and accurate data -- though with some frequency there are some issues with their data.

A somewhat frustrating one for home buyers is that they count bathrooms is a bit different than most buyers and sellers would count them.

Basically, their main "4 Bedrooms, 4 Bathrooms" (for example) description does not necessarily mean that there are four full bathrooms. It could mean any of the following....

Four Full Bathrooms
Three Full Bathrooms, One Half Bathroom
Two Full Bathrooms, Two Half Bathrooms
One Full Bathroom, Three Half Bathrooms

Right -- so -- when checking out homes on Zillow....

Scroll down until you find the actual bathroom count.

Feel free to double check with me to double check any other potential listing accuracy issues.

Oh -- and when I say that they often have helpful and accurate data -- I'm not necessarily referring to their "Zestimate" data. Those prices may or may not have much of a correlation with actual market value for properties in Harrisonburg and Rockingham County.







While not always the case, a general rule of thumb is that...




On home inspection repairs -- sellers usually have a short term fix mentality -- while buyers usually have a long term fix mentality.

And, successfully negotiating agreed upon repairs after a home inspection can be a smoother process if we reflect on the difference in those perspectives.

Inspector: Several roof shingles are missing, and the roof is past its life expectancy.
Seller: Replace the shingles.
Buyer: Replace the roof.

Inspector: The air handler coils are dirty and the heat pump is reeaaallly old.
Seller: Clean and service the heat pump and air handler.
Buyer: Replace them both!

These are a few extreme examples to start to show the differences in perspectives on repairs. Again, the important thing here is to recognize that a buyer and seller look at home inspection reports differently.





A seller typically wants to minimize their repair costs while keeping the home sale on track.





A buyer wants to make sure that any previously unknown property condition issues are addressed in a manner that is likely to prevent further near term maintenance needs in those areas.





Both perspectives are reasonable, most of the time, depending on how it plays out related to specific deficiencies of a home.

So, what is a buyer to do? A few thoughts....

Consider asking for a credit in lieu of repairs so that you can be in charge of how the repairs are made.

If you are asking for repairs to be completed by the seller, be very specific about how you want them to be completed.

Understand that it is not always reasonable to ask a seller to make a repair with a 10 year future in mind.

Be willing to compromise with the seller to find a way to move forward on the home that you are, presumably, still excited to buy!






If you are making a low offer, you can increase the appeal of your offer by strengthening your other offering terms....

DEPOSITS
Make the largest deposit you are comfortable with so the seller knows you have money "on the line" and that you won't risk losing that money by attempting to walk away from the deal.

CLOSING COST ASSISTANCE
Sellers don't just look at the contract price --- they calculate their net proceeds based on the offer price and any credits or closing cost assistance. Only ask for assistance if you truly need it.

FINANCING
Provide as much detail as possible about your financing intentions, and always include a pre-approval letter. Sellers who believe you are capable of financing the purchase will be less hesitant as they consider other terms of your offer. And yes -- offer cash, a large pile of it, if you are able. :)

PERSONAL PROPERTY
Don't automatically ask for everything the seller intends to convey --- if you don't need them all, leave them out of the offer. Allowing the seller to keep their washer/dryer (for example) may make them more flexible in other areas.

INSPECTIONS
Having a professional inspect the property you are purchasing is usually a good idea; however if you only intend to do it for informational purposes, consider leaving it out of the contract negotiations and conducting it post-settlement.

SETTLEMENT & POSSESSION
If possible, cater your settlement date and the details of transferring possession of the property to the needs or wants of the seller. This can go a long way towards gaining seller flexibility on other contract terms.

Finally, research the seller's context for selling. That information can be invaluable in negotiating a successful contract.



Internet cools are great but they still can't replace an in-person walk through.




These days -- you can learn A LOT about a house online. You can typically review:

an abundance of high resolution interior and exterior photos


an aerial view from Google Maps or the GIS


details of the tax record from the City or County

Sometimes you can even review:

But for many buyers, all of this online review of information and imagery still does not come close to the experience of being inside the home.





So -- as a buyer... it's fine to absorb yourself in the online information available for a particular home... but don't hesitate to set up a time to physically view the home if it is of interest. With regularity, actually getting inside a home very quickly intensifies a buyer's interest in the property, or helps the buyer see that it will not work for them. And even more specifically, don't feel like you are wasting your Realtor's time if you want to go look inside homes that only "might" work for you -- you oftentimes aren't going to really know if they will work for you until you are physically inside the property.







It costs more now than it did a few years ago to buy a home in Harrisonburg and Rockingham County, which should come as no surprise since...

median sales prices are rising
mortgage interest rates are rising
real estate tax rates are rising

The analysis above shows the combination of all of these factors -- the cost of a mortgage payment (principal, interest, taxes, insurance) based on a buyer financing 80% of a median priced home at the prevailing mortgage interest rate at the time, and with the prevailing real estate tax rate.




We have now climbed above $1,000 per month on this metric -- which is the first time we've seen this since 2006 - 2008.




Over the next few years, it seems likely we will see a continuation of this trend, as sales prices and mortgage interest rates are both likely to continue to slowly increase.






If last year is any indication, get ready to see inventory levels falling over the next few months as the weather gets colder.





Inventory levels have fallen 18% over the past year -- and 39% over the past two years -- and we're about to head into the time of year (Fall to Winter) when inventory levels drop to their lowest levels.





As shown above, inventory levels fell 32% last year between the end of August and the end of January. As such -- look at the meager supply of homes currently on the market -- and then eliminate 1 out of every 3 of those homes. That's likely where we're headed over the next few months.

But here's the good news (sorta, kinda, with limitations) -- if you are thinking of selling your home in the next few months, you may have quite a few buyers angling to purchase it if it aligns well with what they are looking for in a home. The sorta/kinda part is that you'll only be good shape if you don't have to buy as well. After all, if we quickly sell your home (because of low inventory levels), but can't find something for you to buy (because of low inventory levels), then we still have problems.

Who is the indisputable winner in today's local housing market?

The home seller who does not have to buy a home as well. :-)






Mortgage interest rates keep on rising. The question now seems to be whether the higher rates will take anyone out of the market to buy -- or will put a damper on rising home values / sales prices.




Thus far, buyer activity has continued to be quite strong in 2018 despite these modest increases in interest rates.




Interest rates have not quite risen a full percentage point over the past year....




3.85% back in October 2017

4.71% today









Home buying activity slowed for the fourth straight month in September 2018 -- but -- it was 15% higher than it was last September!




As shown above, 100 buyers signed contracts to buy homes in September 2018, a slight decline from 109 the previous month, but an increase over last September.




If last year is any indication, we may see an uptick in buying activity in October before things then cool down between November and February.









Generally speaking, folks don't use their outdoor hose spigots in the winter. I suppose you might use it from time to time, but it's just not as fun to wash your car in the driveway on most December days -- and your lush garden is not lush, and does not need watering. Oh, and if you did use your hose spigot, and left the hose attached, you'd potentially have serious problems when the water in the hose freezes, backs up into the spigot, maybe into the pipe, and something splits, cracks or bursts.




So, once we get through Fall, most folks are turning off their hose spigots for the last time until Spring. But not so with the local housing marketing.




Between March and August (Spring and Summer, as we'll call it) an average of 130 buyers signed contracts to buy houses each month. A pretty rapid pace of buyer activity.




So, this winter, what should we expect? Will that supply of buyers be turned off like a hose spigot, and will the buyers slowly drip out at a rate of 13 buyers per month? Thus, 10% of the pace of buyer activity in the Spring and Summer? Nope!




Looking at last Winter (December, January, February) there were an average of 81 buyers signing contracts per month! You read that correctly, only a 38% decline in buyer activity during the Winter months -- as compared to the Spring and Summer months.




So, unlike your hose spigot, which will likely be barely used during the Winter -- the local housing market doesn't slow down, or cool down, or shut down, nearly as much.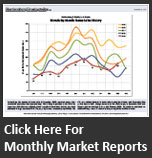 Subscribe

Receive notifications of new content on this blog, via e-mail or RSS reader.