Welcome! This blog tracks the real estate market in the Central Shenandoah Valley, featuring market data and analysis, an exploration of common buying and selling questions, and candid commentary on all things real estate.
If you are interested in discussing any of the topics on this blog, or the details of your specific real estate situation, call or e-mail me!
Buying
In the first 21 days of November, this year, 61 buyers have signed contracts to purchase homes in Harrisonburg and Rockingham County. Compare that to last year, when 72 buyers had signed such contracts, and you'll note that there has been 15% decline in contract activity when examining this relatively small window of time.

Why might this be happening? Perhaps it is because buyers have fewer and fewer options of homes to purchase. Also shown above, you'll note that in early November of this year, buyers had 356 listings from which to choose -- and last year they had 480 choices. This marks a 26% year over year decline in options for buyers.

I am hopeful that we'll see this inventory situation turn around at some point, but until or unless it does, buyers are not likely to have very many options for homes to purchase.
Zillow seems to be at least a somewhat frequently used reference for folks looking to buy homes in this area. Their data is usually (or at least "often") accurate -- though with some frequency there are some issues with their data.

A funny one that I have only recently recognized is that the way they count bathrooms is a bit different than most buyers and sellers would count them.

Basically, their main "4 Bedrooms, 4 Bathrooms" (for example) description does not necessarily mean that there are four full bathrooms. It could mean any of the following....

Four Full Bathrooms
Three Full Bathrooms, One Half Bathroom
Two Full Bathrooms, Two Half Bathrooms
One Full Bathroom, Three Half Bathrooms

Right -- so -- when checking out homes on Zillow....

Scroll down until you find the actual bathroom count.

Feel free to double check with me (or visit scottprogers.com) to double check any other potential listing accuracy issues.

Contract activity in July, August and September 2017 (295 contracts) was a good bit slower than last year when there were 348 contracts during that same timeframe. Some of this decline in the number of contracts being signed is certainly a result of lower inventory levels. Thus, it was somewhat of a surprise that contract activity in October 2017 (112 contracts) was slightly higher than last October when there were only 109 contracts signed.

So -- a slight uptick in buyers being able to successfully negotiate deals with sellers -- BUT don't forget, Winter is coming!

Over the past eight months there have been an average of 119 contracts signed per month. If last Winter (+/-) is any indication, that is likely to drop slightly in November, and then much more significantly in December, January and February. Last Dec-Feb, there were an average of 72 contracts signed per month -- a good bit less than the 119/month average from the past eight months.

Read more about our overall housing market in my most recent monthly market report....
Short Answer = I don't think so.

Several buyers who I have been chatting with lately have expressed dismay at the low inventory levels, which results in very few options for them to consider in their home search. The question inevitably comes up as to whether inventory levels are likely to improve next year.

The graph above shows that at inventory levels have been consistently declining over the past four years as measured by how many homes are on the market at the start of the main buying season, which I'm defining as April in the graph above.

So -- after seeing a 24% decline in inventory levels between April 2016 and April 2017 -- are we likely to see inventory levels start increasing again in 2018? Again, I don't think so, and here's why....

To reverse this trends of declining inventory we would need one or more of the following to happen in our local market....

A decline in buyer interest / activity -- which only seems to be happening (slightly) because of lower inventory levels.

A decrease in the rate of people moving to this area. Seems unlikely -- we're one of the fastest growing areas in Virginia.

An increase in the rate of people moving out of this area. Seems unlikely -- it's pretty nice here, unemployment is low, quality of life is high, etc.

More new homes being built. This is not currently happening at a very rapid pace in and around Harrisonburg.

Sellers selling who don't have to buy. This could be older homeowners who are moving into a retirement community, or people selling to then build themselves a home on their own land, etc.

Again -- none of the changes above seem likely to happen at a scale that would allow inventory levels to see much, if any, of an increase next year. As such, I am expecting we'll see relatively similar inventory levels next Spring and Summer.


Sorry to be the bearer of bad news -- as always, just trying to give folks realistic expectations for the future.

I had an interesting conversation with a real estate investor who is considering the purchase of a rental property (or properties) in the City of Harrisonburg, and they asked whether Harrisonburg was a good market in which to buy such a property -- or, put differently, is now a good time to buy a rental property in Harrisonburg.

After some discussion, and further processing since then, I think I'm sticking with my original "yes and no" answer....

Yes -- it is a great time to buy a rental property in Harrisonburg:

We have a strong and growing economy with low unemployment, so prospective tenants are likely to be able to keep jobs and keep paying the rent.


Well maintained rental properties seem to be in short supply and are renting quickly.


We are seeing slow and steady growth in home values which doesn't shown signs of stopping -- meaning your rental property is likely to continue to increase in value.

If property values keep increasing over the next few years, as most expect that they will, there is not some "better time" than now that will be coming up in the near future.


No -- it is not a great time to buy a rental property in Harrisonburg:

Inventory levels are low, resulting in a seller's market -- meaning you won't be buying a rental property at a discount -- and you may be competing with quite a few intended owner occupants when you are making an offer.

Home values are not currently depressed with a likely quick increase in those values in the next few years. Thus, it is very difficult to buy "below market" and have any "instant equity" in the immediate or near-term future.

There are a variety of other factors that could be put on one of the lists above -- but at the end of the day, it is not a clear or obvious decision to buy or not to buy. Some of the factors that should likely weigh in as you think about this decision are:

How long do you plan to own the rental property?

What are your investment goals? (cash flow now vs. value later for example)

Are you willing to invest in another market if you could find one where the opportunities seemed to be better than in Harrisonburg?

Below, then, also are a variety of resources that might be helpful to you as you think about this decision and as you consider specific rental properties....



One of my clients made an insightful comment recently, which was to point out that....

On home inspection repairs -- sellers usually have a short term fix mentality -- while buyers usually have a long term fix mentality.

And, successfully negotiating agreed upon repairs after a home inspection can be a smoother process if we reflect on the difference in those perspectives.

Inspector

: Several roof shingles are missing, and the roof is past its life expectancy.

Seller

: Replace the shingles.

Buyer

: Replace the roof.

Inspector

: The air handler coils are dirty and the heat pump is reeaaallly old.

Seller

: Clean and service the heat pump and air handler.

Buyer

: Replace them both!

These are a few extreme examples to start to show the differences in perspectives on repairs. Again, the important thing here is to recognize that a buyer and seller look at home inspection reports differently. A seller typically wants to minimize their repair costs while keeping the home sale on track. A buyer wants to make sure that any previously unknown property condition issues are addressed in a manner that is likely to prevent further near term maintenance needs in those areas. Both perspectives are reasonable, most of the time, depending on how it plays out related to specific deficiencies of a home.

So, what is a buyer to do? A few thoughts....

Consider asking for a credit in lieu of repairs so that you can be in charge of how the repairs are made.

If you are asking for repairs to be completed by the seller, be very specific about how you want them to be completed.

Understand that it is not always reasonable to ask a seller to make a repair with a 10 year future in mind.

Be willing to compromise with the seller to find a way to move forward on the home that you are, presumably, still excited to buy!



If only we could have seen this coming. :-) Just kidding -- we have seen it coming. Knowing it was coming, though, didn't seem to inspire any actions to change the trajectory.

As shown above, inventory levels have been steadily dropping in the City of Harrisonburg over the past five years -- or perhaps even longer -- I only have a record of the past five years.

There have now been fewer than 100 homes for sale in the City of Harrisonburg for most of the past six months.

How is this cured?

Fewer buyers wanting to buy -- which does not seem likely now or in the near future.

Construction of new homes. There are some being built -- but not many. Most new construction in the City is student housing.

Homeowners selling in the City, and buying in the County. This is a net increase of one additional home that can be sold/purchased in the City.

Homeowners selling in the City and leaving the area. I suppose this happens from time to time, but not frequently.

Homeowners selling in the City and not buying a new home.


There is no easy way to turn this trend around -- and to have more options for City home buyers -- and until this does change, it can be quite challenging for buyers to find a home they want to purchase in the City.



I'll say no real surprises here, on this analysis put together by SunTrust Mortgage of why millennials are buying homes....

A desire for more living space tops the list, and is understandable -- as many millennials may be moving out of apartments or other smaller living spaces -- or may be sharing a home with a roommate, etc.

It is good to see that millennials are interested in building equity in a home that they purchase. Buying a home, and thus having your monthly housing costs paying down the principal balance of your mortgage, is a much better feeling than paying those monthly housing costs each month to pay down your landlord's mortgage.

A desire for more space or a yard for a dog is surprising, at first, but given the age of millennials, maybe there are more such buyers still in the pre-marriage, pre-kid stage of life?

Knowing why you are buying a home, and how long you think you will be in that home, are important things to be thinking about as you are preparing to embark upon the home buying process.

Thanks to JoDee Lambert at SunTrust Mortgage for this fun infographic.



That age old question -- which came first, the chicken or the egg -- applies to our local real estate market more than ever this year.

There will always be folks, perhaps such as yourself, who will want to buy a new home, but need to sell in order to buy. The ease of this transition depends largely on what type of market we're in....

Balanced Market = tricky but usually achievable


Buyer's Market = still tricky, but relatively straight forward


Seller's Market = almost always pretty difficult


We're definitely in a seller's market right now -- in most areas and in most price ranges -- which is a result of lots of buyers wanting to buy, and not nearly enough sellers having their homes on the market.

And this, as outlined above, can make it quite difficult to buy and sell at the same time....

If you decide to make an offer on a house you want to buy before your current house is listed for sale, or before it is under contract, you are likely to be turned down by the seller of the house you want to buy -- because they are confident that the high number of buyers in the market (relative to the number of sellers) will make it easy for them to find another buyer who does not need to sell a home -- or who already has their home on the market.

If you decide to wait to make an offer on a house until you have your current house under contract -- you might yourself in a tough spot, of having secured a buyer for your current house, but not seeing anything else you want to buy.

Generally speaking, my recommendation is always the second option above -- make an offer after your current house is under contract. And don't worry -- there are multiple ways to address the "I am only willing to sell if I can also buy" scenario with contract contingencies.


But what does one do if there really (really!) isn't anything to buy after you have secured a buyer for your home?

Move forward with the sale -- hoping, trusting, praying that another listing will come on the market that you can buy. If such a house does come up -- great. If not -- you'll be potentially moving into a rental?

Move forward with the sale -- being willing to rent temporarily if needed -- understanding that this will cause you to move twice.

Turn down the sale of your home -- because there is nothing to buy.

These are not easy, or fun, decisions to make. I am working with multiple families right now stuck in the middle of this situation -- having an interested buyer for their home, but not knowing where they will go.

Our best bet is to talk through the options for how to best handle this transition -- and determine how flexible you are willing to be, as it relates to what you buy, how soon you buy something, whether you move twice, etc.



Most of my clients use

NewListingsInHarrisonburg.com

to keep track of new properties coming on the market in Harrisonburg and Rockingham County.

You can quickly and easily scroll through the most recent residential listings in Harrisonburg and Rockingham County, view the pertinent details, all of the photographs of the home, an area map, and then quickly and easily share that new listing with a friend, your spouse, your Realtor, etc.

You can also sign up to receive an email alert every time there is a new listing....

And, finally, you can add the website to the home screen if you'd like, for quick and easy access....

Check it out, at

NewListingsInHarrisonburg.com

.
Nearly half of sellers (46.6%) pay some portion of a buyer's closing costs in the form of a credit at closing. Over the past five years, the number of sellers providing a "concession" of this sort to buyers have stayed between 40% and 50%.

Here's the interesting one -- sellers have paid more and more of a buyer's closing costs over time. The average amount of seller concessions has increased steadily over the past five years. But why, you might ask? It's hard to say exactly -- buyers might be asking for more money, sellers might be agreeing to provide a larger credit, or perhaps the total amount of closing costs that a buyer has to pay is increasing as well?

If, as a seller, you are paying part of a buyer's closing costs, you are most likely to be paying between $4K and $6K --- or between $2K and $4K.

And again, as a seller, if you pay part of the buyer's closing costs -- you are not alone -- 45% or so of sellers do so!
Given continued low interest rates and some increase in home values, let's take a new look at the opportunities of buying versus renting.

RENT = $1050/m.

There are regularly options for renting a two-story townhouse in Harrisonburg for approximately $1050 / month in Avalon Woods, Beacon Hill, Stonewall Heights, Liberty Square, etc.

BUY = $1012/m.

With a 95% loan, buying such a townhouse apparently may cost as little as $1,012 per month assuming a $155K purchase price and a 4% interest rate per SunTrust Mortgage's

payment calculator

....

This shows a rather small, $38/month, cost savings of buying instead of renting. If we then look at the difference between renting and buying over a five year time period, the advantages start to pile up.

As you can see, this builds a rather compelling case for buying instead of renting if you are going to be living in this potential townhouse for the next five years. Two other factors to keep in mind....

Your cost savings will potentially be even greater than outlined above based on your tax savings you will see each year because of having paid mortgage interest.


The analysis above does not factor in your closing costs when buying.

Your "buying" costs could end up being higher than outlined above because of any property owners association fees as well as any home maintenance you would need to pay for during that time of owning the townhouse.


If you are renting a townhouse now, but suspect you will be living in Harrisonburg for the next five years, let's chat about what could make the most sense for your housing situation.
Another month -- and still no meaningful changes in the 30 year mortgage interest rate. Since the beginning of the year, these rates have slowly edged downward, and have now been below four percent for most of the past three months.

This continues to provide a great opportunity for home buyers -- likely spurring on continued buyer interest in our local market.

As I commented to someone last week, I have been thinking mortgage interest rates were going to start increasing for at least five years now -- and I have been wrong for at least five years now.

Will they ever increase? Possibly. When? How? By how much? It's anyone's guess at this point. I think there is probably a 75% chance (maybe a 90% chance?) we'll finish out this year at or below 4.5% -- which is hard to believe.
You can't necessarily buy a recently built four bedroom house on 1+ acres for around $350K in Rockingham County -- but just a few minutes further south, in Augusta County, you can!

This expansive home located at

134 Bailey Road

with a two attached car garage on a 1.65 acre lot offers long views in a private setting. Enjoy upscale features such as hardwood floors, maple cabinets, granite countertops and ceramic tile in the bathrooms. The main level offers an office, formal dining room, living room, kitchen with breakfast nook plus a main level guest bedroom and full bathroom. Upstairs you will find a spacious master suite, and three additional rooms plus an unfinished bonus room for storage. Don't miss the covered front porch, two-story foyer, crown moulding, chair rail, large linen closet and much more!

Visit

134BaileyRoad.com

to find:

Interior, Exterior and Aerial Photos
3-D Walk Through
Floor Plans


If you're interested in taking a look at this property, just call (540-578-0102) or

email me

to set up a time to do so.
Check out fantastic

home for sale on Central Avenue

!

June 2017 flew by like a blur -- and although home sales were a bit slower than in May 2017 -- nearly all housing market indicators are still showing signs of a robust and active local real estate market.

I just published my most recent monthly market report, and as usual, you can read on for an overview,

download the full report as a PDF

,

read the entire report online

, or tune in to my monthly video overview of our local housing market...

OK -- now, back to a high level overview of where things are with the local real estate market....

As shown above, most market indicators are looking good....

Home sales actually declined by 11.84% this June as compared to last June, but....


Year-to-date home sales are up 1.16% this year as compared to last year.


The median sales price has edged up, ever so slightly, to $190,000 when looking at 2017 YTD as compared to 2017 YTD.


Homes are selling in a median of 33 days, as compared to 53 days in the first half of last year -- so, they are selling 38% faster in 2017!


Now, looking at May and June sales this and last year gets interesting....

As you can see, above, home sales dropped from 148 in May to 134 in June this year -- but last year, they increased from 133 in May to 152 in June. It is hard to say why this trajectory is reversed this year -- it may have to do with when sellers happened to be ready to sell, and when buyers happened to be ready to buy this year as compared to last year. Regardless, the net change from last year to this year is a decline of only three home sales when combining May and June data.

Looking forward, I believe we'll see a further decline in closings in July, or at least that is what has happened in most recent years. Unless contract activity convinces us otherwise....

Looking at when buyers are signing contracts, it is notable that we have seen a steady stream of buyers (132 - 140 per month) over the past four months. This is a total of 542 contracts signed in the past four months -- as compared to 560 last year during the same timeframe. As we move forward, we should have at least two more months of 100+ contracts before contract activity inevitably starts to slow in September and October.

And what are all of these buyers choosing from when they contract on a home?

It seems that buyers are choosing from fewer and fewer homes these days! Inventory levels have been hovering around 400 homes for sale over the past six months -- and the normal influx of new listings in the Spring selling market has not been able to keep pace with a higher level of buyers buying homes. As such, we have not seen the typical increases in inventory levels between the Winter and Spring market -- there are actually FEWER homes on the market now than there were this past February!

OK - now for a shocking statistic of the month....

Did you catch that, above, in yellow? When looking at the homes that sold in the City of Harrisonburg during June 2017 -- the median "days on market" for those home sales was 8 DAYS!?! So, half of the homes that sold went under contract within 8 days of being listed for sale. Wow! I guess that's what you get with increasing buyer demand and decreasing inventory levels.

There are actually quite a few astonishing tidbits in this month's report, but I'll get into those in the coming days on

my blog

.

Until then -- feel free to

download and read my full market report as a PDF

, or

read the entire report online

.

And, my reminders for buyers and sellers last month still apply....

SELLERS -- even though it is a seller's market in many price ranges right now, you must still focus on price, condition and marketing.


BUYERS

-- it can be difficult and frustrating to buy right now -- make it a bit easier for yourself by

knowing the market

,

knowing the process

,

knowing your buying power

, and

closely monitoring new listings

!

For further reading on buying or selling in this area, check out....


scott@HarrisonburgHousingToday.com

.
Based on the analysis above, it would seem that sellers are not (in almost all cases) accepting home sale contingencies. Here's the logic....

A seller would almost never accept a contract with a home sale contingency without a kickout clause to allow them to move on to a different buyer that didn't have a home sale contingency.


There are only 9 properties in the MLS that are under contract with kickout clauses.

Even though I have run this analysis before, I am still surprised to find this to be the case --- I thought more contracts might have kickout clauses (and thus home sale contingencies) because plenty of buyers have to sell before buying.

It would seem that most buyers are likely waiting to make offers until they have their own properties under contract (thus eliminating the need for the kickout clause) AND/OR most sellers are not accepting offers with home sale contingencies unless the buyers' houses are already under contract (thus eliminating the need for the kickout clause).

If you are a buyer, I would certainly suggest the strategy outlined above (and the only one that is apparently working with sellers right now) --- get a contract on your house and THEN make an offer on the property you would like to purchase!
Here are the three sequences I see buyers follow most frequently....

As Late As Possible


Guess at what you can buy using online mortgage calculators.
Start viewing houses.
Make an offer.
Ratify a contract to purchase a home.
Start talking to several lenders.
Select a lender.
Become pre-qualified.
Make loan application.

Provide income and tax documents (etc.) to lender.
Obtain loan approval.


Incredibly Proactive


Start talking to several lenders.
Select a lender.
Become pre-qualified.
Make loan application.

Provide income and tax documents (etc.) to lender.
Obtain loan pre-approval.
Start viewing houses.
Make an offer.
Ratify a contract to purchase a home.

A Reasonable Middle Ground

Start talking to several lenders.
Select a lender.
Become pre-qualified.
Start viewing houses.
Make an offer.
Ratify a contract to purchase a home.
Make loan application.
Provide income and tax documents (etc.) to lender.
Obtain loan approval.

I try to encourage all of my clients to at least be in the "reasonable middle ground" sequence as outlined above. This gives them a firm idea of what they can afford and how a home price will compare to a loan payment. This also allows them to make a stronger offer, already having a pre-qualification letter in hand.

I strongly discourage my clients from following the "as late as possible" sequence as outlined above. This doesn't help them make the best decisions about which houses to pursue, how far to negotiate, etc. This also doesn't allow us to make as strong of an offer on a house.

Occasionally, one of my clients will fall into the "incredible proactive" sequence as outlined above, and wow, this makes the financing process a joy to work through! These buyers have already done so much of their work with the lender before even thinking about which house to buy -- which then allows them to focus on buying, negotiating, inspecting, etc., rather than be bogged down in the process of securing their mortgage.

Let me know if you have questions about how I have described these sequences -- and let me know if you would like a few recommendations for lenders in the Harrisonburg area.
The odds are, you'll have to compromise on SOMETHING when you are buying your next home. The question becomes -- what are you you willing to compromise on? The easiest (at first) sometimes seems to be price -- you still get everything you want, you just have to pay more for it. But if you're drawing a firm line on price, then likely some other need or want will have to be imagined differently.

Here is what buyers tend to compromise on based on the the 2016 Profile of Home Buyers and Sellers from the National Association of Realtors....
It's easy to want to do this -- as either a buyer or a seller.

The illustrations below are partially based on real experiences in the past few months, but have some fiction woven in to preserve anonymity.

THE BUYER'S STATED PERSPECTIVE


I know that your house is listed for $350K, but this one other home a few streets over sold for $300K last month, and it was a larger, so I'm not paying any more than $300K for your home.

THE LARGER CONTEXT


Just a few items...

The other home was, indeed, just "a few streets over" but that also put it on the edge of the neighborhood, on a busy road, with a front yard that parents wouldn't let their children plan in for fear of them running into the road where cars often travel past at 45 miles an hour.


The other home was, indeed, larger -- but the entire house needed to be updated, as it had wallpaper, a dated kitchen, dated flooring, etc.


The other home had a basement one-car garage instead of a main level two-car garage.


Furthermore, aside from all of these differences in the two houses --- the other ($300K) house is not available any longer --- and there aren't three other houses just like it that the buyer can decide to buy.


In this case, by focusing on this one not-actually-that-similar sale, the buyer has put themselves in a situation where they might miss out on purchasing a great home because of how they are viewing the market based on one comparable sale.

THE SELLER'S STATED PERSPECTIVE


I am confident that I can sell my house for $250K. After all, my friend owned a very similar house and he just sold it in a week, with multiple offers, for $260K!

THE LARGER CONTEXT

Just a few items...


Your friend's house was in a highly desirable neighborhood within walking distance to downtown Harrisonburg -- while your home is on a busy road and has train tracks directly behind it.


Three homes nearly identical to your home, on your street, even facing the same direction as your home, built within two years of your home, updated at the same time as your home, sold in the past three months for $220K, $225K and $230K.

You have lived a busy life over the past few years, with work, family, and other commitments and you haven't had a chance to tackle the many small maintenance and upkeep items that a home often requires. Your friend is a retired general contractor and has spent all of his free time over the past two years fixing, replacing, and improving countless aspects of his home's interior, exterior and grounds.


Again, by focusing on this one not-actually-that-similar sale, the seller has put themselves in a situation where they might miss out on selling their home because of how they are viewing the market based on one comparable sale.

So -- as a buyer or as a seller -- don't focus on just one comparable sale when deciding on a reasonable price to pay or to ask -- look for the larger context!



As shown above,

this rowhouse in Preston Lake

offers an AMAZING rooftop terrace -- and it will be hard to leave once you are up there, enjoying the space....

Care to check out this compelling property in person? Just drop me an email at

scott@HarrisonburgHousingToday.com

..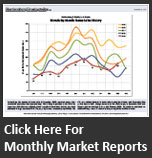 Subscribe

Receive notifications of new content on this blog, via e-mail or RSS reader.