Welcome! This blog tracks the real estate market in the Central Shenandoah Valley, featuring market data and analysis, an exploration of common buying and selling questions, and candid commentary on all things real estate.
If you are interested in discussing any of the topics on this blog, or the details of your specific real estate situation, call or e-mail me!
Jmu
JMU students, faculty and staff will now be able to get their favorite caffeinated beverage on the run via a Starbucks truck that will be rolling through JMU campus this year.

Starbucks has partnered with three universities as a trial of this new concept: James Madison University, Arizona State University, and Coastal Carolina University.

Per the

news release from Starbucks

....

The new truck, a pilot mobile service coming to three college campuses this fall, offers a menu of drinks and food nearly identical to what customers would find in their neighborhood Starbucks stores.

The Starbucks mobile truck can move to various locations on campus throughout the day, making it convenient for students and faculty to grab a snack or beverage. While hours will vary on each campus, trucks are able to adjust business hours to suit the needs of their customers, in some cases staying open later than a dining hall.


The Starbucks truck will start operating at JMU on August 25. The photo above is a photo from Starbucks -- but I'm eager to see what the actual truck looks like on JMU campus. If you see it in action, email me a photo of it to

scott@HarrisonburgHousingToday.com

.
click here for a much more interesting larger version of this image

JMU is hoping to close a section of Mason Street and Grace Street internal to land that they now own on both sides of each street to make the area more pedestrian and bike friendly.

Read lots of details in this

article from yesterday's Daily News Record

.
If Hotel Madison is built in the location shown above, it is likely to be without any financial support from the City of Harrisonburg.

A private developer, JMU and the City of Harrisonburg have been negotiating for months on details of a potential partnership between the three entities to build a hotel and conference center on the site shown above -- but that deal has now apparently fallen apart.

The developer was asking for $10 million towards the conference center construction, which would be a part of the overall $40 million cost of the entire project.

Per today's Daily News Record article, after nearly every detail was in place, the City made a few changes to the draft memorandum of understanding, and the JMU Foundation could not agree to those changes.

The developer indicates that the project will not be able to move forward without the now unlikely private-public partnership.

Read more in

today's Daily News Record article

, or catch up on how this all played out....
It would seem that JMU will be buying this 60 acre parcel on South Main Street that was originally intended to be privately developed as student housing.

Per the Daily News Record (June 7, 2014)....

James Madison spokesman Bill Wyatt said that while the university has no immediate plans for the property, the board is buying it to add flexibility to shuffle the school's auxiliary, nonacademic services away from the center of campus, and create space for future facilities.


Read the full DNR article

here

.

Read about the 466 apartments that were originally going to be built on this land

here

.
JMU (the James Madison University Board of Visitors) recently closed on the purchase of a property on the corner of South Mason Street and Martin Luther King, Jr. This purchase included an unimproved parcel of land, as well as a parcel of land improved by the building pictured above.

The property that was recently purchased is situated between what used to be Rockingham Memorial Hospital (and is now the University Health Center, etc.) and a parcel of land on South Main Street owned by JMU that has been discussed as the

potential site of a hotel and conference center

("Hotel Madison").

How can you know about these interesting property transfers?


To stay up to date on property transfers in this area, simply visit

HarrisonburgPropertyTransfers.com

and subscribe to the weekly email list to receive these updates.
A 205-room hotel and 21,000 SF conference center might be built on South Main Street between Grace Street and Cantrell Avenue through a public-private partnership. This $40 million project could result in over $1 million in tax revenues for the City during its first year of operations per a feasibility study recently provided to the City. The City of Harrisonburg is being asked to pay for $10 million of the project, which would cover the cost of the conference center. The developer would build the hotel and conference center on JMU-owned land in the location described and shown above.

As a side note, this is being described as a downtown hotel and conference center --- though the corner of Cantrell Avenue and South Main Street doesn't quite seem downtown to me --- or to the creators of the

downtown maps

.

Read more about this project....
Photo Source:

Moseley Architects

I'm not sure if we call this on campus or off campus housing, but JMU is building a new residence hall on West Grace Street that will feature approximately 507 beds, various student life spaces, classrooms, seminar spaces, administrative offices, and other support spaces.

Read more via The Breeze

here

.
After several (very!) slow years of condo sales at Hunters Ridge, there has been a rush of sales this year --- 13 as of 11/13/2013. Prices have come down a bit further this year, to a median of $56,250.

Sales have also increased (slightly) at Camden Townes (Hunters Ridge Townhomes) -- and prices have started to tick upwards a bit to a median of $78,500.

Here is all of the data....

Search for properties for sale in...

Hunters Ridge

or

Camden Townes

.
JMU just published

updated enrollment projections

as recently approved by the State Council of High Education for Virginia.

There are plenty of different figures that can be used to understand JMU enrollment, but the most pertinent relative to our local housing market is the "Total On-Campus Headcount" as shown in the graph above. This figure is the best reflection of the number of students who will need housing, either on JMU campus, or off campus. These figures, and their changes over time, are the best numbers to be using when analyzing the need for off campus student housing in Harrisonburg.

First, as you can see, JMU is still growing and intends to keep growing for years to come. This is good in many ways for JMU, our local economy, our community, etc. The question that is of interest to me, however, is how this all relates to Harrisonburg's off campus student housing market.

A lots can happen in 5 short years (2008-2013)....

Reports of Rapid Growth....
An article in the Daily News Record on June 19, 2009 stated that enrollment was 17,964 in 2008 and would increase to 21,542 by 2013. That would have been an increase of 3,578 students.


Student Housing Developers Respond....
Per my calculations, student housing developers (and JMU) added beds for 3,792 additional students between 2008 and 2013, including a new JMU residence hall, and new housing at Charleston Townes, Sunchase, North 38, Campus View, 865 East, Copper Beach, Urban Exchange and Aspen Heights.


Actual Growth Was Much Slower....
The Total On-Campus Headcount (shown above) actually only increased from 17,964 to 19,409 between 2008 and 2013. This is an actual increase of only 1,445 students.


Real world implications....



Over the past five years, there has been an increase of 1,445 students needing housing....and during the same time frame, housing was built for 3,792 additional students. This has led to a significant oversupply of student housing, with real world implications such as....

And yet, at the same time....

Why did it all happen?

So, we apparently have a tremendous oversupply of student housing in Harrisonburg -- many wonder why it happened. Read my theories here.


Looking forward....

Given this new data (at the top of this post) about increases in JMU enrollment (Total On-Campus Headcount) what can we say or know about the future?

Further projected increases in student enrollment should slowly eat into the oversupply of student housing.


Our local market DOES NOT need any further off campus student housing!?!

This is a lot of information -- if you have questions, feel free to email me at scott@HarrisonburgHousingToday.com.



You may have driven by this new complex (corner of Port Republic Road and Neff Avenue) but have you seen the full scope of it?

I had driven by University Park countless times, but until my son participated in a soccer camp earlier this month with

Shenandaoh Valley United

, I had never seen the facility in person.

This is an amazing multi-field complex, offering both grass and FieldTurf practice field as well as a finely-manicured game-playing surface of natural grass. JMU Women's Lacrosse, Women's Soccer, Men's Soccer and Women's Cross Country/Track & Field programs compete at this location.

Click here for a map of the complex.
Mark your calendars for

August 10th from 7:30 AM - 12:00 PM

when the JMU Surplus Property Sale will be taking place at the JMU Surplus Property Warehouse located at

1070 Virginia Ave

., Harrisonburg (former Shenandoah Manufacturing Plant, North End Dock Area).

All items are pre-priced and include projectors, appliances, LCD monitors, bikes, JMU sports and band apparel, sports bags, music keyboard, meat slicers, stainless steel fryers, dishes, televisions, cameras, DVD players, dorm beds, desks, tables, file cabinets, bookshelves, chairs, microscopes, lounge furniture, office supplies, map cabinet, lost-and-found items such as jewelry, iPods, sunglasses and much more.

Terms are cash, check or credit card with proper identification. All items are sold on "as is, where is" basis with no implied warranties of any kind given. All sales are final; no refunds. No preview date.

For additional information, call (540) 568-6931.
Local developers, Barry Kelley and Andrew Forward, are at it again -- transforming a downtown structure into an inspiring new space. Some of Barry and Andrew's past projects include

City Exchange

,

Urban Exchange

and

The Walton Hotel

.

VISION

- Some of the ideas that have been discussed for The Ice House include:

Restaurant / Cafe
Artisan Space / Destination
Culinary Arts Community Kitchen
Open Office Space
Gallery Space
Aquaponic Facility
Garden Terrace along Blacks Run
Event Space
Loft Apartments
Shared Gym
Rooftop Gardens
Loft Apartments / Condos

Click on the image below to download a 17-page PDF exploring the developer's vision for The Ice House.

LOCATION -

The Ice House will be a transformation of the former Cassco ice plant located at 217 S. Liberty Street. As you can see, it's not a very exciting sight right now....

ZONING -

The City of Harrisonburg has approved a rezoning request for 217 S. Liberty Street and the adjacent building, 115 W. Bruce Street.

HISTORICAL TAX CREDITS; GRANT -

One of the only reasons that this project is able to move forward is because of the historical tax credits available for the project.

INDUSTRIAL REVITALIZATION FUND GRANT

- Harrisonburg received a $500,000 grant from the Virginia Department of Housing and Community Development's Industrial Revitalization Fund. This grant is effectively a low-cost loan that will be available for the development of The Ice House.

COMMERCIAL TENANTS

- Conversations are ongoing, but James Madison University has confirmed that they will occupy some of the space in The Ice House. One of the JMU offices that will relocate to The Ice House is communications, marketing and public affairs. Additional current plans for the commercial space include a restaurant, a mint operation and a yoga studio.

SCOPE, TIMING -

The transformation of this 80,000 square foot building is estimated to cost $10 million and the aim is to have it substantially complete by the end of 2014.

STATUS

- A detailed master plan is currently being developed to include 217 S. Liberty Street, 115 W. Bruce Street, as well as a 104-space parking lot on a parcel diagonally across West Bruce Street.
Source: Google Street View

Per the Daily News Record, JMU has announced that they will raze (remove, destroy, demolish) the former Rockingham Cooperative building shown above. This area will be coming surface level parking for now, though JMU will likely building something on it at some point in the future.

Source: Google Maps

The Rockingham Cooperative building (red "A" marker above) was purchased in 2010 as a natural fit into JMU's expanding campus. As shown above, it is a link between the former Harrisonburg High School building (labeled as Memorial Hall) and the remainder of the JMU campus (all shown in gold).

Read the Daily News Record article here

.
The JMU Real Estate Foundation purchased a commercial building on University Boulevard that currently houses Tuesday Morning, Hair Works, and AllState. The building is located between Blue Ridge Hall and the Oriental Cafe (red marker on the map above) and you will note that this purchase expands JMU's southeastern corner a bit further towards the intersection of University Blvd and Reservoir Street.

The only remaining parcels on the corner are Sheetz, the shopping center containing The Oriential Cafe, and the Rescue Squad.

The lot and building were purchased for $1,250,000 and there no specific plans for the building or land at this time. JMU intends to continue leasing the property to the current tenants.
It seems (see above) that there are many more $300K-$400K home buyers in the market during the summer months than any other time of year.

And before you say this is just the normal seasonal trend for home sales, compare it to the overall market (below).

Perhaps the high buyer count in the summer for $300K-$400K range is related to incoming JMU professors?
Pretty cool ---

ZipCar is coming to JMU

--- allow users to rent a car by the hour or by the day.

Who can be a part of this program?

Students
Faculty & Staff
Community Members

Learn more here.


I attended a fantastic event last night at the Forbes Center, the kickoff event of President Alger's

Presidential Listening Tour

. President Alger, JMU's new president, lead us through discussions on a series of topics including:

the educational experience / student experience at JMU
working at JMU

supporting JMU
the relationship between JMU and our local community


It was clear that President Alger is willing to take the time to learn about what it is that makes JMU the special place that it is.

On a personal note, I graduated from JMU in 2000 and 2002, met my wife at JMU, and we decided to stay in Harrisonburg in part because of JMU's contribution to making this such a wonderful area to live and raise a family. My experience at JMU was transformative and has prepared me extraordinarily well for my life and work since graduation.

If you have the opportunity, attend one of the future listening tour events, or

submit your answer to "Why Madison?" online

here

.
Coldwell Banker Funkhouser Realtors' principal broker, Joe Funkhouser, was named the Rector of JMU's Board of Visitors last month -- a high honor for Mr. Funkhouser, and a great responsibility for providing leadership at James Madison University.

From today's Daily News Record article....

Funkhouser says his and the board's job lies in meeting state and federal educational goals, including turning out more graduates — especially in science, technology, engineering and math fields — and ensuring the accessibility and affordability of a JMU education. Boards of visitors at the state-run universities are responsible for approving budgets, policies and the schools' top administrators and faculty, and making other decisions affecting the schools' long-term direction.

Holding a leadership position is nothing new for Funkhouser, who has a breadth of experience on local, state and national boards, including the Virginia and National associations of Realtors, Rockingham Memorial Hospital board of directors, Harrisonburg Electric Commission, RMH Capital Campaign and Rockingham Heritage Bank Board.

He also served on the Virginia Real Estate Board from 1995 to 2003 and was reappointed by McDonnell to the board in 2010. Nearly seven of the first eight years Funkhouser served on that board were as chairman.

In 2009, Funkhouser was named the Harrisonburg-Rockingham Chamber of Commerce Business Person of the Year.

Read the entire article here.
Is it possible that values at Hunters Ridge have bottomed out and are on the rise? Don't read into the upswing too much, as there is only one data point for each property type so far this year --- but this will be a trend to continue to monitor.

View currently available

condos

and

townhouses

in Hunters Ridge.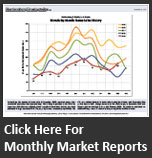 Subscribe

Receive notifications of new content on this blog, via e-mail or RSS reader.