Welcome! This blog tracks the real estate market in the Central Shenandoah Valley, featuring market data and analysis, an exploration of common buying and selling questions, and candid commentary on all things real estate.
If you are interested in discussing any of the topics on this blog, or the details of your specific real estate situation, call or e-mail me!
Archive for December 2019



While not always the case, a general rule of thumb is that...




On home inspection repairs...

SELLERS usually have a short term fix mentality

BUYERS usually have a long term fix mentality

...and, successfully negotiating agreed upon repairs after a home inspection can be a smoother process if we reflect on the difference in those perspectives.

Inspector

: Several roof shingles are missing, and the roof is past its life expectancy.

Seller

: Replace the shingles.

Buyer

: Replace the roof.

Inspector

: The air handler coils are dirty and the heat pump is reeaaallly old.

Seller

: Clean and service the heat pump and air handler.

Buyer

: Replace them both!

These are a few extreme examples to start to show the differences in perspectives on repairs. Again, the important thing here is to recognize that a buyer and seller look at home inspection reports differently.




A seller typically wants to minimize their repair costs while keeping the home sale on track.





A buyer wants to make sure that any previously unknown property condition issues are addressed in a manner that is likely to prevent further near term maintenance needs in those areas.





Both perspectives (minimizing repair costs, addressing previously unknown property condition issues) are reasonable, most of the time, depending on how it plays out related to specific deficiencies of a home.

So, what is a buyer to do? A few thoughts....

Consider asking for a credit in lieu of repairs so that you can be in charge of how the repairs are made.

If you are asking for repairs to be completed by the seller, be very specific about how you want them to be completed.

Understand that it is not always reasonable to ask a seller to make a repair with a 10 year future in mind.

Be willing to compromise with the seller to find a way to move forward on the home that you are, presumably, still excited to buy!






I tend to come at this from the "under promise, over delivery" perspective...




I have been in three houses this past week where the number of bedrooms is a bit nebulous...

A house with two bedrooms in the main house, plus an additional bedroom in an apartment with a separate outside entrance. I think this lives like a two bedroom house (rounded down) to most buyers because the third bedroom is not within the same connected space.

A house with two bedrooms with normal ceiling heights, plus an additional attic bedroom with very limited areas where you walk around if you are taller than about 5 feet. I think this lives like a two bedroom house (rounded down) to most buyers because the third bedroom has limited functionality based on the ceiling heights.

A house with two bedrooms, and all the bathrooms, on the main level, plus an additional bedroom on the lower level, nowhere near any of the bathrooms. I suppose I could be talked into calling this a three bedroom house - but I think it lives like a two bedroom house (rounded down) to most buyers because the third bedroom is not anywhere close to a bathroom.

There are, of course, pros and cons of rounding down or up...




If you round down, it is likely that every buyer that views your home will find that it has enough bedrooms -- and they'll likely be pleasantly surprised at the additional sort-of bedroom -- but you might miss out on buyers who really need that other bedroom and thus don't even consider your house based on the bedroom count.




If you round up, it is likely that many buyers that view your home will be disappointed to conclude that it does not have enough functional bedrooms -- though you will likely have more buyers looking at the house in general, because of the higher bedroom count.




So -- there is no perfect rule for determining whether to round up or round down when counting the bedrooms in your house -- but will likely do you well to thin about how many functional bedrooms most buyers would consider your house to have...







I have shown a few houses lately to buyers where we couldn't help but notice a lingering cigarette smoke odor in the home. That smell was not the only factor that kept these buyers from making an offer on these houses -- but it certainly was a part of the discussion and decision.




So how in the world do you get a pervasive cigarette smoke smell out of a house?





I'm not an expert, but my understanding is that you may need to consider some or all of these techniques:

Even if you take all of those (not inexpensive) steps above, you may still have some lingering smells -- and if you do, you probably shouldn't be entirely surprised.




You might then consider using an ozone generator which can help eliminate odors. If you're going this route, you'll likely want to consult with a professional.





In the end -- if you are considering the purchase of a home that has a pervasive smell of cigarette smoke, don't assume that it will be easy or inexpensive to remove that odor!









Our local MLS requires a house to be off the market for 90 days before the "Cumulative Days on Market" statistic resets. So, if you take your house off the market today, you could put it back on the market right around March 5, 2020 and have that statistic reset.

During these 90-ish days of being off the market, we will want to talk about price, condition and marketing....

Let's meet to chat about the value of your house in the current market so that we can be priced well for the Spring market (pending any changes in the market between now and then).


Let's walk through your house together to determine if there are any small (or large) projects you could be taking care of during "the off season" to have your house shine when it comes back on the market in the Spring.


Let's review our marketing plans to make sure we have a strategy in place for exposing your property to the broadest possible pool of potential buyers.

Again -- you might be JUST FINE leaving your house on the market over the Winter, as there are SO FEW homes for sale right now -- but if you choose to take it off the market for a few months, now or soon is a fine time to do so.






First - a note - each data point above is for the end of the given month. Thus, the 235 homes for sale in November are at the end of November -- or, as the case may be, the very beginning of December.





Now, there are a few disclaimers I could make about the above data...

We just rolled over into a new month -- some listing agreements end at the end of a month (such as Nov 30) and then end up being extended within the first few days of the following month. So -- maybe some listing that came off the market in recent days will be revived this coming week.

Some sellers who were not successful in selling this Fall may have decided to take their houses off the market for a few months (Dec, Jan, Feb) to then put their houses back on the market in the Spring.

Regardless of the reason or explanation, though, the current inventory levels are SUPER low! Which is terribly frustrating for buyers -- and a great opportunity for any home owner who does need to sell right now. You are not likely to have much competition from other sellers!




Stay tuned later in the month when I compile my full monthly report and we'll see if inventory levels perked back up as we made our way further into December.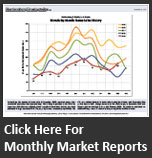 Subscribe

Receive notifications of new content on this blog, via e-mail or RSS reader.