Welcome! This blog tracks the real estate market in the Central Shenandoah Valley, featuring market data and analysis, an exploration of common buying and selling questions, and candid commentary on all things real estate.
If you are interested in discussing any of the topics on this blog, or the details of your specific real estate situation, call or e-mail me!
Building Lots
Of interest -- two new types of building lots have hit the market in the past week or so....

PRESTON LAKE


Previously, if you wanted to build at Preston Lake -- you had to work directly with the developer/builder, using one of their sets of floor plans, and having them build the home for you. Now, it appears you can purchase a building lot and bring your own builder.

The lots that are now listed for sale are between 0.4 and 0.5 acres and are priced between $145K and $175K.

Explore these building lots at Preston Lake

here

.

CROSSROADS FARM


The (new-ish) developer at Crossroads Farm has just recently listed some new "cottage lots" at Crossroads Farm, that are somewhat small -- only 0.2 acres. As marketed, these "smaller footprint lots offer less yard maintenance without sacrificing the elegance of Crossroads Farm."

These lots are priced between $70K and $90K.

Explore these building lots at Crossroads Farm

here

.
Three parcels of development land (see below) are now under contract. Perhaps we'll be seeing some new developments taking shape in and around Harrisonburg soon?

2112 SUNNY SLOPE LN, ROCKINGHAM, VA - 16.91 ACRES - $1,039,000

This nearly 18 acre tract of land is just outside the City of Harrisonburg and offers an opportunity to develop for residential and/or commercial use, subject to rezoning. The property is located on Route 42 with about 450 feet of road frontage near WalMart and beside Harrisonburg Construction. There are three parcels, two currently zoned A2 and one zoned R2. Water & Sewer is available. The property includes a 3,000 sf ranch style residence with a basement and was built in 1960. UNDER CONTRACT SINCE 3/2/2017.

9447 MCGAHEYSVILLE RD, MCGAHEYSVILLE, VA - 21.76 ACRES - $1,250,000

Temporary Price Cut for an Early April Closing! Extraordinary Opportunity! A fully approved Residential Subdivision in McGaheysville and ready to be developed. The site is approved for 84 units (6 single family & 39 duplex lots). It can be constructed in Phases. Full views of Massanutten and the Blue Ridge Mountains. The subdivision includes a roundabout, internal loop road for walking, and riding, a shared access pond/park area. County water & sewer. UNDER CONTRACT SINCE 7/5/2017.

TBD BOYERS ROAD, ROCKINGHAM, VA - 26.27 ACRES - $2,365,000


Prime Development Land. 26 + Acres Zoned R3 on the east side of Harrisonburg on Boyers Road across from Sentara RMH Hospital. Property borders the Massanetta Springs Camp & Conference center property on the east and also has a pond that has water in it most of the year. Could be a great duplex or townhouse development. There is a small barn on the property. UNDER CONTRACT SINCE 9/11/2017.
A common question amongst builders and would be lot-buyers is where building lots actually selling these days in Harrisonburg and Rockingham County.

Let's take a look....

As shown above, the most active subdivision for home sales (and the location with the highest price) has been The Springs at Osceola.

Lot sales are a bit slower this year (46 so far in 2016) than in previous years (78 in 2015, 84 in 2014).

Stay tuned for more updates on lot sales as we move forward.
After a huge spike in sales (408 lot sales in 2004) and in median prices ($99,900 in 2006), the sales of building lots cooled quite a bit between 2004 and 2009.

The last few years, have shown slow but steady growth in this segment of our market -- 60 . . . 61 . . . 79 . . . 83 sales over the past four years.

This has also resulted in stability in the median sales price, which has been right around $55,000 for the past five years.

The next question is -- where (and when) will we see the next new development of single family home residential lots....
Let's take a bit of a closer look at lot sale in Harrisonburg and Rockingham County - both at the number of sales in each subdivision, as well as the number of active listings, plus we'll examine the price range for each neighborhood....

A few observations....

the subdivisions with the most sales are those with lower lot prices
you could spend anywhere from $30K to $187K on a building lot
there are quite a few lots for sale right now in this area

Explore lots for sale....



I have several clients who are thinking about building a custom home. This is a helpful piece from Charles Hendricks [

Custom Home - how to get started

] that can get you started thinking about whether you are going to start by meeting with an architect, drafter or builder.

Read more here:

Custom Home - how to get started
The bulk of Preston Lake subdivision (mostly undeveloped building lots) was

foreclosed

on in 2011, but last week was

purchased

by a neighboring land owner --- a developer from Maryland.

After some further research, here is what was conveyed:

82 platted single family home lots
109 platted rowhouse lots
43.5 acres that have not yet been platted, but are planned to include:

28 single family home lots
202 rowhouse lots




Thus, if we ignore the fact that roads, water and sewer need to be installed on those 43.5 acres (outlined above in red), this was essentially the purchase of:

110 single family home lots
311 rowhouse lots

And here is a bit of context on the purchase price:

$20,500,000 = the amount of the loans that were foreclosed on in 2011
$4,530,000 = the appraised value at the time of the foreclosure
$3,500,000 = Wells Fargo's opening bid at the foreclosure sale
$2,000,000 = last week's sales price to Preston Lake's new developer

So, how much was paid for each lot? Well, let's assume that a single family home lots is worth twice as much as a rowhouse lot --- and that a finished lot (with infrastructure) is worth twice as much as a planned lot. If that were all the case, this new developer essentially paid:

$9,950 per platted single family home lot (82 in total)
$4,975 per platted rowhouse lot (109 in total)
$4,975 per planned single family home lot (28 in total)
$2,488 per planned rownhouse lot (202 in total)

If you refer back to the amount of debt that was foreclosed on ($20M) and compare that to the new purchase price ($2M) we can assume that the previous developer's lot basis was 10 times higher ($100K for single family home lots, etc).


Hopefully, these low costs per lot listed above will allow the new developer to build products and offer finished homes at a price point that will allow the subdivision to start moving forward again.

Stay tuned!

UPDATE:

After further review of the deed transferring the property from Wells Fargo, I am now noticing that the new developer has agreed to pay a "Subsequent Fee" to Wells Fargo of 2% of the gross sales price of any of their newly acquired properties (building lots or lots where they have built homes) when it closes. This only applies to transfers within the first five years.
These definitions do not describe all possible situations, but they will give you a general idea of the two ways to go about buying/building a new home....

CUSTOM HOME

: A home designed jointly by builder and buyer, which is then built to the buyer's specifications.

SPEC HOME

: A home designed by a builder, and built speculatively by the builder, who then works to find a buyer for the completed home.

Back in the height of the housing market (a.k.a. housing boom)....


Builders were building spec home after spec home, and buyers were snatching them up as quickly as they were built --- or before the construction process was anywhere close to completion.


Buyers were more interested in having a finished home, soon, rather than going through the "tedious" selection and customization process.

Now, after the market has cooled off quite a bit (a.k.a. housing bust?)....

Builders are much more hesitant to build speculatively -- in fact there are very few spec homes on the market, depending on the location and price range.


Buyers are more interested in having the ability to customize their new home to their specific preferences. They often don't want a spec home as it does not have the floor plan modification and finishes that they would have selected.

Thankfully, these desires actually coincide. There were lots of spec builds in the height of the market, and lots of buyers to buy them. There are very few spec builds now, and very few buyers to buy them.

Given the givens, here is some guidance for today's market....


Builders --- if you're going to build speculatively, put a good deal of thought into the floor plan and make sure it is going to be an attractive layout for a wide spectrum of buyers. Also, consider finishing the house through the drywall stage and then marketing it to find a buyer that can make their own selections for interior finishes.

Buyers --- talk to your lender early to know what will be possible for you. Buying a lot, obtaining construction financing, and building a custom home is quite a different financial transaction than buying a finished home with a traditional mortgage.



It's a tough time to sell a building lot in Harrisonburg or Rockingham County. Before the real estate boom of 2003-2007, roughly 200 lots sold per year. In recent years, only 60 lots have been selling per year. However.....

After peaking at 408 lot sales in 2004, lot sales took a huge plunge down to recent annual sales levels around 60 lots.


Median prices also skyrocketed up to $100K, but have settled down in recent years to a median of around $55K.


Sales are a bit slower than expected thus far in 2012, with only 17 lot sales in the first five months of the year.

The graph above represents lot sales reflected in the HRAR MLS of less than one acre. See a clearer version of this graph on Page 18 of this PDF.


Click on the image for a larger version

The median sales price of building lots (less than an acre) skyrocketed in 2005 and 2006 up to a peak of $99,900. But alas, these elevated values did not stick -- they fell just as quickly back down to $58,300 just two years later in 2008. After several years now in the mid $50K's, it seems (relatively) safe to say that the value of building lots has stabilized at a median of around $55,000. Lot sales also seem to have stabilized because the decline in the annual number of lot sales has ceased. There were more lot sales in 2010 than in 2009, and we seem to be poised to have another increase in 2011.

The good news (perhaps?) is that this is still an overall increase above where values were before the rapid 2005/2006 escalation. In 2004, the median sales price of such building lots was $42,000, which makes today's median value of $55,000 a reasonable place to be given long term gradual increases in values.
The abundance and low prices of re-sale homes can cause great frustration for custom home builders these days. Over the past few months I have had lengthy conversations with several clients who want to build a new home.....but then they get sidetracked by re-sale homes.

They start out, you see, quite focused on buying a lot, selecting and designing floor plans, hiring a builder, and building their dream home ---- but WAIT! Just before they tip the first domino, they take a look online at a few re-sale homes and they start to second guess themselves.

They're about to build a $400,000 home, and they think they see comparable re-sale homes (that are only a few years old) for only $350,000. Or they're about to build a $475,000 house, and there seem to be quite a few comparable $430,000 homes that are only a few years old.

My universal answer to this angst is to suggest that we spend some time viewing the re-sale homes. I suggest to them that looking at the re-sale homes will DEFINITELY give them their answer. They'll either confirm their decision to hire a custom builder --- or they'll fall in love with a re-sale home and move forward in that direction.

You'd think, with the price gaps we're discussing, that these clients would often end up buying a re-sale home --- but that's not usually what happens. While there are some compelling re-sale houses for sale, they almost always determine that they'd rather pay more to have a house exactly how they want it. Sometimes this is the floor plan, sometimes the neighborhood, or the lot size or topography, or the exterior materials of the home, or the interior finishes, or the level of maintenance needed into the future, or the views.......or a combination of many of these.

Sometimes this process will result in one of my clients deciding to buy a re-sale (instead of hiring a custom builder), but it almost always is a process that helps to confirm their decision to move forward with a custom build.

If you're in this situation --- ready to build, but full of self-doubt when examining the re-sale market --- please be in touch. I'd be happy to help you explore the re-sale market to either confirm or derail your current plans.


Let's take a bit of a closer look at lot sale in Harrisonburg and Rockingham County --- first, with a more visual look at the 2010 sales figures I reported

a few days ago

.

A few notes:




Magnolia Ridge

and

Crossroads Farm

led the way with the most frequent lot sales.

Massanutten Resort

and

Stone Spring Manor

were the most affordable lots.

Crossroads Farm

and

Belmont Estates

were the most expensive lots.

Where, though, are lots currently for sale if you were looking to buy a lot in or near Harrisonburg? (I excluded a few subdivisions further outside of Harrisonburg.)

A few notes:

You have the most buying options in

Crossroads Farm

and

Magnolia Ridge

-- also (interestingly) where the most lot sales were in 2010.
The most affordable lots are currently for sale in

Holiday Hills

and

Sunset Heights

.
The most expensive lots are currently for sale in

Crossroads Farm

and

The Springs at Osceola

.


One more interesting (and not so exciting) look at the lot sales market....

In 2010, there were 63 sales of lots of less than an acre in Harrisonburg and Rockingham County.
There are currently 341 lots for sale of less than an acre in the same area.
Thus,

it would take 5.4 years to sell all of the lots that are currently for sale

....if no other lots were listed in that time period.
Using data provided by the City of Harrisonburg, the information below is what I am finding on vacant land in the City of Harrisonburg. Bear in mind that there is a bit more vacant land than referenced below, but I chose to exclude land owned by educational institutions, local government, religious organizations, state government.

Vacant Land In Harrisonburg:

918 Residential Parcels (750 acres)
135 Multi-Family Parcels (192 acres)
216 Industrial Parcels (484 acres)
183 Commercial Parcels (320 acres)
14 Large Parcels (88 acres)

This is a total of 1,466 large parcels totaling 1,833 acres.

The 1,466 vacant parcels account for 10% of the 15,075 total city parcels.
The 1,833 acres account for 19% of the 9,655 total city acres.


Here is a visual to show the amount of vacant land remaining in the City of Harrisonburg:
Rockingham County, Virginia (not including the City of Harrisonburg) is comprised of (approximately) 46,600 parcels of real estate. Some of these lots or tracts are very small, in towns such as Grottoes, Dayton or Elkton. Others are quite expansive and are in the far flung corners of the County. Below is a visual representation of the distribution of lot sizes of those 46,600 properties --- you might need to click on

this link

to view the full size document for easier reading.

Here's the summary:

20,108 parcels less than a half acre

6,889 parcels of 0.5 - 1 acre

9,801 parcels of 1 - 5 acres

5,513 parcels of 5 - 20 acres

2,355 parcels of 20 - 50 acres

1,933 parcels of 50+ acres

There is quite a bit more to break down from this data set, but here are a few interesting surface level observations:

Almost half (43%) of the parcels in Rockingham County are less than a half acre

79% of the parcels in Rockingham County are less than 5 acres

There are a lot (1,933) of large tracts of land (50+ acres) left in Rockingham County

And the most interesting facts I've gleaned from this data thus far revolve around the largest parcels in Rockingham County:

The largest parcel in Rockingham County is owned by the (and is the) U.S. National Forest, with a size of 140,001 acres.
The second largest tract is 37,980 acres, and owned by the U.S.Department of the Interior --- I'm guessing this is also National Park land...

These two largest parcels combined encompass one-third (33%) of the total acreage of Rockingham County.
The combined value of these two parcels (though I doubt they pay property taxes!?) is roughly $186 million!

As I expressed some time ago,

my hope for the 2009 Harrisonburg and Rockingham County real estate market

is that we would see the end of the ever-decreasing number of home sales in our market. We have seen (approximately) a 25% decrease in number of sales between 2006-2007, 2007-2008, and 2008-2009.

Lot sales, however are doing much worse!

In the first four months of this year (2009), In all of Harrisonburg and Rockingham County, there have only been 11 lot transfers of less than one acre.
Most homeowners, or those who hope to be homeowners in the future may not have paid too much attention to the news earlier this month that Harrisonburg water and sewer connection fees will be increasing. But maybe we all should have taken note . . .

The Change

Example #1: three-quarter-inch water meter --- in this example, the sum of the water and sewer connection fees will soon be $7,000, instead of the existing $2,000. This size would be typical for a single family residence.

Example #2: a six-inch water meter --- in this example, the sum of the water and sewer connection fees will soon be $300,000, instead of the existing $17,500. This size would be typical for a large commercial project.

Peruse the

current fee schedule here

, and the

new schedule here

(effective July 1, 2008).

The Effect

As

Todd Rhea

, of

Clark & Bradshaw

, commented at

last week's Smart Growth Symposium

, when builders or developers are faced with new fees, we're fooling ourselves if we think they absorb those costs. They ultimately get passed on to the buyer. With this logic, one could argue that city housing costs will increase universally by $5,000 come July.

Action Item

Builders and developers should note that the fees are charged at the time of obtaining the building permit --- so as long as a lot has a building permit prior to July 1, 2008, you can take advantage of the lower fee schedule. For a developer of a major residential or commercial project, this could equate to hundreds of thousands of dollars of savings.
I have heard some people talk about development as if in the next few years, or decades, all of Rockingham County will be developed --- with the farm land destroyed, and our history no longer preserved.

Below I'll try to put that thought in the context of actual land use, but for the record --- I don't think many at today's

Smart Growth Symposium

thought that the above statement is true. (Lest anyone conclude that I am referring to any of the attendees)

.

The data above is extracted from the

Rockingham County Comprehensive Plan

, particularly page 18 of the section on

Strategies, Policies and Actions

.

Here's the full list of how Rockingham County land is being used:

Agriculture - 248,000 acres (46%)
Forest - 50,000 acres (9%)
Commercial - 4,000 acres (0.7%)
Industrial - 1,400 acres (0.3%)
Single Family Residential - 44,000 acres (8.2%)
Multi-family or Duplex - 175 acres (<0.1%)
Mobile Home Park - 1,100 acres (0.2%)
Federal Government - 178,000 acres (33%)
State Government - 500 acres (0.1%)
Local Government - 1,700 acres (0.3%)
Regional Government - 130 acres (<0.1%)
Charitable/Religious/Education - 2,300 acres (0.4%)
Other - 7,000 acres (1.8%)

As you can see ---

much of Rockingham County will likely never be developed

(33% is owned by the government) --- and

we still have an extraordinary amount of undeveloped land.
Over the past several years, prices of lots in eastern Rockingham County, particularly in the

Peak View

school district have increased dramatically. However, in 2007, the average sales price dropped below the 2006 average sales price.

2003: $47,546 (81 sales)

2004: $55,354 (112 sales)

2005: $89,112 (98 sales)

2006: $118,075 (51 sales)

2007: $110,875 (35 sales)

As you can above, during this same time, demand for lots decreased rather significantly. This was compounded by the fact that the inventory of available lots increased during the same time --- there are currently 109 lots available in the Peak View school district, as follows: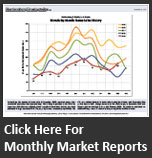 Subscribe

Receive notifications of new content on this blog, via e-mail or RSS reader.