Welcome! This blog tracks the real estate market in the Central Shenandoah Valley, featuring market data and analysis, an exploration of common buying and selling questions, and candid commentary on all things real estate.
If you are interested in discussing any of the topics on this blog, or the details of your specific real estate situation, call or e-mail me!
Appraisals
OK, OK, I am sure you are a very smart person, and certainly excellent at counting. So, why might I be giving you tips on how to count the bedrooms in your house? Well, primarily because counting bedrooms is a bit different in real estate than you might otherwise assume.

Now, the basic rule of thumb for what makes a bedroom is that it needs a window and a closet. So -- if you have a room with a bed, where someone sleeps (regularly, or on occasion) but it does not have a window or does not have a closet, it might not be considered by Realtors, buyers or appraisers as being an actual bedroom.

Now -- the National Appraiser Roster has all sorts of nuances surrounding this topic....

Fannie Mae does not specifically require that a bedroom have a closet.

The Dictionary of Real Estate Appraisal does not have a standard definition of a bedroom and points out that local codes define bedrooms.

The HUD Handbook requires that bedrooms provide a means of egress to the exterior of the home -- and require that a basement bedroom's window be no more than 44" above the floor and should be at least 24" x 36" in size.

Homes built long ago (pre-1900) are not likely to have closets -- and appraisers sometimes must consider the intent of a room regardless of whether a closet exists.

Bedrooms should be accessible via hallway or living space -- so bedrooms that are only accessible through other bedrooms are not really bedrooms.


Wow. OK. Lots to consider there. So -- the short answer is that you can count your bedrooms based on whether they have windows and closets -- but it may require a bit more thought and analysis before we decide how many bedrooms we'll say that your home has when we put it on the market.

Oh, and two final notes....

If you live in the County, in a home with a three bedroom conventional septic system, and with five bedrooms with closets and windows -- we might still need to call it a three bedroom home!?!

Appraisers actually look at above grade (non-basement) and below-grade (basement) bedrooms differently. So, if your home has 2 bedrooms on the first floor and 3 more in the basement -- it won't necessarily be able to be compared to a home with 5 bedrooms on the first floor.




So -- your neighbor's 2400 SF, circa 2000, 4 BR, 2 BA home just sold for $300K. It's probably reasonable to think that your 2400 SF, circa 2000, 4 BR, 2 BA home will also sell for $300K, right? After all, you have made the same updates (systems and cosmetic) over time -- and you're on the same street!

Well, maybe -- but maybe not!

Consider the possibility that....

Your neighbor's home is a Colonial with 2400 SF split between the first floor (1200 SF) and the second floor (1200 SF) and is built on a crawlspace.

Your home is a ranch style home with 1200 SF on the main level and 1200 SF finished in the basement.

These two homes will not be seen as having an equivalent value -- not by potential purchasers and not by an appraiser.

Above grade square footage has a higher value attached to it -- both specifically by appraisers, and generally by purchasers. Even if all of the other factors (condition, age, location, bedrooms, bathrooms) are the same between two houses, if one has a significant portion of the square footage in the basement then it will be seen as less valuable than the home that has all of its square footage above grade.



Silly me!

Appraisal delays are NOT

only related to increasing sales

.

Teri Robinson, of

Vision Appraisal Services

, kindly educated me on some of the other factors that are affecting appraisal delays.

In summary....

The housing collapse lead to new regulations on appraisers.
Appraisal Management Companies were created as middlemen.
Appraiser income dropped as AMC's took a cut of the appraisal fees.
AMC's optimized for speed and cost, sometimes at the expense of competence.

Optimization on price reduced overall appraisal fees.
Lower income caused many appraisers to leave the profession.
Further regulations increased appraisers' reporting requirements.


So, it's not just more than just more sales, more fully, it is....


More Sales + More Paperwork + Fewer Appraisers = Appraisal Delays

Still want to read more? Keep reading, from Teri....

Since the 2008 downturn and subsequent housing collapse, the turmoil in the financial industry created many burdensome regulations on the only Licensed/Certified person in the financial process (prior to Loan Officers having to be Licensed/registered).

Many Appraisers quit doing Residential work and many left the profession altogether, as the rise of the middleman (in the form of Appraisal Management Companies) took a significant cut of the Appraisers' fees and farmed out work to the lowest bidder and quickest turn time with no regard as to whether the Appraisers were qualified or competent. Many Appraisers who were either struggling to make ends meet or were too new to the profession to build a client base took whatever fees they could get from the AMCs and agreed to whatever terms the AMCs dictated. This "cheapest and quickest mentality" led to a significant reduction in the number of Appraisers overall, especially experienced competent ones.

Then FNMA and the Consumer Protection act heaped more burdensome time-consuming requirements to be included in the Appraisal reports- extending the time necessary to complete each report. The time an Appraiser spends at the individual property is a fraction of the hours it takes to complete the total appraisal process and report the property's opinion of value – the research, compilation, analysis, confirmation and reporting of the Subject property's, Comparable sales' and listings' data is the bulk of each report, which takes place out of the public eye. At the same time, Appraisers are expected to perform the hours of additional work to meet the increased regulations for the same or less fee per report as received in the 1990s. What other fees have decreased or stayed the same for 20 years when the work requirements have more than quadrupled?

So, the result of all of the above? Fewer Appraisers left standing to complete longer and longer reports with more and more requirements for a stagnant fee dictated by the current system, which equals greater delays when the volume increases. In addition, the requirements to become a Licensed/Certified Appraiser are such that a quick replenishment of the supply of Appraisers is impossible, in part, due to the low return on the required time investment versus the low fees currently dictated by the system put in place by Regulators after the downturn.


So -- I stand corrected since yesterday -- yes, higher sales volume is contributing to slower appraisal timelines -- but there are other big picture factors at work here as well.
Most folks are pretty excited about the

fantastic pace of local home sales in the first half of 2016

-- however, there is a downside.

As shown above, there are

three main hurdles to buying and selling a home

-- the home inspection, appraisal and loan commitment. Well, right now, on many if not most of the transactions I am working with, we are experiencing significant delays on appraisals being completed. It seems that local appraisers are having difficulty keeping pace with the roaring pace of home sales. This, then, creates ripple effects as buyers and sellers are either delayed in knowing that the transaction will be successfully moving forward -- are closing dates are pushed back.

Again, it's great that we're seeing so many home sales (no complaints there) but the much slower than normal timeframe for appraisals being completed is creating some real headaches for buyers and sellers.

So, if you're buying (or selling) EXPECT DELAYS when it comes to the appraisal.
I'm not suggesting that the real estate market has stalled out in Harrisonburg and Rockingham County, but in talking to someone in another part of the country (thanks for the insight, Laura!) we came to a realization that some markets have stalled out -- and it's not clear what will get them started again.

Laura and I realized that some markets are stuck in an endless loop:

Buyers can't buy because comps aren't available to support appraisals......because buyers haven't bought......but buyers can't buy because comps aren't available to support appraisals............

Some would be quick to blame lenders --- why are they holding back the market? Buyer X wants to buy a house from Seller Y, and has written a contract to do so at a particular price. Why then, is the lender denying the loan on the basis of the appraisal?

Well, it's actually quite reasonable for the bank to want and need to protect their interest. If they are going to invest $250k in a mortgage on a $300k purchase, they'd want to know if the house was only worth $200k. If that were the case, they would have made a poor investment, and their collateral (the house) would not sufficiently cover their investment should the borrower stop making payments.

But you can likely see why this is frustrating for buyers and sellers alike. Even though it is reasonable for a lender to want to know (via an appraisal) that a house has a particular value --- if a buyer and seller have agreed to terms, and the buyer is not overpaying for the house, why must the entire process be stopped in its tracks simply because there aren't any comps available to support an appraisal.

Here is a specific (though fictional) example of what this might look like, in a subdivision in Anytown, USA:

2008 sales prices

: $250k, $255k, $260k, $255k, $250k, $255k, $255k, $255k

2009 sales prices

: $250k, $245k, $245k, $245k

2010 sales prices

: no sales!

Then, when a buyer and seller agree on a sales price of $225k in early 2011, they certainly think that everything should go quite smoothly with the transaction. But if the lender can't find any comparable sold properties in the past 6 to 12 months that support , they will likely deny the loan on the basis of the appraisal.

What are the buyer and seller to do? How does a market get started again after a very slow spell, given that appraisals are required for loans to move forward, and that comparable sales are required for appraisals???
Stretch back to the 1st century BC, we find the following familiar quotes from

Publilius Syrus

, a Latin writer of mimes (thanks for the tip,

Dave

!):

Never find your delight in another's misfortune.
A rolling stone gathers no moss.
Every day should be passed as if it were to be our last.
No one knows what he can do till he tries.

Another, which provides an interesting perspective on modern day appraisal practices is "

Everything is worth what its purchaser will pay for it

."

While this may have been a prevailing theory at the time, modern day appraisal practice takes a bit of a different stance, more along the lines of

"Everything is worth what someone else recently paid for something similar

."

For example.... if three fine homes have recently sold for $325k, $330k and $335k, we'd probably all agree that a fourth similar home is probably worth around $330k. But what if it a buyer and seller agree to a sales price of $345k? The appraisal is likely going to come back low, closer to $330k. But despite Past Buyers #1, #2 and #3 paying around $330k, if Current Buyer #4 wants to pay $345k, doesn't that mean that it some ways the house is indeed worth $345k??
Most sellers want to sell "above value" and most buyers wants to buy "below value." In a balanced world, however, a seller would sell for the "actual value" of their home, and a buyer would buy for the "actual value" of the home. That's in a balanced world --- obviously, it doesn't usually happen that way.

We get one glimpse of whether the contract price is off the mark when we learn of the appraised value through the financing process. Here's an oddity (or is it?):

If the appraised value is low (lower than contract price) the lender typically won't let the loan proceed, depending on the loan program, financing terms, etc. Thus, the buyer will typically try to re-negotiate the contract with the seller since the appraiser has concluded that the house's value is below the contract price.
If the appraised value is high (higher than contract price) the lender doesn't mind, the buyer definitely doesn't mind, and the seller usually doesn't know. The appraiser was hired by the buyer's lender, so the seller doesn't have a right to know the value of the appraisal.


Here are a few interesting repercussions from some of my most recent real estate transactions....

Rent-To-Own Prospect Wants The Best Of Both Worlds

A prospective tenant/buyer (rent-to-own) wants to negotiate purchase terms for what is essentially their option to buy a year into the future. They want to buy for the lower of the price agreed to now, and the appraised value a year from now. Wait a minute!?!?! It would seem reasonable (balanced between buyer and seller) to either both take a gamble on ups/downs of the market and agree to a price now OR both agree to use a value determined in the future by an independent appraiser. The lower of the two doesn't seem very reasonable for this prospect who is already trying to negotiate by asking for a lease-to-own when it isn't the seller's intent.

Buyer Thinks Seller Should Adjust, But Won't Do The Same

This is a bit obvious from the above referenced ways that thisappraisal process works, but it does seem to be a bit odd from theperspective of trying to achieve a balanced transaction between buyerand seller. If the appraisal comes in low, the buyer gets tore-negotiate down. So why doesn't the seller get to re-negotiatehigher if the appraisal comes in high??

Seller Agrees On Price, Then Seeing Appraisal, Refuses Repairs

I'm exaggerating this one a bit to make a point, but in a recent transaction, the lender (for some reason???) shared the appraised value with the seller's Realtor. The seller thus was told of the appraised value, which was more than $10,000 higher than the contract price. Certainly, the seller felt like they left money on the table, though the day before they had been quite thankful for the buyer and the price he was paying. As a result of knowing of the value supposedly left on the table, this seller loses much of their desire to negotiate on repairs, even making a remark about how the buyer can make repairs using the free equity inherited from the lower-than-appraisal contract price.

And while we're on the subject of appraisals, here's another strange aspect of the appraisal world --- feel free to offer your opinions....

Wikipedia defines the "market value" as determined thorough a

real estate appraisal

to be:

"...the estimated amount for which a property should exchange on the date of valuation between a willing buyer and a willing seller in an arms-length transaction after proper marketing wherein the parties had each acted knowledgeably, prudently, and without compulsion."


So, wait a minute --- read that through again --- isn't that exactly what is evidenced in the real estate contract that is the basis for the appraisal in the first place??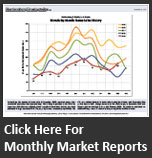 Subscribe

Receive notifications of new content on this blog, via e-mail or RSS reader.