Welcome! This blog tracks the real estate market in the Central Shenandoah Valley, featuring market data and analysis, an exploration of common buying and selling questions, and candid commentary on all things real estate.
If you are interested in discussing any of the topics on this blog, or the details of your specific real estate situation, call or e-mail me!
Selling
We should have another solid 60 days of strong buying activity (contracts being signed) before things start to slow down into the Fall, and then slow down even further in the Winter. If you are intent on selling your home before the end of the year, you may want to consider a price reduction now, rather than later.

If you reduce your list price on July 24, you have a good 60 days of exposure to a larger pool of buyers before contract activity slows down.

If you wait, and reduce your price on October 1, you have already had a large number of buyers pass your house by.

Think strategically about how your house is priced to best position it to realistically be under contract within a timeframe that best works for you.
Check out fantastic

home for sale on Central Avenue

!

June 2017 flew by like a blur -- and although home sales were a bit slower than in May 2017 -- nearly all housing market indicators are still showing signs of a robust and active local real estate market.

I just published my most recent monthly market report, and as usual, you can read on for an overview,

download the full report as a PDF

,

read the entire report online

, or tune in to my monthly video overview of our local housing market...

OK -- now, back to a high level overview of where things are with the local real estate market....

As shown above, most market indicators are looking good....

Home sales actually declined by 11.84% this June as compared to last June, but....


Year-to-date home sales are up 1.16% this year as compared to last year.


The median sales price has edged up, ever so slightly, to $190,000 when looking at 2017 YTD as compared to 2017 YTD.


Homes are selling in a median of 33 days, as compared to 53 days in the first half of last year -- so, they are selling 38% faster in 2017!


Now, looking at May and June sales this and last year gets interesting....

As you can see, above, home sales dropped from 148 in May to 134 in June this year -- but last year, they increased from 133 in May to 152 in June. It is hard to say why this trajectory is reversed this year -- it may have to do with when sellers happened to be ready to sell, and when buyers happened to be ready to buy this year as compared to last year. Regardless, the net change from last year to this year is a decline of only three home sales when combining May and June data.

Looking forward, I believe we'll see a further decline in closings in July, or at least that is what has happened in most recent years. Unless contract activity convinces us otherwise....

Looking at when buyers are signing contracts, it is notable that we have seen a steady stream of buyers (132 - 140 per month) over the past four months. This is a total of 542 contracts signed in the past four months -- as compared to 560 last year during the same timeframe. As we move forward, we should have at least two more months of 100+ contracts before contract activity inevitably starts to slow in September and October.

And what are all of these buyers choosing from when they contract on a home?

It seems that buyers are choosing from fewer and fewer homes these days! Inventory levels have been hovering around 400 homes for sale over the past six months -- and the normal influx of new listings in the Spring selling market has not been able to keep pace with a higher level of buyers buying homes. As such, we have not seen the typical increases in inventory levels between the Winter and Spring market -- there are actually FEWER homes on the market now than there were this past February!

OK - now for a shocking statistic of the month....

Did you catch that, above, in yellow? When looking at the homes that sold in the City of Harrisonburg during June 2017 -- the median "days on market" for those home sales was 8 DAYS!?! So, half of the homes that sold went under contract within 8 days of being listed for sale. Wow! I guess that's what you get with increasing buyer demand and decreasing inventory levels.

There are actually quite a few astonishing tidbits in this month's report, but I'll get into those in the coming days on

my blog

.

Until then -- feel free to

download and read my full market report as a PDF

, or

read the entire report online

.

And, my reminders for buyers and sellers last month still apply....

SELLERS -- even though it is a seller's market in many price ranges right now, you must still focus on price, condition and marketing.


BUYERS

-- it can be difficult and frustrating to buy right now -- make it a bit easier for yourself by

knowing the market

,

knowing the process

,

knowing your buying power

, and

closely monitoring new listings

!

For further reading on buying or selling in this area, check out....


scott@HarrisonburgHousingToday.com

.
This low-inventory market we're in is certainly providing some new perspectives....

If you are having a LOT of showings of your house -- it MIGHT mean that your house is priced well, prepared well and marketed well (our three main areas of focus) and that it will be under contract before you know it!

OR -- it could simply be an indicator of extremely low inventory levels in your segment of the market, such that lots of prospective buyers are trying to convince themselves that your home will work for them, even if it is not exactly what they are looking for.

The general rule of thumb is that if you are LOTS of showings, but are NOT receiving an offer -- you will likely (at some point) need to adjust the price downward. This will then likely generate even more showings, but will also hopefully make the house seem like a better value proposition for a buyer, enticing them to make an offer.

Again, as a seller, don't get lulled into a false sense of complacency, thinking that you'll certainly have an offer soon if you have lots of showings. It is certainly possible (and perhaps even likely) but if inventory levels are low, then that offer might not be forthcoming after all!
Short answer -- yes, but no. :)Longer answer....

In a recent conversation with a home seller, they wondered if they had missed out on the best time to sell their home since they wouldn't be ready to get their house on the market until July 1. Let's take a look at what last year looked like from the perspective of when buyers signed contracts to purchase homes. Based on the graph above....

Only slightly more than half (54%) of contracts signed in 2016 were signed before July 1.

The most active months of contract signing were April (158), May (141) and March (133). August was just after that, however, with 130 contracts and July was also quite strong with 119 contracts. Thus, there are several more (at least two) months of strong buyer activity to come.

Contracts were signed at an average pace of 135/month between March and August. The average pace of August (99) and September (109) was 104/month. This is not a significant decline -- we're not talking about having only half as many buyers signing contracts per month once you get into September and October. Even November had 93 contracts signed.

Certainly, if you were hoping to sell (close on) your house this summer (by Aug 31) then you would have been better off to list your home for sale earlier in the year -- but there are still plenty (!) of buyers who are likely to be signing contracts for the next several months.

As usual -- every segment of the market (based on price, location, property type) is a bit different -- so let me know if you want to chat more specifically about your home, and what it would look like to list your home for sale in the coming month to be aiming for one of these late-summer / early-fall buyers.



One of the most striking changes in inventory levels has been the "under $200K' market, where we have seen a 58% decline in the number of homes for sale.

A small part of this is the slow and steady increase in the median sales price -- causing some homes to no longer fall within this price bracket.

Another significant reason for this decline is a slow and steady increase in the number of people trying to purchase homes in this price range.

The final component is the lack of new construction in this price range. Increasing demand and decreasing supply is usually addressed via builders jumping in and starting to build new homes (or perhaps townhomes, in this case) to help bridge this gap between low supply and high demand.

If we continue to see increasing demand, decreasing supply, and no new construction, we may start to see faster than normal increases in the sales prices of these properties as buyers compete for a slim number of listings.

Read more about our local housing market via my most recent monthly market report....
As a home seller, you will face rejection left and right -- many prospective buyers will come view your house and most of them will decide not to buy it. But how, as a seller, do you make sense of that feedback?

I often hear the following types of feedback after a showing:

the house just wasn't quite big enough for us


we like the house, but have decided we want to live closer to _______


the house was very nice, but the layout of the bedrooms wasn't ideal

This type of feedback (size, location, floor plan) is difficult to do much with as a seller. You likely aren't going to build an addition to your house, nor will you physically move the house, nor will you reconfigure the floor plan. Sometimes the feedback is just a mild objection to be overcome -- did you realize that the unfinished bonus room could be finished quite inexpensively (size) and that the new South East connector will make your commute quite short (location)? Oftentimes, however, if you receive feedback about size, location or floor plan there isn't much you can do about it as a seller.

I also, however, will hear the following types of feedback after a showing:

we love the house but we're holding off because it seems overpriced


the house would probably work for us, but would need so much work


we like the house, but we're hesitant because it has been on the market for so long

This type of feedback (price, condition, marketing) is completely in your control as a seller. Many buyers will not make an offer if they think your list price is too far from reality -- adjusting your pricing may be just what you need to either generate more showings, or have a chance of the showings turning into offers. I almost included AGE as a factor outside of a seller's control, but it's much more about condition -- how well has a property been maintained, and is it in top showing shape so that buyers don't feel overwhelmed by short-term cosmetic updates and long-term maintenance needs? Finally, if a house has not been marketed thoroughly and effectively, it will likely have a much longer "days on market" than other properties, worrying buyers that perhaps they shouldn't buy the home because nobody else has in the last ten months.


It is imperative to gain feedback after showings of your house -- but when processing it, try to quickly categorize it as either something you can control, or something you cannot. Of course, if the feedback is consistently something you cannot control (size, location, floor plan) the answer might be to further adjust what you can control (price, condition, marketing) to compensate for those weaknesses.

Read more about, think more about, and learn more about selling your house at

SellingAHomeInHarrisonburg.com

.
OK, OK, I am sure you are a very smart person, and certainly excellent at counting. So, why might I be giving you tips on how to count the bedrooms in your house? Well, primarily because counting bedrooms is a bit different in real estate than you might otherwise assume.

Now, the basic rule of thumb for what makes a bedroom is that it needs a window and a closet. So -- if you have a room with a bed, where someone sleeps (regularly, or on occasion) but it does not have a window or does not have a closet, it might not be considered by Realtors, buyers or appraisers as being an actual bedroom.

Now -- the National Appraiser Roster has all sorts of nuances surrounding this topic....

Fannie Mae does not specifically require that a bedroom have a closet.

The Dictionary of Real Estate Appraisal does not have a standard definition of a bedroom and points out that local codes define bedrooms.

The HUD Handbook requires that bedrooms provide a means of egress to the exterior of the home -- and require that a basement bedroom's window be no more than 44" above the floor and should be at least 24" x 36" in size.

Homes built long ago (pre-1900) are not likely to have closets -- and appraisers sometimes must consider the intent of a room regardless of whether a closet exists.

Bedrooms should be accessible via hallway or living space -- so bedrooms that are only accessible through other bedrooms are not really bedrooms.


Wow. OK. Lots to consider there. So -- the short answer is that you can count your bedrooms based on whether they have windows and closets -- but it may require a bit more thought and analysis before we decide how many bedrooms we'll say that your home has when we put it on the market.

Oh, and two final notes....

If you live in the County, in a home with a three bedroom conventional septic system, and with five bedrooms with closets and windows -- we might still need to call it a three bedroom home!?!

Appraisers actually look at above grade (non-basement) and below-grade (basement) bedrooms differently. So, if your home has 2 bedrooms on the first floor and 3 more in the basement -- it won't necessarily be able to be compared to a home with 5 bedrooms on the first floor.




So -- are you trying to figure out the square footage of your home? Here are a few methods that are not certain to give you the correct answer....

Check the tax records to see how much square footage the City / County believes you have in your home.

Measure the square footage of each room and hallway and add it all up.

So, how do you really measure square footage? It starts outside the home! You'll need to measure the exterior dimensions of each level of your home -- and then subtract any open areas, such as the open space above a foyer.

This measurement method, as odd as it may be, is what is used by nearly every appraiser, as it is how "gross living area" is defined by Fannie Mae, HUD, FHA, ERC and ANSI. As such, it is important that you're measuring the square footage of your home in the same way that nearly every appraiser and Realtor would be measuring it, so that you're comparing apples to apples when comparing the size (SF) of your home to another home that has sold or that is on the market for sale.


And here's why I consider it to be an odd way to measure square footage....

WALLS: I don't know anyone that lives inside of the their walls -- but by measuring the exterior dimensions of your home, you are including the square footage that is inside the interior and exterior walls of your home. As a side note -- this makes a home with an open floor plan slightly more spacious than a home with lots of separate rooms -- because the home with the open floor plan has less 'lost" square footage inside of interior walls of the home.

STAIRS: I don't know anyone who spends meaningful parts of their day on the stairs between levels of their home -- but by measuring the exterior dimensions of your home, you are including the square footage that is in the stairwell of your home. As a side note -- this makes a 2000 SF ranch style home slightly more spacious than a 2000 SF colonial home -- because the ranch style home does not have any "lost" square footage in a stairwell.

While the City and County measurements for tax assessment purposes are often very accurate, it is often a good idea to double check the square footage of your home when we're putting it on the market for sale.



So -- your neighbor's 2400 SF, circa 2000, 4 BR, 2 BA home just sold for $300K. It's probably reasonable to think that your 2400 SF, circa 2000, 4 BR, 2 BA home will also sell for $300K, right? After all, you have made the same updates (systems and cosmetic) over time -- and you're on the same street!

Well, maybe -- but maybe not!

Consider the possibility that....

Your neighbor's home is a Colonial with 2400 SF split between the first floor (1200 SF) and the second floor (1200 SF) and is built on a crawlspace.

Your home is a ranch style home with 1200 SF on the main level and 1200 SF finished in the basement.

These two homes will not be seen as having an equivalent value -- not by potential purchasers and not by an appraiser.

Above grade square footage has a higher value attached to it -- both specifically by appraisers, and generally by purchasers. Even if all of the other factors (condition, age, location, bedrooms, bathrooms) are the same between two houses, if one has a significant portion of the square footage in the basement then it will be seen as less valuable than the home that has all of its square footage above grade.



It's easy to want to do this -- as either a buyer or a seller.

The illustrations below are partially based on real experiences in the past few months, but have some fiction woven in to preserve anonymity.

THE BUYER'S STATED PERSPECTIVE


I know that your house is listed for $350K, but this one other home a few streets over sold for $300K last month, and it was a larger, so I'm not paying any more than $300K for your home.

THE LARGER CONTEXT


Just a few items...

The other home was, indeed, just "a few streets over" but that also put it on the edge of the neighborhood, on a busy road, with a front yard that parents wouldn't let their children plan in for fear of them running into the road where cars often travel past at 45 miles an hour.


The other home was, indeed, larger -- but the entire house needed to be updated, as it had wallpaper, a dated kitchen, dated flooring, etc.


The other home had a basement one-car garage instead of a main level two-car garage.


Furthermore, aside from all of these differences in the two houses --- the other ($300K) house is not available any longer --- and there aren't three other houses just like it that the buyer can decide to buy.


In this case, by focusing on this one not-actually-that-similar sale, the buyer has put themselves in a situation where they might miss out on purchasing a great home because of how they are viewing the market based on one comparable sale.

THE SELLER'S STATED PERSPECTIVE


I am confident that I can sell my house for $250K. After all, my friend owned a very similar house and he just sold it in a week, with multiple offers, for $260K!

THE LARGER CONTEXT

Just a few items...


Your friend's house was in a highly desirable neighborhood within walking distance to downtown Harrisonburg -- while your home is on a busy road and has train tracks directly behind it.


Three homes nearly identical to your home, on your street, even facing the same direction as your home, built within two years of your home, updated at the same time as your home, sold in the past three months for $220K, $225K and $230K.

You have lived a busy life over the past few years, with work, family, and other commitments and you haven't had a chance to tackle the many small maintenance and upkeep items that a home often requires. Your friend is a retired general contractor and has spent all of his free time over the past two years fixing, replacing, and improving countless aspects of his home's interior, exterior and grounds.


Again, by focusing on this one not-actually-that-similar sale, the seller has put themselves in a situation where they might miss out on selling their home because of how they are viewing the market based on one comparable sale.

So -- as a buyer or as a seller -- don't focus on just one comparable sale when deciding on a reasonable price to pay or to ask -- look for the larger context!



OK -- so -- a few things going on here. The graph above shows the percentage of homes that sold in the first four months of this year (and last year) that went under contract within 14 days. The "quick sales" if you will. As you can see, more homes (31%) are going under contract quickly this year as compared to last year (22%).

Then, one thing this does mean and does not mean.

This DOES mean that almost one-third of homes that sell go under contract within 14 days. So -- as a buyer, you need to be ready to act quickly.

This DOES NOT mean that one-third of all homes that are listed go under contract within 14 days. Many homes sit on the market for some times, and some even never sell.

It's a fast paced market thus far this Spring, and I expect that will continue through the Spring and into the Summer!
Inventory is low -- buyers do not have many choices of homes to purchase -- but that doesn't mean they'll buy ANYTHING. Buyers are still being relatively picky, not wanting to compromise too much on their buying objectives.

As such, all home sellers should not assume that as soon as their home hits the market for sale, multiple ravenous buyers will be fighting for the chance to snap it up. That is happening more now than it has in any recent years -- but not for all homes, in all locations in all price ranges.

Here are some home characteristics that might make your house a vegetable that many home buyers turn down....

PRICE -- If your home price is high, but is appropriate given your home's value, you still might be pricing many buyers out of the market. If your home price is too high compared to the value of your home, you may be keeping buyers from getting excited about purchasing your home.

LOCATION -- A wonderful home, in a distant or undesirable location, becomes a not as desirable home for most home buyers.

CONDITION -- If your home requires many repairs or updates, that may keep buyers away, as they may not have the budget for those improvements after settlement.

There are plenty of other aspects of a home that can keep your home from selling quickly when it hits the market. Before putting your home on the market, let's chat a bit about what is reasonable to expect from a timing perspective in selling your home.
If a buyer is buying over $400K, or even over $300K, the layout of the home becomes very important to them. That is not to say that it is unimportant for a $200K buyer -- but someone buying a more expensive home oftentimes plans to stay in it for a longer time frame.

If not the #1 feedback, the #2 feedback I receive from showings of homes priced over $400K is that the layout just didn't work for the buyers. They wanted another bedroom here, instead of there. They wanted a more open floor plan. They wanted a more formal dining room. They wanted a more spacious basement.

Challengingly, the layout is something that is hard (nearly impossible) for a seller to change in order to appeal to a wider segment of buyers. Thus, if your home has a layout that continues to not work for buyer after buyer, you must either wait (and potentially wait and wait and wait) for the buyer who loves that layout -- or adjust the list price to make the house (even with its layout) more appealing to more buyers.
Sellers are certainly enjoying themselves these days. Perhaps because it wasn't too many years ago that sellers were having a difficult time selling their homes. My oh my how the tables have turned.

PRICES ARE UP

- this is good for sellers, as they are likely to sell their home for more than they would have a year or so ago.

INVENTORY IS DOWN

- this is good for sellers, as they have fewer homes to compete against in the current market.

DEMAND IS UP

- this is good for sellers, as there are more buyers potentially interested in buying their home as compared to a year ago.

TIME ON MARKET IS DOWN

- this is good for sellers, as they are likely to sell their home more quickly than they would have a year ago.
If you will be selling your home to buy another, there are a lot of numbers floating around....

what you'll sell for
your closing costs when selling
your mortgage payoff
how much you'll pay for your new home
how much of the purchase price you will finance
how much your mortgage payment will change

Above you will see a spreadsheet I put together to help you think about some of these numbers as you are evaluating if and when you will make a move to a new house.

In yellow, are all of the inputs you will need to provide, or that you and I can determine together, such as your current payment, your home's current value, your mortgage payoff, whether you will be putting any additional money into the transaction, etc.

In green, I have identified your potential future mortgage payment and the net change in your monthly payment.

All of the numbers without a background color will automatically calculate for you.


Click here to download this worksheet as an editable Excel file.
Nope!

What follows is an astute comment from Bob after my

recent post on home inspections

....

Scott, sometimes the impression is left (by the agents in some cases, but more likely just by the sellers hearing anecdotes) that the seller is somehow obligated to repair any deficiencies found by the home inspector. My mother was told she would HAVE to repair this, that, or the other thing, as if it were some kind of law that the house you sell has to be in "like new" condition. If the agent who is representing the seller lets someone put language in the contract obligating the seller to anything other than another potential round of negotiations after the inspection, then they have failed their fiduciary responsibility to their client. Likewise, they should be educating their clients that the contract is not completed until the buyer has the information to make a wise decision about the purchase, and when the amendments come in for the seller to fix stuff, they have a powerful, one-word tool they can use to protect themselves. The word "no".


Bob is, indeed, correct -- the standard home inspection contingencies used in this area (I can't speak for other areas) do not place any obligations on the seller to make any repairs.

A buyer makes a decision to buy a home based on the information available to them at the time that they make the offer. They then will often conduct a home inspection to learn more about the condition of the property. If they discover material defects, they can (reasonably) ask the seller to address those detects --- BUT --- the seller does not have to agree!

Now, of course, if there are some major issues revealed during the home inspection, and the buyer requests that the seller address them, and the seller uses Bob's powerful one-word tool of saying "no" -- then the buyer, of course, can decide not to proceed with the purchase. But the point here is that nothing in the home inspection process requires a seller to make any repairs.



Home staging is the act of preparing your home for sale by making it appealing to the highest number of potential buyers, thereby selling a property more swiftly and for more money.

According to the National Association of Realtors Profile of Home Buyers and Sellers, over 81% of buyers find it "easier to visualize the property as their future home" when it is staged.

If we decide your home would benefit from the assistance of a staging consultant before being listed for sale, I will arrange to have Melanie Woodard set up a time to meet with you at your home. She will provide prepare you with a full staging report with a variety of recommendations for improving the staging of your home.

Find out more about the full process of selling your home by visiting....

SellingAHomeInHarrisonburg.com



How do home inspection negotiations usually proceed? The short (and vague) answer is -- well, it depends on the terms of your contract. But, overall, here is how the inspection process typically flows....

As you can see above, after a buyer requests repairs (based on the home inspection) the seller can choose to make some, all or none of the requested repairs. The transaction (and negotiations) can then go in a few different directions based on that response.

Learn more about the home buying process at....
While every home sale is different -- with unique contingencies based on the needs and situations of the buyer and seller -- there are three main hurdles that most buyers and the houses they are purchasing must clear to make it to closing.

So -- where is your contract in this process? Have you cleared 1, 2 or 3 of the hurdles, thus far? There will be plenty of other details to attend to, but these are the three main areas of focus. Evaluating the property condition, the property value, and the buyer's finances....

INSPECTION

- This is an evaluation, by a home inspector, of the condition of the house. Clearing this hurdle typically involves requesting that the seller make some repairs to the house (or negotiate further on price) based on new information about the property condition discovered during the inspection process.

APPRAISAL

- This is an evaluation, by an appraiser hired by the purchaser's lender, of the value of the house. If the property appraises for the contract price (or higher), all is well -- otherwise, the buyer and seller may need to renegotiate the contract price based on the appraised value.

LOAN APPROVAL

- This is an evaluation, by a lender (and their underwriters) of the purchaser's financial situation. The lender must confirm that the buyer has the income to support the mortgage payment required for purchasing the home.

Again - there are many other smaller hurdles (for example, a termite inspection) and larger hurdles (for example, a home sale contingency) that may need to be cleared in your purchase (or sale) of a home -- but these three main hurdles (inspection, appraisal, loan approval) are the three main mileposts during the contract-to-closing process that we'll be focused during the transaction.
Updated numbers above! Does anything surprise you? It doesn't surprise me.

Marketing your home should follow the lead of where buyers are looking for homes -- but even more importantly, where they are finding their homes.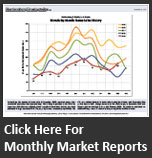 Subscribe

Receive notifications of new content on this blog, via e-mail or RSS reader.