Welcome! This blog tracks the real estate market in the Central Shenandoah Valley, featuring market data and analysis, an exploration of common buying and selling questions, and candid commentary on all things real estate.
If you are interested in discussing any of the topics on this blog, or the details of your specific real estate situation, call or e-mail me!
Selling
OK -- so -- a few things going on here. The graph above shows the percentage of homes that sold in the first four months of this year (and last year) that went under contract within 14 days. The "quick sales" if you will. As you can see, more homes (31%) are going under contract quickly this year as compared to last year (22%).

Then, one thing this does mean and does not mean.

This DOES mean that almost one-third of homes that sell go under contract within 14 days. So -- as a buyer, you need to be ready to act quickly.

This DOES NOT mean that one-third of all homes that are listed go under contract within 14 days. Many homes sit on the market for some times, and some even never sell.

It's a fast paced market thus far this Spring, and I expect that will continue through the Spring and into the Summer!
Inventory is low -- buyers do not have many choices of homes to purchase -- but that doesn't mean they'll buy ANYTHING. Buyers are still being relatively picky, not wanting to compromise too much on their buying objectives.

As such, all home sellers should not assume that as soon as their home hits the market for sale, multiple ravenous buyers will be fighting for the chance to snap it up. That is happening more now than it has in any recent years -- but not for all homes, in all locations in all price ranges.

Here are some home characteristics that might make your house a vegetable that many home buyers turn down....

PRICE -- If your home price is high, but is appropriate given your home's value, you still might be pricing many buyers out of the market. If your home price is too high compared to the value of your home, you may be keeping buyers from getting excited about purchasing your home.

LOCATION -- A wonderful home, in a distant or undesirable location, becomes a not as desirable home for most home buyers.

CONDITION -- If your home requires many repairs or updates, that may keep buyers away, as they may not have the budget for those improvements after settlement.

There are plenty of other aspects of a home that can keep your home from selling quickly when it hits the market. Before putting your home on the market, let's chat a bit about what is reasonable to expect from a timing perspective in selling your home.
If a buyer is buying over $400K, or even over $300K, the layout of the home becomes very important to them. That is not to say that it is unimportant for a $200K buyer -- but someone buying a more expensive home oftentimes plans to stay in it for a longer time frame.

If not the #1 feedback, the #2 feedback I receive from showings of homes priced over $400K is that the layout just didn't work for the buyers. They wanted another bedroom here, instead of there. They wanted a more open floor plan. They wanted a more formal dining room. They wanted a more spacious basement.

Challengingly, the layout is something that is hard (nearly impossible) for a seller to change in order to appeal to a wider segment of buyers. Thus, if your home has a layout that continues to not work for buyer after buyer, you must either wait (and potentially wait and wait and wait) for the buyer who loves that layout -- or adjust the list price to make the house (even with its layout) more appealing to more buyers.
Sellers are certainly enjoying themselves these days. Perhaps because it wasn't too many years ago that sellers were having a difficult time selling their homes. My oh my how the tables have turned.

PRICES ARE UP

- this is good for sellers, as they are likely to sell their home for more than they would have a year or so ago.

INVENTORY IS DOWN

- this is good for sellers, as they have fewer homes to compete against in the current market.

DEMAND IS UP

- this is good for sellers, as there are more buyers potentially interested in buying their home as compared to a year ago.

TIME ON MARKET IS DOWN

- this is good for sellers, as they are likely to sell their home more quickly than they would have a year ago.
If you will be selling your home to buy another, there are a lot of numbers floating around....

what you'll sell for
your closing costs when selling
your mortgage payoff
how much you'll pay for your new home
how much of the purchase price you will finance
how much your mortgage payment will change

Above you will see a spreadsheet I put together to help you think about some of these numbers as you are evaluating if and when you will make a move to a new house.

In yellow, are all of the inputs you will need to provide, or that you and I can determine together, such as your current payment, your home's current value, your mortgage payoff, whether you will be putting any additional money into the transaction, etc.

In green, I have identified your potential future mortgage payment and the net change in your monthly payment.

All of the numbers without a background color will automatically calculate for you.


Click here to download this worksheet as an editable Excel file.
Nope!

What follows is an astute comment from Bob after my

recent post on home inspections

....

Scott, sometimes the impression is left (by the agents in some cases, but more likely just by the sellers hearing anecdotes) that the seller is somehow obligated to repair any deficiencies found by the home inspector. My mother was told she would HAVE to repair this, that, or the other thing, as if it were some kind of law that the house you sell has to be in "like new" condition. If the agent who is representing the seller lets someone put language in the contract obligating the seller to anything other than another potential round of negotiations after the inspection, then they have failed their fiduciary responsibility to their client. Likewise, they should be educating their clients that the contract is not completed until the buyer has the information to make a wise decision about the purchase, and when the amendments come in for the seller to fix stuff, they have a powerful, one-word tool they can use to protect themselves. The word "no".


Bob is, indeed, correct -- the standard home inspection contingencies used in this area (I can't speak for other areas) do not place any obligations on the seller to make any repairs.

A buyer makes a decision to buy a home based on the information available to them at the time that they make the offer. They then will often conduct a home inspection to learn more about the condition of the property. If they discover material defects, they can (reasonably) ask the seller to address those detects --- BUT --- the seller does not have to agree!

Now, of course, if there are some major issues revealed during the home inspection, and the buyer requests that the seller address them, and the seller uses Bob's powerful one-word tool of saying "no" -- then the buyer, of course, can decide not to proceed with the purchase. But the point here is that nothing in the home inspection process requires a seller to make any repairs.



Home staging is the act of preparing your home for sale by making it appealing to the highest number of potential buyers, thereby selling a property more swiftly and for more money.

According to the National Association of Realtors Profile of Home Buyers and Sellers, over 81% of buyers find it "easier to visualize the property as their future home" when it is staged.

If we decide your home would benefit from the assistance of a staging consultant before being listed for sale, I will arrange to have Melanie Woodard set up a time to meet with you at your home. She will provide prepare you with a full staging report with a variety of recommendations for improving the staging of your home.

Find out more about the full process of selling your home by visiting....

SellingAHomeInHarrisonburg.com



How do home inspection negotiations usually proceed? The short (and vague) answer is -- well, it depends on the terms of your contract. But, overall, here is how the inspection process typically flows....

As you can see above, after a buyer requests repairs (based on the home inspection) the seller can choose to make some, all or none of the requested repairs. The transaction (and negotiations) can then go in a few different directions based on that response.

Learn more about the home buying process at....
While every home sale is different -- with unique contingencies based on the needs and situations of the buyer and seller -- there are three main hurdles that most buyers and the houses they are purchasing must clear to make it to closing.

So -- where is your contract in this process? Have you cleared 1, 2 or 3 of the hurdles, thus far? There will be plenty of other details to attend to, but these are the three main areas of focus. Evaluating the property condition, the property value, and the buyer's finances....

INSPECTION

- This is an evaluation, by a home inspector, of the condition of the house. Clearing this hurdle typically involves requesting that the seller make some repairs to the house (or negotiate further on price) based on new information about the property condition discovered during the inspection process.

APPRAISAL

- This is an evaluation, by an appraiser hired by the purchaser's lender, of the value of the house. If the property appraises for the contract price (or higher), all is well -- otherwise, the buyer and seller may need to renegotiate the contract price based on the appraised value.

LOAN APPROVAL

- This is an evaluation, by a lender (and their underwriters) of the purchaser's financial situation. The lender must confirm that the buyer has the income to support the mortgage payment required for purchasing the home.

Again - there are many other smaller hurdles (for example, a termite inspection) and larger hurdles (for example, a home sale contingency) that may need to be cleared in your purchase (or sale) of a home -- but these three main hurdles (inspection, appraisal, loan approval) are the three main mileposts during the contract-to-closing process that we'll be focused during the transaction.
Updated numbers above! Does anything surprise you? It doesn't surprise me.

Marketing your home should follow the lead of where buyers are looking for homes -- but even more importantly, where they are finding their homes.
Preparing your home to go on the market can be challenging (and tiring), and often sellers-to-be need a second (or third) set of eyes to provide suggestions about where to focus their time and energy. There are many different theories about how to best prepare your home to be on the market and viewed by buyers --- and ways of expressing those theories.

take a minimalistic approach, removing absolutely every knick knack in sight
removing all family photos
de-cluttering and get rid of extra "stuff"
remove furniture to create an open feel
stage the home with place settings on the dining table, and more
always have fresh flowers in the home

There are countless other theories, ideas or suggestions -- all of which can be helpful to consider as you are preparing to put your house on the market. Another perspective that I'd throw out there for your consideration is

eliminating distractions and objections

.

Distractions

are the things that keep a prospective buyer from focusing on your house. That might be knick knacks, or family photos, or refrigerator magnets, or an overflowing pantry, or fascinating artwork, or an abundance of indoor plants, or a strange odor, or brightly colored wall hangings. Whatever it is --- if a buyer is focusing on one (or more) of these items, they're not focusing on your house. They're reading all of the Far Side comics on the fridge instead of marveling at the granite countertops, tile back splash, recessed lighting, and stainless steel appliances. They're amazed at how you fit 234 board games into the coat closet instead of taking in the quality workmanship of the trim detail in the foyer, and the mountain views out the picture window in the family room. As you prepare your home to go on the market, close your eyes for a few moments when standing at the entrance to each main living area. Then, open your eyes, and take note of where your eyes are immediately drawn. Or, walk slowly through the space (or ask a friend to help) seeing where your eyes (and your mind) linger.

Objections

are those correctable physical characteristics of your home that give a buyer a reason to mark your home off their list, or to move it down a notch in their preferences. Perhaps it is that the vinyl siding needs to be power washed, or that three bi-fold closet doors need to be adjusted, or that there is poor lighting in the kitchen, or that the deck needs staining. There are oftentimes small home maintenance items that should be attended to before putting your home on the market. There are two potential dangers of having these items unresolved --- first, a buyer might become too overwhelmed by the work that they need to do to the home once they move in, and second, a buyer might extrapolate from what they can see to imagine what they cannot. A classic example of this is the dirty furnace filter that makes a buyer assume that the HVAC system has never been serviced, is in a terrible state of disrepair, and will need to be replaced immediately.

As you're preparing your house to go on the market, I'm happy to provide you with another set of eyes and to give you some new perspectives on how to best prepare your home to be shown to buyers.

When you're ready, just give me a call (540-578-0102) or send me an e-mail (

scott@HarrisonburgHousingToday.com

). Also, don't fret about having your home in perfect "show condition" before you call me --- I'm happy to give you some guidance and feedback while you're still in the process of preparing your home to go on the market.
Many sellers list their homes in the Spring or Summer, which is often ideal for the timing of their move, and aligns well with when most buyers are in the market.

However -- some houses are very difficult to be seen (and photographed) in the Spring and Summer because of large trees in the front yard.

So -- if you're thinking of selling this Spring or Summer, and you have trees (especially large house-obscuring trees) we should discuss taking some exterior photos SOON rather than waiting until later when we can't see your house at all.

Certainly, the grass isn't as green as it could be right now, and the flowers aren't blooming -- but it could be nice to see your house in the main view of your future real estate listing -- rather than just a tree.
If you are planning to sell a home early in 2017, you might be wondering when buyers start coming out in full force. As shown above, the month when buyers really start showing up at the table seems to be March. The average number of contracts per month jumps up from 86 in February to 114 in March. Last year it was especially dramatic, when we jumped from 84 contracts in February to 133 contracts in March.

There will certainly be buyers signing contracts in January and February, so it is not a terrible time to put your house on the market -- but March is when we start seeing a significant number of buyers ready to sign contracts.

Of note, in the first 16 days of January 2017, we have seen 26 contracts signed -- so, we are off to a somewhat slow start, but things should pick up as we continue through the month.

You can find out more about the Harrisonburg and Rockingham County real estate market by visiting....

And here are two handy references to prepare yourself to buy or sell a home....
So -- 2016 is over, and 2017 has come. Let's use the data above to draw a few conclusions about what 2016 home sales mean for buyers and sellers in 2017....

HOME SELLERS....


There were more buyers in 2016 than we had seen in a while -- this is good news -- you are likely to see continued high demand for your home if you decide to put it on the market in 2017.

Inventory levels have been dropping for several years -- so you will have less competition as a seller than you would have had a year ago, or a year before that.

It appears that 2017 would be a great time to get your house on the market -- remembering that it must be prepared well, priced well and presented (marketed) well.

HOME BUYERS....

There are more of you than ever (recently) so you must realize that you will have more competition than you would have had a year ago. We may see some multiple offer scenarios this year (OK -- I was in the midst of one today) and you may have to be willing to pay a bit more for the house are planning to purchase.

You will have fewer options of homes to buy this year, based on current inventory levels. There are 26% fewer homes on the market now as compared to a year ago. When "the good homes" come on in the Spring market, they will likely go under contract quickly.

In 2017, you must be prepared to act quickly when the right house comes on the market -- you should be familiar with what you want/need in a home, what you can afford to pay, you must know the market, and should be familiar with the negotiating and home buying process.

Ready to buy or sell? Have questions? Just send me an email at scott@HarrisonburgHousingToday.com or call me at 540-578-0102.


You can find out more about the Harrisonburg and Rockingham County real estate market by visiting....

And here are two handy references to prepare yourself to buy or sell a home....
In some ways, NO, you should NOT take your house off the market -- because

there is a historically LOW number of homes for sale right now

.

And yet, still, some folks will take their homes off the market for the winter. Our local MLS requires a house to be off the market for 90 days before the "Cumulative Days on Market" statistic resets. So, if you take your house off the market today, you could put it back on the market on the first Monday in March (March 6, 2017) and have that statistic reset.

During these 90-ish days of being off the market, we will want to talk about price, condition and marketing....

Let's meet to chat about the value of your house in the current market so that we can be priced well for the Spring market (pending any changes in the market between now and then).


Let's walk through your house together to determine if there are any small (or large) projects you could be taking care of during "the off season" to have your house shine when it comes back on the market in the Spring.


Let's review our marketing plans to make sure we have a strategy in place for exposing your property to the broadest possible pool of potential buyers.

Again -- you might be just fine leaving your house on the market over the Winter, as there are SO FEW homes for sale right now -- but if you choose to take it off the market for a few months, now or soon is a fine time to do so.
As a home seller, you will face rejection left and right -- many prospective buyers will come view your house and most of them will decide not to buy it. But how, as a seller, do you make sense of that feedback?

I often hear the following types of feedback after a showing:

the house just wasn't quite big enough for us


we like the house, but have decided we want to live closer to _______


the house was very nice, but the layout of the bedrooms wasn't ideal

This type of feedback (size, location, floor plan) is difficult to do much with as a seller. You likely aren't going to build an addition to your house, nor will you physically move the house, nor will you reconfigure the floor plan. Sometimes the feedback is just a mild objection to be overcome -- did you realize that the unfinished bonus room could be finished quite inexpensively (size) and that the new South East connector will make your commute quite short (location)? Oftentimes, however, if you receive feedback about size, location or floor plan there isn't much you can do about it as a seller.

I also, however, will hear the following types of feedback after a showing:

we love the house but we're holding off because it seems overpriced


the house would probably work for us, but would need so much work


we like the house, but we're hesitant because it has been on the market for so long

This type of feedback (price, condition, marketing) is completely in your control as a seller. Many buyers will not make an offer if they think your list price is too far from reality -- adjusting your pricing may be just what you need to either generate more showings, or have a chance of the showings turning into offers. I almost included AGE as a factor outside of a seller's control, but it's much more about condition -- how well has a property been maintained, and is it in top showing shape so that buyers don't feel overwhelmed by short-term cosmetic updates and long-term maintenance needs? Finally, if a house has not been marketed thoroughly and effectively, it will likely have a much longer "days on market" than other properties, worrying buyers that perhaps they shouldn't buy the home because nobody else has in the last ten months.


It is imperative to gain feedback after showings of your house -- but when processing it, try to quickly categorize it as either something you can control, or something you cannot. Of course, if the feedback is consistently something you cannot control (size, location, floor plan) the answer might be to further adjust what you can control (price, condition, marketing) to compensate for those weaknesses.

Read more about, think more about, and learn more about selling your house at

SellingAHomeInHarrisonburg.com

.
Sellers are usually quite shocked, dismayed or disheartened to receive a low offer on their house, for example, an offer of $365K on a $415K listing. But it is important to remember that even that low offer really is a compliment!

If you have not yet had an offer on your house (that is listed at $415K) and you receive an offer of $365K, that doesn't necessarily mean your house is only worth $365K, nor does it necessarily mean that you should accept $365K or something close to it. It does, however, mean something quite exciting ---

somebody wants to buy your house

!!!

Of course, negotiations won't always work out with low offers -- but recognize a low offer for what it is --

a buyer who wants to buy your house

, and perhaps the first buyer who has declared as much through a written offer!

If there is any way to put a deal together with those buyers, you ought to pursue it, as it's hard to know when the next buyer will work up the courage to tell you that they want to buy your house!
I believe this question is best answered by evaluating when buyers make an actual buying decision -- which is when they sign a contract. The data above shows when buyers sign contracts -- calculated by averaging data from the three most recent years.

As can be seen, the busiest buying season is March through August when an average of 123 buyers per month make a buying decision.

The remaining six months of the year (September through February) show anywhere between 50% and 77% as many buyers as the average of 123 per month seen in the busiest six months of the year.

So -- listing your home on November 1st (for example) is not a terrible idea -- we'll see 64% as many buyers signing contracts in November as compared to the average busy month. That said, in the following month (December) we're likely to only see half as many buyers as compared to the average month
My house is next to the railroad tracks

, but all of the potential buyers (who did not make an offer on my house) didn't complain about price, they complained about the railroad tracks.

My house has an unbelievably steep driveway

, but all of the potential buyers (who did not make an offer on my house) didn't complain about price, they complained about the steep driveway.

My house is needs many cosmetic updates

, but all of the potential buyers (who did not make an offer on my house) didn't complain about price, they complained about the need for cosmetic updates.

Guess what

--- unless you're going to move the railroad tracks (or the house), flatten the driveway, or make all of the cosmetic updates --

it really is an issue of price!

If you're getting consistent feedback about your house that is unrelated to price, in almost all cases, you need to adjust the price to accommodate for that specific issue.

If the price is lower then buyers might actually buy

despite

the specific issue that they were complaining about.
Buyers are finding fewer and fewer options of homes to purchase in Harrisonburg and Rockingham County as inventory levels continue to decline. The graph above shows the number of homes for sale in early September for each of the past eight years.

There are 44% fewer homes for sale now as compared to at the peak of inventory levels in 2010. Even looking over the past year, there has been a 12% decline in inventory.

These low inventory levels are frustrating buyers in many price ranges, giving them limited options of homes to purchase and SOMETIMES creating multiple offer situations.

If you are getting ready to sell your home, it is important to understand the dynamic of how many other home sellers you will be competing against, so we will want to take a look at inventory levels in your particular segment of the market.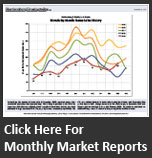 Subscribe

Receive notifications of new content on this blog, via e-mail or RSS reader.