Welcome! This blog tracks the real estate market in the Central Shenandoah Valley, featuring market data and analysis, an exploration of common buying and selling questions, and candid commentary on all things real estate.
If you are interested in discussing any of the topics on this blog, or the details of your specific real estate situation, call or e-mail me!
Selling
As a home seller, you will face rejection left and right -- many prospective buyers will come view your house and most of them will decide not to buy it. But how, as a seller, do you make sense of that feedback?

I often hear the following types of feedback after a showing:

the house just wasn't quite big enough for us


we like the house, but have decided we want to live closer to _______


the house was very nice, but the layout of the bedrooms wasn't ideal

This type of feedback (size, location, floor plan) is difficult to do much with as a seller. You likely aren't going to build an addition to your house, nor will you physically move the house, nor will you reconfigure the floor plan. Sometimes the feedback is just a mild objection to be overcome -- did you realize that the unfinished bonus room could be finished quite inexpensively (size) and that the new South East connector will make your commute quite short (location)? Oftentimes, however, if you receive feedback about size, location or floor plan there isn't much you can do about it as a seller.

I also, however, will hear the following types of feedback after a showing:

we love the house but we're holding off because it seems overpriced


the house would probably work for us, but would need so much work


we like the house, but we're hesitant because it has been on the market for so long

This type of feedback (price, condition, marketing) is completely in your control as a seller. Many buyers will not make an offer if they think your list price is too far from reality -- adjusting your pricing may be just what you need to either generate more showings, or have a chance of the showings turning into offers. I almost included AGE as a factor outside of a seller's control, but it's much more about condition -- how well has a property been maintained, and is it in top showing shape so that buyers don't feel overwhelmed by short-term cosmetic updates and long-term maintenance needs? Finally, if a house has not been marketed thoroughly and effectively, it will likely have a much longer "days on market" than other properties, worrying buyers that perhaps they shouldn't buy the home because nobody else has in the last ten months.


It is imperative to gain feedback after showings of your house -- but when processing it, try to quickly categorize it as either something you can control, or something you cannot. Of course, if the feedback is consistently something you cannot control (size, location, floor plan) the answer might be to further adjust what you can control (price, condition, marketing) to compensate for those weaknesses.






My house has an unbelievably steep driveway

, but all of the potential buyers (who did not make an offer on my house) didn't complain about price, they complained about the steep driveway.




My house is next to the railroad tracks

, but all of the potential buyers (who did not make an offer on my house) didn't complain about price, they complained about the railroad tracks.

My house is needs many cosmetic updates

, but all of the potential buyers (who did not make an offer on my house) didn't complain about price, they complained about the need for cosmetic updates.

Guess what

--- unless you're going to flatten the driveway, move the railroad tracks (or the house), or make all of the cosmetic updates --

it really is an issue of price!

If you're getting consistent feedback about your house that is unrelated to price, in almost all cases, you need to adjust the price to accommodate for that specific issue.

If the price is lower then buyers might actually buy

despite

the specific issue that they were complaining about.






OK -- I'll bend the definition of FOMO a bit to make a point.





The "real" definition --




"anxiety that an exciting or interesting event may currently be happening elsewhere, often aroused by posts seen on a social media website"




But then, for real estate...




Sometimes a property can be on the market for a few weeks (or even a few months) without an offer -- and then when an offer comes in, all of a sudden a 2nd or 3rd buyer is also then ready to make an offer.




So, what's happening here? Is it random timing? Likely not -- I think it is FOMO -- Fear Of Missing Out...

If you're thinking about making an offer on a house, but you are not 100% sure if you are going to do so, there isn't necessarily much urgency for making up your mind UNTIL somebody else is making an offer, and potentially is going to eliminate your ability to ever make an offer.

The fact that someone else is making an offer can provide some amount of confirmation that it is "a good house" or "a good opportunity" -- after all -- somebody else decided to make an offer, so maybe I should go ahead and do so as well.

Some folks are just competitive. Wait -- those other (unknown to me) people are going to try to buy this house that I was thinking about buying -- well, I'll show them! :-)

So, as a seller -- if you have had a good number of showings, but no offers -- don't be surprised if a second offer quickly materializes after the first offer comes in.




And as a buyer -- if you are still potentially interested in a house, but have not made a decision about making an offer -- make sure the seller's Realtor knows of your continued interest, so that they can alert you or your agent if an offer does show up. The seller will want to make sure you have the opportunity to make an offer as well.






Sometimes a seller is stating this as soon as they list a property:

All inspections are for informational purposes only.





or




This house is being sold in "as is" condition.





And, sometimes a seller will introduce this amidst negotiations. This can certainly trigger some warning signals for a buyer......but should it?

Here are the top three

innocent reasons

why a seller would want a home inspection to be for informational purposes only....

They are done negotiating on price and want it to be very clear that they are not going to negotiate further on price based on whatever you might discover during your home inspection.


The house is old, and the seller doesn't want to deal with repairs requests that are mainly related to the fact that the house is old.


The house is unfamiliar to the seller, perhaps because it has been a rental property, and thus the seller hasn't been making small needed maintenance upgrades over time that only an owner occupant would now about --- and thus the seller doesn't want you to nitpick over those details through the inspection process.

So, as you can see, it's not all bad if a seller wants an inspection to be for informational purposes only --- though I would still suggest (in such a situation) that you reserve the right to reconsider the purchase on the basis of the home inspection, just in case a big issue is discovered.



So -- your neighbor's 2400 SF, circa 2000, 4 BR, 2 BA home just sold for $300K. It's probably reasonable to think that your 2400 SF, circa 2000, 4 BR, 2 BA home will also sell for $300K, right? After all, you have made the same updates (systems and cosmetic) over time -- and you're on the same street!

Well, maybe -- but maybe not!

Consider the possibility that....

Your neighbor's home is a Colonial with 2400 SF split between the first floor (1200 SF) and the second floor (1200 SF) and is built on a crawlspace.

Your home is a ranch style home with 1200 SF on the main level and 1200 SF finished in the basement.

These two homes will not be seen as having an equivalent value -- not by potential purchasers and not by an appraiser.

Above grade square footage has a higher value attached to it -- both specifically by appraisers, and generally by purchasers. Even if all of the other factors (condition, age, location, bedrooms, bathrooms) are the same between two houses, if one has a significant portion of the square footage in the basement then it will be seen as less valuable than the home that has all of its square footage above grade.



It's easy to want to do this -- as either a buyer or a seller. Let's think about it using the mostly fictional illustration below...

THE BUYER'S STATED PERSPECTIVE


I know that your house is listed for $400K, but this one other home a few streets over sold for $350K last month, and it was a larger, so I'm not paying any more than $350K for your home.

THE LARGER CONTEXT


Just a few items...

The other home was, indeed, just "a few streets over" but that also put it on the edge of the neighborhood, on a busy road, with a front yard that parents wouldn't let their children plan in for fear of them running into the road where cars often travel past at 45 miles an hour.


The other home was, indeed, larger -- but the entire house needed to be updated, as it had wallpaper, a dated kitchen, dated flooring, etc.


The other home had a basement one-car garage instead of a main level two-car garage.


Furthermore, aside from all of these differences in the two houses --- the other ($350K) house is not available any longer --- and there aren't three other houses just like it that the buyer can decide to buy.


In this case, by focusing on this one not-actually-that-similar sale, the buyer has put themselves in a situation where they might miss out on purchasing a great home because of how they are viewing the market based on one comparable sale.

THE SELLER'S STATED PERSPECTIVE


I am confident that I can sell my house for $350K. After all, my friend owned a very similar house and he just sold it in a week, with multiple offers, for $360K!

THE LARGER CONTEXT

Just a few items...


Your friend's house was in a highly desirable neighborhood within walking distance to downtown Harrisonburg -- while your home is on a busy road and has train tracks directly behind it.


Three homes nearly identical to your home, on your street, even facing the same direction as your home, built within two years of your home, updated at the same time as your home, sold in the past three months for $320K, $325K and $330K.

You have lived a busy life over the past few years, with work, family, and other commitments and you haven't had a chance to tackle the many small maintenance and upkeep items that a home often requires. Your friend is a retired general contractor and has spent all of his free time over the past two years fixing, replacing, and improving countless aspects of his home's interior, exterior and grounds.


Again, by focusing on this one not-actually-that-similar sale, the seller has put themselves in a situation where they might miss out on selling their home because of how they are viewing the market based on one comparable sale.

So -- as a buyer or as a seller -- don't focus on just one comparable sale when deciding on a reasonable price to pay or to ask -- look for the larger context!






Yes, I know, I know, the school year hasn't even ended yet. So why am I already thinking about when school aged kids are going to be going BACK to school in the Fall!?!




Well, because buying a home is not an overnight process. Neither is moving into a home.




If you are planning to sell your home in the next six months -- and you think some of the buyers who might have interest in your home would have school aged kids -- consider this...




June 1, 2018 - we put your house on the market




July 1, 2018 - we have the house under contract (could be faster, could be slower)




August 15, 2018 - closing on your house (typically around 45 days)




So, as you can see, if a buyer is going to buy your home -- and move in before the next school year starts -- they need your house to be on the market soon or NOW!






If you will be selling your home to buy another, there are a lot of numbers floating around....

what you'll sell for
your closing costs when selling
your mortgage payoff
how much you'll pay for your new home
how much of the purchase price you will finance
how much your mortgage payment will change

Above you will see a spreadsheet I put together to help you think about some of these numbers as you are evaluating if and when you will make a move to a new house.

In yellow, are all of the inputs you will need to provide, or that you and I can determine together, such as your current payment, your home's current value, your mortgage payoff, whether you will be putting any additional money into the transaction, etc.

In green, I have identified your potential future mortgage payment and the net change in your monthly payment.

All of the numbers without a background color will automatically calculate for you.


Click here to download this worksheet as an editable Excel file.



Should You Be Dejected If Your House Does Not Sell In One Week?

It depends.

For example -- in the City of Harrisonburg, 26% of homes that have sold thus far in 2018 have been under contract within seven days of having been listed for sale!?!

So -- if day 8 rolls around, should you worry, complain, cry, immediately drop the price, what???

Maybe none of those.

Having your home under contract within one week depends on demand for your home being high -- your type of home (detached or not), size of home, price of home, location of home, etc.

If all of those overlays leave large portions of the home buying public finding your home to be interesting - then you are likely to have a speedy sale.

If the type, size, price or location of your home (or multiple of those factors) limit the number of buyers who will have interest in the house -- then you may have to wait longer for your to be under contract.

We can predict this, somewhat, looking at sales of similar homes, current inventory levels of similar homes, etc.

If you are getting ready to sell your home, read up on the process and philosophy at

SellingAHomeInHarrisonburg.com

.
In the past 12 months -- properties in the City of Harrisonburg have sold with a median "days on market" of 18 days!?! That is fast!! Perhaps faster than the speeding train shown above -- which, if it does in fact travel through Harrisonburg, must do so at speeds so fast that none of us see it. :-)

The "days on market" metric measures the number of days between when a property is listed for sale and when it is under contract. Median indicates that half of all homes that sold were under contract in less than 18 days and half took more than 18 days. So -- of the 415 home sales in the past year, more than 200 of them were under contract within 18 days. Wow!

So, then, let's say you list your home for sale in the City of Harrisonburg.

And then Day 1, 2, 3, 4, 5, 6, 7, 8, 9, 10, 11, 12, 13, 14, 15, 16, 17 and 18 pass.

It is now Day 19. Hmmm. How do you feel? How should you feel?

Is your price too high? Has the market cooled? Will your home ever sell?

Maybe. Probably not. Probably.

A few thoughts...

It is possible that your price is too high - but we cannot conclude that based on the lack of a contract within 18 days.

The size of the buyer pool that would consider your property (based on price, size, location, etc.) will greatly affect whether your home sells above or below that median of 18 days.

When we're just 18 days in, don't look at the lack of a sale as the best indicator of whether your price is appropriate -- look at recent sales and competing listings.

What time of year is it? The pace of buying activity certainly ebbs and flows through the year, so if it is the "off season" it might take longer for your home to sell.

New buyers on Day 19+ won't consider your home to be a home that has been rejected by all other buyers. Maybe after 90 or 180 days they might....

So, as Day 19 comes and goes, don't (necessarily) despair. It is certainly a good idea to constantly evaluate how your home price fits into the market, but just because your home did not sell as quickly as half of the homes in the past year does not necessarily mean that the price is too high.

If a buyer is buying over $400K, or even over $300K, the layout of the home becomes very important to them. That is not to say that it is unimportant for a $200K buyer -- but someone buying a more expensive home oftentimes plans to stay in it for a longer time frame.

If not the #1 feedback, the #2 feedback I receive from showings of homes priced over $400K is that the layout just didn't work for the buyers....

They wanted another bedroom here, instead of there.

They wanted a more open floor plan.

They wanted more of a formal dining room.

They wanted a more spacious basement.

This room is a bit too big.

That room is a bit too small.

They don't like how close this room is (or is not) to that room.

And on and on.

Challengingly, the layout is something that is hard (nearly impossible) for a seller to change in order to appeal to a wider segment of buyers. Thus, if your home has a layout that continues to not work for buyer after buyer, you must either wait (and potentially wait and wait and wait) for the buyer who loves that layout -- or adjust the list price to make the house (even with its layout) more appealing to more buyers.
Mortgage interest rates are edging up again, as you may have heard. The average 30 year fixed rate at the end of February was 4.4% -- up from 3.9% just three months prior.

Could this (slight) rise in the cost of financing your home be affecting the pace at which buyers are signing contracts? Possibly.

It seems that 14% more buyers signed contracts this January and February as compared to last year during the same timeframe.

This is a likely indicator that we'll see stronger months of closed sales in March and April.

Then, the questions will be....

Will the pace of contract activity keep increasing?

Will mortgage interest rates keep increasing?

Let's hope for yes and no, in that order.



Some people like to see lots of photographs. Others prefer to read the written description of a home and review the pertinent facts and figures. And yes, some folks best understand a home by studying the floor plan.

I can create a "blueprint" of your home to satisfy the desires of this third group of buyers, who are spatial (and special) beings.

Read about all of the ways we can market your home by visiting....

SellingAHomeInHarrisonburg.com
Preparing your home to go on the market can be challenging (and tiring), and often sellers-to-be need a second (or third) set of eyes to provide suggestions about where to focus their time and energy. There are many different theories about how to best prepare your home to be on the market and viewed by buyers --- and ways of expressing those theories.

take a minimalistic approach, removing absolutely every knick knack in sight
removing all family photos
de-cluttering and get rid of extra "stuff"
remove furniture to create an open feel
stage the home with place settings on the dining table, and more
always have fresh flowers in the home

There are countless other theories, ideas or suggestions -- all of which can be helpful to consider as you are preparing to put your house on the market. Another perspective that I'd throw out there for your consideration is

eliminating distractions and objections

.

Distractions

are the things that keep a prospective buyer from focusing on your house. That might be knick knacks, or family photos, or refrigerator magnets, or an overflowing pantry, or fascinating artwork, or an abundance of indoor plants, or a strange odor, or brightly colored wall hangings. Whatever it is --- if a buyer is focusing on one (or more) of these items, they're not focusing on your house. They're reading all of the Far Side comics on the fridge instead of marveling at the granite countertops, tile back splash, recessed lighting, and stainless steel appliances. They're amazed at how you fit 234 board games into the coat closet instead of taking in the quality workmanship of the trim detail in the foyer, and the mountain views out the picture window in the family room. As you prepare your home to go on the market, close your eyes for a few moments when standing at the entrance to each main living area. Then, open your eyes, and take note of where your eyes are immediately drawn. Or, walk slowly through the space (or ask a friend to help) seeing where your eyes (and your mind) linger.

Objections

are those correctable physical characteristics of your home that give a buyer a reason to mark your home off their list, or to move it down a notch in their preferences. Perhaps it is that the vinyl siding needs to be power washed, or that three bi-fold closet doors need to be adjusted, or that there is poor lighting in the kitchen, or that the deck needs staining. There are oftentimes small home maintenance items that should be attended to before putting your home on the market. There are two potential dangers of having these items unresolved --- first, a buyer might become too overwhelmed by the work that they need to do to the home once they move in, and second, a buyer might extrapolate from what they can see to imagine what they cannot. A classic example of this is the dirty furnace filter that makes a buyer assume that the HVAC system has never been serviced, is in a terrible state of disrepair, and will need to be replaced immediately.

As you're preparing your house to go on the market, I'm happy to provide you with another set of eyes and to give you some new perspectives on how to best prepare your home to be shown to buyers.

When you're ready, just give me a call (540-578-0102) or send me an e-mail (

scott@HarrisonburgHousingToday.com

). Also, don't fret about having your home in perfect "show condition" before you call me --- I'm happy to give you some guidance and feedback while you're still in the process of preparing your home to go on the market.
Many sellers list their homes in the Spring or Summer, which is often ideal for the timing of their move, and aligns well with when most buyers are in the market.

However -- some houses are very difficult to be seen (and photographed) in the Spring and Summer because of large trees in the front yard.

So -- if you're thinking of selling this Spring or Summer, and you have trees (especially large house-obscuring trees) we should discuss taking some exterior photos SOON rather than waiting until later when we can't see your house at all.

Certainly, the grass isn't as green as it could be right now, and the flowers aren't blooming -- but it could be nice to see your house in the main view of your future real estate listing -- rather than just a tree.
Here's one thing I have found to be true of most buyers....

As the price of a home increases, so does a buyer's desire for that home to be a wonderful fit for their needs and wants, both now and in the future.

And it makes sense --

1. If you're buying an expensive (fill in your own definition here) home then you are likely to be planning to stay for a while, and thus the home should work quite well for you.

2. If you're buying an expensive home, it is a major investment (or more major than if it was a less expensive home) and thus you want to make sure the home is exactly what you want.

3. If you're buying an expensive-ish home you could probably also consider building a home -- which would give you exactly what you want in a house -- so the resale home you are considering better come darn close to that ideal.

Anyhow -- this is just what I consider to be a reality of buyers considering the purchase of higher end homes. Some of the resulting implications are....

1. Buyers of expensive homes often spend more time in the home search process -- waiting for "the right" home to come along.

2. Sellers of expensive homes should expect to hear "it just wasn't a good fit" quite a bit when asking what buyers thought after viewing the house.

3. Buyers of expensive homes are typically willing to be very patient in waiting for the ideal fit, as it is a big investment.

4. Sellers of expensive homes sometimes have to sell for less than they feel their home is or should be worth -- if there aren't any buyers (over a prolonged time period) for whom the house is an ideal fit.

Oh, and one last note, this correlation between price and pickiness does not necessarily extend in both directions. Buyers of lower priced homes are not universally non-picky or hasty to buy or overly willing to compromise.
Here is a somewhat startling statistic....

Looking at the start to last year (Jan 1 - Feb 20) the homes that sold (went under contract) in the City of Harrisonburg did so with a median "days on market" of 67 days.

This year during the same timeframe (Jan 1 - Feb 20) the homes that sold (went under contract) in the City of Harrisonburg did so with a median "days on market" of 20 days.

So -- homes are selling (more than!) three times faster than they were last year. Wow!

And -- a few more homes are selling....

Contracts between Jan 1 and Feb 20:

2017 = 47 contracts
2018 = 52 contracts

Buckle up! It seems like it might be a fast paced market for much of 2018. Low inventory levels and rising interest rates certainly are contributing to this.

Sometimes sellers ask....

Will you be advertising my home for sale in ________?
Will you be doing ________ to let buyers know about my home?

I believe the "should I" ought to guide the "will I" with these sorts of questions. If doing X, Y or Z is likely to result in buyers knowing about the home and purchasing it, then yes, I ought to do that.

The research above (conducted annually by the National Association of Realtors) shows that half of buyers found out about the home they bought online. Another third of buyers found out about the home they bought from their Realtor.

Let's allow the research to guide our marketing decisions, shall we?



This graph above shows the median list price to sales price ratio (red line) over the past 15 years as compared to the overall pace of home sales.

At the peak of the housing boom (2004-2006) sellers were able to obtain a median of 99% of their asking price --- up from a median of 97.7% in 2001 before the pace of home sales started escalating.

Then, when the pace of home sales slowed (through 2010) this metric dropped to 96%, where it stayed for three years.

Sellers started selling for slightly more in 2013-2015 when they could obtain 97% of their list price.

This increased to 98% in 2016, held steady in 2017, and is flirting with 99% in 2018.

Of note -- the 99% figure in 2018 is based on only one month of data - January 2018. Stay tuned to see how this adjusts as we continue through 2018.
Find out more about this newly built home in Lakewood Estates at

1644CumberlandDrive.com

.

I just published my most recent monthly market report, and as usual, you can read on for an overview,

download the full report as a PDF

,

read the entire report with commentary online

, or tune in to my monthly video overview of our local housing market...

OK -- now, let's take a look a few of the main indicators for our local housing market....

As shown above....

Home sales slowed slightly in January 2018 to 61 home sales -- down 11.59% as compared to January 2017.

The annual pace of sales has dropped 4.79% over the past year -- from 1,315 sales to 1,252 sales.

Prices continue to trend upward -- having risen 4.11% over the past year, from $192,000 to $199,882.

Homes are selling much more quickly -- with median days on market having dropped 32.65% from 49 days to 33 days!






As shown above, January 2018 home sales were right in the middle of the pack as contextualized by the previous three years. And in some ways, we should expect to see around 70 home sales next month -- however....




Contract activity in January 2018 was much stronger than could have been expected. Buyers (and sellers) signed 85 contracts in January -- as compared to only 67 last January. Thus, it is reasonable expect we'll probably see somewhat of a bump in home sales in February.




But what are these buyers buying, you might ask? A great question -- as there are 24% fewer homes on the market now as compared to a year ago. As such, there is tough competition among buyers in many price ranges. It is not unusual to see multiple offers on properties under $200K.

And perhaps that is why so many homes are selling so quickly. Almost half of the homes that have sold in the past year have gone under contract within 30 days of coming on the market!

OK -- I'll stop there for now. Again, you can download the full report as a PDF, read the entire report with commentary online, or keep reading my blog in the coming days for further commentary.


If you're thinking of buying or selling soon ---


SELLERS -- even though it is a seller's market in many price ranges right now, you must still focus on price, condition and marketing.


BUYERS

-- it can be difficult and frustrating to buy right now -- make it a bit easier for yourself by

knowing the market

,

knowing the process

,

knowing your buying power

, and

closely monitoring new listings

!

For further reading on buying or selling in this area, check out....


scott@HarrisonburgHousingToday.com

.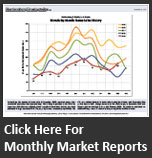 Subscribe

Receive notifications of new content on this blog, via e-mail or RSS reader.