Welcome! This blog tracks the real estate market in the Central Shenandoah Valley, featuring market data and analysis, an exploration of common buying and selling questions, and candid commentary on all things real estate.
If you are interested in discussing any of the topics on this blog, or the details of your specific real estate situation, call or e-mail me!
Opportunity
If you were hoping to buy a townhouse at

The Townes at Bluestone

, act quickly! There is one remaining building in Section One, with seven townhouses. Of those seven....

2 townhouses are sold
3 townhouses are under contract
2 townhouses remain for sale

Click here to view the available townhouses, floor plans, standard features, or photos of the new model home at The Townes at Bluestone.

Why are these townhouses selling so rapidly?

A great location in the Blue Stone Hills area, with close proximity to shopping, dining, etc.
Well thought out floor plans with one-car or two-car garages.
Exciting standard features and flexible upgrades and options.

Let me know if you'd like to take a peek at the new model home at The Townes. Just call me 540-578-0102 or send me an email: scott@HarrisonburgHousingToday.com.



This is certainly a TREAT, not a TRICK.

Perhaps we'll see 3.something% interest rates again soon???
For decades, homeownership has been an American ideal and sought after by many people as a sign of stability, success and independence. There are many benefits of purchasing a home instead of leasing, starting with the much wider selection of homes that will be available to you as a buyer as opposed to as a tenant. Furthermore, as a homeowner, you will be able to make improvements to your home to make it a nicer place to live, all of which will actually benefit you - the homeowner, as opposed to solely benefiting your landlord. There are, however, some benefits of homeownership, particularly in our current housing market, that are not as readily apparent.

Today's extraordinarily low 30-year fixed mortgage interest rates (currently hovering around 4.25%) give home buyers the opportunity to lock in their housing costs for the future. If you are purchasing a home in today's market, you can secure a fixed housing cost for years to come at some of the lowest mortgage interest rates we have seen any time in the past several decades. Purchasing a $250K house with a 20% down payment and with current interest rates (4.25%) will result in $984/month in principal and interest. When rates increase to 5.25%, that payment will increase $120 to $1,104/month. When rates eventually increase to 6.25%, that payment will increase $247 to $1,231/month. Purchasing a home (now or soon) will allow you to lock in low monthly housing costs on into the future.

When deciding whether to purchase a home or rent a home, it is also important to remember that one dollar of a mortgage payment is not equivalent to one dollar of a rent payment. The interest that you pay on your mortgage is tax deductible, making a $1,000 rental payment more expensive than a $1,000 mortgage payment once tax time comes each year. Your $1,000 per month mortgage payment is likely to include around $7,200 of interest paid in the first year ($215K purchase price, 20% down payment, 4.25% interest rate). If you are in the 25% tax bracket, then paying this $7,200 of mortgage interest will result in tax savings of $1,800 over the course of the year. That then means that your $1,000 mortgage payment is only an effective payment of $850 per month – much more affordable than the supposedly equivalent $1,000 per month rental payment.

Given the option of paying $1,000 per month towards your own mortgage or in a rental payment, it is also important to note that you can either be contributing to your own retirement (or savings) plan or to that of your landlord. Over the first five years of this $1,000 per month mortgage payment ($215K purchase price, 20% down payment, 4.25% interest rate) you would have paid over $15,000 towards the principal balance of your mortgage. Thus, just by paying your mortgage payment each month, you have accumulated $15,000 of savings. Looking at the first ten years of this mortgage, you would have accumulated over 35,000 of savings. Of note – this does not even account for the potential increases in the value of your home over time.

Homeownership is not for all people at all times in their lives, but there are many benefits of owning (and thus purchasing) a home both in the short term and long term. Many of those benefits are immediately apparent, but some require a closer look at the overall financial impact of making a home purchase.




This beautiful home on College Ave, near Eastern Mennonite University, offers gorgeous Western views and a 2 bedroom in-law suite.

You could also continue to rent the in-law suite, offsetting your mortgage payment by $650/month --- giving you a $300K mortgage payment on this $425K home!

More details can be found here:

http://www.1897CollegeAvenue.com
Have you ever wanted your name in the Guiness Book of World Records?? Mark your calendar for October 19 for your chance & bring your kids!

Come join The Roberta Webb Child Care Center and JMU's Fraternity and Sorority Life attempt a World Record for the most people dancing the hokie pokie with hula hoops!

The following outlines the itinerary for the day!

11:00am-2:30pm: Day-of Registration

11:00am-3:00pm: Eat lunch, decorate your hula hoop, play games, watch demonstrations and practice the routine

3:00pm: Large Group Practice


Demonstrations and practice of the routine will be available on the top of every hour.

Each participant will receive a t-shirt, a commemorative bracelet, hula hoop, and box lunch for the first 1,200 to register and registered for the World Record.

Directions to the James Madison University Field Hockey Field can be viewed in the link below.

http://www.jmusports.com/ViewArticle.dbml?DB_OEM_ID=14400&ATCLID=785433

Learn more at

n2Hoops.com

.
click here for a larger version of this imageHeritage Estates

is an active adult community located in Harrisonburg, Virginia featuring superb French Country architecture with flowing interior floor plans that are wonderful for entertaining. You'll also enjoy spectacular views of the Blue Ridge Mountains, the

golf course

immediately beside Heritage Estates, the community swimming pool, and a maintenance-free lifestyle.

Updates at Heritage Estates....

Six Paired Homes have sold.
The 7th and 8th Paired Home are under construction....and under contract.
Only two paired homes remain!
A new model home (detached) is under construction!


Call me at 540-578-0102 to schedule a tour of Heritage Estates.
At least for now, 30 year fixed mortgage interest rates seem content to hover around 4.5%. After having stayed below 4% for a year and a half (Nov 23, 2011 - June 20, 2013) mortgage interest rates jumped up rather quickly this past June. Since that time, however, rates have stayed between 4.3% and 4.6% without too much variation from week to week.
Purchasing a rental property can be an excellent way to plan for retirement, providing you with tax benefits in the short term and an income stream in the long term. Your best bet is to purchase an investment property when you are in your 30's, but a purchase later on in life can still be of great benefit to you as well.

Today's low mortgage interest rates will allow you to purchase many types of properties and immediately have positive cash flow, or at least be breaking even on a monthly basis. Financing 80% of a $150,000 townhouse purchase will require a total monthly payment of around $800 including the principal, interest, taxes, insurance and home owner's association dues. Most such townhouses will then easily be leased for $900 to $950 depending on the age, condition and location. Thus, there is a cost for getting started with this type of a retirement strategy – the 20% down payment plus closing costs – but then there will not be many costs as you move forward. Many owners of rental properties will save up their excess monthly cash flow ($100 - $150 per month) to save for any need repairs and maintenance.

As you move past the first three to five years of owning your rental property you will start to see an increasing monthly financial benefit. The largest portions of your monthly costs of the rental property – principal and interest – will stay fixed over time thanks to 30-year fixed mortgage interest rates. You will eventually start to see small increases in taxes, insurance rates and home owner's association dues, but in most cases those will surpassed by increases in rental rates over time. Thus, as time marches on, your monthly positive cash flow will increase. Five to ten years in, you may be seeing a rental rate of $1,000 to $1,050 compared to a monthly cost of $850.

With positive monthly cash flow from the first day you owned the rental property, you have effectively only had to pay 20% of the market value of a townhouse, and put yourself in a situation where your tenants will be paying the other 80% for you as they pay off your mortgage with their rental payments. Thus, over 30 years, you can thank your tenants for helping your mortgage loan balance decline down to zero. In addition, if we assume an average of 2% appreciation per year over 30 years, when your tenants have finished paying off your mortgage in 30 years, your $150,000 townhouse would be worth as much as $270,000.

Purchasing a rental property allows you to create a "retirement account" into which you made the initial deposit (the down payment) and into which other people (your tenants) will make all of the subsequent deposits. This financial transaction can provide positive cash flow from the first day of your ownership of the property, and will also provide tax benefits based on the interest that is being paid on your mortgage payments. In the mid to long term, you will have a regular source of monthly income when either the increased rental rate exceeds your monthly costs or once the mortgage is paid off. Then, after 30 (or 20 or 40) years, you can sell your rental property and cash in on your retirement savings.




Rates are down (4.31%) as compared to a few weeks ago (4.51%), even though they have climbed quite a bit from two months ago (3.59%).

Bear in mind, that these sub-4.5% rates have

only existed for the past two years

. Thus, we are still in a period of amazing opportunity for fixing in a low monthly housing cost given these historically low rates.
Mark your calendars....

Public meetings & charettes

City Council Chambers at 409 S. Main St.

Wednesday, July 31, 3-5 pm AND 7-9 pm

Give Input! The design team, which is composed of eight local, regional, and national firms representing multiple disciplines, will hold two public meetings and design charrettes (designers discuss solutions for park).

Presentation of initial findings and next steps

City Council Chambers at 409 S. Main St.

Saturday, August 3, 9:30 am

Learn more! This follow-up meeting will present initial findings and inform the public of the next steps in the park process.

Come on out and take an active role in helping to shape our community!

Visit the

Plan Our Park Facebook page

for more details.
Mark your calendars for

August 10th from 7:30 AM - 12:00 PM

when the JMU Surplus Property Sale will be taking place at the JMU Surplus Property Warehouse located at

1070 Virginia Ave

., Harrisonburg (former Shenandoah Manufacturing Plant, North End Dock Area).

All items are pre-priced and include projectors, appliances, LCD monitors, bikes, JMU sports and band apparel, sports bags, music keyboard, meat slicers, stainless steel fryers, dishes, televisions, cameras, DVD players, dorm beds, desks, tables, file cabinets, bookshelves, chairs, microscopes, lounge furniture, office supplies, map cabinet, lost-and-found items such as jewelry, iPods, sunglasses and much more.

Terms are cash, check or credit card with proper identification. All items are sold on "as is, where is" basis with no implied warranties of any kind given. All sales are final; no refunds. No preview date.

For additional information, call (540) 568-6931.
Several of you asked me to put yesterday's news (

average rates increased by 0.5% in a week

) in perspective.

As you can see above, we are still working with ridiculously low mortgage interest rates (4.46%) from a historical perspective.
These are still amazingly low interest rates (4.46%) compared to what we've seen in past years, but the rates are certainly starting to rise. If you're buying soon, you may want to act soon to lock in before rates go up further.
Interest rates are increasing. It's not the end of the world, but buying soon will likely be more affordable than buying later.....

The payments shown above only reflect principal and interest, not taxes and insurance.
The Glen at Cross Keys, located on Cross Keys Road, just east of Harrisonburg offers mostly one-level living in these low-maintenance homes starting around $265K.

The photos above are of the

model home

, which is now under contract. View the remainder of the photos in

this Flickr photo set

.

View available (and under contract) homes at The Glen

here

.

Or, email me at

scott@HarrisonburgHousingToday.com

to start customizing your home at The Glen.

Oh, and the selling fast part? Our model home sold in February, so we built another -- which is under contract. And the next building up the street that is currently being constructed --- one side is under contract, and the other side likely will be this week.
I have come to know these two things to be true....

There are lots of large properties rented to lots of JMU students that bring in lots of investment income.
The above-referenced properties are rarely available for purchase.

That changed earlier this week, when nine such properties were listed for sale. Click here to review the details of these investment properties -- they house lots of students, paying healthy amounts of rent, and thus they carry a high price tag.



This full-day conference provides professional development and networking opportunities to entrepreneurs, managers, and business owners.

Click here to learn more about the schedule of events, speakers and workshops

.

Click here to register for the event.
Never before have home buyers been able to lock in

such low mortgage interest rates

, which sets up 2012/2013 home buyers to have ultra-low housing costs on into the future. For the past six months, most home buyers have been able to lock in 30-year fixed mortgage interest rates between 3.3% and 3.6%. Over the past four decades (since Freddie Mac started tracking this data) the average U.S. interest has never been this low --- in fact, this average mortgage interest rate had never dipped below 4.0% until October 2012.

To put today's low mortgage interest rates in perspective, a home buyer financing 80% of their purchase at the most recent average rate (3.41%) would have a monthly payment (principal and interest only) of $622. Just one year ago, the average rate was 3.90%, which would have resulted in a monthly payment of $660, and two years ago the average rate was 4.91%, which equates to a $744 payment each month. As can be seen, locking in a mortgage interest rate today can create tremendous monthly savings for years into the future.

Not only do today's home buyers have the unique opportunity to lock in a low interest rate, they are also potentially buying at the lowest housing prices that we will see for many years to come. Local home values increased quickly between 2003 and 2006, with a 51% increase in median price over a three year period. Since that time, home values have been slowly declining, showing an overall 9% decline between 2006 and 2012. Home values now appear to have stabilized, with annualized median sales prices steady for the past 23 months. We are likely to see home prices slowly start to improve again over the coming years.

The lowest mortgage interest rates ever combined with the lowest home prices that we are likely to see over the next 5-10 years create a unique opportunity for buyers who are willing and able to act now to buy a home. The first steps in taking advantage of this opportunity should include talking to a local mortgage lender to become preapproved for a mortgage, and talking to a Realtor about what you are looking for in a new home.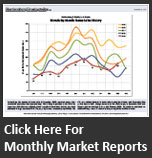 Subscribe

Receive notifications of new content on this blog, via e-mail or RSS reader.