Welcome! This blog tracks the real estate market in the Central Shenandoah Valley, featuring market data and analysis, an exploration of common buying and selling questions, and candid commentary on all things real estate.
If you are interested in discussing any of the topics on this blog, or the details of your specific real estate situation, call or e-mail me!
Archive for February 2012
It seems likely that at least one of these

active listings at Avalon Woods

could be purchased for $130,000 -- and I know of several townhouses that have recently been rented for $875/month in Avalon Woods. As you can see above, this tips the scales towards owning a home being the more affordable option on a monthly basis.

Of further interest, is that of that $791 monthly payment, a full $189 goes towards the principal of your mortgage -- thus you're paying down over $2,000 of that mortgage debt in the first year alone.

Certainly, there are other upfront costs (closing costs, down payment) that you will have when buying --- but it is once again an exciting time for first time buyers when you can potentially reduce your monthly housing budget through buying a home.
Bloomberg has an

interactive tool

that explores the number of foreclosure filings in the United States over the past five years.
There are some deals to be had on townhouses in Harrisonburg, based on:

several properties that my clients have under contract
several recent sales as recorded in the MLS

Some of these are bank owned properties (post-foreclosure) and some are homeowners who are just ready to move on.

I have had investors take advantage of some of these great opportunities, and I have had some first time buyers take advantage of them.


Send me an e-mail (scott@HarrisonburgHousingToday.com) or call me (540-578-0102) if you are looking for a great deal on a townhouse and I'll fill you in on the details.

Also, don't forget that you can find out a lot of information about townhouses communities in/around Harrisonburg by visiting HarrisonburgTownhouses.com.


(photo above is a store opening in Nashville, not Harrisonburg;

source

)

In further (potential) good news for the local economic climate, the

Daily News Record

reports today that

Dick's Sporting Goods

may be opening up a storefront at the Valley Mall in Harrisonburg as soon as this fall. Dick's would (potentially) be located in the space that Peebles vacated in 2006. This follows recent news of an Ashley Furniture store opening in the old Books-A-Million space on East Market Street.

Additional tidbits on this developing story:

The old Peebles space is 42,000 SF, as compared to a typical Dick's Sporting Goods store of 50,000 SF.
Dick's is hiring a Golf Professional/Apprentice for the not-yet-confirmed Harrisonburg store.
Dick's would be the second large retail tenant to land in Harrisonburg since the recession --- following the opening of Best Buy's 33,000 SF space in Harrisonburg Crossing in 2010.


Kudo's to

Doug Manners

at the

Daily News Record

for discovering this exciting news for Harrisonburg!
With 791 home sales during 2011, and 671 homes on the market, one might assume that there are PLENTY of homes for buyers to choose from, right? That is over 10 months of supply, you know, which means that approximately 1 out of 11 homes will go under contract each month (11 not 10, to account for new listings). But looking a little closer, perhaps there won't be 671 great options to choose from....

Now admittedly, there are plenty of homes that have been on the market for more than three months that will be interesting to buyers (and will sell), because:

perhaps the right buyer didn't enter the buying market until a house was on the market for six months
perhaps a seller adjusts the price of their house to make it a possibility for a wider set of buyers

Needless to say, though, a good portion of the current listing inventory is comprised of houses that have been sitting on the market for some time now. So if you're considering selling this spring, don't get too overwhelmed with the 10+ months of supply of homes on the market. If your home shows well, is priced well and is marketed well, you can do well in selling.
One of my clients will soon be refinancing with their current loan servicer (SunTrust Mortgage) under the HARP program. With the new HARP II guidelines, the first mortgage can be up to 125% of the value of the home. My client will soon be saving $600/month. Curious? Read on....

The

Making Home Affordable

(MHA) initiative includes programs such as:

mortgage modifications
interest rate reductions
refinancing
deferred payment
transitioning out of your home while avoiding foreclosure

Making Home Affordable options include:

An excellent first step is to contact your mortgage servicer and ask what your options are under the Making Home Affordable program.



Last week, the Virginia Association of Realtors® released its 2011 Pieces of Home Housing Report including housing market data, trends, and comparisons.

BIG PICTURE

: Virginia homes sales in 2011 exceeded home sales levels in 2010 despite the lack of a stimulus.

HOORAY FOR OUR LOCAL AREA

: The Central Valley regions experienced the greatest increase in sales and the Northern Virginia region experienced the only decline.

View the whole report by

clicking here

.
I have had several people ask me about this in the past week, so I thought I'd clarify. The e-mail above is an example of what you might hear about -- a scandalous part of the health care bill that will charge everybody a sales tax of 3.8% of their home sales price starting in 2013.

Is it legit? Will you pay this sales tax if you sell? Most likely not. Let's take a look....

The 3.8% tax is a tax on a very narrow band of investment income for high-wealth households (those who earn $250,000 in a joint return or $200,000 as an individual) that could come into play on the sale of a house if the sales gain is more than $500,000 for a married couple or $250,000 for an individual.

Even in the unlikely event the sales gain is more than that amount, the tax would only apply based on other considerations having to do with the household's income and tax situation. The bottom line is that the tax, which was imposed to help shore up Medicare, will hit only some portion of investment income.

(source

here

, and more

here

)

So, here's a quick test to help you understand how wide of an affect this 3.8% tax will (or will not have):

Do you have household income above $200K as an individual, or $250K as a couple? If not, this tax does NOT apply to you.


Did you turn more than a $250K profit on the sale of your home as an individual, or more than $500K as a couple? If not, this tax does NOT apply to you.


Even if you answered yes to both #1 and #2 (unlikely) there are still quite a few other aspects of your financial and tax picture that would have to be true in order for the tax to apply.

So, back to the original e-mail ---


Will the seller of a $100K home pay $3,800 per this tax? Absolutely not -- how could they have had a $250K profit if they sold their house for $100K?

Will the seller of a $400K home pay $15,200 per this tax? It's possible -- if they are single, and they bought the house for only $150K, and they make over $200K/year.


Hopefully you can see how far from reality the rumors are of this 3.8% real estate sales tax. Feel free to call me (540-578-0102) or send me an e-mail (scott@HarrisonburgHousingToday.com) with any questions..



Source:

KCM

Above you will see the state-by-state change in home prices over the past 12 months. The majority of states (yellow, orange, red) have seen a decline in prices over the past 12 months --- but not Virginia.

Stability in the overall housing market in Virginia is a result of overall stability in Virginia's economy and job market -- both of which positively influence our local economy and housing market as well.
During 2010, buyers wrote 820 contracts --- and during the same year, only 758 closings took place. Why the difference?

Technically, some of the 2010 closings are based on 2009 contracts....and some of the 2010 contracts will be 2011 closings. I don't suspect, however, that this timing issue significantly effected the relationship between the number of contracts and closings during 2010.

Looking back, there were 47 closings during 2010 that were under contract at least twice. That closes the gap most of the way: 758 closings + 47 contracts that fell through (but then were contracted on again) = 805 closings. That leaves just 15 properties (with this rough math) that were under contract but never sold.

Interestingly, 2011 was even more disproportionate....

Again, let's pretend ignore the overlap between years -- yes, I know that late 2011 contracts will close in 2012, but in theory almost all of those will be offset by late 2010 contracts that closed in 2011.

So, the math gets interesting here.....

There were 64 closings during 2011 that were under contract at least twice. 791 closings + 64 contracts that fell through (but then were contracted on again) = 855 closings. That leaves 100 properties (as compared to 15 in 2010) that were under contract but never sold.

Again, it's rough math, here is the probability that a contract on your house would result in a closing during the past two years:

87% of first contracts lead to a closing in 2010.
76% of first contracts lead to a closing in 2011.

Don't get me wrong --- I like contracts, and houses going under contract -- however.....


sellers must remember that some contracts will inevitably fall through
we can't look at contract data in our market and assume that all of them will lead to closings



Our local housing market remained relatively stable in January 2012, showing some indicators that we will continue the new trend we saw in 2011. To remind you.....

In 2011, after a five year slide (and a 55% drop) in the pace of home sales, our local real estate market showed a 4% improvement in the pace of home sales last year, even though the median sales price declined another 3%.

Jump to

the PDF of my monthly market report

, or keep reading for an overview.

Important trends to note:

Home sales declined slightly (by one sale) in January 2012 as compared to last January.

The median sales price increased by 18%. (because of a small data set?)
The average sales price declined by 1%




Inventory levels continue to decline (as shown above) with a 14% decline over the past year, and an overall 17% over the past two years.




Perhaps one month of data is too small of a data set to draw some conclusions --- otherwise we'd think our market has REALLY recovered, as the median sales price increased 11% when comparing 2011 to January 2012.


For a more detailed look at the Harrisonburg and Rockingham County real estate market, download my full market report as a PDF.

And -- if you have questions about the local housing market, or if I can be of assistance to you with real estate that you own, or that you'd like to own, please be in touch. You can reach me most easily at 540-578-0102 or scott@HarrisonburgHousingToday.com.

Here is an example of the type of information you'll find on HarrisonburgTownhouses.com.

Nestled in the woods of the Bluestone Hills neighborhood, The Townes at Bluestone is convenient to everything. Within just a one-mile radius, you will find more than 40 restaurants, major department stores, a 14 screen movie theater and a state-of-the art fitness center. The Townes at Bluestone offers an array of amenities including single and double-car garages, nine-foot ceilings, crown molding, and extensive windows. This community is still under construction and is being developed by OakCrest Builders out of Winchester, VA.

Streets in The Townes at Bluestone include

: Deyerle Avenue, Blue Stone Hills Drive, Lapis Lane, Sapphire Drive and Tanzanite Drive.

Properties Currently For Sale...

348 Blue Stone Hills Dr, Harrisonburg, VA 22801
2 bedrooms, 2.5 bathrooms, 1,617 SF
$214,900
more info
375 Blue Stone Hills Dr, Harrisonburg, VA 22801
3 bedrooms, 2.5 bathrooms, 1,436 SF
$204,900
more info
371 Blue Stone Hills Dr, Harrisonburg, VA 22801
2 bedrooms, 2.5 bathrooms, 1,436 SF
$203,900
more info
379 Blue Stone Hills Dr, Harrisonburg, VA 22801
3 bedrooms, 2.5 bathrooms, 1,436 SF
$197,900
more info

Below you will find details of sales in this neighborhood during the past 24 months.
If you have any questions about these sales, please let me know. This data is updated twice per month.

| | | | | | |
| --- | --- | --- | --- | --- | --- |
| 10/31/2011 | 381 Blue Stone Hills Dr, Harrisonburg, VA | 2 BR | 2.5 BA | 1,436 SF | $204,000 |
| 9/30/2011 | 383 Blue Stone Hills Dr, Harrisonburg, VA | 3 BR | 2.5 BA | 1,582 SF | $213,510 |
| 9/15/2011 | 377 Blue Stone Hills Dr, Harrisonburg, VA | 3 BR | 2.5 BA | 1,436 SF | $199,900 |
| 8/12/2011 | 2191 Deyerle Ave, Harrisonburg, VA | 2 BR | 2.5 BA | 1,617 SF | $200,000 |
| 5/2/2011 | 373 Blue Stone Hills Dr, Harrisonburg, VA | 3 BR | 3.5 BA | 2,119 SF | $211,000 |
| 12/22/2010 | 360 Blue Stone Hills Dr, Harrisonburg, VA | 3 BR | 3 BA | 2,193 SF | $210,000 |
| 11/12/2010 | 369 Blue Stone Hills Dr, Harrisonburg, VA | 3 BR | 2.5 BA | 1,582 SF | $218,550 |
| 9/23/2010 | 364 Blue Stone Hills Dr, Harrisonburg, VA | 3 BR | 2.5 BA | 1,617 SF | $226,225 |
| 5/4/2010 | 362 Blue Stone Hills Dr, Harrisonburg, VA | 3 BR | 2.5 BA | 1,617 SF | $218,500 |
| 4/22/2010 | 346 Blue Stone Hills Dr, Harrisonburg, VA | 3 BR | 2.5 BA | 1,617 SF | $193,000 |
| 2/26/2010 | 358 Blue Stone Hills Dr, Harrisonburg, VA | 3 BR | 2.5 BA | 1,617 SF | $204,000 |
| 2/17/2010 | 356 Blue Stone Hills Dr, Harrisonburg, VA | 3 BR | 3.5 BA | 2,088 SF | $245,000 |
| 2/12/2010 | 366 Blue Stone Hills Dr, Harrisonburg, VA | 3 BR | 3.5 BA | 2,088 SF | $235,150 |

Governing Documents:

Supplemental Declaration Of Covenants, The Townes At BluestoneThe Townes At Bluestone, PlatPlat Of Lot Lines, BlueStone Hills
Last February, 60 buyers signed contracts to buy homes in Harrisonburg and Rockingham County, and I expect about the same number to commit to properties this February. With 678 homes on the market, how do we make sure they pick your home?

PRICE

- First and foremost, we need to examine how your home stacks up to the competition when it comes to pricing. Are most other comparable homes priced below your list price? Very close to your list price? Perhaps we need to undercut the competition to make a buyer ready to commit based on the value and opportunity offered by your home.

MARKETING

- Is your property marketed broadly and effectively? Does the marketing plan for your home focus first on the primary three ways (internet, sign, Realtor) buyers find the homes they purchase? Do the property photos, brochures, and online presence accentuate your home's strong points?

CONDITION

- To the extent that we can generate showings through competitive pricing and appropriate and effective marketing, let's also make sure buyers are even more impressed when they view your home in person. Eliminate distractions and potential objections that buyers might perceive when walking through your home.

FOLLOW UP

- We'll also need to proactively and persistently follow up with buyers (or their Realtors) that have viewed your house. What are their questions, their hesitations, their objections? What additional information can we provide them, or solutions can we research for them?

There are certainly some aspects of selling your house that are

out of our control

, but we do have the ability to affect the price, marketing and condition of your home to maximize the possibility that a February buyer picks your home!

Have questions? Need help? Ready to sell? Call me at 540-578-0102 or e-mail me at

scott@HarrisonburgHousingToday.com

.
In a few day I'll be releasing my full monthly market report. Until then, you might find the following quick stats interesting.....

January 2012 home sales = 39

January 2011 home sales = 40

Thus, if last year was a typical year for home sales (up 4% from the prior year) then this January came in right in line with last year's sales. Actually, one sale shy of last year's data.

January 2012 contracts = 60

January 2011 contracts = 49

As a good indicator for February and March, contract numbers were quite strong during January!
Not only have 30-year fixed mortgage interest rates been at or below 4% since November 3rd, they also hit an all-time low this past week at 3.87%.

Buying a median priced home a year ago:

Price: $180,000

Interest Rate: 4.81%

Monthly Payment: $884 (assuming 80% LTV)

Buying a median priced home now:

Price: $174,900

Interest Rate: 3.87%

Monthly Payment: $781 (assuming 80% LTV)
This is one economic indicator that I am happy to see heading downward. There are still lots of people who are not able to find work, but this trend is headed in a great direction.
As reported in the Daily News Record this week, the Weldon Cooper Center's population projections show that Harrisonburg has now surpassed a population of 50,000.

There was a remarkable 2.3% population growth in the City over the past year -- certainly a good sign for the local economy and housing market.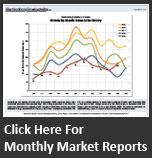 Subscribe

Receive notifications of new content on this blog, via e-mail or RSS reader.