Sample Agreement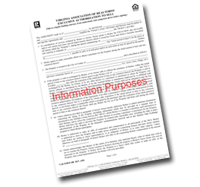 Sample Listing Agreement
Did you know 9 out of 10 homebuyers use a REALTOR to search for a home!
Using a REALTOR to sell your home or to represent you in the purchase of your home can be a rewarding experience financially and emotionally!
Smart home sellers realize they need the expertise of a REALTOR to:
find the market value of your home
advise on preparing your home to sell
complete required paperwork
connect with other REALTORS who may have a buyer
arrange and staff open houses
ensure only qualified buyers are seeing your home
negotiate offers
prepare for closing
follow up on the details
and much more!
REALTOR vs. Sales Agent
Did you know there is difference between a REALTOR and sales agent?
REALTORS are real estate professionals who are members of the National Association of REALTORS.
REALTORS are held to a higher standard than sales agents.
REALTORS must abide by a strict Code of Ethics.
REALTORS have greater access to educational opportunities.
REALTORS fight for the rights of homeowners through
government
involvement.
REALTORS stand apart in the service they can offer.