Welcome! This blog tracks the real estate market in the Central Shenandoah Valley, featuring market data and analysis, an exploration of common buying and selling questions, and candid commentary on all things real estate.
If you are interested in discussing any of the topics on this blog, or the details of your specific real estate situation, call or e-mail me!
There is often confusion about what it means to "buy a foreclosure" -- and it really all revolves around whether your potential purchase is happening before, at, or after the Trustee Sale. The Trustee Sale is the sale of the property on the courthouse steps to the highest bidder as a result of the borrower's default on their loan.

BEFORE THE TRUSTEE SALE

If a property is headed towards foreclosure, you may be able to buy it before it is sold on the courthouse steps. Sometimes a property headed towards foreclosure is on the market during that pre-foreclosure time period, so you could go tour the home, make an offer, and follow a traditional path towards purchasing the property. It's important to realize, however, that if a homeowner is headed towards foreclosure they are likely to be in a "short sale" scenario. A short sale is one in which the proceeds from the sale won't be sufficient to pay off the money owed against the house.

If you are considering a property that would be a short sale, you may want to brush up on the

typical timing of a short sale in Virginia

. It's also crucial to know that there will be lots of uncertainty in trying to buy a short sale property because you'll be waiting on approval from the owner's lender, which can take weeks or months. During that time, other offers can come in, the property can be foreclosed on, etc.

You'd know about these properties by reviewing

notices of future Trustee Sales

, or by asking your Realtor to look for properties in the MLS where a short sale is noted.

AT THE TRUSTEE SALE

This is where all the action is --- or not! Most trustee sales that I have attended do not have any bidders who exceed the bank's minimum bid. That is to say that the lenders typically take the properties back at or close to the amount of the outstanding loan balance. If the loan balance is a decent amount below perceived market value, then there may be bidders, but this is usually not the case.

The uncertainty in buying at the Trustee Sale is that you usually will not have viewed the property (so you won't know the condition), and you won't be able to make your offer/contract contingent upon a home inspection. Thus, you're buying sight unseen, and as is. Quite a dangerous combination, which makes most potential bidders hesitant to bid too high, as they don't know what types of repairs they may have to make to the property. You'll also need to be prepared at the Trustee Sale with a cashier's check in hand, and be ready to close within just a few weeks.

AFTER THE TRUSTEE SALE

If you're "buying a foreclosure" after the Trustee Sale, you're really buying a bank owned property. That is to say that the lender was not able to sell the property on the courthouse steps, and thus have it back on the market after having foreclosed on the original borrower. Oftentimes, the new owner will not be the actual lender, but an asset management company.

Some asset management companies will price the house quite evenly with the market, and try to sell it in a reasonable, but not overly fast time period. These properties are much like other properties on the market, except that they are owned by a bank or asset management company. Other lenders or asset management companies will list the property at a price where it is sure to sell quickly, and likely with multiple offers.

A property such as this came on the market in Bridgewater this past week

, and there were three offers on the property within the first few days of having been listed.

Buying a bank owned property is relatively straight forward, though you may be dealing with multiple competing offers, you will definitely be dealing with lots of extra paperwork and disclosures from the bank, and you may be dealing with a slower than normal process for negotiations and closing.

IN SUMMARY

If you have been encouraged to "look at some of those foreclosure properties" or think that your best opportunity might be a "a foreclosure" -- maybe you should, and maybe it is. But bear in mind that the process, the risks, and the certainty of the purchase will vary quite drastically based on whether you buy before, at or after the trustee sale!

Recent Articles: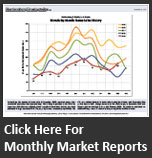 Subscribe

Receive notifications of new content on this blog, via e-mail or RSS reader.