Welcome! This blog tracks the real estate market in the Central Shenandoah Valley, featuring market data and analysis, an exploration of common buying and selling questions, and candid commentary on all things real estate.
If you are interested in discussing any of the topics on this blog, or the details of your specific real estate situation, call or e-mail me!
The questions continue:

Are home values increasing or decreasing in our local real estate market?
Are homes more or less affordable now as opposed to a year ago?
Will homes in Harrisonburg and Rockingham County hold their value over the next year?

Looking back at

last month's real estate market report

showed that the median value of single family homes had held steady between 2008 and 2009. The median sales price during Jan-Apr 2008 was $215k, and it was again $215k for Jan-Apr 2009.

I'll be issuing my May report in the new few days, but in the meantime I thought I'd explore the big value questions again from a few perspectives. Here's what I found:

Median Homes Prices Decline

When now examining January through May, we see a median home value of $215,000 (still) for 2008, but a median value of $205,000 for 2009. How did we drop $10k when comparing Jan-Apr 2009 and Jan-May 2009? Smaller and less expensive homes sold in May 2009 (avg = $197k, 1906sf) as opposed to during the first four months of 2009 (avg = $240k, 2048sf).

So....despite Jan-May 2009 median home prices being down compared to the same months in 2008, perhaps it is because smaller (and less expensive) homes are selling?

Larger Home Market Outpaces Smaller Home Market

The data above suggests that perhaps median home values are declining because smaller homes are selling right now. Not so fast!

During Jan-May 2008, 39% of homes that sold had 1500 or fewer square feet. This declined in 2009 to only 35% of homes sold during Jan-May 2009.

During Jan-May 2008, 21% of homes that sold had 2500 or more square feet. This increased in 2009 to 26% of homes sold during Jan-May 2009.

These are relatively small differences, and they may not be significantly, but they refute the hypothesis that median home prices are declining because smaller homes are selling.

Are First Time Buyers Procrastinating?

The data above is a bit surprising to me --- I suspected that we would see an increase in "starter homes" (often less than 1500 square feet) because of the financial incentives currently available for first time buyers. The combination of an $8,000 tax credit, plus historically low interest rates is predicted to bring lots of first time buyers into the market.

These first time buyers don't seem to have shown up in large numbers so far, based on the slower sales in the most affordable price range.

Price Per Square Foot Declines

As one last look at home values, I thought I'd take a look at the average price per square foot of the single family homes sold in Harrisonburg and Rockingham County in Jan-May 2008 versus Jan-May 2009.

Last year we saw an average price per square foot of $130 during this time frame, as compared to $118 per square foot this January through May.

Making it Actionable



To obey

my own imperative

, here are a few thoughts on how this might affect you and your real estate decisions:

If you're selling a home, or preparing to do so, price it well. Don't get overly greedy (or hopeful) --- base your pricing on recently sold data, and competing properties for sale.
If you receive an offer on your home for sale, consider it within the context of value trends and supply trends.
If you are buying a home, negotiate knowing that supply is high (good negotiating point) but that home values aren't declining 10% - 40% like they are in some areas of the country.
If you're a first time buyer, get in the game already! Don't forget you need to close by November 30, 2009 to take advantage of the $8,000 tax credit.
If you're a first time buyer, consider renting if you won't be in your newly acquired home for at least 3 or more years.


Stay Tuned!

A far more detailed analysis of our local real estate market will be available in the next few days. Until then, wrestle with the data points above, and let me know if you have any related revelations or hypotheses.

Recent Articles: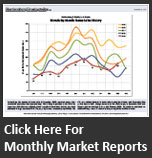 Subscribe

Receive notifications of new content on this blog, via e-mail or RSS reader.