Welcome! This blog tracks the real estate market in the Central Shenandoah Valley, featuring market data and analysis, an exploration of common buying and selling questions, and candid commentary on all things real estate.
If you are interested in discussing any of the topics on this blog, or the details of your specific real estate situation, call or e-mail me!
Trends
Find out more about this new listing in Lakewood Estates shown above by

clicking here

.

I just published my most recent monthly market report, and as usual, you can read on for an overview,

download the full report as a PDF

or

read the entire report with commentary online

.

Taking a look, first, at a high level overview of the market thus far in 2017....

As shown above....

Home sales dipped ever so slightly in October 2017 -- down to 96 from 97 last October.

Year-to-date home sales are 4.62% slower than we saw last year.

The year-to-date median sales price has risen 2.1% to $196,025 over the past year.

The median sales price over the past 12 months is $196,125 -- which is a full 3.22% higher than in the previous 12 months.

Homes are selling quickly! Median days on market has dropped 36.54% down to 33 days thus far in 2017.

So -- while slightly fewer (-5%) homes are selling this year, they are selling at higher (+2%) prices, and are selling much (+37%) more quickly!


As shown above, this year lost its momentum in August and September -- where monthly home sales (118, 105) were no match for last year (158, 129). Things leveled out, a bit, in October -- with just about the same number of home sales (96 vs. 97) this year as last year. Where things will go next month is anyone's guess -- looking at the past three years, November home sales have ranged from 68 all the way up to 113!

Above, visualized slightly differently, you can see that 2017 home sales were on par with (actually exceeding) last year up and through July before we then fell behind in August, September and now October. It seems certain that we'll finish out the year with fewer home sales this year than last, but more than in 2015. All that said -- as one of my clients pointed out --

maybe we shouldn't care if home sales slow down

?

Indeed -- a slightly slower pace (-5%) of home sales might not be an negative indicator of market health -- that decline could be a result of declining inventory levels. Perhaps a better sign of a robust and improving local real estate market is the 7% increase in the median sales price of single family homes between 2015 and 2016, and the apparent 5% increase we seem likely to end up with in 2017.

Speaking of slowing sales possibly being a result of lower inventory levels -- yes -- inventory levels are still way (-26%) below where they were last year at this time. And -- no good news here -- it would seem that we will likely see a further seasonal decline in the number of homes on the market as we continue through November, December and January!? Home buyers will likely have a tough time finding options over the next few months -- depending on their price range, where they want to (or are willing to) buy, etc.

Let's pause there for now -- though I will continue to explore the latest trend in our local housing market in the coming days on

my blog

.

Until then -- feel free to download and read my full market report as a PDF, or read the entire report online.


Also -- if you're thinking about buying a home in the near future, you may find these websites helpful....

And if you will be preparing to sell your home soon, you might find these websites helpful....


scott@HarrisonburgHousingToday.com

.
Mortgage interest rates are still below 4% -- after having spent November 2016 through May 2017 between 4% and 4.5%. Today's buyers are enjoying the opportunity to lock in their monthly housing costs at historically low rates.

And -- let's look a bit further back -- at the past three years....

As you can see, above, mortgage interest rates have fluctuated between 3.5% (+/-) and 4.25% (+/-) over the past three years.

If you were prequalified for a loan nine months ago (when rates were at 4.3%) you might want to request some updated potential payment scenarios from your lender with the current mortgage rates.
Homeowners are staying in their homes longer than ever before, according to date from the National Association of Realtors (NAR). The median number of years that a hmeowner has lived in their home is up to 10 years in 2017, which matched 2016 and 2014 as the highest level seen since NAR started tracking the data in 1985.

It would seem that low inventory levels, plus a lower than normal pace of new home construction, are causing many homeowners to stay and renovate their homes, rather than try to sell their home and buy a new home.

Sometimes this works, and sometimes it doesn't. It is certainly harder to stay in a townhouse and renovate it to allow it to work for your family for longer into the future -- and much more possible to do so with a detached home.

I expect we will continue to see this trend locally (more people staying put, more people renovating) until and unless we start to see more new homes being built.
OK -- lots of great thoughts from folks over on Facebook yesterday, and in person as I talked to people around town yesterday, after I suggested that

our market needs lots of mid size detached homes to be built

.

I'm going to think aloud about all of that by capturing a bit of that conversation here....

---

WHAT TYPES OF HOUSES?

I had suggested that homes along these lines were needed for current townhouse owners that want to buy their first detached home....

1750 SF, 3 bedrooms, 2.5 bathrooms, one-car garage
1950 SF, 3 bedrooms, bonus room, 2.5 bathrooms, one-car garage
2150 SF, 4 bedrooms, 2.5 bathrooms, two-car garage

These types of homes have not been built in large quantity over the past ten years, and I believe there are plenty of buyers who would love to buy this type/size of home.


---

COSTS ARE HIGH BEFORE THE ACTUAL CONSTRUCTION

As Jim, Jerry and Keith pointed out, It is expensive (!!!) to create a developed lot. The cost of building roads, installing water an sewer lines, utility hook up fees, etc. all add up to make the costs quite high even before construction (pouring the foundation, framing the home) begins.

And as Nate points out -- if the land cannot be purchased by a builder at an affordable price, the rest of the equation downstream won't work out. High costs for land, plus development costs, plus building costs, will result in unrealistically high prices for homes, that then won't be affordable (or desirable at that price point) to buyers.

Nate then ponders whether larger, regional builders can do better than local builders in this regard based on economies of scale. I'm not sure if the savings would be in buying a larger tract of land, lower development (infrastructure costs), or lower building costs -- but I wonder the same.


Gary and Renee also point out that some of these "costs before you even start building" are high because of utility connection fees, requirements for stormwater management, proffers, etc., that are coming from government regulations and development requirements.

Ginny points out that the final cost of a house is largely dependent on the initial land and development costs. Thus, to have smaller single family homes built, we may need to see smaller lots, to keep those initial costs down.

---

DEMAND NEEDS TO DISCUSSED WITHIN THE CONTEXT OF PRICE

As Jim succinctly puts it, "If I want something I can't afford then it isn't really demand." An excellent point -- which means that we need to think about (and talk about) the demand for the homes I outlined above (for example) within the context of the price for bringing such a home to market.

If the houses I described (1750 / 1950 / 2150 square feet) were able to be sold for $150K, $175K and $200K (obviously not realistic) then clearly, there would be a ridiculously high demand for them.

I believe that if the houses I described could be sold for $250K, $275K and $300K there would still be a strong demand for them.


But, clearly, if the homes could not be sold for any less than (I'm exaggerating again) $400K, $425K and $450K then likely NOBODY would want want to buy them.

So, yes, when we talk about demand for a particular type of housing, it likely should be -- as best as possible -- set within a context of price. That price-based demand can then be compared to development and building costs to see if developer and builders can bring such a product to market at a price that it will sell.

---

WHAT SHOULD WE BE ADDING TO OUR HOUSING STOCK?


As Jim also points out, the high demand and low supply environment we're in right now COULD cause a large quantity of under-qualified builders to start building homes. This doesn't help, in the long-term, as it is adding lower quality homes to our housing stock, which I do not believe helps our community in the long-term.

Jim goes on to suggest that we should be ensuring that we are adding quality homes to our housing stock. I agree -- though I do think that we need to find a balance. If the quality of materials and finishes is too high, we're pricing ourselves out of the ability to meet the demand we're discussing.


Michael takes us in a different direction when considering what should be built. He points out that even beyond building for all of those townhouse buyers (the original reason for my suggestion that we need to build mid sized detached homes) that he believes there is also a significant demand for affordable housing for the elderly in our community. He points out that retirement communities are not affordable for everyone, and plenty of older adults in our community would love to move into an affordable, (one-level), wheelchair accessible home. Again -- another market segment where we are not seeing much new construction.


---

WHAT ARE PEOPLE GOING TO DO IF WE DON'T BUILD THESE HOMES?

Ginny suggests that homeownership may be delayed for some families. A good point -- if the homes they want aren't available at the prices they can afford, perhaps they'll keep renting or keep living in the townhome they purchased.

Ginny also suggests that we'll see more remodeling or upgrading of current homes to accommodate growing families, which also makes sense.

Keith suggests that people will just have to move to some of the more affordable towns surrounding Harrisonburg. There are more affordable detached housing options when you look to Broadway, Timberville, Elkton and Grottoes. So, perhaps the townhome owners will just have to settle for a bit of a commute in order to buy a mid sized detached home that fits their budget.

Jim suggests that maybe higher costs for new homes means that it will take much longer for families to be able to buy a home -- and perhaps they will have to stay in one home for a lifetime, instead of moving every 5 - 7 years.


Gary concludes that many in our community may simply have to rent, or keep living in a townhouse, because of the cost of building new homes.


---

CONCLUSIONS


There were many other great points made, and discussions beginning, so thanks to all who engaged in this topic. A few big picture thoughts that come to mind for me....

There would seem to be many buyers who would be interested in mid sized single family homes.

Mid sized single family homes are not (in any significant number) being built.

Because of land, development and building costs, It may not be possible to build mid sized single family homes at prices that would appeal to the buyers who want the homes.

Our market presents a unique opportunity to a land owner / developer / builder (be that one, two or three different people) who can figure out to bring this type of product to market at a price that will work for the buyers who want the homes.


Keep the conversations going, folks, on Facebook, with me, with each other. As Jim points out, "we're going to have to do housing differently than it has been built in the past 30 years if we are going to provide sustainable, affordable housing."




Between 2000 and 2012, three centrally located townhouse developments were built in Harrisonburg:

Some of these townhomes were purchased by investors. Some were purchased by folks who have since sold and left the area. Some were purchased by folks who have since sold and bought a new, larger home, in or near Harrisonburg

But I believe a lot of the original (or second) owners of these 614 townhouses are now looking around Harrisonburg wondering where they will, where they can go next.

I believe our market desperately needs mid sized detached homes to be built, as these many townhouse owners are now older, often have started a family, and are looking for more space -- but can't jump up to buying a $350K to $400K home.

What might these mid sized detached homes look like? Perhaps....


1750 SF, 3 bedrooms, 2.5 bathrooms, one-car garage


1950 SF, 3 bedrooms, bonus room, 2.5 bathrooms, one-car garage

2150 SF, 4 bedrooms, 2.5 bathrooms, two-car garage

So -- who is going to build them? And where can the be built? In many conversations I have had lately, one of the main challenges is finding land that can be purchased at a price that will allow for the development and construction of this type of housing without making them $350K homes.




If only we could have seen this coming. :-) Just kidding -- we have seen it coming. Knowing it was coming, though, didn't seem to inspire any actions to change the trajectory.

As shown above, inventory levels have been steadily dropping in the City of Harrisonburg over the past five years -- or perhaps even longer -- I only have a record of the past five years.

There have now been fewer than 100 homes for sale in the City of Harrisonburg for most of the past six months.

How is this cured?

Fewer buyers wanting to buy -- which does not seem likely now or in the near future.

Construction of new homes. There are some being built -- but not many. Most new construction in the City is student housing.

Homeowners selling in the City, and buying in the County. This is a net increase of one additional home that can be sold/purchased in the City.

Homeowners selling in the City and leaving the area. I suppose this happens from time to time, but not frequently.

Homeowners selling in the City and not buying a new home.


There is no easy way to turn this trend around -- and to have more options for City home buyers -- and until this does change, it can be quite challenging for buyers to find a home they want to purchase in the City.



Can historical median sales prices give you some sense of your home's current market value? Perhaps so! The chart above is calculated based on comparing the 2017 median sales price to the median sales price in each of the past 16 years.

Do remember, of course, that while this might provide a general guide to what has happened with home values over the 17 years, every home and neighborhood is unique. Let's chat about your specific house if you want to know what it is worth in today's market.

Also, if you bought your home in one of the (now few) red years (2006, 2007, 2008), while your home might still be worth less today than when you bought it, you may have paid down your mortgage to the point that you could sell your without bringing money to closing.
If last year is any indication, get ready to see inventory levels falling over the next few months almost as fast as the leaves are falling off the trees.

In all seriousness, though, many buyers these days are having a difficult time finding a home they are excited to purchase -- which is not surprising, as inventory levels have declined 27% over the past year.

But it is likely to get (temporarily) worse for buyers. As shown above, inventory levels fell 34% last year between the end of August and the end of January. As such -- look at the meager supply of homes currently on the market -- and then eliminate 1 out of every 3 of those homes. That's likely where we're headed over the next few months.

But here's the good news (sorta, kinda, with limitations) -- if you are thinking of selling your home in the next few months, you may have quite a few buyers angling to purchase it if it aligns well with what they are looking for in a home. The sorta/kinda part is that you'll only be good shape if you don't have to buy as well. After all, if we quickly sell your home (because of low inventory levels), but can't find something for you to buy (because of low inventory levels), then we still have problems.

Who is the indisputable winner in today's local housing market?

The home seller who does not have to buy a home as well. :-)
OK -- I'll point out, from the start, that I'm making things a bit more complicated here. I'll partially blame

Derik

, as he asked the question.

OK - the graph above, is the same one I posted yesterday -- a look at how many single family homes exist in the City of Harrisonburg in a variety of price ranges, based on their assessed values.

But -- if that's how many actually exist -- it is probably reasonable to wonder how many homes actually sell in each of those price ranges in each year.

So, here are the City single family home sales in the same price ranges for all of 2016....

You'll notice that the two graphs above don't look altogether that different.

Then, to combine these two, rather than just put really little numbers (how many sell) next to really big numbers (how many physically exist) I thought I"d look at what percentage of each price segment of the City housing stock sells in a given year....

I think this makes it more helpful, though slightly less specifically meaningful absent scrolling back up and also remembering how many houses we're talking about in each given price range.

For example, the chart directly above shows that:

11% of all existing homes under $100K sold in 2016.

3% of all existing homes between $100K and $150k sold in 2016.

OK -- next, a few flaws and disclaimers:

A perfect alignment does not exist between sales prices and assessed values. So -- this is not an exact comparison. For example, some of the homes assessed between $250K and $300K might sell for $240K or $310K, thus, slightly, throwing off this analysis.

Some assessed values are likely off base, perhaps one reason being what Derik outlined: "There is also a great deal of inaccuracy in the tax assessed values of some older homes. Especially those that have had improvements or additions. In my experience no more than 50% get building permits and thus alert the city to improvements and increased value in their property."

And finally, since I like to provide more questions than answers....

Is the number of sales in a given price range (for example, $500K - $600K or $400K - $450K) a result of a lack of buyer demand or a lack of seller supply??


Is the lower percentage (3% as compared to mostly 5% or higher) of housing stock being sold in 2016 in the $100K - $200K price range an indication that this is a price range where we need more new construction? Related -- what type of single family homes can be built for less than $200K?

Is the fact that a rather steady 5% - 6% of housing stock selling in a year in the $200K - $500K price range (other than $400K - $450K) an indication that there is not greater demand in one price range than the other?

OK -- it continues -- I think it is probably necessary to try to contextualize this with "active listing" data -- to see how some of these numbers compare to what is available today for a buyer to purchase.

Here is a breakdown of single family homes currently for sale....




As you can see, above, there are NOT a lot of homes for sale in the City of Harrisonburg right now. And let's see if we can flesh anything out if we break it down by how many homes are available to be purchased as compared to the overall number of homes that actually exist....




This graph might have been the one I was looking for -- at least to support my understanding of the world....

Right now -- almost 9% of the homes over $600K are listed for sale -- and 6% to 8% of homes over $400K are listed for sale in the City of Harrisonburg.

On the other hand, only 3% of homes between $300K and $400K are listed for sale, only 1% of homes between $200K and $300K and less than 1% of homes under $200K are listed for sale.

This would seem to be about as clear of an indicator as one could find that homes under $300K (or even better, under $200K) are in short supply and in high demand in the City of Harrisonburg.

Finally, lastly, ultimately, some "overall market" stats....

Housing Stock = 5,537
Homes Sold in 2016 = 235 (4.24% of housing stock)
Homes For Sale = 59 (1.07% of housing stock)

Questions? Thoughts? Observations? Insights? Suggestions?

Email me: scott@HarrisonburgHousingToday.com



HINT -- this is a bit of a trick question. Again....

Are $150K - $250K Detached Homes Available in the City of Harrisonburg?


Ignore the graph above for a moment -- and let's see what we find....

There are only 15 detached homes currently on the market in the City of Harrisonburg priced between $150K and $250K.


Wow! At first blush, this is (or seems to be) very significant. One might conclude that we are seeing a significant under supply of these "mid-priced" homes in the City of Harrisonburg, and assume that this under supply is causing very few of these homes to actually sell.

But wait -- looking further (now you may refer to the graph above, thank you for your patience) it seems that plenty of these homes are actually selling. In fact, 130 detached homes between $150K and $250K sold in the City of Harrisonburg last year.

The tricky part is this -- if 130 buyers are buying per year, that's an average of 10.83 buyers per month. And thus, if there are only 15 such homes on the market, that is a 1.4 month (42 day) supply of homes for sale. Which is -- rather absurdly low. Most folks consider a six month supply to provide a balanced market between buyers and sellers.

So -- yes, homes are SELLING between $150K and $250K -- but they aren't widely AVAILABLE at any given point. When they come on the market, they sell quickly!

A few other observations....

When including both attached and detached homes, there has been a steady uptick in $150K - $250K sales over the past five years -- with over 200 sales last year.

Much of the increase in home sales between 2015 and 2016 was in detached homes.


While there are currently only 15 detached homes for sale in this price range, there are 36 homes for sale in the price range if we include attached homes as well.


These $150K - $250K detached home sales might slow this year -- perhaps as a result of these low inventories. There have only been 78 such sales thus far in 2017, whereas there were 97 during the same timeframe last year.

The price per square foot of homes in Harrisonburg and Rockingham County has been steadily increasing over the past six years....

Up 4% over the past year.
Up 11% over the past three years.
Up 17% over the past six years.

That said -- while the median sales price ($223K) has nearly climbed backup to the high we saw in 2006 ($227K) -- the median price per square foot ($118) has actually not come anywhere closer to that 2006 high ($129).

Which would seem to mean that you're getting slightly more house for your money now (as compared to 10-11 years ago) even if you're paying a similar price.



Most housing market analysts consider six months of inventory (active listings) to be an indicator of a balanced market (between buyers and sellers).

The "BUYERS" trend line above is illustrating how many buyers are buying in a six month period. The "SELLERS" trend line above is illustrating how many sellers are in the market (active listings) at any given time.

Over the past four years we have seen a steady increase in buyers and a declining number of sellers. In June 2016, these two trajectories crossed, and there was no turning back.

There are now many more buyers buying in a six month period than there are homes for sale -- creating a seller's market. Instead of having a six month supply of homes for sale, we now have a four (3.95) month supply.

Of note -- it is not a seller's market in every price range, in every location, for every property type -- but overall, we are definitely seeing a seller's market.

Find out more about our local housing market by clicking below for my monthly market report.
Indeed -- inventory levels are falling -- there aren't nearly as many homes on the market now as there were a year ago. In fact, over the past year, we have seen a 27% decline in the number of homes for sale in Harrisonburg and Rockingham County.

However -- not all price ranges are created equal. As shown above, the most significant declines in inventory levels has been in the "under $200K" market, where there has been a 39% decline over the past year. The "over $400K" market, in contrast, has seen no change in the past year in the number of homes for sale.

You can find out more about the Harrisonburg and Rockingham County real estate market by visiting....
This graph shows the average list price to sales price ratio (red line) in recent years as compared to the overall pace of home sales. Over the past several years, the amount that buyers have been able to negotiate sellers down on price has diminished significantly. Between 2010 and 2012, sellers were negotiating down to a median of 4% off of their (last) list price. Now, sellers are only negotiating down 2%.

Of note ---

1. This is a median calculation -- so half of sellers are negotiating more than 2%, and half are negotiating even less than 2%.

2. This is a comparison of the sales price to the LAST list price. If a home is worth $200K and is listed for $300K, it is not likely to sell for 2% less than $300K. The seller is likely to have to continue to reduce the price until it is at a reasonable place -- perhaps 2% or 5% above $200K, and then they will likely negotiate somewhere around 2% to their final sales price.

Find out more about the Harrisonburg and Rockingham County real estate market by visiting....
Let's take a look at how home sales have been trending at Massanutten Resort in recent years....

As shown above, home sales have been increasing at Massanutten Resort over the past five years, with the exception of a small decline in 2015. Of note -- there have already (as of 9/28/2016) been 52 home sales in 2016 -- so we are likely to see more home sales this year in Massanutten Resort than in any of the previous five years. The 64 home sales shown above for 2016 are an estimate based on year-to-date home sales (52) and the timing of sales in 2015.

Value trends over time at Massanutten Resort don't paint quite as clear of a picture, but it can certainly be said that home values have been, generally speaking, increasing over the past 5 - 6 years. Values dipped down a bit more than expected in 2014, jumped up a bit more than expected in 2015, and are where we might have otherwise expected them to be in 2016 if we hadn't had that odd low and odd high. This is a relatively small data set (40 - 60 home sales) which can cause some irregularities in value trends.

You can find homes currently for sale in Massanutten Resort

here

.

Let me know if you have any questions about the Massanutten Resort real estate market!
It has been hard to see the overall trajectory of showings this Spring/Summer as compared to last Spring/Summer since we have had both better and worse months of showings.

Let's summarize a bit....

Mar/Apr/May 2016 as compared to Mar/Apr/May 2015 = 10% increase

Jun/Jul/Aug 2016 as compared to Jun/Jul/Aug 2015 = 11% increase

So, while each individual month might be better or worse than the next, it seems that showings are, overall, increasing this year as compared to last year.
click here for a larger image

The Weldon Cooper Center 2015 Population Estimates show that Harrisonburg and Rockingham County are growing, as usual.

2015 Population Estimates:

Harrisonburg: 53,875

Rockingham County: 79,134

Combined City/County: 133,009 (up 1% from 131,565 last year)

If we take 2000 home sales as a baseline portion of the population to be buying in any given year, and then we project forward based on actual population growth, we can conclude that....

More people than usual bought between 2001 and 2007. (housing boom)

Fewer people than usual bought between 2009 and 2012. (housing bust, and then recovery)

In 2013/2014 we may have finally returned to a "normal" portion of the local population to be buying in a given year.

Based on the data presented above, I believe the new "normal" number of people to be buying per year may be around 1,100.
It is, however, the second-worst time of the year to sell your home.

The data above reflects the timeframe during which properties went UNDER CONTRACT -- not when they closed. Plenty of the Summer contracts turned into Fall closings -- but the 235 figure is a reflection of how many buyers made buying decisions (signed contracts) between September and November of last year.

So....if you want to sell your home (and close on it) in 2016, you should be thinking about getting it on the market sooner rather than later.
How much does it cost on a monthly basis to buy the median price home in our area, assuming 80% financing? Today, that adds up to an $681 monthly payment -- which is right in the same ballpark as what we've seen for the past two years ($850, $856). How can housing costs be staying relatively level if home values are increasing? Well, it's the declining mortgage interest rates, of course!

The graph above shows how much you would pay in a monthly payment for each of the past 16 years if you financed 80% of the purchase price at the average interest rate for that year. These payments include an estimate for your insurance costs, and property taxes based on Harrisonburg's current rate of $0.80 per $100 of assessed value.

Another pretty wild perspective -- over the past 16 years, housing costs (understood as outlined above) have only increased by 9.6%.
click here for a larger image

Buyers have fewer and fewer homes to choose from these days. The blue bars above show that there were 693 homes for sale at this time two years ago -- 653 homes for sale at this time one year ago -- and only 575 homes for sale today!

This decline in inventory has helped create a more balanced market -- but can also lead to a frustrating home search for many buyers, depending on their desired price range and location.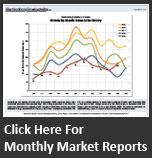 Subscribe

Receive notifications of new content on this blog, via e-mail or RSS reader.