Welcome! This blog tracks the real estate market in the Central Shenandoah Valley, featuring market data and analysis, an exploration of common buying and selling questions, and candid commentary on all things real estate.
If you are interested in discussing any of the topics on this blog, or the details of your specific real estate situation, call or e-mail me!
Buying



It's an interesting conundrum. Inventory levels are really (really!) low right now, but there are plenty of new listings that will come on the market this month and next month and nearly every month this year.




So, how and why does this happen?




Well, if there aren't many listings...




...and then a bunch of houses are listed for sale...




...but there are plenty of buyers in the market so that those new listings all go under contract quickly...




...we'll be left with... not many listings.





The key factor keeping inventory levels so low right now are an abundant number of buyers in the market -- or trying to get into the market -- to buy a home. So long as that supply of buyers stayed steady and strong, we are likely to continue to see low inventory levels.




So, if you are a buyer and are feeling glum about the very few choices you have today...




...be encouraged -- plenty of houses will be listed for sale in the next month or so...




...but maybe (sorry!) also be discouraged -- you will likely be competing with quite a few other buyers for each new listing.






If you are hoping to minimize the amount of your monthly mortgage payment, should you buy a house this year? Or next year?





Well, as shown above, it depends on whether you think home prices will be higher or lower (or the same) next year -- and whether you think mortgage interest rates will be higher or lower (or the same) next year.




Most folks think mortgage interest rates will be higher next year than they are now. If so, it's most likely that you'd be better off buying this year rather than next to have a lower monthly payment.




Even if rates continue to be this low, if prices continue to rise (as they seem likely to do) then again, you'll be better off buying this year than next.




Since it seems relatively unlikely (highly unlikely?) that interest rates will go down over the next year, the only way you'd have a lower mortgage payment next year than you would now is if mortgage interest rates do NOT rise AND homes prices decline.




So -- as to whether you should buy this year or next -- you tell me, based on your best guesses as to what interest rates and home prices will do over the next year.





My best guess is that you'll pay more in a monthly payment for a house if you buy next year than you would if you buy this year.




Now, all that said, we'll have to somehow secure you a home amidst a competitive market with lots of buyers -- but it's possible!







Sellers are winning - rather universally. Every market metric works in their favor, making it a rather enjoyable time to sell.

Buyers are losing - in most categories. Buyers are happy about low rates and low unemployment, but otherwise, all market metrics are working against them.

Homeowners are winning - they are indifferent to most market fluctuations - but are glad that home values are increasing.




Several of my clients have recently commented on how our local real estate market seems out of balance - with so many more active buyers in the market than there are sellers willing to sell their homes.




This dynamic often leads to many buyers making offers on well priced, well prepared, well marketed listings to hit the market in and around Harrisonburg.




Sometimes it even leads to buyers offering above (or waaaay above) the list price for homes that they don't want to let slip away.




So -- if the market is imbalanced, with sellers having the upper hand, what could help our local market come back into more of a balance?




In some ways, it's hard to imagine how we work ourselves out of this imbalance, but here are a few real, imagined or fantastical thoughts...

If buyers all took a stand and refused to keep paying more and more for houses and went on strike - this could cause the market - oh, never mind. This one is not very realistic. There are so many buyers in the market that I don't think they're all just going to decide to stop buying.

If mortgage interest rates significantly increased, this could affect how many buyers were willing and able to buy, which could cool down the market.

If a large new home community launches, that could quickly increase the supply of housing, helping to balance the market. There are several possibly in the works, but it's difficult at this time to gauge how quickly those will come to pass, what will be built, at what price point, etc.

If each of the local retirement communities magically create 300 new spaces for the oldest generation to move into, this would likely free up quite a bit of resale inventory, which would help create some market balance.

If major local employers departed or downsized, that could cause sellers to sell who wouldn't have otherwise, and could cause buyers to not buy who would have otherwise. Thankfully, however, we seem to be seeing stable and increased local employment so this change doesn't seem likely.

In the end, there don't seem to be many certain paths forward that would allow for our local housing market to balance out in any significant way. As such, it seems relatively likely that our local housing market will remain strong and at an imbalance that heavily favors sellers.




If you're seeing something I'm not - and have predictions for how our local market might balance itself out in the coming year - let me know!






I've talked with several folks over the past few weeks who are thinking about possibly selling their homes this year and it struck me that they all had the same three basic questions. As I have reflected further, I have concluded that these really are the three main questions you should be focusing on if you are considering the sale of your home in 2021...

How much well my current home sell for?

What should I consider doing to my home before I list it for sale?

Are there houses available that are both something that I would want to buy and something that I can afford?

So, if there have been any conversations floating around your house lately about "maybe we should sell our house and buy a new one" but you have had a hard time figuring out where and how to start thinking about that possible transition, I'll point you to the three questions above.




As a starting point for answering those questions, I can pop by your house for a brief meeting to address each of the three areas above...

We'll walk through your home together and I'll take some notes so that I can follow up after our meeting with some feedback on the potential value of your home in the current market.

As we walk through and around the house we can discuss any projects or improvements or repairs that you are considering that might make sense to make your property show best once on the market, if you decide to sell.

We can chat more about what you would hope to buy so that we can determine whether there are or will be good possibilities for you on the buying end of the transaction, and what that will cost you for budgeting purposes.

There are certainly many more questions that you might already have, or that you will have along the way -- but these three questions seem to be the big picture questions that most seller/buyers have when they are considering selling and then buying.




Feel free to be in touch if you'd like to schedule a time to meet to discuss these and any other questions. Most folks in this situation don't really know if they will actually sell and buy - which is quite OK. I'm happy to help explore the possibilities with you so you can figure out if a move makes sense for you.







If you're a buyer, it's hard to secure a contract on a house these days -- especially under $250K, even under $300K, especially in the City of Harrisonburg.




It almost seems like there is a backlog of home buyers all frustrated from not having found something this past fall, or past summer, or past spring -- because homes under $250K or $300K are often seeing 10+ showings and multiple offers in the first two or three days on the market.




What is this backlog of buyers causing?

steep competition for new listings amongst many buyers

contract prices that often go above the asking price
offers that often have escalation clauses
some buyers waiving home inspections
some buyers waiving appraisals

It's a wild and crazy time right now to try to buy a home, at least partly because there is a larger than normal number of buyers frustrated that they haven't been able to buy in the past 6 to 12 months.




Perhaps when spring arrives we'll see a rush of newly listed homes which will start to cut into this excess buyer demand?




Or perhaps not.




Stay tuned!







Earlier this week I was chatting with some friends and clients who relocated out of Harrisonburg (out of state) nearly a decade ago. They are now looking to move back to Harrisonburg and are accurately observing that our local housing market is at a drastically different point now than it was a decade (+/-) ago when they left.




The most pressing issue at hand for them, as soon-to-be buyers in this market, is the extraordinary high level of unmet home buyer demand.





And so we pondered aloud why in the world buyer demand is so high in Harrisonburg.




Here's my overly condensed thesis...

Harrisonburg has continued to increase in popularity as a place to live, or to relocate, or to stay as a recent grad of JMU, EMU, etc. So, more and more folks need housing, and many of them want to buy a home.

There has been quite a bit of new construction of housing in and around Harrisonburg over the past decade but it seems that the majority of it has been student housing, apartments to rent, townhouses to rent or townhouses to buy.

Thus, as our population has increased over the past decade, and housing has increased, the right kind of housing hasn't been created as it relates to what local residents want.

Put differently, with some make believe numbers, to illustrate the point...




2010 = population of 50,000




2020 = population of 55,000




Increased population = 5,000




5000 newly built housing options between 2010 and 2020:

1,500 student housing
1,500 non-student rentals
1,500 townhouses to buy
500 homes to buy

The problem, then, is that many more than 500 (10%) of the new population want to buy single family detached homes -- but that is not what has been built over the past decade. Further exacerbating the problem is that plenty of the already existing 50,000 population also wants to move up to a single family detached home, putting more and more pressure on that segment of the market.




So - the population is increasing and housing options are increasing, but the housing that is being created is not matching what the expanding population desires.




Why!?





Basically, it's all about profitability as a developer.





For all the ways to develop a 10 acre parcel of land, this is a rough approximation of the ranking of their potential profitability...

Commercial
Student housing

Non-student apartments for rent
Townhouses for rent
Townhouses for sale
Single family homes for sale


At this point, most land being developed is not being developed for single family homes because that is not the most profitable way to develop the land.





So long as student housing keeps being rented as soon as it is built, and non-student apartments keep being rented as soon as they are built, and townhouses keep being rented as soon as they are built, and townhouses for sale keep being bought before they are built -- it remains relatively unlikely that land in or close to Harrisonburg will be developed for single family homes.





I am now accepting recommendations for more cheery perspectives to write about next week. Call. Text.

Email

. Help! ;-)






If you're looking for a four bedroom home, it might be worthwhile to look at a few homes with three bedrooms.




If you plan to buy a home under $300K, it might be worthwhile to look at a few homes priced between $300K and $325K.




If you prefer homes built in the past 20 years, it might be worthwhile to view some homes that are 21 - 30 years old.




If you know you need 2400 SF, it might be worthwhile to walk through some homes that are 2200 - 2399 SF.




If you only want to live 10 minutes from where you work, it might be worthwhile to look at a few homes that are 15 minutes from your job.





Sometimes buyers draw firm lines around what will and won't work for them. This is fine, but there is definitely value in walking through some homes that are close to but not within those parameters.





Here's why...

First of all, it might give you some houses to actually go see. These days, inventory levels are quite low. Looking at homes that are close to what you're hoping to buy, but not quite there, can actually give you some homes to consider.

You might be surprised when a home that won't work "on paper" based on its specs actually works quite well in reality. You won't figure this out just by looking at it online - but walking through some houses just outside your typical search parameters can reveal these possibilities.


The more homes you view, the greater context you have for how much homes are worth in the current market. Having seen more homes, and the prices for which they were listed, and how quickly they went under contract, will start to create a meaningful and tangible framework for you to well understand the value of a home when you are walking through one that really will work for you.

So -- loosen up your parameters a bit and look at some houses that are close to what you're looking for but not quite right on the money.






If you have a lease ending this summer and you are thinking about buying a home instead of renewing that lease, you might think you have PLENTY of time before you need to start looking for a home to purchase.





You might actually want to start looking for that new home sooner than you think.




Let's imagine that your lease ends June 30th.





Here's one potential timeline...

February 1 - start viewing houses
April 1 - secure a contract on a house
May 31 - close on your purchase of the house
Month of June - leisurely move into your new home

A few details worth mentioning...

You'll see I have a 60-ish day period noted above (Feb 1 - April 1) for securing a contract on a house. It is certainly possible that you could find a house and secure a contract on that house more quickly than 60 days, but it could also take longer than that. Many segments of the local market are significantly out of balance with many more buyers than sellers in the market. Even if you start making offers on houses in February, it might take some time before you are the winning buyer in multiple offer situation after multiple offer situation. Give yourself some time to not only find a house that you want to buy but actually be the one that gets to buy it based on high levels of competition from other potential buyers.

There is also a 60 day period between securing a contract on a house and closing on the purchase of that house. This is normal. Most closings happen 45 to 60 days after the contract is signed. It is possible that a lender and title company can make it happen faster than 45 days but that is not necessarily likely given the current high volumes of purchases and refinances that are keeping lenders and title companies quite busy!

Finally, one thing that is not noted above is how this might all play out related to your monthly housing payments...

February 1 - start viewing houses
April 1 - secure a contract on a house
May 31 - close on your purchase of the house
June 1 - last rental payment

Month of June - leisurely move into your new home
July 1 - first mortgage payment


As you can see, above, in this scenario (closing on home purchase on May 31, lease ends June 30) you would not have any months where you would need to both make a rent payment and a mortgage payment.




So -- if your lease ends this summer, and you are looking to buy, you might want to get started on the buying side of things sooner rather than later!







OK - right now - it might really just feel like one phase, but humor me...



There are typically (in most markets) two phases of looking for a home to purchase once you have decided that you are going to buy a new home.

First -- we'll take a look at all of the homes currently on the market that might fit your ends.

Second -- we'll wait for new listings to hit the market that might fit your needs.

These days -- there are extremely low inventory levels in many price ranges and market segments, so the first part of the process (looking at current listings) is often a very brief exercise. Most of the homes of interest that have been listed in the past 90 days have already been snatched up with another buyer. As such, don't be surprised if it doesn't take long to go see the houses currently on the market that are a good potential match for you.

We're then stuck in that second phase -- waiting. How exciting!? There will (likely) be new listings hitting the market in coming weeks or months that will be a potential match for what you're seeking in a new home, but we'll have to wait around for a homeowner to be ready to list their home for sale.

When a local housing market experiences low levels of housing inventory, more of our "looking for a home" time is typically spent waiting rather than looking.

What an exciting opportunity to practice patience! ;-)






The graph above is an analysis of all of the homes that sold during 2020 in Harrisonburg and Rockingham County. You'll note that 69% of those homes sold (went under contract) within 30 days of being listed for sale!




I expect that we will continue to see this dynamic in 2021. There are still plenty of buyers looking to buy homes, and very low inventory levels. As such, many homes are being scooped up by buyers within days (or weeks) of first hitting the market for sale.

Home buyers in 2021 will need to be ready to act QUICKLY to secure a contract to purchase a home!







Looking back at a full year of data now for 2020, it is impressive to note that the median "list price to sales price ratio" was 100% for the year. This means that at least half of sellers sold at or above their list price!





Home buyers likely aren't surprised by this revelation as they have experienced it first hand if they bought - or tried to buy - in 2020. New listings that are prepared well, priced well and marketed well are receiving multiple offers within days of hitting the market. Oftentimes, buyers are not discussing whether to make a full price offer - they are discussing how far above list price to go with their offer.




Home sellers must still remember that this is not a blank check. Just because buyers are so eager to buy that they are often going above list price does not mean that you can list your home for any price you'd like. If your home is potentially worth $300K in the market right now, you ought not list it for $350K and then be surprised when you don't have a rush or showings and don't have any offers. You still need to price your home based on recent sales, though you might be able to round up a bit more than you had in the past when pricing your home.




I expect this dynamic (most homes selling for the list price or higher) to continue as we move through 2021.







With some regularity, I'll hear from parents of JMU students who are interested in buying a house in Harrisonburg, near the JMU campus, with the intent of having their son or daughter live in the house with friends.




Not a bad idea, right?




Instead of paying rent for several years, you (and the friends of your son or daughter) can be paying off the mortgage on your newly acquired house!





But before you sign a contract to purchase a house, keep this in mind...




Most (but not all) single family homes (as opposed to duplexes or townhomes) in Harrisonburg are zoned R-1 or R-2. This limits occupancy of the property to no more than to unrelated people - with one exception which I will mention below.




So -- before you go buy a five bedroom house with the idea that Johnny and his four best buds can live there -- you should definitely check the zoning of the property. If the house is zoned R-1 or R-2, it will just be able to be Johnny and his best friend living at the house.




But wait -- what if you put Johnny on the deed to the house, making him one of the owners of the house -- would this change anything?




Why, yes, it would!




While Johnny would not then be able to invite all four of his friends back into the fold, he would be able to have his two best friends living there at the house instead of just one friend.




Stated more simply...




An R-1 or R-2 property can only be occupied by two unrelated people if the owner is not living there, but it can be occupied by the owner plus two unrelated people if the owner is living there!




You'll find all the details

here

.




If you're a JMU parent, looking to buy a house off campus, I'm happy to help with the process -- but don't let Johnny get too many friends excited about the idea until you have reviewed the information above.





A few final notes...




1. There are some properties in Harrisonburg that have been in non-conforming use (many unrelated people living in them) since before these current zoning regulations were put in place. Those properties are "grandfathered in" and can be continued to be rented in that (non-conforming) manner until/unless there is a 24 month interruption in the non-conforming use. So, technically, you could buy a house for Johnny and his four friends -- but we'd have to find a property that is grandfathered into that non-conforming use and those properties don't come on the market very often.




2. There are likely some property owners out there, now, who are renting their properties to more unrelated people than are legally allowed to live there. Before you jump to "well if they can do it, then I should also be able to do it" I will encourage you to only consider making an investment purchase that allows you to rent the house in a manner that is legal according to local zoning ordinances. It's not worth the risk to try to skirt the zoning regulations.







New condominiums are under construction at Founders Way!


These brand new condos are located just minutes from downtown Harrisonburg and offer low maintenance living at its best, in close proximity to dining, shopping, the JMU campus and more!





Buyers can make selections for cabinets, granite countertops, flooring, paint color and more!





Condos at Founders Way feature an open floor plan a large primary bedroom suite and a second bedroom or office with walk in closet and attached bathroom, plus a covered porch! Enjoy high-speed internet access and cable service!





View more photos of these new condos

here

.




Find out more about Founders Way

here

.




(I am the listing agent for these condos.)






Heritage Estates

is an active adult community located in Harrisonburg, Virginia boasting homes with superb French Country architecture with flowing interior floor plans that are wonderful for entertaining. Owners at Heritage Estates enjoy spectacular views of the Blue Ridge Mountains, the golf course immediately beside Heritage Estates, the community swimming pool, and a maintenance-free lifestyle.




And now -- the very last home to be built at Heritage Estates is under construction! The home is under roof and the exterior is complete. The builder (my client... this is my listing) is getting ready to start finishing the interior of the home.




If you, or someone you know, was hoping to live at Heritage Estates, this is the last chance to buy a brand new home.






No, not really.




There is not an area wide sale on houses on the day after Thanksgiving.




It's a joke.





I mean... other than the fact that yes, most houses for sale today will probably still be for sale on the day after Thanksgiving. ;-)



But...





Any home seller who has had their home on the market for the past few months without it going contract...


Probably spent time on Thanksgiving reflecting on how thankful they would be if a buyer would show up for their house.


Would likely be delighted to receive an offer from you on the day after Thanksgiving.

Is certainly eyeing the calendar and realizing there are only four weeks until Christmas, which are likely be to slower weeks for house showings.

Might be willing to negotiate a bit (or more) on price since this is usually a slower time of year for houses going under contract.

Anyhow - if you're ready to buy a home, this Friday might be a great time to make an offer on a house that has been on the market for a bit and has not yet sold!





Happy Thanksgiving, friends! :-)






A few short years ago...

If you were buying your first home and only had a small (0%, 3.5%, 5%) down payment, a seller wouldn't be too concerned about your high LTV (loan to value) ratio and you would likely find success in buying your first home.

These days...

If you are buying your first home and only have a small down payment, a home seller is likely to turn down your offer in favor of an offer from a buyer with a larger down payment. After all, most homes that would appeal to first time buyers are receiving multiple offers these days.

A few short years ago...

If you didn't have a lot of cash to put into your home purchase, and you needed to ask the seller to contribute a few thousand dollars towards your closing costs, a seller would likely be agreeable. Or, worst case scenario, they'd want to increase the contract price by the amount of the credit that they were giving back to you.

These days...

If you are buying a home and asking for the seller to pay part of your closing costs, you are likely to be turned down by the seller. They are likely to elect to move forward with an offer from a buyer that does not need a closing cost credit. After all, they'll likely be choosing from several offers!

So, it's not that you can't buy a home with a small down payment or if you need a closing cost credit -- but it will be a lot harder to do so these days, largely because of other competing buyers who have a larger down payment and/or who do not need a closing cost credit.







What is a Home Warranty?

A home warranty one-year service agreement that covers the repair or replacement of many major home system components and appliances that typically break down over time due to normal wear and tear.




One company that many of my clients have used for a Home Warranty is

American Home Shield

. They offer several plan options:

Systems Plans (Heating, AC, Electrical, Plumbing, etc.)
Appliances Plan (just the appliances)
Combo Plan (both of the above)
Build Your Own Plan (just what you select)


If you're buying a brand new home, you likely don't need a Home Warranty.





If you're buying a home where the heat pump, appliances and water heater have just been replaced, you probably don't need a Home Warranty.




If you're buying anything else, you might want to consider a home warranty.




Check out pricing and coverage

here

.






Over the past month I have represented multiple buyers who have made offers on homes where they were competing against anywhere from three to seven other buyers. Given that our market is so high competitive in many locations and price ranges, buyers find themselves facing all sorts of difficulty questions...

How far above the list price am I willing to go to try to buy this house?

How disappointed will I be if I miss out on this house and what am I willing to do about it?

Should I make an offer without a home inspection contingency?

Should I make an offer without an appraisal contingency?

Should I write a touching, heartfelt cover letter to try to win over the seller?


The list could go on and on.




It's a tough time to be a buyer right now and just because you find a house that you like, and you want to buy, and that you are qualified to buy, and even if you have a lender letter, and even if you see the house on Day 1 and make an offer on Day 1 -- you still might not get the house. There might be someone else who is willing to pay more than you or take more risks than you are, or who has a larger down payment than you have.




So, be ready to act fast, and make a strong offer - and be ready to carefully calculate how high you are willing to go on price - but know that you still might not get the house despite your best efforts.






Yes, you read that correctly.





Over the past year...

The median sales price has increased by $23,000.

The associated monthly payment has increased by $3.

Oh, the magic and mystery of declining mortgage interest rates! :-)




Over the past year we have seen a rather rapid increase in home prices. The median sales price in Harrisonburg and Rockingham County one year ago was $217,000. Today, it is $240,000. This is an 11% increase in the median sales price over the course of 12 months which is a much faster than normal increase.




And yet, if a buyer finances 80% of the purchase price, their mortgage payment will only be $3 per month higher than it would have been a year ago.





Wait! What??




That's all thanks to ridiculously low mortgage interest rates!




One year ago the average mortgage interest rate was 3.78%. Today's average mortgage interest rate is 2.81% -- which is 26% lower than the rate from a year ago.




So, if you're surprised that a buyer today is willing and able to pay 11% more for a house than they were a year ago -- don't be! Most buyers are financing their home purchases, and thanks to today's low mortgage interest rates, they are still paying basically the same amount as a monthly payment now as they would have been a year ago.




Put slightly differently...




A year ago, Fred was working in a job that paid him $X per year, which allowed him to afford a mortgage payment of around $1,000 per month, which allowed him to purchase a median priced home of $217,000.




Today, Fred's cousin, Ted, is working in a job that pays him $X per year (the same amount as Fred), which allows him to afford a mortgage payment of around $1,000 per month, which allows him to purchase a median priced home of $240,000.




Pretty wild.




Now, if (when!) those mortgage interest rates start rising -- then the cost of housing will start to increase -- though that's what we generally expect it to do.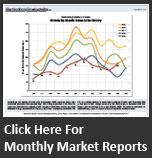 Subscribe

Receive notifications of new content on this blog, via e-mail or RSS reader.