Welcome! This blog tracks the real estate market in the Central Shenandoah Valley, featuring market data and analysis, an exploration of common buying and selling questions, and candid commentary on all things real estate.
If you are interested in discussing any of the topics on this blog, or the details of your specific real estate situation, call or e-mail me!
Building Lots
Using data provided by the City of Harrisonburg, the information below is what I am finding on vacant land in the City of Harrisonburg. Bear in mind that there is a bit more vacant land than referenced below, but I chose to exclude land owned by educational institutions, local government, religious organizations, state government.

Vacant Land In Harrisonburg:

918 Residential Parcels (750 acres)
135 Multi-Family Parcels (192 acres)
216 Industrial Parcels (484 acres)
183 Commercial Parcels (320 acres)
14 Large Parcels (88 acres)

This is a total of 1,466 large parcels totaling 1,833 acres.

The 1,466 vacant parcels account for 10% of the 15,075 total city parcels.
The 1,833 acres account for 19% of the 9,655 total city acres.


Here is a visual to show the amount of vacant land remaining in the City of Harrisonburg:
Rockingham County, Virginia (not including the City of Harrisonburg) is comprised of (approximately) 46,600 parcels of real estate. Some of these lots or tracts are very small, in towns such as Grottoes, Dayton or Elkton. Others are quite expansive and are in the far flung corners of the County. Below is a visual representation of the distribution of lot sizes of those 46,600 properties --- you might need to click on

this link

to view the full size document for easier reading.

Here's the summary:

20,108 parcels less than a half acre

6,889 parcels of 0.5 - 1 acre

9,801 parcels of 1 - 5 acres

5,513 parcels of 5 - 20 acres

2,355 parcels of 20 - 50 acres

1,933 parcels of 50+ acres

There is quite a bit more to break down from this data set, but here are a few interesting surface level observations:

Almost half (43%) of the parcels in Rockingham County are less than a half acre

79% of the parcels in Rockingham County are less than 5 acres

There are a lot (1,933) of large tracts of land (50+ acres) left in Rockingham County

And the most interesting facts I've gleaned from this data thus far revolve around the largest parcels in Rockingham County:

The largest parcel in Rockingham County is owned by the (and is the) U.S. National Forest, with a size of 140,001 acres.
The second largest tract is 37,980 acres, and owned by the U.S.Department of the Interior --- I'm guessing this is also National Park land...

These two largest parcels combined encompass one-third (33%) of the total acreage of Rockingham County.
The combined value of these two parcels (though I doubt they pay property taxes!?) is roughly $186 million!

As I expressed some time ago,

my hope for the 2009 Harrisonburg and Rockingham County real estate market

is that we would see the end of the ever-decreasing number of home sales in our market. We have seen (approximately) a 25% decrease in number of sales between 2006-2007, 2007-2008, and 2008-2009.

Lot sales, however are doing much worse!

In the first four months of this year (2009), In all of Harrisonburg and Rockingham County, there have only been 11 lot transfers of less than one acre.
Most homeowners, or those who hope to be homeowners in the future may not have paid too much attention to the news earlier this month that Harrisonburg water and sewer connection fees will be increasing. But maybe we all should have taken note . . .

The Change

Example #1: three-quarter-inch water meter --- in this example, the sum of the water and sewer connection fees will soon be $7,000, instead of the existing $2,000. This size would be typical for a single family residence.

Example #2: a six-inch water meter --- in this example, the sum of the water and sewer connection fees will soon be $300,000, instead of the existing $17,500. This size would be typical for a large commercial project.

Peruse the

current fee schedule here

, and the

new schedule here

(effective July 1, 2008).

The Effect

As

Todd Rhea

, of

Clark & Bradshaw

, commented at

last week's Smart Growth Symposium

, when builders or developers are faced with new fees, we're fooling ourselves if we think they absorb those costs. They ultimately get passed on to the buyer. With this logic, one could argue that city housing costs will increase universally by $5,000 come July.

Action Item

Builders and developers should note that the fees are charged at the time of obtaining the building permit --- so as long as a lot has a building permit prior to July 1, 2008, you can take advantage of the lower fee schedule. For a developer of a major residential or commercial project, this could equate to hundreds of thousands of dollars of savings.
I have heard some people talk about development as if in the next few years, or decades, all of Rockingham County will be developed --- with the farm land destroyed, and our history no longer preserved.

Below I'll try to put that thought in the context of actual land use, but for the record --- I don't think many at today's

Smart Growth Symposium

thought that the above statement is true. (Lest anyone conclude that I am referring to any of the attendees)

.

The data above is extracted from the

Rockingham County Comprehensive Plan

, particularly page 18 of the section on

Strategies, Policies and Actions

.

Here's the full list of how Rockingham County land is being used:

Agriculture - 248,000 acres (46%)
Forest - 50,000 acres (9%)
Commercial - 4,000 acres (0.7%)
Industrial - 1,400 acres (0.3%)
Single Family Residential - 44,000 acres (8.2%)
Multi-family or Duplex - 175 acres (<0.1%)
Mobile Home Park - 1,100 acres (0.2%)
Federal Government - 178,000 acres (33%)
State Government - 500 acres (0.1%)
Local Government - 1,700 acres (0.3%)
Regional Government - 130 acres (<0.1%)
Charitable/Religious/Education - 2,300 acres (0.4%)
Other - 7,000 acres (1.8%)

As you can see ---

much of Rockingham County will likely never be developed

(33% is owned by the government) --- and

we still have an extraordinary amount of undeveloped land.
Over the past several years, prices of lots in eastern Rockingham County, particularly in the

Peak View

school district have increased dramatically. However, in 2007, the average sales price dropped below the 2006 average sales price.

2003: $47,546 (81 sales)

2004: $55,354 (112 sales)

2005: $89,112 (98 sales)

2006: $118,075 (51 sales)

2007: $110,875 (35 sales)

As you can above, during this same time, demand for lots decreased rather significantly. This was compounded by the fact that the inventory of available lots increased during the same time --- there are currently 109 lots available in the Peak View school district, as follows: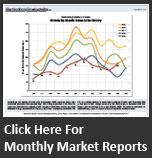 Subscribe

Receive notifications of new content on this blog, via e-mail or RSS reader.