Welcome! This blog tracks the real estate market in the Central Shenandoah Valley, featuring market data and analysis, an exploration of common buying and selling questions, and candid commentary on all things real estate.
If you are interested in discussing any of the topics on this blog, or the details of your specific real estate situation, call or e-mail me!



Q: Should we let a buyer look at your house before it is listed for sale?





A: Almost always, no... though it depends on your goals.




As you may have heard, there is a shortage of houses available for sale in many/most price ranges in Harrisonburg and Rockingham County.




This means that there will probably be a lot of buyer interest in your home when it is listed for sale. During the first few days that your house is listed for sale there are likely to be quite a few showings - many with buyers who have been searching for a home for months and have not been successful in buying a home because of fierce competition from other buyers.





Here's why this early rush of eager buyers is great for you as a seller...

Buyers will understand that they need to make a decision quickly.

Buyers will be motivated to make their best possible offer if there is the potential threat of other buyers also making offers.

Once the first offer comes in, many buyers will try to make their offers even stronger, possibly leading to offers over the asking price, or with escalation clauses.

Some buyers might try to make their offer stronger by waiving the inspection or limiting the impact of the appraisal contingency.

All of this happens, though, because your house is simultaneously available to all local buyers and thus they feel the pressure of competing buyer interest.




When a seller is preparing their home for sale, they will sometimes hear through a neighbor or co-worker that there is someone interested in their home that would like to come view it before it hits the market.




Should you allow for that? In most cases, probably not.




Letting a buyer (or buyers) view your home before it is officially on the market might result in that buyer making an offer before your house is on the market, thus not giving you the opportunity to see how much other interest existed.




One buyer making an offer without other buyers possibly coming in with their offers simultaneously almost always leads to offer terms that are not as favorable to you. Why would the only buyer to have seen your house (because it is not yet listed for sale) include an escalation clause in their offer? Why would they waive a home inspection? They wouldn't. It's the competition from other buyers that causes them to do so.




So, as exciting as it is to hear that someone is interested in your house even before it is listed for sale -- you are almost always going to sell your house with more favorable terms if you list it for sale and expose it to the broad pool of buyers currently in the market to buy.




The only exceptions I can think of would be...

You have a family member or close friend that might want to buy the house, and you'd be OK selling it to them at a lower price than you would have otherwise obtained because of that relationship.

You are really dreading showings, and are OK with leaving money on the table with a likely lower sales price to avoid the barrage of showings during the first few days on the market.

So -- if you're getting ready to sell, and you hear from a buyer that they are interested in viewing the house before you list it for sale -- considering telling them "sorry, but no..." and letting them know the date that you anticipate that it will be hitting the market.





Recent Articles: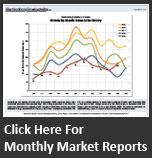 Subscribe

Receive notifications of new content on this blog, via e-mail or RSS reader.