Welcome! This blog tracks the real estate market in the Central Shenandoah Valley, featuring market data and analysis, an exploration of common buying and selling questions, and candid commentary on all things real estate.
If you are interested in discussing any of the topics on this blog, or the details of your specific real estate situation, call or e-mail me!



It's time for your annual (semi-annual?) physical with your doc -- and as you review your recent health concerns with your doctor you share that you have been having some severe pain in one of your toes and one of your toenails doesn't look so great. You're not sure -- and it turns out your doctor is not sure -- if it is a drastically in-grown toenail, a fungus, an infection, or something more.





Your doctor refers you to a specialist (a podiatrist) for further evaluation to see if everything is OK and what recommendations (if any) they might have.




At this point, do you...

Set up an appointment with a podiatrist to learn more.

Set up an appointment with a podiatrist, but ALSO start researching (and budgeting for) a toe prosthesis, assuming that you probably need to cut off your toe and get a new one.

Skip the appointment with the podiatrist and set up an appointment to have your toe surgically removed, and a prosthesis attached. (Is a toe prosthesis even a thing? I will resist the temptation to google that.)

I'm going to assume most of us are going to go with the first route -- we aren't going to start hyperventilating about our possible toe removal or foot amputation -- we're going to calmly schedule an appointment with a specialist to learn more, recognizing that our general doc just simply didn't have the expert information with which to fully evaluate whether there was an issue at all and if so how much of an issue it was.




So -- can't we start thinking about our heat pump (and our roof, and our deck, and our foundation walls) like toenails?




If you're buying a house, and the home inspector recommends that you have your heat pump (or roof, or deck, or foundation walls) evaluated further by a specialist...




It is NOT my recommendation that you...

Skip the consultation with the expert and just ask the seller to completely replace the _____.

Skip the consultation with the expert and decide not to purchase the house.

Negotiate a bit further on price, buy the house, and completely replace the _____.

Instead -- consult the expert! See if the _____ is really in bad shape and needs to be replaced, or if, perhaps, everything is fine (or a minor repair is needed) but that the home inspector just didn't have enough specialized expertise to come to that conclusion on their own.




Again -- if you get a "hmmm -- I'm not sure about the condition of _____ -- you should consult a specialist" as a part of your home inspection, it is not necessarily an indication that all is lost. Don't cut off your toe! Schedule the follow up appointment with the specialist and keep gather information with which to make a reasonable, objective, educated decision about your potential home purchase.





Recent Articles: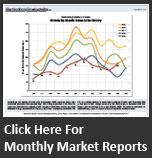 Subscribe

Receive notifications of new content on this blog, via e-mail or RSS reader.