Welcome! This blog tracks the real estate market in the Central Shenandoah Valley, featuring market data and analysis, an exploration of common buying and selling questions, and candid commentary on all things real estate.
If you are interested in discussing any of the topics on this blog, or the details of your specific real estate situation, call or e-mail me!
Emily and I went to see

Paddington

yesterday - quite a fun movie. Mr. Brown wisely calls his hazard insurance company to make sure that his policy will provide coverage for any damage caused by his overnight guest, Paddington. It is not entirely clear whether he is successful in adding "talking-bear-as-an-overnight-guest" coverage to his policy before Paddington sleds down the spiral staircase in the bathtub. :)

So, if Paddington is staying at your house overnight, please call your insurance company first - and then call me - Emily and I would like to stop by to say hello.

While you're waiting for Paddington to arrive (perhaps eating a marmalade sandwich?) here are some answers to a few common questions about homeowners insurance (hazard insurance)....

My lender's Good Faith Estimate includes a price for hazard insurance - will I be obtaining insurance from my mortgage company?


No. The Good Faith Estimate includes all of the closing costs related to your home purchase. Some of those fees are paid to your mortgage company, but many are not. You will be able to decide which insurance company you want to work with for your homeowners insurance policy.

Why do I have to pay for an entire year of homeowners insurance at closing when I purchase my home?

Insurance companies require that your homeowners insurance premiums be paid a year at a time, in full, in advance of that year of coverage. Thus, one of your closing costs will be to pay for a full year of homeowners insurance coverage.

OK, but then, why does my Good Faith Estimate indicate I'm paying for another three months of insurance even beyond the first year's premium??

About 10 or 11 months after you purchase your home, your mortgage company will need to send a full year's payment of your homeowners insurance premiums to your insurance company to pay (in full, in advance) for the second year of homeowners insurance coverage for your house. Since your mortgage company will be collecting 1/12th of the annual cost of insurance from you each month as a part of your mortgage payment, they also need to fund your escrow account with a few months of the insurance costs at closing so that they will have enough funds to pay for a full year of insurance after 10 or 11 months when that payment comes dues.

What happens to all of this money I'm paying in advance when I sell my house?

The escrow account that your lender sets up for you will always have quite a bit of your money in it - to allow your lender to pay the insurance premiums and property taxes on your behalf. When you sell your house, any excess funds remaining in your escrow account will be returned to you after closing.

Why does my lender escrow funds for taxes and insurance, anyhow?

Your lender has a vested interest in making sure you are paying your property taxes and homeowners insurance -- they often are on the hook for 50%, 70%, 80%, 90% or even more of your home value. As such, they require you to pay 1/12th of the insurance and property tax costs to them (the lender) each month so that they can ensure that the payments are made to your locality (taxes) and your insurance company.


Recent Articles: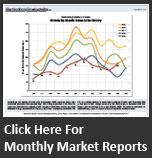 Subscribe

Receive notifications of new content on this blog, via e-mail or RSS reader.