Welcome! This blog tracks the real estate market in the Central Shenandoah Valley, featuring market data and analysis, an exploration of common buying and selling questions, and candid commentary on all things real estate.
If you are interested in discussing any of the topics on this blog, or the details of your specific real estate situation, call or e-mail me!
Put Focus On Price, Condition, Marketing In Coming Months

There have been many signs of recovery in our local housingmarket over the past year --- an increasing sales pace, lower inventory levels,and stable home values.

Even with thisnewfound stability (and growth) in the market, when selling your home it is essentialto focus on the price, condition and marketing.

Homeowners who have prepared their home well (condition), marketed itthoroughly, and priced it competitively will find success in selling theirhomes in the coming months.

It is more important than ever to price your home well ifyou want to find success in selling your home in the near term. The first thing to consider when pricing yourhome is the price at which other comparable homes have sold in the past 6-12months. Sometimes this process is moreof an art than a science depending on how many closely similar homes we canfind that have recently sold. Aftercoming to some idea of a value of your home based on sold data, it is thenimportant to put that potential home value in the context of how currentlistings are priced. Once having theperspective of both sold data and active listings, it is important to priceyour property at, just above, or just below market value depending on yourmotivation to sell.

You must walk through your home from the perspective of abuyer to identify improvements and adjustments to make prior to putting yourhouse on the market. If the entirety of your house presents itselfas a well-built, well-maintained home, but the family room carpet is old andworn out --- you need to replace that carpet to make its condition consistentwith the remainder of what you are offering to a buyer. If there are countless distractions such aspersonal items, wall hangings, etc., that will cause a buyer to leave the housetalking about those items instead of your house, then you need to remove orchange those aspects of your home so that a buyer will focus on the space andhow it could be their own. And perhapsthe most important part of preparing the physical condition of your home formarket, you should take time to make sure your home presents itself as well aspossible from the perspective of a buyer driving by or stopping at the curb totake a property brochure.

When it comes to marketing we must once again get inside themind of the buyer when – where and how will they be searching for their nexthome? Research indicates that they arevery likely to start their search online but that they will also drive throughthe neighborhoods and areas where they would like to live. Some of the fundamental building blocks ofmarketing your property include high quality photographs that well documentyour home and the space that it offers, a color property brochure in brochurebox next to the yard sign and broad exposure on local and national real estateweb sites. There are many additionalmarketing strategies that we can employ, but we must start by covering thesebases, and then expanding the marketing based on the nature of your particularproperty.

When selling your home in the current market, it's not allabout price, nor just about marketing, and certainly not just about thecondition of your house. We must examineall three of these factors together when forming a strategy for successfully sellingyour house.

As published in the Shenandoah Valley Business Journal, June 2013

Recent Articles: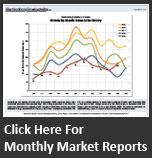 Subscribe

Receive notifications of new content on this blog, via e-mail or RSS reader.