Welcome! This blog tracks the real estate market in the Central Shenandoah Valley, featuring market data and analysis, an exploration of common buying and selling questions, and candid commentary on all things real estate.
If you are interested in discussing any of the topics on this blog, or the details of your specific real estate situation, call or e-mail me!
Archive for May 2012
The chart above is calculated based on comparing this year's median sales price to the median sales price in each of the prior eleven years.

Several key points to take away from this chart....

For many, many home owners, this chart may have very little pertinence to the value of your home. These calculations are based on median sales prices, and your home (and/or neighborhood) may have performed VERY differently during any of these time periods.


If you bought your house between 2005 and 2008, it's a tough time to try to sell. (Hopefully, that's not news to anyone.)


Home values are still declining (year-over-year), so despite today's buyers getting great deals on their houses, they still need to plan to be in them for at least five years to be sure to see gains in their home value.


If you bought in 2004 or prior, you should do just fine if you are selling today.


But again, the most important point is that while this might provide a general guide to what has happened with home values over the last decade (+), every home and neighborhood is unique. Let's chat about your specific house if you want to know what it is worth in today's market.
I have had five transactions thus far this year where this dynamic seems to be at play....

The diagrams above are not showing the new reality for all lenders --- it is just a reflection of my experience with many lenders recently.

For whatever reason, (many) lenders (on many transactions) seem to be waiting to order an appraisal until they have completely finalized the approval of the borrower.

This is problematic for several reasons:

Sure, if a borrower can't be approved the deal won't close, but if the appraisal is not satisfactory, the deal also won't close. Why, then, must we wait so long to order the appraisal?
Sometimes the final approval of the borrower can drag on (and on and on) --- which delays (and delays and delays) the ordering of and completion of the appraisal.


If you're buying a house, make sure your lender orders your appraisal as soon as you have made loan application --- especially since the fee that you pay at application is at least partially for the appraisal.


If you're selling a house, don't assume that the appraisal has been ordered as soon as the buyer makes loan application. Follow up and make sure that the appraisal is ordered ASAP.

If any lenders can explain why this is happening, or provide any good reasons for it happening this way, I'm all ears.



OK, admittedly, I don't have any data readily available to back this one up -- but in almost all cases, it seems that a quick 6% price reduction (for example) will work better than two 3% price reductions over time.

For example, the quick six.....

House is listed for $300K on January 1
House is reduced to to $280K on March 1 (roughly 6%)

As compared to....


House is listed for $300K on January 1
House is reduced to $290K on March 1 (roughly 3%)

House is reduced to $280K on May 1 (roughly 3%)


Unless you think you have a great chance of selling the house after just one of the 3% price reductions, it's almost always better to make a faster, larger price reduction. This price change is more noticeable to buyers and more quickly gets you to a what will hopefully be a realistic selling point.

As a further example, I have seen sellers who have knocked off $5K every other month for an entire year. Oh, how I wish they had just knocked off $30K that first month. Each of the progressive $5K reductions had very little impact -- but a quick $30K reduction would have been much more news-worthy and may have inspired a buyer to act.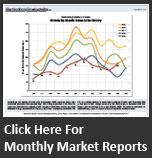 Subscribe

Receive notifications of new content on this blog, via e-mail or RSS reader.