Welcome! This blog tracks the real estate market in the Central Shenandoah Valley, featuring market data and analysis, an exploration of common buying and selling questions, and candid commentary on all things real estate.
If you are interested in discussing any of the topics on this blog, or the details of your specific real estate situation, call or e-mail me!
As I pointed out a few days ago, if you bought a townhouse a few years ago, you might be in a position where you can't sell it -- and thus end up

being an accidental landlord

.

But there may be some unintended very positive consequences for keeping that townhouse. Let's examine what might happen if you kept your townhouse for the remainder of the term of your mortgage.

In the illustration above, let's imagine you bought your townhouse for $160K in January 2005 and financed 100% of the purchase price. You stay in the townhouse for seven years, and then move out of the area for a new job. Faced with a tough townhouse sales market, you feel forced to keep the townhouse. What happens next.....

You rent the townhouse for $850/month, and are losing about $123/month (comparing your mortgage payment to your rental income) for the first year.
Your rental income keeps (very gradually) increasing such that ten years into renting the property you are finally breaking even when comparing the mortgage payment to the rental income.
But here's the fantastic news --- over the full 30 years of owning the townhouse you have payed your mortgage company $350,280 in total mortgage payments --- but only $79,380 of that money came from you, as your tenants paid the rest.

Now, admittedly there are a few details omitted here, some of which can create further monthly expenses for you as a landlord:

While your principal and interest won't increase over the life of the loan, your taxes will increase slightly over time, as will your insurance premium. If taxes and insurance increase 1% per year, you'll have

$7K of extra expense

over 30 years.

You will have some maintenance costs during the course of your ownership of the property.

Let's guess $15K of extra expense.



You could have some vacancy between tenants. If you have one empty month every other year, that's

$11K of extra expense

.

You might feel the need to hire a property management company to take care of the property for you. If you hire a property manager for half of the time that you own the property, that's

$14K of extra expense

.


Despite the $47K of extra expenses above, there are also some fantastic upsides to this accidental ownership of an investment property:

The $149K of interest that you (and your tenants) paid during the life of the loan is tax deductible, thus $149K of your income has been sheltered, which (with in a 25% tax bracket) provides

$37K of extra income

.
Eventually, property values will start increasing again. If your property increases an average of 1% per year since the time that you became a landlord for the property, the appreciation would add up to

$39K of extra income

.

So, let's try to sum all of this up, remembering that the first seven years of mortgage payments don't need to count as an expense, since you had use of the townhouse as a residence during that time.

As you can see, after investing $0.00 on Day 1, you end up having a cumulative $230,352 benefit after 30 years.

Wow! So, can this make you a bit more optimistic about being (or feeling) forced to keep your townhouse?

Recent Articles: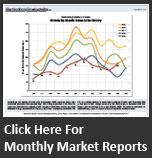 Subscribe

Receive notifications of new content on this blog, via e-mail or RSS reader.