Welcome! This blog tracks the real estate market in the Central Shenandoah Valley, featuring market data and analysis, an exploration of common buying and selling questions, and candid commentary on all things real estate.
If you are interested in discussing any of the topics on this blog, or the details of your specific real estate situation, call or e-mail me!
Here's how it started, or so they tell me....

In some other city or town in Virginia, a relocating buyer swept into town looking to buy a house. He found a great house, discovered that it had only been on the market for a few weeks, and made a offer on the house relatively close to asking price given the short length of time on the market. After moving in, he was talking to a neighbor, and commented on how glad he was that he was able to secure the house even though it was such a new listing. The neighbor laughed, saying "What are you talking about? They had been trying to sell that house for three years!"

How was it possible there? Was it happening here?

The buyer's confusion, it seems, was based on the "Days on Market' field in the local MLS. The information that the buyer reviewed showed a very low number for "Days on Market" and he understood that to mean (as most people would) that it was a very recent listing. But in that area (and yes, in Harrisonburg and Rockingham County -- until recently) this "Days on Market' field could be conveniently reset by re-listing a property with a new company.

Indeed, even around here, if a seller became worried about buyers' perceptions of an ever increasing "Days of Market' value, that seller could list their home with a new real estate company, and start over at ZERO!

But now, things have changed around here....

Our local association of Realtors (HRAR) MLS changed in the past two weeks, introducing a new "Cumulative Days on Market" field. This field will now track the total length of time that a property has been on the market, even if it is listed by multiple companies. Thus, if Brokerage A has a property listed for 300 days, and after the listing agreement expires, the property owner hires Brokerage B, the "Days on Market" slate will no longer be wiped completely clean. "Days on Market" will indeed return to ZERO, showing the length of time on the market with the new listing broker, but "Cumulative Days on Market" will continue to increase, to 301, 302, etc.

Does "Cumulative Days on Market" EVER reset??

If a property has been off the market (not listed) for 120 days (4 months), then both the "Days on Market" and "Cumulative Days on Market" will reset to ZERO when the property is re-listed.

How does this affect buyers, or sellers?

As a buyer, it will now be easier than ever for your Realtor to quickly discover how long a seller has truly been attempting to sell their home. As a seller, it will no longer be able to present your home as a NEW LISTING all over again just by switching real estate companies.

So, good or bad?

I'm glad the change has been made --- it makes it more difficult for a seller to be deceptive (which is reasonable) and it makes it easier for a buyer to have a clearer understanding of the status of the property.

But what do you think?

Recent Articles: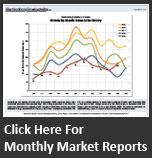 Subscribe

Receive notifications of new content on this blog, via e-mail or RSS reader.