Welcome! This blog tracks the real estate market in the Central Shenandoah Valley, featuring market data and analysis, an exploration of common buying and selling questions, and candid commentary on all things real estate.
If you are interested in discussing any of the topics on this blog, or the details of your specific real estate situation, call or e-mail me!
Some reports indicate that Americans lost over

$1,000,000,000,000

(one trillion dollars) in home values in the last three months of 2009. When looking at the sum of the last several years, the figures are even more staggering – declining home values across the United States have resulted in trillions of dollars of losses for American homeowners. Yet during this same time period,

homes values in Harrisonburg and Rockingham County have only been marginally affected

. In fact, it wasn't until 2009 that this area saw any significant decline in median sales price, and then it was only a 5% decline. So why and how, in this time of rapidly declining home values, have homes in the central Shenandoah Valley held their value?

First, while Harrisonburg and Rockingham County did see a sharp increase in home prices (51% increase in median home value between 2003 and 2006), our

median sales price

started out quite low ($127,700 in 2003) and only increased to $192,983 in 2006. Median sales prices in many other metropolitan areas increased to much higher levels leading to borrowers stretching pursuing riskier mortgages for their purchases.

In such areas with significant increases in home values, many homeowners took on

risky mortgage programs

such as variable rate mortgages, interest only mortgages, or mortgages with a teaser rate. Those with 30-year fixed rate mortgages knew what to expect of their housing payment and likely were able to continue to pay their mortgages after buying several years ago, but those with these higher risk mortgages often had trouble keeping up with their mortgages and were foreclosed upon. Variable rate mortgages have been somewhat problematic, but not to a great degree because interest rates have remained relatively low for the last several years. Interest only mortgages have proven to be quite dangerous, because the homeowners has not been paying down any principal on their mortgage, and thus does not build up an equity in their home absent any appreciation in the market. Mortgages with teaser rates provided for a very low rate (1%, 2%) for a short time period in order to qualify a home purchaser. These teaser rate mortgages would then reset to a much higher rate after several years, then putting the homeowner in financial duress, unable to make their mortgage programs

Since home values didn't go too drastically in this area, home buyers did not (in large number) feel pressured to obtain risky mortgages with variable or escalating future housing payments. As a result, we have seen a

very low number of foreclosures

in the central Shenandoah Valley. I have heard, anecdotally that earlier in 2009 over half of the homes on the market in the Winchester area were "bank owned" homes --- homes that had been foreclosed upon. This high, high number of foreclosures lead to rapid decreases in home values, as banks quickly reduced the prices at which they would sell their inventory in order to get these homes off their books. Thus while high foreclosure rates in other metropolitan areas lead to declining home values, the very low foreclosure rate in Harrisonburg and Rockingham County has lead to relatively stable home values.

The Harrisonburg and Rockingham County market has also been greatly protected by its

diverse and stable local economy

. We have not seen significant losses of jobs over the past five years, which could have put large numbers of homeowners in a position where they had to sell their homes rapidly because they were unemployed, or because they were moving to another area to find work. Our economy includes jobs from many sectors, and is largely supported by the colleges in universities in our midst. It also helps that we have always had very

low unemployment rates

as compared to most every other metropolitan area in the country.

Since 2005, the pace of home sales has declined drastically, with only 813 home sales in 2009 compared to 1,669 home sales in 2005. The law of supply and demand would suggest that such a large reduction in demand (a 51% decrease) would certainly lead to a drastic decrease in home values. Yet, in the same time frame (2005-2009), the median home price has shown a net increase from $169,900 to $186,300 (a 10% increase). While we have seen a 5% decrease in home values between 2008 and 2009, our local housing market continues to be amazingly resilient, without any significant shift in home values.

While we can't point one particular factor that has protected home values in the central Shenandoah Valley, it is highly related to the relatively slow and small increase in home values, the conservative mortgage programs used by home buyers, our low foreclosure rate, and our stable local economy.

Recent Articles: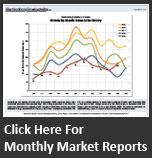 Subscribe

Receive notifications of new content on this blog, via e-mail or RSS reader.