Welcome! This blog tracks the real estate market in the Central Shenandoah Valley, featuring market data and analysis, an exploration of common buying and selling questions, and candid commentary on all things real estate.
If you are interested in discussing any of the topics on this blog, or the details of your specific real estate situation, call or e-mail me!
This won't actually cover absolutely everything you need to know, but I believe it will give you a good overview. These questions were posed by a reporter from the Shenandoah Valley Business Journal, and my responses (below) were in print a month or so ago. If you missed the newsprint version, keep reading...

1. Is real estate still a good investment? What should investors know about this market?

Real estate is still a good investment over the mid to long term time horizon. The days, however, of buying an investment property and selling it for a profit one year later are likely gone for good.

Our local market experienced record price increases between 2003 and 2006 --- which brought a lot of new investors into our market. The perfect storm included a combination of low prices as compared to rental rates, low interest rates on investment loans, and lenders willing to finance 95% - 100% of an investment loan. In 2003 a brand new two story townhouse would sell for $100k and rent for $750/month. Three years later, in 2006, the same townhouse would sell for $160k and rent for $900/month. The 60% increase in value was accompanied by just a 29% increase in rental income. As becomes evident, the investment opportunities are not as exciting now as they were in 2003.

2. What's the difference between residential and commercial investing? Is one better than the other?

A "residential investment property" is typically a single family home, townhouse or condo that will be rented to a tenant with the rental income being used to pay the monthly mortgage payment. A loan on a residential investment property will often be amortized and paid off over 30 years, similar to loan on a home being purchased as a residence. A "commercial investment property" might be a duplex building, a small or large apartment building or complex an office space, a shopping center, a farm, undeveloped land, or factory space. A loan on a commercial investment property may be amortized over 20 (or possibly 30) years, but it often will have a balloon payment after 3, 5 or 7 years --- requiring the borrower to pay off the loan or refinance it.

Commercial investing is much more complex, with many factors to analyze to understand the value of any given investment opportunity. Residential investing is a much more straight forward analysis with fewer variables. Given this basic difference, those considering investing in real estate for the first time should like start with residential investing to familiarize themselves with the concept before considering the purchase of a commercial property.

3. What should potential investors look for in an investment property?

Most investors start by examining cash flow --- how much cash the property will generate each month compared to the expenses that must be paid. The expenses may include: a loan payment, taxes, insurance, repairs, association dues, management expenses, utilities, advertising and supplies. Just a few years ago, positive cash flow (more income than expenses) could be achieved with 80% of even 90% financing. Today, there are many available investment properties that barely (if at all) provide positive cash flow when financed at 80%. This change is a result of property values increasing more rapidly than rental rates.

After understanding the cash flow of a property, an investor should also analyze their potential one-time maintenance costs upon purchasing, or within the first few years. If a property has wonderful cash flow, but needs new flooring, paint, appliances, windows and a roof, then it is not as exciting of an opportunity as it may have first appeared. Additionally, an investor should examine other investment properties in the same neighborhood or area to evaluate whether property values and rental rates are stable, increasing, or decreasing.

There are a variety of other aspects of an investment property that should be evaluated as well, including the tax consequences of buying and the potential benefit from principal reduction, tax savings and appreciation.

4. How long should investors plan to commit to their property?

There are a limited number of opportunities for flipping a property in our current market. There are still, occasionally, properties that can be purchased, fixed up, and re-sold for a profit. Most investment properties, however, will need to be held/owned by the investor for at least 4 to 5 years. Residential properties in Harrisonburg and Rockingham County increased in value by an average of 15% per year between 2003 and 2006. In contrast, they decreased in value by an average of 0.67% per year between 2006 and 2009. An investor could have bought and sold in a 1 year time horizon in 2003, 2004 or 2005, but since then the time horizon would need to be much longer.

While an investor won't necessarily see quick gains in appreciation if they buy an investment property now, they will have the potential for lots of negotiating room on price depending on the property being considered. That opportunity to buy below the value of other comparable properties, combined with record low interest rates, makes it a valid time for an investor to consider a purchase.

5. What tax and legal issues should investors consider before making their purchase?

Consult a tax accountant and an attorney! Some of the issues that deserve consideration include: increased tax liability based on investment property income, the short and long term impact of reported property depreciation, methods for limiting legal liability, the best type of ownership structure for investment properties (personally owned, LLC, corporation, etc)

6. How does the Valley compare to the rest of the state/country in terms of investment potential?

The Shenandoah Valley has not seen dramatic drops in property values that have occurred in other parts of the state and country. As a result, we may not have as many great investment opportunities in the short term, but the investor is also likely more protected from value drops in the long term. Our real estate market, and local economy have proven to be much more stable than other economies, which provides value to the investor because of a lower likelihood of losing tenants, or having difficulty leasing a property.

7. There are lots of programs designed to help first-time home buyers enter the market. Are there any incentives for investors?

The government has created many incentives for first-time buyers, but there are very few incentives for investors. Investors, in fact, were a large part of the turmoil seen in real estate markets across the country. In many larger markets, investors were speculating on new construction --- signing contracts to buy 10 or more condos or other residential properties, and then selling them by the time the construction was complete to the eventual end user for 20% (plus) more than their contract price. Large scale investor speculation on new construction led to higher prices than would have been experienced otherwise, as well as a false sense of demand that led to some of the overbuilding in those markets

8. What are the best resources for potential investors?

There are many concepts, calculations, measures and benefits that an investor must understand as they are considering an investment property purchase. Perhaps the most important is to understand the nature of and changes in the local real estate market -- for this, I recommend that investors review the market reports on

HarrisonburgHousingToday.com

. Investors interested in foreclosures can either review the printed "Trustee Sale" notices in the Daily News Record, or browse recent foreclosure notices on

HarrisonburgForeclosures.com

. Perhaps the most important is finding a Realtor who can assist you in evaluating individual investment properties, and comparing several investment opportunities side by side.

Recent Articles: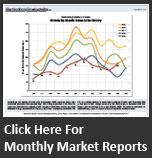 Subscribe

Receive notifications of new content on this blog, via e-mail or RSS reader.