Welcome! This blog tracks the real estate market in the Central Shenandoah Valley, featuring market data and analysis, an exploration of common buying and selling questions, and candid commentary on all things real estate.
If you are interested in discussing any of the topics on this blog, or the details of your specific real estate situation, call or e-mail me!
Nope!

What follows is an astute comment from Bob after my

recent post on home inspections

....

Scott, sometimes the impression is left (by the agents in some cases, but more likely just by the sellers hearing anecdotes) that the seller is somehow obligated to repair any deficiencies found by the home inspector. My mother was told she would HAVE to repair this, that, or the other thing, as if it were some kind of law that the house you sell has to be in "like new" condition. If the agent who is representing the seller lets someone put language in the contract obligating the seller to anything other than another potential round of negotiations after the inspection, then they have failed their fiduciary responsibility to their client. Likewise, they should be educating their clients that the contract is not completed until the buyer has the information to make a wise decision about the purchase, and when the amendments come in for the seller to fix stuff, they have a powerful, one-word tool they can use to protect themselves. The word "no".


Bob is, indeed, correct -- the standard home inspection contingencies used in this area (I can't speak for other areas) do not place any obligations on the seller to make any repairs.

A buyer makes a decision to buy a home based on the information available to them at the time that they make the offer. They then will often conduct a home inspection to learn more about the condition of the property. If they discover material defects, they can (reasonably) ask the seller to address those detects --- BUT --- the seller does not have to agree!

Now, of course, if there are some major issues revealed during the home inspection, and the buyer requests that the seller address them, and the seller uses Bob's powerful one-word tool of saying "no" -- then the buyer, of course, can decide not to proceed with the purchase. But the point here is that nothing in the home inspection process requires a seller to make any repairs.
Low, low, super low!

I talk with some regularity about how low inventory levels are right now This is not just a seasonal thing. Inventory levels don't get this low every year at this time and then rise again in the Spring and Summer.

In fact, as shown above, for the past there years at this time there have always been between 539 and 550 homes for sale -- that is a pretty consistent track record. This year, however, there are only 405 homes for sale -- marking a 25% decline in the number of homes for sale.

it gets worse by price range, by the way. There are 44% fewer homes on the market in the "under $200K" price range right now as compared to a year ago.
Will you print your next home? I suppose it might depend on where you live and how large of a house you decide to buy or build.

A Russian company constructed (printed) a 409 SF home in December 2016 in a 24 hour timeframe, apparently at a cost of only around $10K.

The home was built with a mobile 3D printer which started by printing the walls and then was removed to allow manual workers to come in to finish the home.

Read more

here

or watch a video

here

.
The spring market is coming -- and it is coming fast! New listings are start to pile onto the market, and we are likely to see contracts and closings accumulating as well.

If you are going to participate in the Spring market as a buyer or seller, here are some quick tips of items you should be considering....

SELLERS....

1. Have you finished preparing and staging your home to sell?

2. Are you familiar with the market context for your home so that you are ready to price your home well for the current market?

3. Have we talked about the best timing for getting your house on the market?

BUYERS....

1. Have you talked to a lender so that you are pre-approved and ready to make an offer?

2. Have you started viewing properties to build a context for market value?

3. Are you signed up for

new listing alerts

to be the first to know about new listings for sale?
Despite increases in the pace of sales over the past five (!!) years, we have not seen increases in the median sales price of these properties over the past two years. In fact, the median sales prices of townhouses (and duplexes and condos) actually declined by 1% in 2016.

So -- what might 2017 have in store for us? So far, it seems that we might see an overall increase in the median sales price, but it is still early in the year.

Stay tuned, and until then, feel free to peruse my full market report by clicking on the image below.

The beautiful home on the cover of my market report is 135 York Place - check it out here!

Yes, yes, I know. Within mere hours of sending this market report that mentions are area's unseasonably warm temperatures of late -- it will be snowing -- but I am not going to believe it is really happening until I see the snowflakes myself.

If it does snow, feel free to take a break from clearing the driveway to sit by the fire, drinking hot cocoa, reading my full monthly market report.

Now, on with the news of our local housing market....

As you'd guess from the header image above, I have published my monthly market report, which you can

download as a PDF

, or

read online

. For the abridged version of the most important things for you to know, read on....

First -- for those that would rather hear me talk about this -- tune in to my monthly video overview of our local housing market....

Next, some basic stats that we keep up with on a monthly basis....

OK -- a few things to note here, based on the data table above....

First, so far, it is looking like one of my 2017 predictions might be wildly incorrect. I have had some concerns about whether there would be enough housing inventory to support the same sales levels as we experienced last year. So far, it has not been a problem. Even though there are now 25% fewer homes on the market as compared to a year ago, we have actually seen a net gain (small as it may be) of two more sales (137) in the first two months of 2017 as compared to (135) last year.

Also referencing the data table above, when looking at the rolling 12-month median sales price, we are still seeing a 3-ish percent increase in median sales price as compared to a year ago. Finally, homes have been selling 9% faster in the past 12 months as compared to the previous 12 months.

Looking at the graph above, you might note the extraordinarily high home sales seen last year in the months of March through June, as well August and September. The mystery this year is whether our local housing market can stay on pace with that aggressive pace of home sales. So far, so good! This January and February both barely edged out the same month last year -- so we are seeing a year-to-date increase in the number of homes sold in this local market.

Next, looking at the graph above we note that February 2017 saw 87 buyers signing contracts to buy homes -- as compared to only 84 last February. This small jump is reassuring after having seen a decline from 74 contracts to 67 contracts when comparing the past to months of January. All-in-all, the annual increase in contract activity (from 1156 to 1327) make sense in the light of the 15% increase in the pace of home sales that we have seem over the past year.

So -- how about those inventory levels? We have seen a 25% year-over-year decline in our market's overall inventory levels. Buyers today only have 402 homes to choose from as compared to 539 a year ago -- though that masks the super-limited choices buyers ACTUALLY have once they introduce their overlays of price, location, size, age, etc. All that said, we are finally starting to see the normal, seasonal increases in listing inventory we'd expect to see at this time of year. Inventory has climbed from 368 homes to 402 homes over the past month.

OK -- I'm going to pause there for now and go try to find my snow boots. I'll look further at trends in our local housing market in coming days on my

blog

. Until then, feel free to read my

full online market report

, or download the

PDF

, or

click here

to sign up to receive my real estate blog by email.

And -- as is always my encouragement -- if you will be buying or selling a home in the near future, start learning about our local housing market sooner rather than later! Being informed will allow you to make better real estate decisions.


Here are two handy references to prepare yourself to buy or sell a home....


scott@HarrisonburgHousingToday.com

.
Sometimes a seller is stating this as soon as they list a property:

All inspections are for informational purposes only.



But sometimes a seller will introduce this amidst negotiations. This can certainly trigger some warning signals for a buyer......but should it?

Here are the top three

innocent reasons

why a seller would want a home inspection to be for informational purposes only....

They are done negotiating on price and want it to be very clear that they are not going to negotiate further on price based on whatever you might discover during your home inspection.


The house is old, and the seller doesn't want to deal with repairs requests that are mainly related to the fact that the house is old.


The house is unfamiliar to the seller, perhaps because it has been a rental property, and thus the seller hasn't been making small needed maintenance upgrades over time that only an owner occupant would now about --- and thus the seller doesn't want you to nitpick over those details through the inspection process.

So, as you can see, it's not all bad if a seller wants an inspection to be for informational purposes only --- though I would still suggest (in such a situation) that you reserve the right to reconsider the purchase on the basis of the home inspection, just in case a big issue is discovered.
As I sit in Greenberry's working way on my laptop, conversations are floating through the air around me. Curiously, one is between two folks who are talking about the real estate business -- with one individual having recently considered becoming a Realtor. One curious snippet (it's hard not to eavesdrop sometimes) was related to being a full time agent versus a part time agent. This individual commented that it is hard for it to be a profitable endeavor, and thus even worthwhile to do, if you are being a Realtor on a part time basis.

I would agree with this assessment, and I always encourage potential Realtors to consider whether they can do so on a full time basis. This greater amount of commitment and dedication can make them more successful in the short and long term.

Anyhow -- if you (like this gentleman in Greenberry's) are wondering whether you out to become a Realtor, let me know if you'd like to get together to discuss the topic.

I love my career, and would be happy to chat with you about what it is like to work as a Realtor in this area. Coffee (at Greenberry's or otherwise) is on me -- just email me at

scott@HarrisonburgHousingToday.com

.

PS. If you don't conclude that real estate is the career for you, it might be worthwhile chatting with

Kyle

at

CPL Coaching

for further career guidance.
Are you a Twitter user? If so, you can keep up with new residential real estate listings in the Harrisonburg and Rockingham County area by following

@NewListHburg

.

So, yes, per many of your requests, there are now LOTS of ways to keep track of new listings in this area....

1.

NewListingsInHarrisonburg.com

- this is a mobile friendly website, and you can add a shortcut to your home screen on your phone.

2.

New Listings by Email

- every time there is a new listing, you'll get an alert by email.

3.

New Listings via RSS

- for those RSS feed readers among you.

4.

New Listings via Twitter

- tweet, tweet.

I expect this to be a fast moving Spring and Summer real estate market -- so now (with the options above) there is no excuse for not keeping up with new listings for sale if you are in the market to buy this year.

If you have further recommendations (carrier pigeon?) for ways to keep up with new listings, just let me know.
Would it surprise you if I told you

an architect

thinks you should build a custom designed home? Probably not. Sorry, Charles. :)

In discussion with Charles (ok, virtual discussion, on Facebook) Charles Hendricks, an

architect in Harrisonburg

, raised the following perspective....

You will pay more per square foot for a custom home. However, if you design a home with only the square footage you need, right sized room, and limited hallways you reduce the premium. If you add energy-efficiency into the equation you further reduce the difference. If you add in maintenance of systems you further reduce the difference. I argue, as you might expect, the best value is custom design.

So, yes, I admit -- I agree with Charles, and here's the basic concept....

House 1

- a 4000 SF home for $550K. Some rooms that you might not end up using much or using well. Some rooms that are too large. Some rooms that are too large. You paid $137.50 / square foot.

House 2

- a 3400 SF home for $550K. Every room and space in the home is one that you need and will use well. No rooms are too small. No rooms are too large. You paid $161.76 / square foot.

So, yes, with House #2, you are getting less "value" in the conventional sense of the price that you paid per square foot of home that you purchased. But many would quickly understand that House #2 might actually have much more value in that it would (nearly?) perfectly fit your life, lifestyle and needs.

An interesting perspective

Charles

, thanks!
Most buyers looking to spend over $400K (or certainly those looking over $500K) will also be considering building a new home.

Typically, the tension between buying vs building is one of:

1. Goals

2. Money

3. Timing

If you build, you can get the house you want, but you'll pay more for it and it will take a lot of time and attention.

1. Goals = Win

2. Money = Lose

3. Timing = Lose

If you buy an existing home, you won't get exactly what you want, but you will pay less for the house and the process will not be a drain on your time.

1. Goals = Lose

2. Money = Win

3. Timing = Win

Don't let my oversimplification of this issue fool you -- this is something that buyers can get stuck debating for months, or even years, often while looking at resale homes to try to convince themselves to buy instead building.

If you are stuck in this quagmire, I'd be happy to meet with you to talk through some of the pros and cons and try to help you come to a decision you'll be pleased with in the short and long term.
image source

According to Wikipedia, a

stick-built

structure is "one constructed entirely or largely on-site," as opposed to a

modular home

that is "divided into multiple modules or sections which are manufactured in a remote facility and then delivered to their intended site of use."

My experience in chatting with buyers over the past 14 years has been that

there are mixed opinions on modular homes

. For example, some would suggest that . . .

stick-built homes are more structurally sound, as they are built on the piece of land where they will permanently reside --- and fit themselves, structurally, to the contour of the land as they are built


modular homes are more structurally sound, as they are built in a controlled environment, without being exposed to precipitation, wind, etc. during the construction process


modular homes allow for a faster construction schedule


stick-built homes allow for greater design flexibility


However,

an equalizing factor

that is important to remember is that there are both high quality, and low quality stick builders and modular home manufacturers.

Overall, my experience indicates that modular homes sell at slightly lower prices as compared to stick built homes -- and some of that is solely as a result of some buyers being hesitant to purchase a modular home.
Do you read the news via an RSS feed? You can now keep track of new listings in Harrisonburg and Rockingham County via an RSS feed.

Check out (and subscribe to) the RSS feed

here

.

And a bit of background on RSS, from

WhatIsRSS.com

....

What is RSS?


RSS (Rich Site Summary) is a format for delivering regularly changing web content. Many news-related sites, weblogs and other online publishers syndicate their content as an RSS Feed to whoever wants it.

Why RSS?

RSS solves a problem for people who regularly use the web. It allows you to easily stay informed by retrieving the latest content from the sites you are interested in. You save time by not needing to visit each site individually.
The chart above is calculated based on comparing the 2016 median sales price to the median sales price in each of the prior 15 years.

Several key points to take away from this chart....

For many, many home owners, this chart may have very little pertinence to the value of your home. These calculations are based on median sales prices, and your home (and/or neighborhood) may have performed VERY differently during any of these time periods.


If you bought your house between 2006 and 2010, while your home might be worth less now (especially if it is a townhouse), you have (hopefully) paid down your mortgage to the point that you could likely still sell without bringing money to closing.


If you bought in 2006 or prior, or in 2011 or after, you should (almost certainly) do just fine if you are selling today.


But again, the most important point is that while this might provide a general guide to what has happened with home values over the last decade (+), every home and neighborhood is unique. Let's chat about your specific house if you want to know what it is worth in today's market.



Home staging is the act of preparing your home for sale by making it appealing to the highest number of potential buyers, thereby selling a property more swiftly and for more money.

According to the National Association of Realtors Profile of Home Buyers and Sellers, over 81% of buyers find it "easier to visualize the property as their future home" when it is staged.

If we decide your home would benefit from the assistance of a staging consultant before being listed for sale, I will arrange to have Melanie Woodard set up a time to meet with you at your home. She will provide prepare you with a full staging report with a variety of recommendations for improving the staging of your home.

Find out more about the full process of selling your home by visiting....

SellingAHomeInHarrisonburg.com



Home sales have increased 15% over the past year -- while at the same time, inventory levels have dropped 31%. This has left me with at least some lingering concerns about whether extraordinarily low inventory levels could limit the pace of home sales in 2017.

So far, my concerns are unfounded. As shown above, when examining January 1 through February 24 home sales, there has not been a noticeable change in the pace of home sales.

Stay tuned to see how these dynamics continue to adjust as we progress through the year.
How do home inspection negotiations usually proceed? The short (and vague) answer is -- well, it depends on the terms of your contract. But, overall, here is how the inspection process typically flows....

As you can see above, after a buyer requests repairs (based on the home inspection) the seller can choose to make some, all or none of the requested repairs. The transaction (and negotiations) can then go in a few different directions based on that response.

Learn more about the home buying process at....
While every home sale is different -- with unique contingencies based on the needs and situations of the buyer and seller -- there are three main hurdles that most buyers and the houses they are purchasing must clear to make it to closing.

So -- where is your contract in this process? Have you cleared 1, 2 or 3 of the hurdles, thus far? There will be plenty of other details to attend to, but these are the three main areas of focus. Evaluating the property condition, the property value, and the buyer's finances....

INSPECTION

- This is an evaluation, by a home inspector, of the condition of the house. Clearing this hurdle typically involves requesting that the seller make some repairs to the house (or negotiate further on price) based on new information about the property condition discovered during the inspection process.

APPRAISAL

- This is an evaluation, by an appraiser hired by the purchaser's lender, of the value of the house. If the property appraises for the contract price (or higher), all is well -- otherwise, the buyer and seller may need to renegotiate the contract price based on the appraised value.

LOAN APPROVAL

- This is an evaluation, by a lender (and their underwriters) of the purchaser's financial situation. The lender must confirm that the buyer has the income to support the mortgage payment required for purchasing the home.

Again - there are many other smaller hurdles (for example, a termite inspection) and larger hurdles (for example, a home sale contingency) that may need to be cleared in your purchase (or sale) of a home -- but these three main hurdles (inspection, appraisal, loan approval) are the three main mileposts during the contract-to-closing process that we'll be focused during the transaction.
OK -- admittedly, it doesn't feel like winter out this week, or in may recent weeks, however, I'll still take this time to note that many of my savvy investor clients wait for these winter/winter-ish months to acquire additional rental properties. Their reasons are pretty logical....

In the Spring/Summer/Fall they have to compete with more owner occupant purchasers.

In the Winter, many sellers are less hopeful about the likelihood of finding a buyer, and often are more flexible on price.

Of note -- this advice is most applicable to townhouse properties that might be purchased by investors or owner occupants. This does not necessarily apply to multi-family properties or student housing properties.

If you are looking for some advice on how to get started with real estate investing, check out HarrisonburgInvestmentProperties.com.



As you'd expect, newer homes sell at a higher price per square foot.

As shown above, the Median Price Per Square Foot of single family homes varies based on the age of the home.

New homes are selling at a median of $142/SF -- having risen 9% over the past four years.

Non-new homes built since 1970 are selling at a median of $118/SF -- having risen 11% over the past four years.

Homes built prior to 1970 are selling at a median of $103/SF -- having risen 11% over the past four years.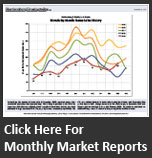 Subscribe

Receive notifications of new content on this blog, via e-mail or RSS reader.