Welcome! This blog tracks the real estate market in the Central Shenandoah Valley, featuring market data and analysis, an exploration of common buying and selling questions, and candid commentary on all things real estate.
If you are interested in discussing any of the topics on this blog, or the details of your specific real estate situation, call or e-mail me!
No new news here -- I've been saying it for some time -- fewer and fewer options exist for buying a home in our city/county for less than $200K, and even under $300K. But this visualization (

click here for a larger version

) was inspired by a comment from Brad - thanks Brad!

We know that

housing inventory, overall, is at a 10+ year low right now

, but Brad observed that not all price ranges are created equal. As (somewhat clearly) shown above, the $300K - $400K and $400K+ price ranges have maintained a relatively stable/healthy supply over the past ten years -- and the under $200K and $200K-$300K price ranges have been the most significant declines.
Looking at home sales in the past year we find that....

9% of home buyers purchased for less than $100K
Half (51%) of home buyers purchased for less than $200K
83% of buyers purchased for less than $300K
94% of buyers purchased for less than $400K

As such, yes, only 6% of our local market is comprised of home sales over $400K.

Also, though not labeled on the graph -- 98% of home sales were under $500K. So, if you're intending to sell a home for over $500K, bear in mind that you're aiming for only 2% of the local market.

And, here's all of the data for those who are interested....



Today, there are 364 homes for sale in Harrisonburg and Rockingham County. I have been tracking this data for almost 10 years now and there has never (NEVER) been a time when we have had this few homes for sale.

Wow!
Mortgage interest rates are still below 4% -- after having spent November 2016 through May 2017 between 4% and 4.5%. Today's buyers are enjoying the opportunity to lock in their monthly housing costs at historically low rates.

And -- let's look a bit further back -- at the past three years....

As you can see, above, mortgage interest rates have fluctuated between 3.5% (+/-) and 4.25% (+/-) over the past three years.

If you were prequalified for a loan nine months ago (when rates were at 4.3%) you might want to request some updated potential payment scenarios from your lender with the current mortgage rates.
Of interest -- two new types of building lots have hit the market in the past week or so....

PRESTON LAKE


Previously, if you wanted to build at Preston Lake -- you had to work directly with the developer/builder, using one of their sets of floor plans, and having them build the home for you. Now, it appears you can purchase a building lot and bring your own builder.

The lots that are now listed for sale are between 0.4 and 0.5 acres and are priced between $145K and $175K.

Explore these building lots at Preston Lake

here

.

CROSSROADS FARM


The (new-ish) developer at Crossroads Farm has just recently listed some new "cottage lots" at Crossroads Farm, that are somewhat small -- only 0.2 acres. As marketed, these "smaller footprint lots offer less yard maintenance without sacrificing the elegance of Crossroads Farm."

These lots are priced between $70K and $90K.

Explore these building lots at Crossroads Farm

here

.
Stretching back a few weeks, Nolan Stout at the Daily News Record, wrote

an informative article

about short term rentals in this area.

Bottom line -- and to answer a question many of my clients have asked me in recent years....

"The rentals, considered short-term rentals, are unregulated in Rockingham and illegal in Harrisonburg in residential zoning districts. That could change, however, as city and county officials consider taxing the property owners and creating zoning regulations to address neighbors' concerns."


So, again....

Short Term Rentals (such as via AirBNB) are illegal in the Harrisonburg


Short Term Rentals are currently unregulated in Rockingham County

A few other interesting snippets from the article....

"Airbnb press secretary Crystal Davis said 8,200 Virginia properties, including 110 in Harrisonburg, hosted at least one guest in the past year. She didn't have information for the county."

"Rentals were listed Wednesday in all but one Rockingham County town. Dozens of properties were available at Massanutten Resort. Many of the rentals were near the city, but some rentals were available in sparsely populated areas like Bergton, Criders, Fulks Run, Hinton, Rawley Springs and Ottobine."

"County Administrator Stephen King said two related regulations are under consideration. The first would create a definition in the zoning ordinance for short-term rentals and dictate where and how they are allowed. The ordinance would address complaints about noise, traffic, building and fire code."


"Adam Fletcher, director of planning and community development, and city spokeswoman Mary-Hope Vass said Harrisonburg is considering allowing the businesses by special-use permit and imposing the transient occupancy tax."

Read the entire article here.



Short Answer = I don't think so.

Several buyers who I have been chatting with lately have expressed dismay at the low inventory levels, which results in very few options for them to consider in their home search. The question inevitably comes up as to whether inventory levels are likely to improve next year.

The graph above shows that at inventory levels have been consistently declining over the past four years as measured by how many homes are on the market at the start of the main buying season, which I'm defining as April in the graph above.

So -- after seeing a 24% decline in inventory levels between April 2016 and April 2017 -- are we likely to see inventory levels start increasing again in 2018? Again, I don't think so, and here's why....

To reverse this trends of declining inventory we would need one or more of the following to happen in our local market....

A decline in buyer interest / activity -- which only seems to be happening (slightly) because of lower inventory levels.

A decrease in the rate of people moving to this area. Seems unlikely -- we're one of the fastest growing areas in Virginia.

An increase in the rate of people moving out of this area. Seems unlikely -- it's pretty nice here, unemployment is low, quality of life is high, etc.

More new homes being built. This is not currently happening at a very rapid pace in and around Harrisonburg.

Sellers selling who don't have to buy. This could be older homeowners who are moving into a retirement community, or people selling to then build themselves a home on their own land, etc.

Again -- none of the changes above seem likely to happen at a scale that would allow inventory levels to see much, if any, of an increase next year. As such, I am expecting we'll see relatively similar inventory levels next Spring and Summer.


Sorry to be the bearer of bad news -- as always, just trying to give folks realistic expectations for the future.

I had an interesting conversation with a real estate investor who is considering the purchase of a rental property (or properties) in the City of Harrisonburg, and they asked whether Harrisonburg was a good market in which to buy such a property -- or, put differently, is now a good time to buy a rental property in Harrisonburg.

After some discussion, and further processing since then, I think I'm sticking with my original "yes and no" answer....

Yes -- it is a great time to buy a rental property in Harrisonburg:

We have a strong and growing economy with low unemployment, so prospective tenants are likely to be able to keep jobs and keep paying the rent.


Well maintained rental properties seem to be in short supply and are renting quickly.


We are seeing slow and steady growth in home values which doesn't shown signs of stopping -- meaning your rental property is likely to continue to increase in value.

If property values keep increasing over the next few years, as most expect that they will, there is not some "better time" than now that will be coming up in the near future.


No -- it is not a great time to buy a rental property in Harrisonburg:

Inventory levels are low, resulting in a seller's market -- meaning you won't be buying a rental property at a discount -- and you may be competing with quite a few intended owner occupants when you are making an offer.

Home values are not currently depressed with a likely quick increase in those values in the next few years. Thus, it is very difficult to buy "below market" and have any "instant equity" in the immediate or near-term future.

There are a variety of other factors that could be put on one of the lists above -- but at the end of the day, it is not a clear or obvious decision to buy or not to buy. Some of the factors that should likely weigh in as you think about this decision are:

How long do you plan to own the rental property?

What are your investment goals? (cash flow now vs. value later for example)

Are you willing to invest in another market if you could find one where the opportunities seemed to be better than in Harrisonburg?

Below, then, also are a variety of resources that might be helpful to you as you think about this decision and as you consider specific rental properties....



Homeowners are staying in their homes longer than ever before, according to date from the National Association of Realtors (NAR). The median number of years that a hmeowner has lived in their home is up to 10 years in 2017, which matched 2016 and 2014 as the highest level seen since NAR started tracking the data in 1985.

It would seem that low inventory levels, plus a lower than normal pace of new home construction, are causing many homeowners to stay and renovate their homes, rather than try to sell their home and buy a new home.

Sometimes this works, and sometimes it doesn't. It is certainly harder to stay in a townhouse and renovate it to allow it to work for your family for longer into the future -- and much more possible to do so with a detached home.

I expect we will continue to see this trend locally (more people staying put, more people renovating) until and unless we start to see more new homes being built.
Last week I spent some time

discussing

the market need that I perceive for mid sized detached homes in or near the City of Harrisonburg. I went further, to suggest that these might be 1750 - 2150 SF homes for less than $300K.

Thinking further about it over the weekend, I think it is important to note that there are actually SOME homes being built that meet these criteria. Below are the three homes that sold with these specs thus far in 2017....

1240 Cottage Lane

(just outside Harrisonburg)




3 BR / 2.5 BA / 2336 SF / $275,230

246 Dylan Circle

(Bridgewater)




4 BR / 2.5 BA / 1818 SF / $247,000



[no photo available]

395 Acme Company Street (Broadway)
3 BR / 2.5 BA / 2257 SF / $277,000

And if we relax the criteria a bit, down to 1600 SF, we pick up a few more....



365 Coyote Run (Broadway)
3 BR / 2 BA / 1600 SF / $$222,500



2587 Calico Drive (Broadway)
3 BR / 2.5 BA / 1639 SF / 5 Acres / $249,100



190 Grouse Drive (Massanutten)
3 BR / 2 BA / 1700 SF / $287,500

So, clearly, none in Harrisonburg proper, and most quite a ways from Harrisonburg -- and most importantly, VERY FEW homes at all that are being built and sold in this price range (under $300K) with these specs (1600+ or 1750+ SF).

Switching, then, to what is currently available -- we find three options under $300K with 1750+ SF for buyers currently in the market....



265 Dylan Circle (Bridgewater)
4 BR / 2.5 BA / 1808 SF / $246,900



4150 Tanners Court (just outside Harrisonburg)
3 BR / 2 BA / 1830 SF / $279,900



1250 Cottage Lane (just outside Harrisonburg)
4 BR / 2.5 BA / 2266 SF / $299,400

So, indeed, extremely limited options for new homes under $300K with 1750+ square feet in or near Harrisonburg. This brings me back to my same conclusions as I mentioned last week, and I'll mention again here....


There would seem to be many buyers who would be interested in mid sized single family homes.


Mid sized single family homes are not (in any significant number) being built.


Because of land, development and building costs, It may not be possible to build mid sized single family homes at prices that would appeal to the buyers who want the homes.


Our market presents a unique opportunity to a land owner / developer / builder (be that one, two or three different people) who can figure out to bring this type of product to market at a price that will work for the buyers who want the homes.

I'll move on to new topics now, but I'll be curious to see if we see any new builders in the area in 2018 -- or current builders building new products in 2018 -- to meet this market demand.


OK -- lots of great thoughts from folks over on Facebook yesterday, and in person as I talked to people around town yesterday, after I suggested that

our market needs lots of mid size detached homes to be built

.

I'm going to think aloud about all of that by capturing a bit of that conversation here....

---

WHAT TYPES OF HOUSES?

I had suggested that homes along these lines were needed for current townhouse owners that want to buy their first detached home....

1750 SF, 3 bedrooms, 2.5 bathrooms, one-car garage
1950 SF, 3 bedrooms, bonus room, 2.5 bathrooms, one-car garage
2150 SF, 4 bedrooms, 2.5 bathrooms, two-car garage

These types of homes have not been built in large quantity over the past ten years, and I believe there are plenty of buyers who would love to buy this type/size of home.


---

COSTS ARE HIGH BEFORE THE ACTUAL CONSTRUCTION

As Jim, Jerry and Keith pointed out, It is expensive (!!!) to create a developed lot. The cost of building roads, installing water an sewer lines, utility hook up fees, etc. all add up to make the costs quite high even before construction (pouring the foundation, framing the home) begins.

And as Nate points out -- if the land cannot be purchased by a builder at an affordable price, the rest of the equation downstream won't work out. High costs for land, plus development costs, plus building costs, will result in unrealistically high prices for homes, that then won't be affordable (or desirable at that price point) to buyers.

Nate then ponders whether larger, regional builders can do better than local builders in this regard based on economies of scale. I'm not sure if the savings would be in buying a larger tract of land, lower development (infrastructure costs), or lower building costs -- but I wonder the same.


Gary and Renee also point out that some of these "costs before you even start building" are high because of utility connection fees, requirements for stormwater management, proffers, etc., that are coming from government regulations and development requirements.

Ginny points out that the final cost of a house is largely dependent on the initial land and development costs. Thus, to have smaller single family homes built, we may need to see smaller lots, to keep those initial costs down.

---

DEMAND NEEDS TO DISCUSSED WITHIN THE CONTEXT OF PRICE

As Jim succinctly puts it, "If I want something I can't afford then it isn't really demand." An excellent point -- which means that we need to think about (and talk about) the demand for the homes I outlined above (for example) within the context of the price for bringing such a home to market.

If the houses I described (1750 / 1950 / 2150 square feet) were able to be sold for $150K, $175K and $200K (obviously not realistic) then clearly, there would be a ridiculously high demand for them.

I believe that if the houses I described could be sold for $250K, $275K and $300K there would still be a strong demand for them.


But, clearly, if the homes could not be sold for any less than (I'm exaggerating again) $400K, $425K and $450K then likely NOBODY would want want to buy them.

So, yes, when we talk about demand for a particular type of housing, it likely should be -- as best as possible -- set within a context of price. That price-based demand can then be compared to development and building costs to see if developer and builders can bring such a product to market at a price that it will sell.

---

WHAT SHOULD WE BE ADDING TO OUR HOUSING STOCK?


As Jim also points out, the high demand and low supply environment we're in right now COULD cause a large quantity of under-qualified builders to start building homes. This doesn't help, in the long-term, as it is adding lower quality homes to our housing stock, which I do not believe helps our community in the long-term.

Jim goes on to suggest that we should be ensuring that we are adding quality homes to our housing stock. I agree -- though I do think that we need to find a balance. If the quality of materials and finishes is too high, we're pricing ourselves out of the ability to meet the demand we're discussing.


Michael takes us in a different direction when considering what should be built. He points out that even beyond building for all of those townhouse buyers (the original reason for my suggestion that we need to build mid sized detached homes) that he believes there is also a significant demand for affordable housing for the elderly in our community. He points out that retirement communities are not affordable for everyone, and plenty of older adults in our community would love to move into an affordable, (one-level), wheelchair accessible home. Again -- another market segment where we are not seeing much new construction.


---

WHAT ARE PEOPLE GOING TO DO IF WE DON'T BUILD THESE HOMES?

Ginny suggests that homeownership may be delayed for some families. A good point -- if the homes they want aren't available at the prices they can afford, perhaps they'll keep renting or keep living in the townhome they purchased.

Ginny also suggests that we'll see more remodeling or upgrading of current homes to accommodate growing families, which also makes sense.

Keith suggests that people will just have to move to some of the more affordable towns surrounding Harrisonburg. There are more affordable detached housing options when you look to Broadway, Timberville, Elkton and Grottoes. So, perhaps the townhome owners will just have to settle for a bit of a commute in order to buy a mid sized detached home that fits their budget.

Jim suggests that maybe higher costs for new homes means that it will take much longer for families to be able to buy a home -- and perhaps they will have to stay in one home for a lifetime, instead of moving every 5 - 7 years.


Gary concludes that many in our community may simply have to rent, or keep living in a townhouse, because of the cost of building new homes.


---

CONCLUSIONS


There were many other great points made, and discussions beginning, so thanks to all who engaged in this topic. A few big picture thoughts that come to mind for me....

There would seem to be many buyers who would be interested in mid sized single family homes.

Mid sized single family homes are not (in any significant number) being built.

Because of land, development and building costs, It may not be possible to build mid sized single family homes at prices that would appeal to the buyers who want the homes.

Our market presents a unique opportunity to a land owner / developer / builder (be that one, two or three different people) who can figure out to bring this type of product to market at a price that will work for the buyers who want the homes.


Keep the conversations going, folks, on Facebook, with me, with each other. As Jim points out, "we're going to have to do housing differently than it has been built in the past 30 years if we are going to provide sustainable, affordable housing."




Between 2000 and 2012, three centrally located townhouse developments were built in Harrisonburg:

Some of these townhomes were purchased by investors. Some were purchased by folks who have since sold and left the area. Some were purchased by folks who have since sold and bought a new, larger home, in or near Harrisonburg

But I believe a lot of the original (or second) owners of these 614 townhouses are now looking around Harrisonburg wondering where they will, where they can go next.

I believe our market desperately needs mid sized detached homes to be built, as these many townhouse owners are now older, often have started a family, and are looking for more space -- but can't jump up to buying a $350K to $400K home.

What might these mid sized detached homes look like? Perhaps....


1750 SF, 3 bedrooms, 2.5 bathrooms, one-car garage


1950 SF, 3 bedrooms, bonus room, 2.5 bathrooms, one-car garage

2150 SF, 4 bedrooms, 2.5 bathrooms, two-car garage

So -- who is going to build them? And where can the be built? In many conversations I have had lately, one of the main challenges is finding land that can be purchased at a price that will allow for the development and construction of this type of housing without making them $350K homes.




download a larger version of this photo here

Just driving by, you might not realize the extent of the mass grading that is currently underway on the corner of Stone Spring Road and Spotswood Trail. The photo above should put it into perspective. This is a LOT of land that is being leveled and prepared for development.

But for what, you might ask?

A good chunk of it will be used for apartments, it seems -- and the balance for future commercial development.

Below is my understanding of the intended use of the space....

download a larger version of this photo here

My understanding of this intended usage of this land is based on the Preston Lake master plan as shown below, updated as of December 2016....

The area that is currently being graded will include the area shown below surrounded by a dashed line. This will include 168 apartments in 12 buildings, as well as a clubhouse and pool.

Part of the land being graded in the aerial photo at the top of this post is intended to be used for future commercial development.

So, who owns all of this land?

The "Continued Residential Development" area is still owned by the developer that is developing and building homes at Preston Lake -- MLK Preston Lake LLC.

The land being developed for apartments was sold by the Preston Lake developer (MLK Preston Lake LLC) to an entity called "Mid Town Square LLC" for $2,500,000 back on December 27, 2016.

The balance of the land for future commercial development is owned by "TMC Harrisonburg LLC" -- which I believe is the same or similar ownership as the Preston Lake development company.

As it pertains to the 168 apartments....


This article

in the Daily News Record back in February 2017 traced the ownership of Mid Town Square LLC to William Park of Charlottesville....

"State Corporation Commission records list William Park of Charlottesville as the registered agent for Mid Town Square. Park is co-owner of Park Properties Management and president of Pinnacle Construction & Development Corp., which builds the apartments."


The article

went further to identify other complexes in this region that are owned and managed by Park's companies....

"Park's companies are behind two complexes in the area.

Park Properties Management owns and operates the Colonnade Apartments, 66 rent-assisted units on North Mason Street in Harrisonburg, as well as The Landings at Weyers Cave, the complex sandwiched between Interstate 81 and U.S. 11 just north of Va. 256.

The company also offers a high-end product. Windigrove Apartments in Waynesboro has been open for years, and The Lofts at Jubal Square are under construction in Winchester."


Digging even further into my archives, I am finding that in

the original packet for the proposed approval of the updated Preston Lake master plan

(now approved) the engineer for the Preston Lake developer indicated that the apartment buildings are intended to be 2-stories in height. There are also quite a few additional details in that

development packet

as it pertains to proffers made by the developer when this updated master plan was approved.
If you like keeping up with everything happening in our local real estate market, I have just launched a new website that I think you'll enjoy.

You can now visit

JustSoldInHarrisonburg.com

to keep track of every home being sold (via the MLS) in Harrisonburg and Rockingham County!

Now you can quickly scroll through the most recent home sales in Harrisonburg and Rockingham County, viewing all sorts of interesting details, such as:

the sales price and date
the timeline of the sale
statistical analysis of the home sale
other recent neighborhood sales
other home sales at a similar price point


AND -- you can sign up to receive an email alert every time a home sells in Harrisonburg and Rockingham County.

Click here to sign up for these email alerts

.

AND -- if you're looking for a specific home sale, or for home sales on a particular street, or for home sales in a particular neighborhood -- you can search on this new website....

AND -- you can add the website to the home screen of your phone if you'd like, for quick and easy access....

So -- check out this new website,

JustSoldInHarrisonburg.com

,

sign up for the email alerts

if you'd like, and let me know how I can make this website even more helpful for you as you seek to better understand our local real estate market.
OK, this one is going to be a bit of obscure of an issue (hopefully!!) than yesterday's review of

why you should upgrade many of your flexible plumbing lines to be braided stainless steel lines

.

But some food (ha) for thought for you related to the gas grill you may have sitting just behind your house.

Wouldn't it be great if you didn't have to run out from time to time to purchase a replacement propane tank to sit underneath your grill? My experience has always been that I run out of propane in that small tank just when I'm ready to start grilling.

So, it would seem fantastic, then, if your grill was hooked up to the much larger propane tank that your home also uses for heating, your gas water heater, your gas stove, etc. That way, the propane company that regularly comes to re-fill that large propane tank for you will be effectively ensuring that you always have propane for your gas grill. How convenient! :)

But wait --

Could there be a downside to having your gas grill connected to such a large supply of propane? I'm going to say yes -- from my own personal experience -- thanks to a squirrel.

A few months ago, I came home after a week away, and when I walked out onto my back porch I was greeted by an overwhelming odor!?!

I eventually figured out that it was propane.

I eventually figured out that it was coming from the gas grill.

I eventually figured out that it was actually coming from the gas line running to the gas grill.

I eventually figured out that a squirrel had chewed through that line while I was out of town, and that propane had been leaking (billowing??) into my back yard for at least a few days.

Thankfully, there weren't any explosions as a result of this squirrel's devious behavior -- but it caused me to (quickly!) reconsider whether I appreciated the convenience of having the gas grill hooked up to a large in ground propane tank. I concluded that the convenience of not having to go out and purchase a new small propane tank every so often was not worth the risk of having the exposed gas line running to the grill damaged, and having lots of propane leaking out of an enormous propane tank.

That conclusion was significantly reinforced when the propane company next came to fill my in ground propane tank. I sort of wondered if they were surprised by how much propane I had used in the middle of the summer.

I have yet to track down the squirrel to send him or her the bill for the propane....
Isn't it delightful to be able to walk over to your modern refrigerator and fill your glass with sparkling, cold water, or freshly cubed ice?

But wait -- do you know of the danger that might be lurking behind your refrigerator?!?

Any refrigerator with an ice maker or water dispenser has (clearly) a water line running to the refrigerator, and it may be in your best interest to carefully roll that refrigerator out to take a look at that water line.

Many refrigerators will have a clear plastic line run to them -- which is certainly the most affordable, and flexible solution to use when running water line to a refrigerator -- but it is also the most dangerous. If you ask your co-workers, neighbors or friends if they have ever had a water leak at their home, a split line running to a refrigerator is likely to be a common experience.

What, then, are you to do? Abandon that convenient source of fresh drinking water? Say it is not so!

No, in fact, you do not have to give up this modern convenience, but you should consider replacing that plastic water line to the ice maker with a

braided stainless steel line

.

It is very difficult (unlikely) for a braided stainless steel line to leak -- and it is also not going to be accidentally split, cracked, punctured based on being moved around, or having temperature changes in the area where it runs.

So -- to avoid a multi-month, inconvenient renovation to your home -- take the time, and make the minimal investment in upgrading the water line to your refrigerator!
One of my clients made an insightful comment recently, which was to point out that....

On home inspection repairs -- sellers usually have a short term fix mentality -- while buyers usually have a long term fix mentality.

And, successfully negotiating agreed upon repairs after a home inspection can be a smoother process if we reflect on the difference in those perspectives.

Inspector

: Several roof shingles are missing, and the roof is past its life expectancy.

Seller

: Replace the shingles.

Buyer

: Replace the roof.

Inspector

: The air handler coils are dirty and the heat pump is reeaaallly old.

Seller

: Clean and service the heat pump and air handler.

Buyer

: Replace them both!

These are a few extreme examples to start to show the differences in perspectives on repairs. Again, the important thing here is to recognize that a buyer and seller look at home inspection reports differently. A seller typically wants to minimize their repair costs while keeping the home sale on track. A buyer wants to make sure that any previously unknown property condition issues are addressed in a manner that is likely to prevent further near term maintenance needs in those areas. Both perspectives are reasonable, most of the time, depending on how it plays out related to specific deficiencies of a home.

So, what is a buyer to do? A few thoughts....

Consider asking for a credit in lieu of repairs so that you can be in charge of how the repairs are made.

If you are asking for repairs to be completed by the seller, be very specific about how you want them to be completed.

Understand that it is not always reasonable to ask a seller to make a repair with a 10 year future in mind.

Be willing to compromise with the seller to find a way to move forward on the home that you are, presumably, still excited to buy!



If only we could have seen this coming. :-) Just kidding -- we have seen it coming. Knowing it was coming, though, didn't seem to inspire any actions to change the trajectory.

As shown above, inventory levels have been steadily dropping in the City of Harrisonburg over the past five years -- or perhaps even longer -- I only have a record of the past five years.

There have now been fewer than 100 homes for sale in the City of Harrisonburg for most of the past six months.

How is this cured?

Fewer buyers wanting to buy -- which does not seem likely now or in the near future.

Construction of new homes. There are some being built -- but not many. Most new construction in the City is student housing.

Homeowners selling in the City, and buying in the County. This is a net increase of one additional home that can be sold/purchased in the City.

Homeowners selling in the City and leaving the area. I suppose this happens from time to time, but not frequently.

Homeowners selling in the City and not buying a new home.


There is no easy way to turn this trend around -- and to have more options for City home buyers -- and until this does change, it can be quite challenging for buyers to find a home they want to purchase in the City.



I have spent many a fun filled weekend in this cabin located just under an hour south of Harrisonburg off of Route 42, in Craigsville, VA -- and now you have the opportunity to form your cherished family memories on this amazing property.




This

mountaintop retreat

features a recently built two bedroom cabin with a finished loft on 46 wooded acres with a trail through the property to a canyon and river, both also on the property! Enjoy hunting, fishing, hiking, bird watching, and much more in a peaceful setting within an hour of Harrisonburg and Charlottesville. This custom built cabin features a great room with vaulted ceiling, two bedrooms, a full bathroom, a large loft area, a covered porch, and features hardwood floors and beautiful wood trim and finishes throughout the home. Enjoy fishing in Little Calf Pasture River on the lower section of the 46 acre tract, accessible by hiking down the property, or by driving in on an access maintained by the home owners association.




Can you spot the cabin in the photo above? It is toward the top of the wooded area shown above. This 46 acre parcel is mostly wooded, and not all of it is shown in the photo above.

Fishing anyone? This river runs along the bottom of the property, and is accessible via a trail down from the cabin, or along a separate road that runs along the bottom of this property. A short walk from this river, you'll find a beautiful rock face forming a canyon wall of sorts.

Can you picture the fun times had in this cabin featuring two bedrooms, a full bathroom plus an upper level loft?

You'll find plenty of space for relaxing on the covered front porch of this cabin, complete with swing.

Find out more about this amazing property at

CraigsvilleRetreat.com

.
The pace of home sales is down 5% this year as compared to last year.

But here's an interesting perspective offered up by one of my clients....

Who cares if home sales are slowing down!?


As he points out -- the number of homes selling each month might be of more interest to the Realtor profession than the buying and selling public.

What an interesting point!


He then goes on to call out several data points that are much more important to him, and that he suspects (I agree) are more important to homeowners:

Are prices going up or down?


Are inventory levels high or low? Low is better -- for everyone except those who want to buy a home.

Are foreclosures high or low and going up or down?

Indeed -- these three indicates are great benchmarks for the health of our local real estate market, and ultimately, he's right -- if prices are going up, inventory levels are low, and foreclosures are infrequent -- it doesn't matter quite so much whether home sales are slightly slower this year than last.

So, chew on that for a bit. Home sales being higher than the previous year (at any given point) is not a necessary ingredient for a healthy real estate market.

Read more about our local (slower-than-last-year) real estate market in my most recent monthly market report by clicking on the cover of the report below....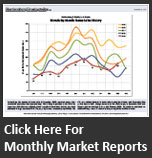 Subscribe

Receive notifications of new content on this blog, via e-mail or RSS reader.