Welcome! This blog tracks the real estate market in the Central Shenandoah Valley, featuring market data and analysis, an exploration of common buying and selling questions, and candid commentary on all things real estate.
If you are interested in discussing any of the topics on this blog, or the details of your specific real estate situation, call or e-mail me!
click the image above for a larger version of this photo

Construction is moving right along on Bluestone Elementary, being built on Garbers Church Road across from Harrisonburg High School.

Excerpts follow from an April 23, 2016 Daily News Record article....

"Bluestone is meant to alleviate overcrowding within the division, especially at Skyline and Thomas Harrison middle schools."


"Once the school opens in fall 2017, Kizner said that fifth-graders will no longer attend the middle schools and will instead continue attending their respective elementary schools."


"The $25.9 million facility will sit on 10.8 acres across the street from Harrisonburg High School and adjacent to Heritage Oaks Golf Course. It will be 112,000-square-feet and consist of three floors."


View the final Elementary School Redistricting Plan

here

.
Here is a grand oversimplification:

Harrisonburg High School is filled beyond capacity.
The school-aged population in the City of Harrisonburg is continuing to grow.
The high school needs to be expanded or a new high school built.
Any such expansion or new build will be very expensive.
This large expense is likely to be paid for primarily via an increase in real estate taxes.


So, then, how much will real estate taxes increase?

As shown above, it depends on the value of your home. These examples are based on the potential need for a $0.175 increase (per $100 of assessed value) in the tax rate.

Increasing the tax rate from $0.85 to $1.025 would result in....

The owner of a $150K property paying $22 more per month.
The owner of a $250K property paying $36 more per month.
The owner of a $350K property paying $51 more per month.
The owner of a $500K property paying $73 more per month.

So -- yes -- this would be a drastic increase (20.5%) one-year increase in the real estate tax rate. But when broken down to the actual increased cost per month, it does not seem quite as overwhelming.

Further reading from the Daily News Record:
As shown above -- over the past nine years there have always been at least 200 (and usually around 300) homes for sale under $200K. Well, those times may be behind us now. Ever since November 2016, we have seen fewer than 200 homes for sale under $200K. Based on rapid buyer activity, and very little new construction under $200K, this is not likely to change in the near future, if ever!
History does not tell a consistent story here.

Last year, contract activity (buyers -- and sellers -- actually signing contracts) decreased between April and May and then further in June.

The two prior years (2014, 2015), however, there was even MORE contract activity in May and June as compared to April.

So, as a seller, it's hard to say if we've seen the peak number of buyers (per month) already in 2017, or if we'll see even stronger months of buying activity over the next 45 days.

Stay tuned for more details, and until then, feel free to check out my most recent market report for lots of information about our local residential real estate market at

HarrisonburgHousingMarket.com

.
Don't miss out on this fantastic four bedroom home in Barrington -- details

here

.

OK -- now for your local real estate news! Happy May, everyone! I have published my monthly market report, which you can

download as a PDF

, or

read online

. For the abridged version of the most important things for you to know, read on....

First -- for those that would rather listen/watch than read -- tune in to my

monthly video overview

of our local housing market. There's a someone humorous technical blooper 90% of the way through. It does not affect the market data being conveyed, so I left it in there for your enjoyment. :)

OK -- now, back to a high level overview of where things are with the local real estate market....

OK -- several potential stories to unpack here....

Home sales declined (slightly) in April to 98 home sales, as compared to 101 a year ago. This is not a huge deal, as our year-to-date sales figures still show that we're 2.49% ahead of where we were a year ago. But, still, a slightly slower month of sales in April. Perhaps dues to lower inventory levels? More on that later.

Median prices are down about 5.24% thus far in 2017 -- but with only four months of data, that is likely related to what actually sold, as opposed to home values declining. The median sales price over the past year ($190K) is still 2.15% higher than it was ($186K) during the previous 12 months.

Homes are selling fast (fast, fast, super fast) this year - with a median "days on market" of 54 days, as compared to 73 days during the same timeframe last year.


Now, let's take a closer look at how these sales are coming together, via contract activity....




As shown above -- April 2017 was another active month of buying activity -- following closely after March's 140 contracts with 137 in April. Again, though, this does not quite stack up against the 158 contracts signed last April. The next few months could be even stronger (see 2015) or even slower (see 2016) -- and some of that may relate to how many choices buyers have from an inventory perspective.

OK -- inventory, inventory, inventory -- let's get down to it....




As shown above, today's buyers have significantly fewer homes to choose from -- with a 29% decline in the number of homes for sale in Harrisonburg and Rockingham County. That said, it gets even more striking in some price ranges....

$200K - $300K = 24% decline in homes for sale
Under $200K = 51% decline in homes for sale

That last one is shocking, and perhaps problematic -- our most active price range (average of 60 sales per month) has seen a significant drop in the number of home available to buyers. One year ago, these buyers could have selected from 256 homes -- today, only 125!


OK -- there is a pile of additional information bout our local housing market in my monthly market report. If you are interested in more, feel free to download the entire thing as a PDF, or read it online.


And, my reminders for buyers and sellers last month still apply....

SELLERS -- even though it is somewhat of a seller's market in many price ranges right now, you must still focus on price, condition and marketing.


BUYERS

-- it can be difficult and frustrating to buy right now -- make it a bit easier for yourself by

knowing the market

,

knowing the process

,

knowing your buying power

, and

monitoring new listings closely

!

For further reading on buying or selling in this area, check out....


scott@HarrisonburgHousingToday.com

.
click the image above for a larger version

The apartment building shown above may soon be built on South Main Street at its intersection with East Weaver Avenue -- on the edge of the Purcell Park neighborhood....

click the image above for a larger version click the image above for a larger version



This is a complicated issue, as outlined in the lengthy portion of the Planning Commission's packet addressing this potential rezoning. This Wednesday, the developer will present their proposal to the Planning Commission, and neighboring property owners will likely also be making their case for why this rezoning (etc.) should not be approved.

Some highlights....

The proposed mixed use building would have (22) one-bedroom apartments and commercial space - potentially a fast food restaurant.


The properties would need to be rezoned from R-1 (Single Family Residential) and R-3 (Medium Density Residential) to R-5C (High Density Residential District Conditional) in order for this project to be constructed.

The developer also needs to be approved for a special use permit for an apartment building with more than 12 units, and a special use permit to allow for the commercial use.

If approved, the developer would raze (tear down) four existing buildings in order to build the mixed-use building.


City staff does not think that low density residential uses facing South Main Street (a five-lane roadway with a 35 mph speed limit) are likely or practical.

City staff is recommending approval of the requests for amending the Comprehensive Plan, rezoning the properties and issuing the special use permits.


The bottom line here seems to be that the property (properties) in question have high traffic count road frontage, yet also adjoin a low density residential neighborhood in the back. Should the use of these properties continue to be low/medium density residential use as currently approved? Or should the City allow the property owner to rezone them to allow for a much denser use of the land?


You can read the entire packet of information to be reviewed and considered by the Planning Commission here.



OK -- so -- a few things going on here. The graph above shows the percentage of homes that sold in the first four months of this year (and last year) that went under contract within 14 days. The "quick sales" if you will. As you can see, more homes (31%) are going under contract quickly this year as compared to last year (22%).

Then, one thing this does mean and does not mean.

This DOES mean that almost one-third of homes that sell go under contract within 14 days. So -- as a buyer, you need to be ready to act quickly.

This DOES NOT mean that one-third of all homes that are listed go under contract within 14 days. Many homes sit on the market for some times, and some even never sell.

It's a fast paced market thus far this Spring, and I expect that will continue through the Spring and into the Summer!
Many houses are WONDERFUL -- but the location, setting and context of those homes is not just a small additional detail to note -- it is often central to a purchasing decision.

Some examples....

If you're looking for a 4500 SF home, built in the past five years, on an acre, with five bedrooms and upscale features -- you're going to care whether the average size of the ten closest homes is 4500 SF or 1500 SF.


A restored circa 1900 home in Old Town Harrisonburg is going to be more sought after than the identical home in downtown Elkton.

A new, low maintenance, one-level home home might be perfect for a retiree if it is within a neighborhood of similar homes -- and less so if it is directly on a busy road and surrounded by commercial uses.

My wife's parents and sister both live in our neighborhood, and both of my sisters and my dad are within a short drive. Thus, our home is perfectly situated for the family relationships that we value -- and we wouldn't really ever consider moving across town.

So, as we consider houses you might purchase -- let's think about what location, setting or context will be the most meaningful and desirable for you, both in the short and long term.

P.S. The home pictured above, on a large, private lot, is somehow still just moments from Sentara RMH Medical Center and everything Harrisonburg has to offer. This property will be hitting the market this week!



Yesterday, I was

commenting

on the market demand for well maintained rental properties for non-students in the City of Harrisonburg. I had pitched these general assumptions...

Purchase Price: $150,000
Down Payment: 20% ($30,000)
Interest Rate on 30 year Mortgage: 4.5%
Monthly Payment: $740 (principal, interest, taxes, insurance)

Rental Income: $1050
Property Management: -$105
Association Dues: -$50
Mortgage Payment: -$740
Net Cash Flow: +$155


I had several follow up questions from you all yesterday, so I thought I'd provide a slightly more detailed view of this theoretical investment....

This analysis

shows a much fuller analysis of the potential investment, including these assumptions:

$150K purchase price

Assumption of 2% per year appreciation

80% financed at 4.5% over 30 years

$1,050/month rental income with half a month of vacancy per year

$500/year in repairs

$50/month in association dues

10% management fees


In the first year, this investment would potentially result in....

Positive Cash flow of $818 (benefit seen immediately)
Tenants paying down the mortgage by $1936 (benefit seen later)
Tax savings of $747 assuming 25% tax bracket (benefit seen annually)
Appreciation of $3000
Thus, a benefit of $6,501 in year one.

Over the first five years, this would potentially result in....


Positive Cash flow of $6,600 (benefit seen immediately)

Tenants paying down the mortgage by $10,610 (benefit seen later)

Tax savings of $2,875 assuming 25% tax bracket (benefit seen annually)

Appreciation of $15,612

Thus, a benefit of $35,698 over the first five years


Let me know if you have questions about any or all of this, as each investor and investment scenario will look a bit different. All that said, I believe there is a reasonable opportunity for a solid return when buying an investment property in Harrisonburg -- and I'd be happy to help you with that process if you are interested.



The townhouse shown above recently became available for rent -- and within days there were 30+ inquiries, multiple applications, and the tenants have already moved in.

There is a significant shortage of well maintained rental properties for non-students in the City of Harrisonburg. So, investors, anyone want to step up to the plate and purchase some properties to turn around and rent?

Now, admittedly, the return on such a property is not as favorable as you might find with a student rental, or a multi-family property, but the numbers still work.

For example....

Purchase Price

: $150,000

Down Payment

: 20% ($30,000)

Interest Rate on 30 year Mortgage

: 4.5%

Monthly Payment

: $740 (principal, interest, taxes, insurance)

Rental Income

: $1050

Property Management

: -$105

Association Dues

: -$50

Mortgage Payment

: -$740

Net Cash Flow

: +$155

So -- if you're interested in buying a townhouse or two to help with this rental shortage -- and to benefit yourself financially, let me know.
Inventory is low -- buyers do not have many choices of homes to purchase -- but that doesn't mean they'll buy ANYTHING. Buyers are still being relatively picky, not wanting to compromise too much on their buying objectives.

As such, all home sellers should not assume that as soon as their home hits the market for sale, multiple ravenous buyers will be fighting for the chance to snap it up. That is happening more now than it has in any recent years -- but not for all homes, in all locations in all price ranges.

Here are some home characteristics that might make your house a vegetable that many home buyers turn down....

PRICE -- If your home price is high, but is appropriate given your home's value, you still might be pricing many buyers out of the market. If your home price is too high compared to the value of your home, you may be keeping buyers from getting excited about purchasing your home.

LOCATION -- A wonderful home, in a distant or undesirable location, becomes a not as desirable home for most home buyers.

CONDITION -- If your home requires many repairs or updates, that may keep buyers away, as they may not have the budget for those improvements after settlement.

There are plenty of other aspects of a home that can keep your home from selling quickly when it hits the market. Before putting your home on the market, let's chat a bit about what is reasonable to expect from a timing perspective in selling your home.
What???

Average mortgage interest rates (on a 30 year fixed rate mortgage) are back below 4% again. I truly did not think we'd see that this year -- or possibly ever. It seemed likely we'd stay between 4% and 4.5% or even up to 5% during 2017.

Anyhow -- if you're in the market to buy, and have a contract signed on a house you are purchasing -- LOCK IN YOUR INTEREST RATE!

Of note -- if you can swing it to finance your mortgage over 15 years instead of over 30 years, you'll be even happier at 3.23%!
So many homes these days are going under contract QUICKLY and sometimes with MULTIPLE OFFERS!

Depending on the house, and the location, and the condition, and the price, it may garner a lot of attention very quickly from buyers. This is mainly a result of the very low inventory levels we are seeing right now in many price ranges.

So, what does it mean to be ready as a buyer?

Know the market. Start looking at homes now, even if they aren't the ideal, perfect home for you. This will educate you about how homes and prices relate, so that you will know if a house is a good deal when it comes on the market.

Know your purchasing power. Talk to a lender sooner rather than later to know exactly how much you can afford to buy, how a variety of price points relate to monthly payments, and so that you have a pre-approval letter on hand.

Know about new listings. Monitor new listings carefully and constantly -- or ask me to do so. Use the website of your choice -- my favorite is NewListingsInHarrisonburg.com, where you can sign up for email alerts of all new listings. If you want me to filter down to just send you some new listings by email, just let me know.

The new listings are coming -- and one could be just what you are looking for -- will you be ready?



If you are entering the market to buy a home, the number of homes you will have to choose from will vary widely based on what you are looking for in a new home. Some buyers have a very narrow scope and find themselves on a prolonged hunt for what seems to be an elusive or mythical home. Some buyers find plenty of options, evaluate quite a few, make a decision and move forward with an offer.

However -- keep in mind that as you consider the 403-ish homes currently on the market for sale, that some of them have been on the market for 3 months, 6 months, 9 months or even longer. The freshest of fresh listings are those that have come on in the past 30 days -- which (this time of year) is less than 100 of the 403-ish homes currently listed for sale.

Depending on your time frame for buying, and the narrowness of your scope, sometimes it makes sense to quickly evaluate the current options -- and then to wait and see what new and exciting listings will be coming on the market in coming days and weeks.

Steps to get started include talking to a lender to get a sense of your target price range, and then chatting with me (in person, by email, by phone) so that I can also be keeping an eye out for suitable properties for you.

Learn more about the home buying process at....
view a larger image by clicking

here

Have I mentioned that I enjoy flying my drone? For business purposes, of course -- definitely just a business tool....

Anyhow -- the drone does (in my opinion) well capture the property shown above -- which offers privacy (2.12 acres), space (3,184 finished square feet) a pool (20x46) and mountain views in nearly every direction!

Find out more about the house by visiting the

property website

.

Do you want a photo of your property by drone? All you have to do is sell it! :) Just kidding -- I'm always looking for an excuse to fly my drone....

As a bonus, here is another shot taken above (or somewhere near) the property referenced above....

view a larger image by clicking

here
Click on the image above for a PDF of this summary of the proposed 2017-18 Rockingham County budget.

As shown, this would require the real estate tax rate to increase from $0.70 to $0.74. Which turns out to be less than the proposed increase in the City of Harrisonburg....

Read lots more about WHY the tax rate needs to increase here....

County Eyes More Taxes, Fees

Daily News Record, April 5, 2017

No Comments At Budget Hearing

Daily News Record, April 13, 2017
Last year (2016) was a startlingly strong year in the residential real estate market in Harrisonburg and Rockingham County -- and thus far, 2017 seems as if it will hold its own.

The graph above shows the number of contracts signed per month over the past three months of 2017 (orange) -- and how that compares to the pace of contract signing in 2016. As you can see, despite a slightly slow start in January, both February and March of this year showed MORE contracts being signed than the year below.

How, then, are we doing thus far in April??? Could we possibly see a jump all the way up to 158 contracts signed??? Here's what we can see so far....

April 1 - 18, 2016 = 91 contracts

April 1 - 18, 2017 = 92 contracts ! ! !

So, yes, it seems April might continue on the strong streak of home sales in 2017!
The City of Harrisonburg has published their proposed 2017-18 budget, which includes a proposed increase in the real estate tax rate from $0.78 per $100 of assessed value to $0.85. This would mark a 9% increase in the real estate tax rate in one year, and a 35% increase over a four year period.

A budget summary follows, or you can find the entire proposed budget

here

.
The graph shown above is an illustration of changing inventory levels (blue line) and the number of buyers buying in a six month period (orange line).

The point at which the two lines meet is when there was exactly six months of inventory of homes on the market for sale.

All of the months prior to when the lines met are times when (to varying degrees) there were many more homes on the market (housing surplus) than there were buyers to buy them (low demand).

All of the months after the point when the lines met are times when (to varying degrees) there have been far fewer homes on the market (housing shortage) than there are buyers to buy them (high demand).

Perhaps what has surprised me the most in the past year is how quickly the balance seems to be swinging towards a seller's market (low supply, high demand) when I thought we might stay in a relatively balanced market (high supply, high demand or moderate supply, moderate demand) for some time.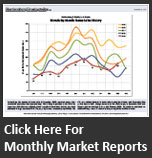 Subscribe

Receive notifications of new content on this blog, via e-mail or RSS reader.