Welcome! This blog tracks the real estate market in the Central Shenandoah Valley, featuring market data and analysis, an exploration of common buying and selling questions, and candid commentary on all things real estate.
If you are interested in discussing any of the topics on this blog, or the details of your specific real estate situation, call or e-mail me!
With great regularity, potential buyers (either investors or parents of JMU students) will ask if a single family home can be purchased and rented to a group of JMU students -- often an intended group of four or more students.

I let them know that it will be no problem at all -- the adjoining property owners in the quaint neighborhood probably won't mind as long as the students aren't too bothersome -- and the City doesn't mind at all if their zoning ordinances are violated, so long as it's just "nice college kids"....

WAIT! NOT REALLY! READ ON!!!!


It seems that some buyers are really getting that feedback of "sure, it will be fine" -- though I'm not sure if they're getting it from their Realtor, or from someone else advising them in the transaction, or if they just aren't thinking about whether their planned use of a property is allowable.

The REAL answer, and the feedback that I ACTUALLY provide to my clients is....

1. We need to check to see how this property is zoned, and whether that zoning classification allows for that number of unrelated people to live in the property.

2. We need to check to see if there are recorded restrictive covenants for this neighborhood that restrict the number of unrelated people who live in the property.

A few notes....

1. Most single family homes in the City of Harrisonburg are zoned R-1 or R-2 and do NOT allow for three or more unrelated people (students or otherwise) to live in the property.

2. If a property has been used in a non-conforming manner (for example, four students living in it) since before the zoning ordinance was put in place, without a 24 month gap in the non-confirming us, it MIGHT be possible to continue to use the property in that non-conforming manner.

And, if #2 above is starting to get confusing, then we arrive at my main reason for writing today....

CALL

COMMUNITY DEVELOPMENT

TO UNDERSTAND ALLOWED USE OF A PROPERTY!

Yes, in fact, there are very helpful City staff in the

Community Development department

-- who can very quickly help you understand whether a property can be legally used as you intend to use it.

And it is imperative that you make this call BEFORE you buy the property, and even BEFORE you make an offer on the property!
You can't necessarily buy a recently built four bedroom house on 1+ acres for around $350K in Rockingham County -- but just a few minutes further south, in Augusta County, you can!

This expansive home located at

134 Bailey Road

with a two attached car garage on a 1.65 acre lot offers long views in a private setting. Enjoy upscale features such as hardwood floors, maple cabinets, granite countertops and ceramic tile in the bathrooms. The main level offers an office, formal dining room, living room, kitchen with breakfast nook plus a main level guest bedroom and full bathroom. Upstairs you will find a spacious master suite, and three additional rooms plus an unfinished bonus room for storage. Don't miss the covered front porch, two-story foyer, crown moulding, chair rail, large linen closet and much more!

Visit

134BaileyRoad.com

to find:

Interior, Exterior and Aerial Photos
3-D Walk Through
Floor Plans


If you're interested in taking a look at this property, just call (540-578-0102) or

email me

to set up a time to do so.
We should have another solid 60 days of strong buying activity (contracts being signed) before things start to slow down into the Fall, and then slow down even further in the Winter. If you are intent on selling your home before the end of the year, you may want to consider a price reduction now, rather than later.

If you reduce your list price on July 24, you have a good 60 days of exposure to a larger pool of buyers before contract activity slows down.

If you wait, and reduce your price on October 1, you have already had a large number of buyers pass your house by.

Think strategically about how your house is priced to best position it to realistically be under contract within a timeframe that best works for you.
Seems like this will be an attractive structure -- and not just a big box with vinyl siding. Read more about the plans for this student housing complex

here

.
view a larger image

The property shown above was sold for $1.76 million to a new developer from Richmond, VA who will start site work in August for this 250,000 square foot student housing complex planned to be open for Fall 2019.

Some highlights from yesterday's

Daily News Record article

...

Altitude will be modeled somewhat after the 865 East building on Port Republic Road.

Walker said he thinks the security features, popular at 865 East and with James Madison University student and parent focus groups, and the nearly 2,500-square-foot deck space with garage-type doors that can be opened or closed based on the weather "will really resonate" with potential renters.

"We wanted to take a cue from the 865 East product type," he said, "and rather than do another garden-apartment project, with walk-up steps, we wanted to do something with interior corridors, key-fob entrance and elevators. With some of my partners, we concluded that was a void within the market."

Eighty-seven of the units will have four bedrooms and four bathrooms, and Walker said those spaces should rent for about $650 per bedroom. Altitude also will have two- and one-bedroom units, with the one bedrooms leasing for about $1,100 a month.


Here is the original rendering of the planned student housing complex....
As shown above, fewer buyers (696) signed contracts in the first half of 2017 as compared to the first half of 2016 when 718 buyers signed contracts to buy homes in Harrisonburg and Rockingham County.

Based on all of the conversations I have had with buyers, lenders and Realtors, this is likely primarily a result of low inventory levels. The buyers are there -- ready to buy -- the sellers (and their homes) are not.

Of course, there are homes listed for sale right now, but quite a few less than we'd normally see at this time of year, which leaves many buyers on the sidelines -- with the desire to buy, but without a house for sale that is a good fit for them.
OK, admittedly, there are still SOME townhouses remaining to be purchased in Harrisonburg and Rockingham County -- but the inventory levels are declining relatively quickly.

In fact, there are now just 68 townhouses (and duplexes and condos) for sale in all of Harrisonburg and Rockingham County -- which is a 59% decline from two years ago. Wow!

Some part of this is that buyer demand is increasing -- and the situation also isn't helped by the very small number of new townhouses that are being built these days.

Over the past 10-15 years we saw many new townhouse developments that (at the time) fell into that price range, including:

Now, however, there are significantly fewer options available when it comes to newly built townhouses in or near Harrisonburg, under $200K....

It is not clear if or when the townhouse market will start to see any significant increases in inventory levels.
Check out fantastic

home for sale on Central Avenue

!

June 2017 flew by like a blur -- and although home sales were a bit slower than in May 2017 -- nearly all housing market indicators are still showing signs of a robust and active local real estate market.

I just published my most recent monthly market report, and as usual, you can read on for an overview,

download the full report as a PDF

,

read the entire report online

, or tune in to my monthly video overview of our local housing market...

OK -- now, back to a high level overview of where things are with the local real estate market....

As shown above, most market indicators are looking good....

Home sales actually declined by 11.84% this June as compared to last June, but....


Year-to-date home sales are up 1.16% this year as compared to last year.


The median sales price has edged up, ever so slightly, to $190,000 when looking at 2017 YTD as compared to 2017 YTD.


Homes are selling in a median of 33 days, as compared to 53 days in the first half of last year -- so, they are selling 38% faster in 2017!


Now, looking at May and June sales this and last year gets interesting....

As you can see, above, home sales dropped from 148 in May to 134 in June this year -- but last year, they increased from 133 in May to 152 in June. It is hard to say why this trajectory is reversed this year -- it may have to do with when sellers happened to be ready to sell, and when buyers happened to be ready to buy this year as compared to last year. Regardless, the net change from last year to this year is a decline of only three home sales when combining May and June data.

Looking forward, I believe we'll see a further decline in closings in July, or at least that is what has happened in most recent years. Unless contract activity convinces us otherwise....

Looking at when buyers are signing contracts, it is notable that we have seen a steady stream of buyers (132 - 140 per month) over the past four months. This is a total of 542 contracts signed in the past four months -- as compared to 560 last year during the same timeframe. As we move forward, we should have at least two more months of 100+ contracts before contract activity inevitably starts to slow in September and October.

And what are all of these buyers choosing from when they contract on a home?

It seems that buyers are choosing from fewer and fewer homes these days! Inventory levels have been hovering around 400 homes for sale over the past six months -- and the normal influx of new listings in the Spring selling market has not been able to keep pace with a higher level of buyers buying homes. As such, we have not seen the typical increases in inventory levels between the Winter and Spring market -- there are actually FEWER homes on the market now than there were this past February!

OK - now for a shocking statistic of the month....

Did you catch that, above, in yellow? When looking at the homes that sold in the City of Harrisonburg during June 2017 -- the median "days on market" for those home sales was 8 DAYS!?! So, half of the homes that sold went under contract within 8 days of being listed for sale. Wow! I guess that's what you get with increasing buyer demand and decreasing inventory levels.

There are actually quite a few astonishing tidbits in this month's report, but I'll get into those in the coming days on

my blog

.

Until then -- feel free to

download and read my full market report as a PDF

, or

read the entire report online

.

And, my reminders for buyers and sellers last month still apply....

SELLERS -- even though it is a seller's market in many price ranges right now, you must still focus on price, condition and marketing.


BUYERS

-- it can be difficult and frustrating to buy right now -- make it a bit easier for yourself by

knowing the market

,

knowing the process

,

knowing your buying power

, and

closely monitoring new listings

!

For further reading on buying or selling in this area, check out....


scott@HarrisonburgHousingToday.com

.
We are likely to see changes to Exit 245 and 247 on Interstate 81 in the forthcoming years, as per the Commonwealth Transportatio Board's approval of VDOT's Six-Year Road Improvement Plan last month.

A few notes from the June 24, 2017

Daily News Record article

....

In the city, VDOT plans to realign the northbound Exit 245 off-ramp with Forest Hill Road and move the ramp to merge onto I-81 northbound from eastbound U.S. 33 at Exit 247 to the other side of the road and install a traffic light.

One of the city projects will improve the intersection of South Main Street and Martin Luther King Jr. Way. A right- turn lane will be added from northbound Main Street onto MLK, signals will be reconstructed, left- turn lanes will be built from MLK onto Mason Street in both directions and signals will be replaced at that intersection.

The plan also includes the project to widen Erickson Avenue to four lanes with a center-turn lane, bike lanes and sidewalks from just west of South High Street to the city limits near Garbers Church Road.

You can search the Six Year Improvement Program database here.



Based on the analysis above, it would seem that sellers are not (in almost all cases) accepting home sale contingencies. Here's the logic....

A seller would almost never accept a contract with a home sale contingency without a kickout clause to allow them to move on to a different buyer that didn't have a home sale contingency.


There are only 9 properties in the MLS that are under contract with kickout clauses.

Even though I have run this analysis before, I am still surprised to find this to be the case --- I thought more contracts might have kickout clauses (and thus home sale contingencies) because plenty of buyers have to sell before buying.

It would seem that most buyers are likely waiting to make offers until they have their own properties under contract (thus eliminating the need for the kickout clause) AND/OR most sellers are not accepting offers with home sale contingencies unless the buyers' houses are already under contract (thus eliminating the need for the kickout clause).

If you are a buyer, I would certainly suggest the strategy outlined above (and the only one that is apparently working with sellers right now) --- get a contract on your house and THEN make an offer on the property you would like to purchase!
Anyone who thought mortgage interest rates were above 4% for good -- and perhaps climbing up to 4.5% or 5% -- seems to have been WRONG! I certainly thought we were headed for 4.5% or 5% -- but over the past three months, 30 year mortgage interest rates have continued to slowly decline to their current level of 3.88%.

Yet again, a great opportunity to lock in your monthly housing costs over the long term at one of the lowest possible monthly cost per dollar spent, given these tremendously low mortgage interest rates!
Well, things don't seem to be slowing down yet in our local residential real estate market! Looking at the first 25 days of this month, 109 buyers (and sellers) signed contracts to by (and sell) homes in Harrisonburg and Rockingham County. Comparatively, only 104 buyers (and sellers) did so in the same timeframe last year.

So -- the pace of contracts is somewhat slower this month than last month (as is typical), but this June is more active than last June.

More sales -- fewer listings -- it is somewhat surprising that we haven't seen more of a upward shift in sales price!
Here are the three sequences I see buyers follow most frequently....

As Late As Possible


Guess at what you can buy using online mortgage calculators.
Start viewing houses.
Make an offer.
Ratify a contract to purchase a home.
Start talking to several lenders.
Select a lender.
Become pre-qualified.
Make loan application.

Provide income and tax documents (etc.) to lender.
Obtain loan approval.


Incredibly Proactive


Start talking to several lenders.
Select a lender.
Become pre-qualified.
Make loan application.

Provide income and tax documents (etc.) to lender.
Obtain loan pre-approval.
Start viewing houses.
Make an offer.
Ratify a contract to purchase a home.

A Reasonable Middle Ground

Start talking to several lenders.
Select a lender.
Become pre-qualified.
Start viewing houses.
Make an offer.
Ratify a contract to purchase a home.
Make loan application.
Provide income and tax documents (etc.) to lender.
Obtain loan approval.

I try to encourage all of my clients to at least be in the "reasonable middle ground" sequence as outlined above. This gives them a firm idea of what they can afford and how a home price will compare to a loan payment. This also allows them to make a stronger offer, already having a pre-qualification letter in hand.

I strongly discourage my clients from following the "as late as possible" sequence as outlined above. This doesn't help them make the best decisions about which houses to pursue, how far to negotiate, etc. This also doesn't allow us to make as strong of an offer on a house.

Occasionally, one of my clients will fall into the "incredible proactive" sequence as outlined above, and wow, this makes the financing process a joy to work through! These buyers have already done so much of their work with the lender before even thinking about which house to buy -- which then allows them to focus on buying, negotiating, inspecting, etc., rather than be bogged down in the process of securing their mortgage.

Let me know if you have questions about how I have described these sequences -- and let me know if you would like a few recommendations for lenders in the Harrisonburg area.
This low-inventory market we're in is certainly providing some new perspectives....

If you are having a LOT of showings of your house -- it MIGHT mean that your house is priced well, prepared well and marketed well (our three main areas of focus) and that it will be under contract before you know it!

OR -- it could simply be an indicator of extremely low inventory levels in your segment of the market, such that lots of prospective buyers are trying to convince themselves that your home will work for them, even if it is not exactly what they are looking for.

The general rule of thumb is that if you are LOTS of showings, but are NOT receiving an offer -- you will likely (at some point) need to adjust the price downward. This will then likely generate even more showings, but will also hopefully make the house seem like a better value proposition for a buyer, enticing them to make an offer.

Again, as a seller, don't get lulled into a false sense of complacency, thinking that you'll certainly have an offer soon if you have lots of showings. It is certainly possible (and perhaps even likely) but if inventory levels are low, then that offer might not be forthcoming after all!
One of the reasons why the under $200K market is inventory-challenged right now is because there is very little new construction happening in this price range. Over the past 10-15 years we saw many new townhouse developments that (at the time) fell into that price range, including:

Now, however, there are significantly fewer options available when it comes to newly built townhouses in or near Harrisonburg, under $200K....

I think a considerable opportunity exists for a townhouse developer to build new, $170K - $190K townhouses in the City of Harrisonburg -- if it can be done!



Per a reader's request, I have updated this super-long historical context of real estate tax rates in the City of Harrisonburg.

This graph can be a bit deceiving in its attempts towards being legible -- the y-axis does not start at zero. As such, it makes some of the historical tax rates (around $0.60) seem closer to zero than they really are.

That said, the trajectory of the real estate tax rate over the past five-ish years is quite striking in a historical context.

OF NOTE -- the 2017 value ($1.025 per $100 of assessed value) is a proposed, not approved, tax rate.
Short answer -- yes, but no. :)Longer answer....

In a recent conversation with a home seller, they wondered if they had missed out on the best time to sell their home since they wouldn't be ready to get their house on the market until July 1. Let's take a look at what last year looked like from the perspective of when buyers signed contracts to purchase homes. Based on the graph above....

Only slightly more than half (54%) of contracts signed in 2016 were signed before July 1.

The most active months of contract signing were April (158), May (141) and March (133). August was just after that, however, with 130 contracts and July was also quite strong with 119 contracts. Thus, there are several more (at least two) months of strong buyer activity to come.

Contracts were signed at an average pace of 135/month between March and August. The average pace of August (99) and September (109) was 104/month. This is not a significant decline -- we're not talking about having only half as many buyers signing contracts per month once you get into September and October. Even November had 93 contracts signed.

Certainly, if you were hoping to sell (close on) your house this summer (by Aug 31) then you would have been better off to list your home for sale earlier in the year -- but there are still plenty (!) of buyers who are likely to be signing contracts for the next several months.

As usual -- every segment of the market (based on price, location, property type) is a bit different -- so let me know if you want to chat more specifically about your home, and what it would look like to list your home for sale in the coming month to be aiming for one of these late-summer / early-fall buyers.



One of the most striking changes in inventory levels has been the "under $200K' market, where we have seen a 58% decline in the number of homes for sale.

A small part of this is the slow and steady increase in the median sales price -- causing some homes to no longer fall within this price bracket.

Another significant reason for this decline is a slow and steady increase in the number of people trying to purchase homes in this price range.

The final component is the lack of new construction in this price range. Increasing demand and decreasing supply is usually addressed via builders jumping in and starting to build new homes (or perhaps townhomes, in this case) to help bridge this gap between low supply and high demand.

If we continue to see increasing demand, decreasing supply, and no new construction, we may start to see faster than normal increases in the sales prices of these properties as buyers compete for a slim number of listings.

Read more about our local housing market via my most recent monthly market report....
Just the BEST month of May EVER! :)

Indeed, as shown above, it seems that the 148 home sales seen in May 2017 was the most home sales we have EVER seen during a month of May.

Now -- to see how things turn out in June!

Read more about our local housing market via

my most recent monthly market report

.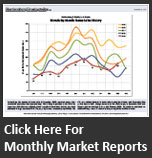 Subscribe

Receive notifications of new content on this blog, via e-mail or RSS reader.