Welcome! This blog tracks the real estate market in the Central Shenandoah Valley, featuring market data and analysis, an exploration of common buying and selling questions, and candid commentary on all things real estate.
If you are interested in discussing any of the topics on this blog, or the details of your specific real estate situation, call or e-mail me!
Trends
Above you can see the changes in inventory levels over the past year in four price ranges....

Under $200K (-1%)


$200K - $300K (-15%)


buyers have fewer options
sellers have less competition
advantage to the seller (as compared to a year ago)

$300K - $400K (+50%)


buyers have more options
sellers have more competition
advantage to the buyer (as compared to a year ago)

Over $400K (+13%)


buyers have more options
sellers have more competition
advantage to the buyer (as compared to a year ago)

Learn plenty more about our local housing market at HarrisonburgHousingMarket.com.


Featured Property:

310 Victoria Drive, Bridgewater, VA 22812

I just published my monthly report on the Harrisonburg and Rockingham County real estate market --

click here to review the entire report online

-- or

click here to download the full PDF

. Below are a few highlights you might be interested to know about....

As shown above, home sales in March were the lowest that we have seen over the past several years. This is undoubtedly due to the absurdly low temperatures this winter PLUS the many snowfalls PLUS the many days that schools were closed. Now that the warmer weather is upon us we will hopefully see an increase in home sales come April and May.

We also saw a smaller number (91) of buyers sign contracts during March as compared to last March (114) --- though an increase from March 2012 (87). Let's hope that the warm Spring days of April will lead to many (many!) buyers going to see houses and sign contracts.

A significant part of whether buyers will write offers is related to whether they are finding compelling houses on the market -- and we're finally starting to see increases in inventory levels. These new listings will hopefully rejuvenate buyer interest and get them off of the sidelines and into the buying market.

Amidst a few market indicators that aren't as positive as they could be, here is one bright spot --- sales prices of attached dwellings (duplexes, townhouses, condominiums) are going UP!

Want to know more? Get all the juicy details in the full report.

Read it online

or

download the PDF

.

As always, if you're interested in talking to me about buying a home in Harrisonburg or Rockingham County.....or if you are interested in selling your current home.....just drop me a line by email (

scott@HarrisonburgHousingToday.com

) or call me at 540-578-0102.
Buyers across the country have spoken -- the graph above shows the information sources that are used "frequently" during the home search process.
I will be working hard to find you the HOME OF YOUR DREAMS -- but statistics show (see above) that two-thirds of buyers have to compromise in some way on the home that they purchase.

Of note,

neighborhood

and

location

don't seem to be areas where most buyers are willing to compromise.
As shown above, after some slow years in 2011 and 2012, the over $500K housing market bounced back in 2013.

The over $600K market had an even more dramatic recovery in 2013.

Search for $500K+ homes at

HarrisonburgLuxuryHomes.com

.
The population of Harrisonburg and Rockingham County is

increasing

.

If we take the average of 2000 and 2001 home sales as a baseline portion of the population to be buying in any given year, and then we project forward based on actual population growth, we can conclude that....

More people than usual bought between 2001 and 2007. (housing boom)


Fewer people than usual bought between 2008 and 2013. (housing bust, and then recovery)


There is further room for growth in the number of buyers per year in Harrisonburg and Rockingham County.

Based on the data presented above, I believe the new "usual" number of people to be buying per year may be around 1,150 home sales -- which is still a decent amount of growth beyond the number of home sales (1,013) seen in 2013.

And here is the data behind the graph....






Will they keep going down?

Lock in now....or soon!
Don't forget to watch the

State of the Union

tonight at 9PM.

And let's take this opportunity to see how our local real estate market is doing as compared to where we were one year ago.

1,013 homes sold in the past 12 months. (One Year Ago: 865)


The median home price is $176,000. (One Year Ago: $175,000)


There are 529 homes on the market. (One Year Ago: 572)


The median Days on Market is 120 days. (One Year Ago: 143)

There were 222 foreclosures in the past year. (One Year Ago: 252)


Our local unemployment rate is 4.7%. (One Year Ago: 5.2%)


Stay tuned this evening for an update on the state of our nation, but our local housing market seems to be much improved over the past year.



HarrisonburgTownhouses.com

has been updated with sales data from 2013-Q4, and many townhouse communities are (finally) starting to see median prices increase again.

So, are you wondering about property values in your townhouse community? Or considering purchasing an investment property? Whatever the reason for your interest in townhouses in Harrisonburg, you will likely find the information you need at

HarrisonburgTownhouses.com

, including (for each townhouse community):

a photo tour
the size and age of the neighborhood
an overview of the floor plans available
property owner association dues
trend data showing the pace of sales and changes in market value (just updated for 2013-Q3)

a neighborhood map
properties currently for sale
recent sales in the neighborhood
restrictive covenants and a plat

The townhouse communities featured on HarrisonburgTownhouses.com include:

First, a disclaimer, I am not a statistician --- though I did take a fantastic stats class in grad school with

Kevin Apple

.

That said, it sure would seem to me that there is a direct correlation between the pace of home sales, and the negotiability of home prices.

Take a look at the graph above and let me know (online or offline) if you agree. Actual statisticians --- feel free to chime in. :)
Current active listing inventory (~529 properties for sale) in Harrisonburg and Rockingham County is at the lowest point since at least 2008 when I started tracking this data.

The high point was in June 2010 when there were 1,015 homes for sale.

Learn more about our local real estate market at

HarrisonburgHousingMarket.com

.
Late 2012 through early 2013 provided the lowest mortgage interest rates ever -- as low as 3.3%. While mortgage interest rates have now risen from those low levels, they have remained between 4.1% and 4.6% over the past six months.

These are still wonderfully low interest rates from any sort of a long term perspective, providing buyers with the opportunity to lock in their housing costs at historically low levels.
Homes that are selling these days are doing so relatively quickly. In fact, more than 1 out of 3 homes (35%) that sells closes less than 90 days after being listed for sale. Include with that those that close in the next 90 days (30%) and we find that an amazing 65% of homes that sell have closed within six months of first coming on the market. This is not, however accounting for the many homes that never sell -- that linger on the market, or are eventually taken off the market.

Has your home been on the market for more than 90 days without selling? More than 180 days? Here are some thoughts to consider....

If you want your home to sell faster, you may need to reduce the price
At the request of one of my clients, I decided to take a look at the volume (dollars) of real estate sold in Harrisonburg and Rockingham County over the past few years.

As you'll see above, there has been a significant increase over the past two years, from $155MM (in 2011) to $190MM (in 2013) -- and we still haven't closed out 2013 yet.

This shouldn't be too surprising, as we're seeing increasing sales (+14% YTD) and increasing prices (+2% YTD) so it is only natural that we'd see an increase in the overall volume of residential real estate sold in this area.

Read more about our local housing market online....

HarrisonburgHousingMarket.com
Fixed mortgage interest rates continue to hover between 4% and 4.5% --- for six months now. This continues to provide buyers with a great opportunity to lock in their housing costs at historically low levels. Over the next 3 - 5 years we are likely to see increases in both home sales prices as well as mortgage interest rates.

Source:

Freddie Mac
As published in this month's Shenandoah Valley Business Journal....

The Harrisonburg and Rockingham County area have long enjoyed a stable and diverse local economy anchored by some of our area's largest employers. Those include

James Madison University

,

Rockingham Memorial Hospital

,

Cargill

,

RR Donnelley

,

Massanutten Resort

,

Merck

,

Rosetta Stone

,

Eastern Mennonite University

,

Miller Coors

,

Dynamic Aviation

and

White Wave

.

The wide variety of employment sectors represented in our local area has provided stability to our overall local economy, which in turn has helped our local housing market remain more resilient than many around the country.

Our current unemployment rate (5.3 percent) is well below the national rate (7.3 percent) and that difference was even more pronounced three short years ago when our local unemployment rate was 6.5 percent compared to the U.S. unemployment rate of 9.5 percent.

Our relatively low local unemployment rate has kept foreclosures from becoming too significant of an issue in our local market.

While there have been more foreclosures than normal in recent years, they have tapered off over the past year.

Between 2000 and 2007 there were only between 50 and 100

foreclosures

in any given year in all of Harrisonburg and Rockingham County. This jumped up to a peak of 270 foreclosures in 2010, but has since declined to only 181 in the first 10 months of 2013.

With fewer people losing their jobs in the economic downtown, we saw fewer people losing their homes to foreclosure. We also did not see as large of a real estate bubble that could have caused more local homeowners to be underwater on their mortgages.

The most significant increases in home values in this area happened between 2002 (median price = $136,000) and 2006 (median price = $227,000). Home values shot up 67 percent during this four-year period, which was certainly not a sustainable rate of growth.

However, due largely to the stability of our local economy, we did not largely enter into the declining spiral of rapidly increasing foreclosures paired with rapidly decreasing home values. In the following five years 2006 to 2011 our local home values declined only 18 percent from $226,000 to $186,000.

Since that time, we have seen home values start to increase again.

If there had been greater turmoil in employment in our local area, more people would have lost their homes to foreclosure, which would have dragged home values down even further, as experienced in many larger metropolitan areas.

The strength and diversity of our local economy have helped us to weather many storms in the past, including the recent collapse of the housing market in the United States and ensuing struggles in the U.S. economy.

As economic indicators start to trend more positively, our local area seems poised to continue to grow and diversify.

Exciting new projects such as

Innovation Village @ Rockingham

will likely continue to spur on our local economy, providing further stability for our local housing market for years and decades to come.
As reported in today's Daily News Record

, assessed values in the City of Harrisonburg stayed relatively stable over the past year. As shown above, the average assessed value of single family homes decreased 1% over the past year from $235,000 to $231,900. In the same time period, average sales prices increased by 3%.

A few clarifying notes....

The average assessed values are typically higher than average sales prices because the average assessed value includes all single family homes in the City, and the average sales price only includes those that have actually sold.


The reporting time frame for the two metrics shown on the graph above are a bit different based on the timing of the assessments, but you can still draw some general conclusions about trends.


Read more about the latest update to City of Harrisonburg assessed values in the DNR article or read more about market values at HarrisonburgHousingMarket.com.



This has certainly been a strong year of home sales in Harrisonburg and Rockingham County -- in the first 10.6 months of the year we have already surpassed annual sales for 2009, 2010, 2011 and 2012.

And with 41 more sales this year, we will have exceeded 2008 home sales as well.
Sometimes it's helpful to look back a bit further than the last 12-24 months. The data above illustrates how the pace of home sales has changed in four segments of our local market. Each data point shows the average number of sales per month in the previous 12 months.

We find that.....

Home sales under $200K have increased 20% over the past 5 years.


Home sales between $200K and $300K have declined 9% over the past 5 years.

Home sales between $300K and $400K have declined 29% over the past 5 years.

Home sales over $400K have declined 29% over the past 5 years.

It is likely important to note that in this same 5-year timef rame, the median sales price declined 11% --- from $197,650 to $175,000. It is possible that this shift in home values contributed to the shifts shown above in the pace of sales in different price ranges.




As home sales have improved over the past several years, sellers have negotiated less on their sales price.

Of note....

As shown above, a higher List to Sales Price Ratio equates to less negotiating.


The amount that a seller will need to negotiate will also depend on how realistic their list price is at the time that they receive an offer.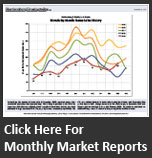 Subscribe

Receive notifications of new content on this blog, via e-mail or RSS reader.