Welcome! This blog tracks the real estate market in the Central Shenandoah Valley, featuring market data and analysis, an exploration of common buying and selling questions, and candid commentary on all things real estate.
If you are interested in discussing any of the topics on this blog, or the details of your specific real estate situation, call or e-mail me!
Trends
If the first 28 days of May are any indication, our local housing market will be setting new records this month. There have already been 125 contracts signed on residential real estate listings in Harrisonburg and Rockingham County this month. That is nearly double the pace of contract signing seen in previous months of May.
As stated yesterday,

even though sales are up, prices are not yet increasing

.

So what can we expect of home prices over the next five years?


I believe we will start to see an increase in prices this year (perhaps 1%) and then we may see a more ambitious (2% - 3%) increase for the next few years after that.

Bear in mind that depending on the timeframe you examine (see the bottom of this post) the median home value increases around 5% per year.

The matrix above shows that a $250K home would (potentially) increase to a value of $289K over the next five years if we see an average of 3% appreciation per year over the next five years.

Click here

to download the table above as an Excel file to plug in your own variables.

National median home values increased 5.94% per year between 1960 and 2000.
National median home values increased 6.72% per year between 1970 and 2000.
National median home values increased 4.76% per year between 1980 and 2000.

As several of you pointed out, last week's sales and inventory graph was missing the trendline for price. So, here (above) is the updated graph. As you can see, over the past two years we have seen prices stabilize as sales increased and inventory decreased. All good signs for further stability and growth in our local housing market!
The Harrisonburg / Rockingham unemployment rate dropped below 5% for the first time in 50 months in March. This is a good sign for our local economy, and also speaks to trends being seen across the state and country as well.
There are fewer and fewer homes for sale under $200K (shown above) but there are more and more buyers (see below).

These crossing trends (fewer sellers, more buyers) helps to balance the under-$200K segment of our local market, and since many of those sellers will move up to $200K-$300K sales, it can slowly, positively impact the remainder of our market as well.
As shown above, we are currently experiencing the lowest inventory levels we have seen anytime in the past six years.

The results?

Some buyers are frustrated that they can't find what they're looking for in a home.


Some sellers are excited to be able to sell their houses quite quickly as there are not many competing homes.

Some sellers are depressed that they are in a price range that is sill experiencing an over-supply.


See Page 15 of my

monthly market report

for inventory levels by price range.

Let me know if you would like an analysis of competing inventory for your particular home.
I believe there are still a lower than normal number of people buying in our housing market. Take a look at the graph above which tracks population growth over the past 12 years as compared to the number of single family home buyers in any given year. If we assume that a normal percentage of all residents bought in 2000, we are still seeing a smaller than normal percentage of residents buying as of last year.

Some might even argue that we should mark the start of the normal trend line somewhere between the number of 2000 buyers and 2001 buyers. If so, then the current market has even further to grow before approaching a historically normal number of buyers per year, as shown below....
As shown in the graph above, the median sales price for homes in Harrisonburg and Rockingham County has been stable (between $173K and $177K) for 23 months now. Each of these data points shows the median sales price for a 12 month period, so they are solid, long-term trends.

Also shown above, our local market has seen a relatively steady increase in the pace of home sales for 20 months now. Each of these data points shows the total number of home sales during the most recent 12 month period, so again, these are solid long-term indicators.

Bottom line? While individual homes, neighborhoods or price ranges might still see some price adjustments,

I do not believe we will see any further (overall) price declines in Harrisonburg and Rockingham County.

Read more in my most recent

monthly housing market report

.
Lest I be accused of only talking about mortgage interest rates when they are falling....

As you'll see above, interest rates have generally been on the rise since the beginning of the year. After staying below 3.5% between September 2012 and January 2013, they have now edged back up.

These mortgage interest rates are, of course, still unbelievably low -- both over the long-term (the past year's rates are the lowest ever) --- as well as in the short term (rates are 0.5% lower than a year ago).

If you are considering a home purchase this spring or summer, now might be an excellent time to become pre-approved, find a house and lock in an ultra-low mortgage interest rate!
After five years of declining sales (2005-2010) the pace of single family home sales finally increased in 2011.

After five years of declining sales prices (2006-2011) the median price of single family homes (sold) finally increased in 2012.

At this point, I'm not expecting either of those to start declining again over the next few years (even if they don't increase exponentially either) -- so, if you were waiting for the bottom of the market, this is (or was) it.

Buyers -- act early in 2013 before prices continue to increase through 2013.

Sellers -- be realistic about pricing, to best present your house to potential buyers.

I'm expecting to see further recovery in both pace of sales and price of sales during 2013.
In the fictitious value trend graph above, the best opportunities were yesterday (or some time before now).

As a housing market starts to improve, some buyers have a tendency to get stuck on the fact that they just missed out on the lowest prices seen during a market downturn. It is important for those tearful buyers to remember, however, that there will likely be more tears and larger tears tomorrow (or some amount of time into the future) when prices have recovered even further.

For example....

Houses in neighborhood X were selling for $300K in the market boom.
They came down and down and sold for as little as $250K a few months ago.
Now they're all selling for $260K and I'm sad because I missed out on a $250K buy.
If I wait longer, I'll get to cry even more to be buying at $270K!

A few notes and disclaimers....

Has our local housing market recovered? Not necessarily, and not in all price ranges and property types --- but there are a lot of encouraging signs.
You might recall the opposite dynamic occurring with sellers as they watched their home decline in value over time.
Did I really miss the boat? Are prices only going up from here? Maybe, maybe not -- we'll only know 6-12 months from now looking back, but we are definitely starting to see stabilization in many price ranges, and buyers are finding less room to negotiate.



Yesterday, I was chatting with two different people about the housing market and both were wondering how the potential local recovery (or at least stabilization) impacted different price ranges.

The increased pace of home sales over the past year has not affected all price ranges equally, as shown in the graph above:

Under $200K >> Sales up 14% over the past year.

$200K - $300K >> Sales up 33% over the past year.

$300K - $400K >> Not much of a change in either direction.

Over $400K >> Sales have slowed over the past year.

The winner, it seems, is the $200K - $300K price range, though the lowest price range (under $200K) is also doing quite well.



Seven months into 2012, the Harrisonburg and Rockingham County housing market is showing signs of steady improvement in the pace and price of home sales.

Click here to download the PDF of my full market report

, or read on for highlights.

Most indicators above show signs of a stabilizing local housing market:

Home sales increased 21% (wow!) in July 2012 as compared to last July.
YTD home sales show a solid 8% improvement over 2011.
YTD median sales prices show a modest 3% improvement over 2011.
Despite other market improvements, YTD average days on market has increased 3%.





July 2012 was quite a month for home sales --- and this year has shown a strong upward May-June-July sales trajectory, not unlike the 2009 sales trajectory.





While the graph above only shows price trends for single family homes (not the overall market) it is encouraging (for sellers, at least) to see a halt to the multi-year decline in home prices in the area.


Among other market trends to improve, the list price to sales price ratio has also started to improve in Harrisonburg and Rockingham County. This means that sellers are (on average) negotiating less off of their asking prices when selling their homes. This is more welcome news for sellers --- and buyers should take note that their window of maximum negotiating ability might be starting to close.





Record low mortgage interest rates have certainly helped to spur on the local housing market as buyers continue to take advantage of their opportunity to lock in their housing costs for now and the future.


For much more insight and analysis, click on the image above to download my full market report specifically focused on Harrisonburg and Rockingham County.

And -- if you have questions about the local housing market, or if I can be of assistance to you with real estate that you own, or that you'd like to own, please be in touch. You can reach me most easily at 540-578-0102 or scott@HarrisonburgHousingToday.com.




Things to note....

This year (2012) is showing an improvement (+5%) over last year.
The spike in 2010 was related to the federal home buyer tax credit.
We are unlikely to see further declines in sales pace.

What this means for you....

If you're looking to buy, do it soon. A changing tide in the local housing market (things are picking up) and the historical low interest rates, make now a great time to buy if you're considering doing so in the next 6-12 months.
If you're looking to sell, things will hopefully be brighter and brighter from here. The pace of sales has increased and prices are stabilizing, so hopefully you won't see further declines in your home values. If you absolutely have to sell, you should be OK doing so now, but if you can wait --- keep waiting for another year or two.



Summer is not quite over yet (100 degrees today, I hear) --- but the local housing market is already showing some signs of fall --- and that's a good thing! Typically our local housing inventory continues to increase through July before starting to decline heading into the fall. This year, however, we're seeing a decline in local housing inventory earlier than we typically do.

Perhaps it is the result of more buyers making buying decisions. Perhaps fewer sellers are trying to sell. Whatever the reason, it is helping to (slowly but surely) bring more balance back to our local housing market.
Plenty of houses are going under contract

, but are sellers accepting home sale contingencies?

Based on the analysis above, it would seem that they are not (in almost all cases) accepting home sale contingencies. Here's the logic....

A seller would (almost never) accept a contract with a home sale contingency without a kickout clause to allow them to move on to a different buyer that didn't have a home sale contingency.


There are only 3 properties in the MLS that are under contract with kickout clauses.

I must say, I was quite surprised to find this to be the case --- I thought perhaps 10% - 20% of contracts might have kickout clauses (and thus home sale contingencies) because plenty of buyers have to sell before buying.

It would seem that most buyers are likely waiting to make offers until they have their own properties under contract (thus eliminating the need for the kickout clause) AND/OR most sellers are not accepting offers with home sale contingencies unless the buyers' houses are already under contract (thus eliminating the need for the kickout clause).

If you are a buyer, I would certainly suggest the strategy outlined above (and the only one that is apparently working with sellers right now) --- get a contract on your house and THEN make an offer on the property you would like to purchase!



As published yesterday in the Shenandoah Valley Business Journal.
Scroll beyond the article for two helpful infographics.


Many people believe the assessment of their property istheir home's value. In actuality, theassessed value of a property is the value assigned to the property by the localassessor's office, for the purpose of determining how much you will pay intaxes. Certainly, the assessed value is intended to be the precise valueof your home – but quite frequently there is a disparity in this assessed valueand market value. The market value ofyour home is the price at which it would sell in the current market.

Of interest, the City of Harrisonburg real estateassessments are currently a bit more accurate than those in RockinghamCounty. As can be seen in theinfographic, homes sold during 2011 in the City of Harrisonburg sold for 95.1%of their current assessed value. Breaking it down further, 64% of the homes that sold during 2011 in theCity of Harrisonburg sold at a lower price point than their assessed value. This is an indication that many City propertyassessments are likely a bit too high.

In Rockingham County, most property assessments are too low –as 70% of properties that sold in 2011 sold for more than their assessed value– and on average, properties sold for 110% of their assessed value. Of note, homes in the City of Harrisonburgare re-assessed every year, while homes in Rockingham County are onlyre-assessed every four years. In thepast, this has resulted in lower than expected assessments in Rockingham Countydue to the infrequent updates to their assessed values.

Given the great variation in assessed values and marketvalues, homeowners should not rely on their tax assessment for an understandingof their property's value. Furthermore,home buyers should not rely on assessed values to guide them in understandingthe market value of a home that they might purchase. Both buyers and sellers should strive tounderstand the market value of a particular piece of real estate my analyzingsimilar homes that have recently sold and those currently on the market in agiven neighborhood or price point.

Click on either image below for a printable PDF....



Before we get to the presence of modular homes in our local market, let's review some terminology....

According to

Wikipedia

, a

stick-built

structure is "one constructed entirely or largely on-site," as opposed to a

modular home

that is "divided into multiple modules or sections which are manufactured in aremote facility and then delivered to their intended site of use."

And here is a breakdown of the types of homes sold via the HRAR MLS last year....

Click here to read about some

opinions of stick built homes versus modular homes

.
I've been hearing that a lot lately.....

Contracts are on the rise --- and more and more of the competitively priced listings are selling, and selling relatively quickly.

In the first 25 days of May there have been 81 contracts --- that is compared to only 60 in the same time period last year! Buckle up, it looks like we might have a strong summer sales market on the way!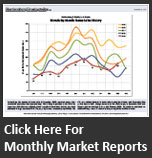 Subscribe

Receive notifications of new content on this blog, via e-mail or RSS reader.