Welcome! This blog tracks the real estate market in the Central Shenandoah Valley, featuring market data and analysis, an exploration of common buying and selling questions, and candid commentary on all things real estate.
If you are interested in discussing any of the topics on this blog, or the details of your specific real estate situation, call or e-mail me!
Trends
Sometimes it's helpful to look back a bit further than the last 12-24 months. The data above illustrates how the pace of home sales has changed in four segments of our local market. Each data point shows the average number of sales per month in the previous 12 months.

We find that.....

Home sales under $200K have increased 20% over the past 5 years.


Home sales between $200K and $300K have declined 9% over the past 5 years.

Home sales between $300K and $400K have declined 29% over the past 5 years.

Home sales over $400K have declined 29% over the past 5 years.

It is likely important to note that in this same 5-year timef rame, the median sales price declined 11% --- from $197,650 to $175,000. It is possible that this shift in home values contributed to the shifts shown above in the pace of sales in different price ranges.




As home sales have improved over the past several years, sellers have negotiated less on their sales price.

Of note....

As shown above, a higher List to Sales Price Ratio equates to less negotiating.


The amount that a seller will need to negotiate will also depend on how realistic their list price is at the time that they receive an offer.



Two numbers for you to memorize....69 and 11.

Home values (sales prices) increased 69% between 2000 and 2008 in Harrisonburg and Rockingham County.


Home values (sales prices) declined 11% between 2008 and 2011 in Harrisonburg and Rockingham County.

A few other observations....

The majority of the increase in prices (51% out of overall 69%) happened between 2003 and 2006.


After we essentially topped out in 2006, prices hovered around the same spot until 2008.


We are fortunate that prices only had to come down 11% between 2008 and 2011 before they started to stabilize and start rising again.



At least for now, 30 year fixed mortgage interest rates seem content to hover around 4.5%. After having stayed below 4% for a year and a half (Nov 23, 2011 - June 20, 2013) mortgage interest rates jumped up rather quickly this past June. Since that time, however, rates have stayed between 4.3% and 4.6% without too much variation from week to week.
A few snippets buyers should be aware of....

The pace of home sales bottomed out in 2010. Sales have been improving since that time.


Median home sales prices bottomed out in 2011. Sales prices have been (slowly) improving since that time.


Buyers were able to negotiate most heavily in 2011. The average list price to sales price ratio has been improving since that time.


That is not to say that buyers should hold back on making any offers -- after all, there are still some over priced homes on the market -- but buyers do need to realize that (it appears that) we are now past the worst of the housing downturn.
At least for now, mortgage interest rates seem to be stabilizing around 4.4%. These rates are an entire point higher than the all-time lows seen in late 2012 and in May 2013......however, they are still lower than than any mortgage interest rates seen anytime other than in the past two-ish years.
Thus far this year, 60% of all home sales have been under $200K......and 90% of all home sales have been under $325K in Harrisonburg and Rockingham County.
As you may have read about in the news, home values (nationally) are increasing....

USA TODAY: May home prices show 12.2% annual increase


So, is that what we're seeing here in Harrisonburg and Rockingham County as well?

As shown in the chart at the top, we have only seen a 0.2% annual increase in prices in Harrisonburg and Rockingham County.

Review a full battery of local housing market trends here.
HarrisonburgTownhouses.com

has been updated with sales data from 2013-Q2, and many townhouse communities are (finally) starting to see median prices increase again.

So, are you wondering about property values in your townhouse community? Or considering purchasing an investment property? Whatever the reason for your interest in townhouses in Harrisonburg, you will likely find the information you need at

HarrisonburgTownhouses.com

, including (for each townhouse community):

a photo tour
the size and age of the neighborhood
an overview of the floor plans available
property owner association dues
trend data showing the pace of sales and changes in market value (just updated for 2013-Q1)

a neighborhood map
properties currently for sale
recent sales in the neighborhood
restrictive covenants and a plat

The townhouse communities featured on HarrisonburgTownhouses.com include:

It seems quite possible --- see above.

But remember folks,

these are still ridiculously low interest rates from a historical perspective

.
Last year was the worst year in the last 10 years to try to sell a home for more than $600K in Harrisonburg and Rockingham County. This year is shaping up quite nicely. It may not be a blockbuster (10+ or 12+) year, but it won't be nearly as bad as last year.

Looking for that perfect $600K+ home? Don't miss this one:

photos

|

web site
Interest rates are increasing. It's not the end of the world, but buying soon will likely be more affordable than buying later.....

The payments shown above only reflect principal and interest, not taxes and insurance.
Interest rates have increased from 3.35% to 3.98% over the past six weeks. A 30 year fixed mortgage interest rate below 4% is still fantastic (even below 5% is great) but if you're buying soon, you should consider finalizing those details ASAP to try to get a 3.something% interest rate if you can.
I have been tracking contract activity over over six years and I have never seen contract levels this high in a single month. Over the past six years, we never saw any more than 121 contracts signed in a single month. Last month, there were an astonishing 143 contracts signed!
If the first 28 days of May are any indication, our local housing market will be setting new records this month. There have already been 125 contracts signed on residential real estate listings in Harrisonburg and Rockingham County this month. That is nearly double the pace of contract signing seen in previous months of May.
As stated yesterday,

even though sales are up, prices are not yet increasing

.

So what can we expect of home prices over the next five years?


I believe we will start to see an increase in prices this year (perhaps 1%) and then we may see a more ambitious (2% - 3%) increase for the next few years after that.

Bear in mind that depending on the timeframe you examine (see the bottom of this post) the median home value increases around 5% per year.

The matrix above shows that a $250K home would (potentially) increase to a value of $289K over the next five years if we see an average of 3% appreciation per year over the next five years.

Click here

to download the table above as an Excel file to plug in your own variables.

National median home values increased 5.94% per year between 1960 and 2000.
National median home values increased 6.72% per year between 1970 and 2000.
National median home values increased 4.76% per year between 1980 and 2000.

As several of you pointed out, last week's sales and inventory graph was missing the trendline for price. So, here (above) is the updated graph. As you can see, over the past two years we have seen prices stabilize as sales increased and inventory decreased. All good signs for further stability and growth in our local housing market!
The Harrisonburg / Rockingham unemployment rate dropped below 5% for the first time in 50 months in March. This is a good sign for our local economy, and also speaks to trends being seen across the state and country as well.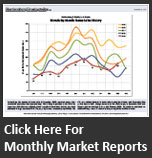 Subscribe

Receive notifications of new content on this blog, via e-mail or RSS reader.