Welcome! This blog tracks the real estate market in the Central Shenandoah Valley, featuring market data and analysis, an exploration of common buying and selling questions, and candid commentary on all things real estate.
If you are interested in discussing any of the topics on this blog, or the details of your specific real estate situation, call or e-mail me!
Student Housing
Pheasant Run Townhomes

is a college rental community comprised of 143 townhouses. Of those 143 townhouses, 103 are corporately owned and 40 are privately owned. The privately owned townhouses have recently been selling in the $140K's....

The latest news is that the 103 townhouses that are corporately owned

sold

for $10,425,000 on December 18, 2015 to TRP Pheasant Run Manager LLC, a company affiliated with Thalhimer Realty Partners, which is a subsidiary of Cushman & Wakefield/Thalhimer.

As per today's

article

in the Daily News Record....

Matt Raggi, a vice president with Thalhimer Realty Partners, said the company will operate the property. It owns and operates almost 4,000 apartment units in Virginia and the Carolinas, including student markets such as Richmond, Norfolk and Chapel Hill, N.C.

Pheasant Run is the company's first acquisition in Harrisonburg.

"We like JMU. We like the Harrisonburg market," Raggi said. "We think JMU is going to continue to grow. We're long-term investors, so we see long-term value in Harrisonburg and JMU."

Local company Pheasant Run Townhomes LLC owned and operated the property, which was developed in phases between 1999 and 2003.


Absent any major changes in strategy by the new corporate owner (which seems unlikely) I anticipate that the 40 privately owned townhouses will continue to sell for similar prices as they have in the recent past, and that the community will remain a good option for investors looking to purchase a student housing rental property.

Find out more about Pheasant Run at

HarrisonburgInvestmentProperties.com

.
Click here for a larger version of the map above.


Three college housing communities in Harrisonburg, VA sold in May 2015 for over $81,000,000 to a Chicago-based company. These complexes included:

The Commons on Port Republic Road
(now "The Hills Northview")


Southview on Peach Grove Avenue
(now "The Hills Southview")


Stonegate on Neff Avenue
(now "The Hills Stonegate")


Read more about it in

last week's Daily News Record article

.
Based on

enrollment projections

approved by the State Council of High Education for Virginia and published by JMU, on campus enrollment is set to continue to increase in coming years, surpassing 20K students for the first time in the 2017-18 academic year.

Of the variety of different figures that exist within the enrollment projections, the "Total On-Campus Headcount" is typically seen as the most pertinent relative to our local housing market. This figure is the best reflection of the number of students who will need housing, either on JMU campus, or off campus. These figures, and their changes over time, are the best numbers to be using when analyzing the need for off campus student housing in Harrisonburg.

Read more about student housing in Harrisonburg, past, present and future

here

.
click here for a larger version of the map

or

here for a PDF

Enjoy this updated map showing where JMU college students live, in a few categories of housing....

JMU Residence Halls (purple squares)
corporately owned apartment complexes (green squares)
individually owned single family or multi-family homes (orange squares)

townhouses/condos you could purchase, primarily for undergrads (red text)
townhouses you could purchase, primarily for grad students (blue text)

If you are interested in purchasing an investment property in Harrisonburg -- for college students, or not -- feel free to drop me an email (scott@HarrisonburgHousingToday.com) and we can discuss the best opportunities for you.



It would seem that JMU will be buying this 60 acre parcel on South Main Street that was originally intended to be privately developed as student housing.

Per the Daily News Record (June 7, 2014)....

James Madison spokesman Bill Wyatt said that while the university has no immediate plans for the property, the board is buying it to add flexibility to shuffle the school's auxiliary, nonacademic services away from the center of campus, and create space for future facilities.


Read the full DNR article

here

.

Read about the 466 apartments that were originally going to be built on this land

here

.
Photo Source:

Moseley Architects

I'm not sure if we call this on campus or off campus housing, but JMU is building a new residence hall on West Grace Street that will feature approximately 507 beds, various student life spaces, classrooms, seminar spaces, administrative offices, and other support spaces.

Read more via The Breeze

here

.
An

auction was scheduled

for

University Fields

back in September -- and now we know who purchased the property.

Vesper Holdings

, a real estate investment firm in New York City, purchased University Fields for $19 million on October 28th.

Five million dollars of capital expenditures are planned including renovating the interiors of the apartments, clubhouse and amenities as well as enhancements to the exteriors of each building and technology upgrades.

Pertinent details about University Fields....

1,152 bedrooms
(22) three-story buildings
Built on a 23.55 acre site.
Entirely four bedroom units, between 1,100 and 1,200 SF

Read the entire press release here.


Read today's Daily News Record article here.



After several (very!) slow years of condo sales at Hunters Ridge, there has been a rush of sales this year --- 13 as of 11/13/2013. Prices have come down a bit further this year, to a median of $56,250.

Sales have also increased (slightly) at Camden Townes (Hunters Ridge Townhomes) -- and prices have started to tick upwards a bit to a median of $78,500.

Here is all of the data....

Search for properties for sale in...

Hunters Ridge

or

Camden Townes

.
JMU just published

updated enrollment projections

as recently approved by the State Council of High Education for Virginia.

There are plenty of different figures that can be used to understand JMU enrollment, but the most pertinent relative to our local housing market is the "Total On-Campus Headcount" as shown in the graph above. This figure is the best reflection of the number of students who will need housing, either on JMU campus, or off campus. These figures, and their changes over time, are the best numbers to be using when analyzing the need for off campus student housing in Harrisonburg.

First, as you can see, JMU is still growing and intends to keep growing for years to come. This is good in many ways for JMU, our local economy, our community, etc. The question that is of interest to me, however, is how this all relates to Harrisonburg's off campus student housing market.

A lots can happen in 5 short years (2008-2013)....

Reports of Rapid Growth....
An article in the Daily News Record on June 19, 2009 stated that enrollment was 17,964 in 2008 and would increase to 21,542 by 2013. That would have been an increase of 3,578 students.


Student Housing Developers Respond....
Per my calculations, student housing developers (and JMU) added beds for 3,792 additional students between 2008 and 2013, including a new JMU residence hall, and new housing at Charleston Townes, Sunchase, North 38, Campus View, 865 East, Copper Beach, Urban Exchange and Aspen Heights.


Actual Growth Was Much Slower....
The Total On-Campus Headcount (shown above) actually only increased from 17,964 to 19,409 between 2008 and 2013. This is an actual increase of only 1,445 students.


Real world implications....



Over the past five years, there has been an increase of 1,445 students needing housing....and during the same time frame, housing was built for 3,792 additional students. This has led to a significant oversupply of student housing, with real world implications such as....

And yet, at the same time....

Why did it all happen?

So, we apparently have a tremendous oversupply of student housing in Harrisonburg -- many wonder why it happened. Read my theories here.


Looking forward....

Given this new data (at the top of this post) about increases in JMU enrollment (Total On-Campus Headcount) what can we say or know about the future?

Further projected increases in student enrollment should slowly eat into the oversupply of student housing.


Our local market DOES NOT need any further off campus student housing!?!

This is a lot of information -- if you have questions, feel free to email me at scott@HarrisonburgHousingToday.com.



In another interesting twist to our oversupplied student housing market, a 228-Unit Student Housing Property just off Port Republic Road may be auctioned off this week.

Here is an overview of the opportunity via Auction.com....

Auction.com presents the opportunity to acquire a non-performing loan secured by University Fields Apartments, a 288-unit / 1152-bed multifamily complex located in Harrisonburg, Virginia that caters to the student demand from James Madison University (enrollment of 19,000). Built in two phases, Phase I in 1989 and Phase II in 1997, and later renovated in 2004, the property consists of 22 three-story buildings situated on 23.55 acres. Amenities include an outdoor swimming pool, a fitness center, tennis court, a cyber cafe with WIFI, and a clubhouse. The units feature fully-equipped kitchens, a full size washer and dryer, walk-in closets, mini-blinds, high-speed internet access, vaulted ceilings, and both balconies and patios with storage. Centrally located in the historic and scenic Shenandoah Valley in west-central Virginia, Harrisonburg is served by Interstate 81 and is located approximately 110 miles north of Roanoke, 125 miles west of Richmond and 125 miles southwest of Washington, D.C.


A few other interesting tidbits:


This complex includes 288 units in 22 buildings on 23.55 acres.

The non-performing loan has a balance of $23,743,918.
The complex is only 55.68% occupied.
The Net Operating Income was $1,693,390 as of 12/31/2012.

Bidding starts today at $8,000,000 and ends on Wednesday.

View more details

here

at Auction.com.
I have come to know these two things to be true....

There are lots of large properties rented to lots of JMU students that bring in lots of investment income.
The above-referenced properties are rarely available for purchase.

That changed earlier this week, when nine such properties were listed for sale. Click here to review the details of these investment properties -- they house lots of students, paying healthy amounts of rent, and thus they carry a high price tag.



Aspen Heights is a planned college student housing community on Port Republic Road. Or, as described by the Aspen Heights marketing team....

A neighborhood of craftsman homes with all the convenience and amenities of a luxury multi-family dwelling complex.


To its credit, this does seem to be a notably different type of community compared to most other college housing complexes in Harrisonburg. That said, it is being built amidst (adjacent to) several existing single family home neighborhoods (Ashly Meadows, Stone Spring Village) and those homeowners have a vested interest in it being a well-planned community.

This PDF

(from the Rockingham County Planning Commission's April 2012 meeting) gives some insight into the Rockingham County rezoning process, showing some very detailed information including:

Aspen Heights is proposing to rezone 23.1 acres to R-5 to allow the construction of 184 residences, with a gross density of 7.9 units per gross acre. Units would have two to five bedrooms. The Master Plan shows 30% open space, pedestrian and bicycle accommodations, and community amenities. This project would be marketed as student housing.
The proposed Aspen Heights Master Plan shows front-yard greens (which are part of the 30% open space), parking at the rear of the residences, amenities, and bicycle and pedestrian accommodations with direct access to the Port Republic Road multi-purpose trail.
In response to requests from adjoining landowners for the provision of screening, the Narrative Statement includes perimeter fencing and landscaping.
Staff Recommendation = Approval (March 27, 2012)
Planning Commission Recommendation = Approval (April 3, 2012)


This is somewhat old news, as this is the rezoning request from six months ago, and the land is currently being graded to start construction. However, hopefully this is some helpful information about Aspen Heights, and some insight into what a rezoning request looks like and how that process works.
It has become a part of my routine to take a look through the City of Harrisonburg Planning Commission board packets, as these are available for public consumption, and often have some interesting insights into forthcoming developments in the City of Harrisonburg. Read on for some highlights of what will be discussed during the October 10, 2012 meeting (at 7PM).

Above is the site plan for Aspen Heights which is the

new gated student housing complex being built on Port Republic Road

. View more details on their

Facebook page

or

web site

. Per the site plan, there will be 183 buildings with a total of 600 bedrooms.

Above is the site plan for Stone Spring Courtyard (

here as a PDF

) the

new luxury gated apartment community on Port Republic Road

.

Above is the revised, proposed site plan for Campus View Condos (

here as a PDF

) showing the new layout of buildings as proposed by the new developer of the complex. The original developer was foreclosed on, and the new developer is proposing to 108 apartments in 8 buildings, instead of the same number of units 9 buildings.

View the full Planning Commission board packet (and from previous meetings)

here

.
Click on the map above to view a larger version.

In the past several years we have seen quite a few changes on Port Republic Road on the map shown above, including:

All of this new road infrastructure, plus the new hospital, plus a clustering of residential developments over the past 15-20 years has lead to quite a few new projects labeled on the map above.

Aspen Heights, a new (not-yet-built) 184-unit student housing complex
A proposed 220-unit high-end apartment complex built in the shape of a triangle, with a courtyard and pool in the center. This is currently going through the approval process.
Stoneport, which includes 105 acres of housing, commercial, retail and professional space.

Given the new hospital, the new road infrastructure, and the large area of existing housing, it is not surprise that we are seeing these new developments along Port Republic Road. Stoneport is the largest of the new projects, and it will certainly be interesting to see what businesses are established in that location.




Hunters Ridge Townhomes --- located on Port Republic Road immediately adjacent to Hunters Ridge Condos has now rebranded and is being called Camden Townes Townhouses.

The common name (Hunters Ridge) between the condominium development (Hunters Ridge Condos: 3-story, 12-unit buildings) and the townhouse development (Hunters Ridge Townhomes: rows of 6+ side-by-side two-story townhouses) likely caused some confusion about the connection (or lack thereof) between the two neighborhoods.

The two communities do share a common road (Bradley Drive) as shown on this map.


The two communities have completely separate property owners associations --- managed separately, and making decisions separately.

As one of the closest communities to campus (if not the closest) Hunters Ridge Condos has had its share of "issues" over the years with big parties, decks collapsing, floor collapsing, etc. Only time will tell if this separation between the two (from a branding perspective) will positively impact Hunters Ridge Townhomes --- or rather, Camden Townes.
Especially when it comes to student housing, it can be quite helpful to view an investment property once the tenants are in place. I took the above photo when showing an investment property last week -- as you can tell, the tenants moved the most important items in first....
Out of town investors often wonder where a particular property is located at Hunters Ridge --- now they need wonder no longer.

Click the map above for a printable version (4.8M) of this map of Hunters Ridge. I have labeled each condo building and group of townhouses by its address.

View properties for sale in:

Hunters Ridge Condos

,

Hunters Ridge Townhouses
Is it possible that values at Hunters Ridge have bottomed out and are on the rise? Don't read into the upswing too much, as there is only one data point for each property type so far this year --- but this will be a trend to continue to monitor.

View currently available

condos

and

townhouses

in Hunters Ridge.
After several years in a row of relatively similar sized classes of first year students at JMU, the first year headcount will jump up a bit this coming year, as shown above.

Despite this jump in first year students, the overall growth trajectory will stay relatively similar to what JMU has experienced over the past several years.

These increases in enrollment will (gradually) help the over-supplied student housing market in Harrisonburg. If you haven't heard, there are many more places for students to live than there are students. (

read up here

)

These increases are also (continued) great news for the local economy, as JMU is a major economic engine for the local economy -- as both students and faculty/staff live here, work here, spend here, etc. This is not, of course, to ignore the significant contributions made to our local economy by Bridgewater College, Eastern Mennonite University and Blue Ridge Community College.

The data for the graphs above is based on

JMU's enrollment projections

. "Total On-Campus Headcount" is the number of students who are taking classes on the JMU campus.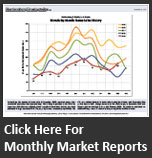 Subscribe

Receive notifications of new content on this blog, via e-mail or RSS reader.