Welcome! This blog tracks the real estate market in the Central Shenandoah Valley, featuring market data and analysis, an exploration of common buying and selling questions, and candid commentary on all things real estate.
If you are interested in discussing any of the topics on this blog, or the details of your specific real estate situation, call or e-mail me!
After a slow February, March and April --- as it pertains to showings --- you can see that there have been many more buyers in the market this year during May, June and July as compared to the same months last year.

* July 2014 data is extrapolated from 7/1/2014-7/22/2014 data.
Tracking median sales prices can sometimes be deceiving....

If older homes are selling this year (compared to last) then median sales prices might be dropping even if home values are going up.


If smaller homes are selling this year (compared to last) then median sales prices might be dropping even if home values are going up.

If more homes without garages are selling this year (compared to last) then median sales prices might be dropping even if home values are going up.


It's possible that is happening in our current market. The median sales price of single family homes has declined 9% over the past two years --- but the median price per square foot has increased 5% during the same time frame.
Registration is now open for the

Mid-Atlantic Sustainability Conference.

A special offer to the first 30 people to register will get a free copy of the National Green Building Standard ICC 700-2012. This conference features industry experts in the subjects of sustainable sites, alternative energy, legal green, building science, energy code, design solutions, energy modeling, HVAC design, indoor air quality, and zero energy homes.

Speakers

include Allison Bailes, Sam Rashkin, Ross Spiegel, and Peter Yost just to name a few.

Sign up today for the

Mid-Atlantic Sustainability Conference

, to take place on September 4 - 6 at James Madison University.
click here for a larger image

The rezoning was approved for a new grocery store at the corner of North Main Street and Mt. Clinton Pike. The image below shows the intended layout of the site.

From the July 9, 2014 Daily News Record

article

....

City Council unanimously approved a rezoning request Tuesday night that paves the way for a grocery store to be built at Mount Clinton Pike and North Main Street, perhaps by next spring.

MVG Development has a contract for the 6.7-acre parcel and a tenant lined up that will bring 95 jobs in a 42,000-square-foot grocery store, plus a pharmacy and fuel stations, said H McNeish, director of planning and entitlements for the Denver firm.


click here for a larger image

Progress is being made on Ramblewood Park, nestled between Ramblewood Road and Interstate 81. The first baseball fields are starting to come together.

Click here

to learn more about the vision for the whole of Ramblewood Park which is to include softball fields, soccer fields, dog park, disc golf, skateboard park and biking trails!.
Buyers are finding significantly more (+13%) single family homes to choose from these days (as compared to a year ago) but significantly fewer (-18%) townhouses, duplexes and condos.
Not only can the Lyric thermostat from Honeywell adjust the temperature for you when you're on your way home, you can also control it from your smart phone.

Learn more via

Honeywell

, or read up at Fast Company...

3 Ways The Lyric Thermostat Makes The Smart Home Brilliant

"...the Lyric is giving us a taste of just how deeply the next wave of 'smart home' appliances will integrate with our lives--and how little they will ask of us, the users..." [read more]


Rates continue to stay quite low this summer -- hovering between 4% and 4.25%. Whether you are buying a re-sale or new construction home, this is a great time to lock in your housing costs with these tremendously, historically low rates.
Be sure to check out the levitating house on Reservoir Street.

As of a few days ago, this house (shown above) was hovering a few feet above the ground -- presumably being moved away from Reservoir Street to make room for the road expansion. Many homes along Reservoir Street had been removed entirely to make room for the wider road -- but this one is apparently being (slightly) relocated.

Details about the Resevoir Street expansion can be found

here

.
click here for a much more interesting larger version of this image

JMU is hoping to close a section of Mason Street and Grace Street internal to land that they now own on both sides of each street to make the area more pedestrian and bike friendly.

Read lots of details in this

article from yesterday's Daily News Record

.
Featured Property:

7894 McGaheysville Road, Penn Laird, VA

I just published my monthly report on the Harrisonburg and Rockingham County real estate market and the local housing market started heating up in June 2014.

Jump to the full online market report

, download the

PDF

, or read on for highlights....

As shown above, there were

several encouraging signs in June 2014

....

June 2014 home sales were 14% higher than in June 2013.

YTD home sales are 7% lower than in 2013 (an improvement over last month).

Median sales prices are relatively stable (-0.13%).


It is taking 5% less time (median days on market) to sell a home this year.

Care for some even more exciting news?




June 2014 home sales (108) were the highest month of June home sales seen anytime recently. Thus, the record high number of home sales in May and June is starting to make up for the disappointingly low number of home sales in March and April.


Care for some even MORE exciting news?





A record number of home buyers signed contracts in June 2014 -- marking an astonishing, surprising, remarkable 51% increase over June 2013.


Now, a necessary return to a concurrent reality....


As shown above, despite strong sales in May and June, we're still tracking 7% behind the pace of 2013 home sales. We'll have to wait and see if the remainder of 2014 (spurred on by strong contracts in June 2014) can help us meet and/or surpass last year's count of 1,014 home sales.

Further treats you'll find in my full market report (

online

or

PDF

) include....

Inventory is up 4.8% over last year.

Long-term median sales prices continue to stay in the $173K-$176K range.

Duplex, townhouse and condo sales prices continue to rise.

One-third of homes that sold in the past year did so in less than 90 days.

Nearly half (49%) of active inventory was listed in the past 90 days.

Care to read about all of these juicy details (and more!) in my full 30-page market report? You can read it online or download the PDF.

Also, as always, if you're interested in talking to me about buying a home in Harrisonburg or Rockingham County.....or if you are interested in selling your current home.....just drop me a line by email (scott@HarrisonburgHousingToday.com) or call me at 540-578-0102.


click here to view a larger version of this image

Construction is booming on Port Republic Road in the vicinity of the

Sentara RMH Medical Center

, to include....

Bonjangles, being built at the corner of Port Republic Road and Stone Spring Road.


The Reserve at Stone Port being built between the to be constructed section of the Southeast Connector Road and Ridgewood Road.


Plenty of additional land at Stone Port, yet to be developed, intended for destination retail, medical and professional office, and high density residential.



This is a good read

for those interested in the Harrisonburg commercial real estate market and trends seen recently and that we're likely to see in the future. Thanks Tim!
I typically break our market down into four price segments when looking at trends in home sales....

Under $200K


$200K - $300K


$300K - $400K


Above $400K

The graph above shows the trends in sales of homes over $400K when analyzing the average number of homes sold per month in a rolling twelve month period. A few observations....

High end home sales declined quite steady between May 2008 (6 sales per month) and July 2012 (2 sales per month).


We did finally see a rather significant recovery between February 2013 (2 sales per month) and September 2013 (4 sales per month).

Since that time, the average number of sales per month has started to slip slightly again.

For further analysis of home sales over $400K, check out HarrisonburgHousingMarket.com -- or email me (scott@HarrisonburgHousingToday.com) and we can discuss your house particularly.


click here for a larger version of this image

Have you driven on Stone Spring Road lately near the Wellness Center? I had not done so in the last week or two, and thus had not yet become totally befuddled by the new road configuration in that area.

As shown above, Peach Grove Avenue (which goes by Stone Spring Elementary) now connects all the way through to the new Connector Road.

AND....if you were driving along Stone Spring Road, coming from Port Republic Road, you'll hit a dead end, and have to turn onto the new section of Peach Grove Avenue.....to then get on the Connector Road.....to get over towards the Wellness Center.

AND....the people living on the section of Stone Spring Road between Peach Grove Avenue and the new Connector Road likely have a slightly trickier time getting to and from their houses right now given the construction in that area.

Anyhow -- check out a larger version of the image above by

clicking here

, or drive through the area yourself to experience these road improvements. I'll be glad when the full Connector Road is finished!

Oh, and here is the

image

without my labels.
Last year, Luke and I started our 4th of July off at the

Valley 4th Run

. If you don't have plans for the morning of July 4th,

join us this year

!

Here is a re-cap of other events happening on the 4th of July in Harrisonburg....

COURT SQUARE ACTIVITIES: 8:30am | Valley Fourth RUN

The only chipped timing race in the Shenandoah Valley that lets you pick your charity and your distance. Don't forget to choose Harrisonburg Downtown Renaissance when you sign up. Learn more about the RUN.

12:00pm | Reading of the Declaration of Independence

Sons of the American Revolution Fort Harrison Chapter present the Reading of the Declaration of Independence for the ninteenth consecutive year on the east side of the Court House.

4:00pm - 9:30pm | Children's Activities and more

Activities include Face Painting by Larkin Arts; a Patriotic Pooch Booth by the Rockingham/Harrisonburg SPCA; Touch a Truck by the Harrisonburg Fire Department; Watermelon Seed Spitting Contest by the Friendly City Food Co-Op; Inflatables provided by First Presbyterian Church and more.

4:00pm - 9:30pm | Marketplace of Vendors

Vendors will include an art market hosted by Larkin Arts for attendees to browse what our local artists have to offer; food vendors including local food trucks and delicious fare, and craft vendors.

COURT SQUARE THEATRE PERFORMANCES: 11:00am, 1:00pm & 4:00pm | "The Little Red Hen" Puppet Show

Back again this year by popular demand is the hilarious Barefoot Puppet Theatre Show. Shadow puppets, hand puppets, rod puppets, and even a humanette will delight families and children ages 3 & up. Shows will be available in Court Square Theatre at 11:00am, 1:00pm, & 4:00pm. Tickets are $5.00 each. For more information please visit Court Square Theatre.

TURNER PAVILION ACTIVITIES: 12:00pm - 8:30pm | Grillin' at the Pavilion BBQ Cook-off

Teams will vie for cash prizes, bragging rights and title of Valley Fourth's Champion BBQ'er.

4:00pm - 7:00pm | People's Choice Sampling

The first 1,400 people who purchase sampling tickets from 3-5pm at the Turner Pavilion Info Tent will have an opportunity to sample the People's Choice team entries and vote for their favorite.

4:00pm - 9:30pm | Beers N' Cheers

Live music, craft beer, Virginia wine, and food!

4:30pm - 6:00pm | The Judy Chops

Live musical performance

7:00pm - 8:30pm | Rebecca Frazier and Hit & Run

Live musical performance

8:30pm | Awards Ceremony

Winners of the Children's Watermelon Seed Spitting Contest, BBQ cook-off and parade will be announced.

9:30pm | Fireworks Finale

Fireworks will light up the sky over downtown. The best view will be from the Turner Pavilion so plan to get there early and bring a lawn chair!

ALONG MAIN STREET: 1:30pm and 2:00pm | Rocktown Bites! Tours

Eat and drink your way through an incredible array of independent downtown restaurants! These specialty July 4th tours last approximately 2.5 hours as your tour guide takes you to unique restaurants, food shops, and local businesses to sample food, drink (including craft beer and Virginia wines), and get behind-the-scenes dish from restaurateurs and chefs. Tours include tasting tickets to the Grillin' at Pavilion BBQ Cook-Off. Two tours are being offered at 1:30 and 2:00pm. For ticket information please contact Katie Yount.

6:00pm | The Celebrate Downtown Parade

The parade will travel South on Main Street from the Rockingham County Administration Building to the City Municipal Building. To apply click here. (deadline extended through Wednesday June 25th!)

5:00pm - 8:00pm | First Friday's

Stroll the streets of downtown Harrisonburg the first Friday and enjoy extended hours at many shops and businesses (5-8pm or later) while viewing art and enjoying performances by local artists, musicians, and more. For more information visits Arts Council of the Valley.
Are low mortgage interest rates from 2012-2013 keeping today's inventory levels down? Sound confusing? Read the excerpt above, or the entire article on the Matrix Blog....

New Angle: Blame Low Mortgage Rates

Here in Harrisonburg, I don't talk to many homeowners who are hesitant to sell because of the low interest rate they obtained in 2012-13. In fact, I don't see many homeowners who bought in 2012-13 even considering selling at all. If you bought a home in 2012-13, likely you were and are planning to be in it for quite a few more years.

And today's higher mortgage interest rates?

They aren't really that high

!
June home sales have seemed strong thus far in 2014, but as it turns out, we're right on par with last June -- OK, technically, slightly ahead of last June.

Review

last month's market report

for a broader picture of the health of our local housing market.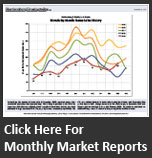 Subscribe

Receive notifications of new content on this blog, via e-mail or RSS reader.