Welcome! This blog tracks the real estate market in the Central Shenandoah Valley, featuring market data and analysis, an exploration of common buying and selling questions, and candid commentary on all things real estate.
If you are interested in discussing any of the topics on this blog, or the details of your specific real estate situation, call or e-mail me!
For planning purposes, just a reminder that the tax rate in Rockingham County was both $0.66 and $0.68 during 2015 -- but we can likely now just plan on it being $0.68 (or higher?).

The tax rate for the first half of the year (2015) was $0.66 and then it increased to $0.68 for the second half of the year.

The City of Harrisonburg continues to have a slightly higher ($0.72) tax rate than Rockingham County.
Walmart, Gabe's and Hobby Lobby were some of the major participants in the commercial real estate market in 2015, but as noted in today's DNR article....

[...] it's a nonbuilding project, the completion of the half-loop connecting U.S. 33 east and west of Harrisonburg known as the Southeast Connector, that's predicted to have the greatest effect on commercial real estate.


Read the fully

Daily News Record article

for an overview of some of the changes and new developments seen in the Harrisonburg commercial real estate market in 2015.
If we take NoVa (2.9M), Virginia Beach (1.7M) and Richmond (1.2M) out of the mix, we're left with the eight MSA's listed above. You'll note that Harrisonburg and Rockingham County have an estimated population of 133K, compared to Staunton (next smaller at 121K) and Blacksburg (next larger at 183K).

Click here

for a larger version of the graph above.

Of note -- this graph does not include:

NoVa (2,909,438)

Virginia Beach (1,700,609)

Richmond (1,263,617)



Many of my savvy investor clients wait for the winter months to acquire additional rental properties. Their reasons are pretty logical....

In the Spring/Summer/Fall they have to compete with more owner occupant purchasers.

In the Winter, many sellers are less hopeful about the likelihood of finding a buyer, and often are more flexible on price.

Of note -- this advice is most applicable to townhouse properties that might be purchased by investors or owner occupants. This does not necessarily apply to multi-family properties or student housing properties.

If you are looking for some advice on how to get started with real estate investing, check out HarrisonburgInvestmentProperties.com.



(don't worry -- this is not really one of my client's homes)

Preparing your home to go on the market can be challenging (and tiring), and often sellers-to-be need a second (or third) set of eyes to provide suggestions about where to focus their time and energy. There are many different theories about how to best prepare your home to be on the market and viewed by buyers --- and ways of expressing those theories.

take a minimalistic approach, removing absolutely every knick knack in sight
removing all family photos
de-cluttering and get rid of extra "stuff"
remove furniture to create an open feel
stage the home with place settings on the dining table, and more
always have fresh flowers in the home

There are countless other theories, ideas or suggestions -- all of which can be helpful to consider as you are preparing to put your house on the market. Another perspective that I'd throw out there for your consideration is

eliminating distractions and objections

.

Distractions

are the things that keep a prospective buyer from focusing on your house. That might be knick knacks, or family photos, or refrigerator magnets, or an overflowing pantry, or fascinating artwork, or an abundance of indoor plants, or a strange odor, or brightly colored wall hangings. Whatever it is --- if a buyer is focusing on one (or more) of these items, they're not focusing on your house. They're reading all of the Far Side comics on the fridge instead of marveling at the granite countertops, tile back splash, recessed lighting, and stainless steel appliances. They're amazed at how you fit 234 board games into the coat closet instead of taking in the quality workmanship of the trim detail in the foyer, and the mountain views out the picture window in the family room. As you prepare your home to go on the market, close your eyes for a few moments when standing at the entrance to each main living area. Then, open your eyes, and take note of where your eyes are immediately drawn. Or, walk slowly through the space (or ask a friend to help) seeing where your eyes (and your mind) linger.

Objections

are those correctable physical characteristics of your home that give a buyer a reason to mark your home off their list, or to move it down a notch in their preferences. Perhaps it is that the vinyl siding needs to be power washed, or that three bi-fold closet doors need to be adjusted, or that there is poor lighting in the kitchen, or that the deck needs staining. There are oftentimes small home maintenance items that should be attended to before putting your home on the market. There are two potential dangers of having these items unresolved --- first, a buyer might become too overwhelmed by the work that they need to do to the home once they move in, and second, a buyer might extrapolate from what they can see to imagine what they cannot. A classic example of this is the dirty furnace filter that makes a buyer assume that the HVAC system has never been serviced, is in a terrible state of disrepair, and will need to be replaced immediately.

As you're preparing your house to go on the market, I'm happy to provide you with another set of eyes and to give you some new perspectives on how to best prepare your home to be shown to buyers.

When you're ready, just give me a call (540-578-0102) or send me an e-mail (

scott@HarrisonburgHousingToday.com

). Also, don't fret about having your home in perfect "show condition" before you call me --- I'm happy to give you some guidance and feedback while you're still in the process of preparing your home to go on the market.
Fear not, interest rate watchers, while mortgage interest rates were on the rise -- climbing up above 4% at the end of December, they have now tumbled back down to 3.79%.

When the

Fed raised its key interest rates

, it seemed that mortgage interest rates might finally be leaving the sub-4% range for good.

Not so much.

It's anyone's guess where mortgage interest rates will end up in December 2016 -- but their recent trajectory (down, down, down) no longer has me worrying (as much) that we will see a steady increase through the year up to and beyond 5%.
If you're thinking of selling this Spring or Summer, and you have trees (especially large house-obscuring trees) we should discuss taking some exterior photos SOON rather than waiting until later when we can't see your house at all.

Oh, but yes, we should make sure all of the snow has melted first....

It's all about the timing!
There were a LOT of showings in the fourth quarter of 2015 -- with 60% and 58% year-over-year increases in October and December. But then January came, and along with January came lots of snow. That seems to have been the main driver between the 41% decline in January showings as compared to a year ago.

I suspect that as the snow continues to melt, and as some additional homes come on the market, that we will see a strong month of showings in February 2016.
With some regularity, I am asked by potential purchasers how they would go about buying a foreclosure. First, here is a

list of upcoming foreclosure sales

, but more importantly, below is a description of a few ways to buy what you might be thinking of as a foreclosure.

SHORT SALES

: Some homeowners must sell their home, but market conditions won't allow them to sell it at a high enough price to be able to pay off their mortgage(s). In this example, a homeowner might have a $250,000 mortgage balance but can only sell the property for $230,000. As a prospective buyer, it is sometimes possible to purchase this type of a property through a process called a "short sale." In such an arrangement, the homeowner petitions their lender to accept less than the full payoff of the mortgage and in return to still release the deed of trust so that ownership of the property can be transferred over to you, the new owner. This can benefit the lender, as they skip the time delays and cost of the foreclosure process. This can also benefit the homeowner, as a short sale will have a slightly lesser negative impact on their credit as compared to a foreclosure. As a buyer, however, you must know that there are challenges to buying a property as a short sale. The biggest challenges of late seem to be the uncertainty of the purchase and the time table. Even if you and the homeowner agree to a price of $230,000, the homeowner's lender must still agree to accept that price – since it won't allow the homeowner to pay off their $250,000 mortgage balance in full. This process of waiting to hear back from a lender, and then complying with all of their various terms can sometimes take 60 to 120 days – or longer! Visit

HarrisonburgShortSales.com

for a list of potential short sale properties currently on the market.

TRUSTEE SALES

: If a short sale does not take place, and a homeowner is behind on their payments (or not making them at all), eventually the property will be sold by the lender on the courthouse steps. Buying a property at a "trustee sale" can be exciting, and can be a great opportunity – but there are challenges as well. If a property to be sold at a trustee sale is also listed for sale with a Realtor, you can usually view the property ahead of time by calling your Realtor. Otherwise, you will likely not have the opportunity to see inside the property before the trustee sale, and thus you will not know too many details about the condition of the property. Furthermore, your purchase of the property at the trustee sale cannot be contingent upon viewing the property, or inspecting the property. In this instance, you are purchasing the property in "as is" condition, regardless of what you then find out about the property. It is also important to note that many times the lender will have an opening bid at the trustee sale that is close to (or sometimes higher than) the amount that they are still owed on the mortgage. Thus, in the example above, they might make an opening bid of $250,000. As a result of this opening bid process, many (or most) properties available for purchase at a trustee sale are not great opportunities. Occasionally, a property will be foreclosed upon that has had a mortgage in place for many years, whereby the balance of the mortgage is much lower than current market value – these are great opportunities for a buyer. Visit

HarrisonburgForeclosures.com

for a list of upcoming trustee sales.

BANK OWNED PROPERTIES

: If you don't buy the property before the auction (as a short sale), and don't buy it at the trustee sale, you'll have a third opportunity to buy it once the bank owns it. These properties are called "bank owned properties" or REO properties ("real estate owned"). Oftentimes, the prices on these properties are quite realistic, if not under market value. It would not be atypical for a house such as the one mentioned above to come on the market after the trustee sale at a price of $210,000. In such an instance, you should expect to be buying the property in "as is" condition, and you will also be buying with a slightly different contract document. Most lenders have a long standard contract or contract addendum that spell out a variety of additional contract terms designed to protect them from any future liability – and rarely will a lender agree to have these contract documents changed in any way. As you can see above, oftentimes buying the property as an REO property is where the best opportunity lies. Visit

HarrisonburgREO.com

for a list of bank owned properties currently on the market for sale.

When a home goes into foreclosure it is often for very sad and unfortunate reasons – such as the loss of a job – and I do not wish such circumstances on any homeowner. However, if you are a buyer in today's market it is important to be familiar with different methods for buying a property when it will be, is being, or has been foreclosed upon.
After a slight dip in 2014, the Contract Success Rate rose to 96% in 2015. That means that nearly all contracts that are signed by buyer and seller make it to closing. This may be a result of more reasonable lender underwriting requirements, or more prepared buyers, or buyers and sellers being more rational when negotiating the speed bumps between contract and closing. Regardless, it is good news for anyone who has a house going under contract -- it is more likely to go to closing than it was a year or two ago.
Q: Why did the chicken cross the road, in Harrisonburg?A: To get to a 2 acre lot.

Back in 2009, City Council approved an ordinance that prohibited property owners from raising chicken in their backyard unless they had a 2 acre lot. There were also quite a few other limitations, all of which can be found in the entire current ordinance

here

.

Now, per

today's Daily News Record article

....

"City officials are exploring whether the lot-size threshold should be reduced; if there should be a neighbor approval process; whether a certain number of permits should be issued within a trial period; and any other issues, according to the release."


Do you have an opinion? You can sound off on the issue at

BeHeardHarrisonburg.org

.

Oh, also -- before you try to get creative and consider another backyard bird, you should know that the ordinance in question also limits your ability to keep all of the following foul in your yard: chickens, roosters, ducks, geese, turkeys, guinea fowl, emus, rheas, ostriches and pigeons.....
A few short years ago there were enough homes on the market in January to last us nearly an entire year. In January 2011, there were 787 homes on the market and only 832 buyers would go on to buy a home that year.

Things have looked at bit different over the past few years, with lower (529-560) levels of inventory at the start of the year, and higher (1085-1175) home sales in the year that followed.

** Please note: The 2016 home sales shown in the graph above are a projection, not a promise. :)
A bit more about affordable housing in the City of Harrisonburg, as we started to explore yesterday....

There are 149 residential properties for sale in Harrisonburg right now -- but if you're buying under $200K, and hoping for a single family (detached) home, it may be more difficult than you imagined. As shown above....

There are only 9 detached homes on the market for less than $200K that have been built in the past 50 years.

If we go a bit older (51 - 116 years old) we will find an additional 18 homes.

So, if you are looking to buy under $200K in Harrisonburg you may have to buy an old home or an attached home (duplex, condo, townhouse).



If you haven't heard, it's becoming difficult to find bread in Harrisonburg this week. Something about a pending weather system.....maybe eating bread is a part of the snow dance ritual? Hard to say....

Beyond bread, though, the next hardest thing to find in Harrisonburg right now is a single family family home, built in the past 50 years, at "an affordable price" -- however one might define that....

As shown above, if you are looking for a single family home in the City of Harrisonburg, built since 1966, for less than $125K, you are out of luck.

You'll start to find some options at $129K and then things go right on up from there. Check them out

here

.

If you know about some secret locations to find detached homes under $125K in the City -- or bread for that matter -- let me know!
Take a few minutes to

walk through this beautifully updated four bedroom Colonial home

on a full unfinished walkout basement in Kings Crossing is within walking distance of Hillandale Park and just a quick bike ride away from JMU Campus and downtown Harrisonburg. You will not want to leave the remodeled kitchen in this home with hardwood floors, soapstone counters, stainless steel appliances, built in built bookshelves and many other high class touches. Hardwood floors continue throughout the entire first floor, through the living room, dining room, family room and office. Upstairs, you will find four spacious bedrooms and three full bathrooms! Don't miss the full, unfinished, walkout basement with a workshop PLUS a large, fenced yard with mature trees!

Click here to walk through this home

, on your computer, phone or tablet.

Or,

visit this home's property website

.

Or,

view high resolution photos of this home

by clicking the collage below....

Find out more about this 3D Walk Through technology at

WalkThroughThisHome.com

....
As shown above, more new homes (54) sold in 2015 than in any year during the past five years. In fact, the 54 new home sales shown in the MLS in 2015 marked a 42% improvement over 2014.

Furthermore, the median sales price has increased to $140/SF -- the highest level seen anytime in the previous six years!

Of note -- the home sales shown above are only the new homes sold via the MLS. Plenty of other new homes have been built in recent years and sold directly by the builder (without ever being in the MLS) or were built via a contract build between land owner and home builder.

Read more in my

Harrisonburg Year End Real Estate Market Report

....
Last year (2015) was a solid year for the Harrisonburg and Rockingham County residential real estate market, with a 3% increase in the pace of home sales. This level of home sales (1,022) was the highest number of home sales seen anytime in the previous seven years. I expect that we will see continued improvement in the number of home buyers purchasing homes in our local area in 2016. As shown to the right, I am predicting a 5% improvement in the pace of sales, for a total of 1,175 home sales in 2016. I believe we will see continued increases in local employment opportunities, combined with only small increases in mortgage interest rates, leading to continued increases in home buyer activity.

After three years (2012, 2013, 2014) of very small increases in the median sales price (+1%, +2%, +2%) we finally did see a more substantial increase in 2015. The 4% increase in the median sales price last year increased the median price to $185,000 -- the highest price seen since back in 2009. Over the next year, expect that we will see further improvements up to a median sales price of $192,500. If this indeed happens, this will be the third highest annual median sales price we have ever seen in this area. The highest median sales prices on record of $195,000 in 2008 and $195,100 in 2009 were both during the real estate boom.
Theories are welcome!

As shown above, the under $200K market has been flat over the past year ,the $200K-$300K and $400K+ markets have increased by at least 30% over the past year -- but the $300K - $400K market has declined by 25%.

One year ago, an average of 9.8 homes were selling in this price range ($300K-$400K) each month. That has declined (over the past year) to an average of 7.4 sales per month.
The single family home market in Harrisonburg and Rockingham County told two two different stories last year (2015), depending on whether we were evaluating the price or pace of home sales. This past year (2015) marked the third year in a row with between 810 and 820 home sales -- so, virtually no change in the pace of home sales. Over the past year, however, the median sales price of single family homes increased by 5% to $200,000 -- which is the first time we have seen a $200K or higher median sales price since 2005-2009. It is encouraging that sales prices are increasing even without substantial increases in the number of home sales.

Read more in my

Harrisonburg Year End Real Estate Market Report

....
The graph above examines townhouse, duplex and condo sales in Harrisonburg and Rockingham County. As you can see, there has been quite an uptick of activity over the past few years --- an increase from 179 sales/year in 2011 to 304 in 2015. In the past year, the number of annual sales has increased by 14%.

Prices, however, have not increased over the past year. After an 11% increase in the median sales price in 2014, the median sales price did not budge in 2015 -- it stayed right at $151,750.

Read more in my

Harrisonburg Year End Real Estate Market Report

....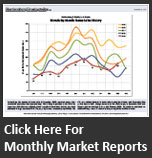 Subscribe

Receive notifications of new content on this blog, via e-mail or RSS reader.