Welcome! This blog tracks the real estate market in the Central Shenandoah Valley, featuring market data and analysis, an exploration of common buying and selling questions, and candid commentary on all things real estate.
If you are interested in discussing any of the topics on this blog, or the details of your specific real estate situation, call or e-mail me!
As stated yesterday,

even though sales are up, prices are not yet increasing

.

So what can we expect of home prices over the next five years?


I believe we will start to see an increase in prices this year (perhaps 1%) and then we may see a more ambitious (2% - 3%) increase for the next few years after that.

Bear in mind that depending on the timeframe you examine (see the bottom of this post) the median home value increases around 5% per year.

The matrix above shows that a $250K home would (potentially) increase to a value of $289K over the next five years if we see an average of 3% appreciation per year over the next five years.

Click here

to download the table above as an Excel file to plug in your own variables.

National median home values increased 5.94% per year between 1960 and 2000.
National median home values increased 6.72% per year between 1970 and 2000.
National median home values increased 4.76% per year between 1980 and 2000.

As several of you pointed out, last week's sales and inventory graph was missing the trendline for price. So, here (above) is the updated graph. As you can see, over the past two years we have seen prices stabilize as sales increased and inventory decreased. All good signs for further stability and growth in our local housing market!
Another look at sales and inventory trends over the past four years....

We're in a good place now --- fewer and fewer homes for sale combined with more and more home buyers. These two factors alone are playing a significant role in providing stability in our local housing market.
As you can see, the first four months of 2013 were quite strong when it comes to the number of home sales in Harrisonburg and Rockingham County....

Stronger than any of the past five years!


Stronger than 2001 home sales (possibly a pre-boom benchmark?)

Hopefully our local real estate market will continue to track on this trajectory as the year continues!



As shown above, the highest price segment of our local market has slowed down the most (-66%) over the past six years, especially as compared to the lowest price segment which only declined by 4% over the past six years.

Over the past two years, home sales in all price segments except the highest have sped back up, though the $200K - $300K price segment has improved the most (+40%).
I just published my monthly market report on the local housing market and there is plenty of good news in many segments of the market. Click the cover of the report below to download the entire report as a PDF or read on below for some highlights.

Cover Home:

3291 Barrington Drive, Harrisonburg, VA

After a relatively mild month of home sales in March, there were an astonishing 100 home sales in April 2013 (see below) -- bringing us to the highest level since June 2010 when buyers had their last chance to cash in on the federal home buyer tax credit.

Beyond the single month of market exuberance shown above, it is also important to examine long term trends. Below you will note that for the past two years we have seen stable prices and an ever increasing rate of annualized home sales.

The future looks positive as well, with another strong month of contracts in April (116) piling on top of March's 114 contracts.

It should be noted that the market improvements described above vary based on price range, property type and location. As shown below, the lower price ranges have seen a greater improvement in sales than the higher price ranges.

There is plenty more inside the full report, including....

City home sales increase 138% in April 2013.
Inventory levels drop 14% over the past year.
The foreclosure rate declines in 2013.
List Price to Sales Price is stable.

Click here to download the full May 2013 Harrisonburg and Rockingham County Real Estate Market Report.

And as always, if you're interested in talking to me about buying a home in Harrisonburg or Rockingham County.....or if you are interested in selling your current home.....just drop me a line by email (scott@HarrisonburgHousingToday.com) or call me at 540-578-0102.



A private developer (

dpM Partners, LLC

) is proposing to build a hotel and conference center in Downtown Harrisonburg. The $40M project would be (per the proposal) paid for with $9.5M of public funds towards the 18,180 SF conference center.....and the remaining $39.5M of private funds would help build the remainder of the project to include a 205-room hotel and a restaurant.

Thus far.....

And the latest update is that the developer will likely be ready to present the detailed plans (and feasibility study) to City Council by early summer. Read today's DNR article for more details.




I have come to know these two things to be true....

There are lots of large properties rented to lots of JMU students that bring in lots of investment income.
The above-referenced properties are rarely available for purchase.

That changed earlier this week, when nine such properties were listed for sale. Click here to review the details of these investment properties -- they house lots of students, paying healthy amounts of rent, and thus they carry a high price tag.



This full-day conference provides professional development and networking opportunities to entrepreneurs, managers, and business owners.

Click here to learn more about the schedule of events, speakers and workshops

.

Click here to register for the event.
The Harrisonburg / Rockingham unemployment rate dropped below 5% for the first time in 50 months in March. This is a good sign for our local economy, and also speaks to trends being seen across the state and country as well.
Never before have home buyers been able to lock in

such low mortgage interest rates

, which sets up 2012/2013 home buyers to have ultra-low housing costs on into the future. For the past six months, most home buyers have been able to lock in 30-year fixed mortgage interest rates between 3.3% and 3.6%. Over the past four decades (since Freddie Mac started tracking this data) the average U.S. interest has never been this low --- in fact, this average mortgage interest rate had never dipped below 4.0% until October 2012.

To put today's low mortgage interest rates in perspective, a home buyer financing 80% of their purchase at the most recent average rate (3.41%) would have a monthly payment (principal and interest only) of $622. Just one year ago, the average rate was 3.90%, which would have resulted in a monthly payment of $660, and two years ago the average rate was 4.91%, which equates to a $744 payment each month. As can be seen, locking in a mortgage interest rate today can create tremendous monthly savings for years into the future.

Not only do today's home buyers have the unique opportunity to lock in a low interest rate, they are also potentially buying at the lowest housing prices that we will see for many years to come. Local home values increased quickly between 2003 and 2006, with a 51% increase in median price over a three year period. Since that time, home values have been slowly declining, showing an overall 9% decline between 2006 and 2012. Home values now appear to have stabilized, with annualized median sales prices steady for the past 23 months. We are likely to see home prices slowly start to improve again over the coming years.

The lowest mortgage interest rates ever combined with the lowest home prices that we are likely to see over the next 5-10 years create a unique opportunity for buyers who are willing and able to act now to buy a home. The first steps in taking advantage of this opportunity should include talking to a local mortgage lender to become preapproved for a mortgage, and talking to a Realtor about what you are looking for in a new home.
I'm

listening now

--- there are some great perspectives being shared on NPR.

Click here for the story page

, where I believe there will be an audio file later in the day, or tomorrow.
Have you driven by

Ramblewood Park

lately? It's gone!

The City is in the early stages of re-vamping Ramblewood Park, which currently involves recapping the closed landfill cells within the property.

Some pertinent details about the makeover of Ramblewood Park include:

The property is 147 acres, bounded by Ramblewood Road, Greendale Road and Interstate 81.
The existing park area was a landfill site between the 1970's and 1993.
The total property also includes a Police Training Facility.

The master plan for Ramblewood Park includes:

(4) softball fields
(1) day use soccer field (360'x225')
(1) day use practice field (330'x180')
Club house / field house
Concessions and restrooms
Playground
Dog park
Frisbee (Disc) Golf Course (9 & 18 holes)
Skateboard Park
Pavilions / picnic shelters
Picnic areas
Park trail system with trailheads, hard surface trails and mountain bike trails

Click on the image above for a larger version.

Rockingham County may trade the remainder of Albert Long Park on Reservoir Street (downsized by the SouthEast Connector) for a much larger parcel on Route 33 East (shown above).

If this deal goes through (which depends on a rezoning being approved) this would be a much larger park for Rockingham County!

Click here to read the full details in the April 29, 2013 DNR article.
White Waves Foods

is expanding its Mount Crawford facility, with a recently announced $70M investment. This project will double White Wave's warehouse space, create three new product lines, and add 36 jobs.

Products from the brands shown above (Silk, International Delight, Horizon Organic and Land O Lakes) are all manufactured in the Mount Crawford facility.

Click here to learn more from the

April 19, 2013 DNR article

.
Luke and I had a chance to check out the new LOVEworks sculpture in downtown Harrisonburg this past weekend.

Read all about Harrisonburg' LOVEworks sculture at

ilovemyburg.com

, or see the sculptures all around Virginia

here

.
The

North River Wastewater Treatment Facility

, shown above and located in Mount Crawford, Virginia, treats 10-12 million gallons of wastewater EACH DAY from the City of Harrisonburg, Rockingham County, and the Towns of Bridgewater, Dayton, and Mt. Crawford.

Previous Cool Aerials from Google Maps:
The first few months of the year showed exciting signs for our local housing market:

21% increase in January home sales (39 up to 47)
43% increase in February home sales (46 up to 66)

But then there was March, which left some wondering what was going on:

2% increase in March home sales (66 up to 67)

Don't worry too much, yet, because April month-to-date sales are looking good:

24% increase in March MTD home sales (38 up to 47)

Stay tuned, but our local housing market seems to be continuing to perform well during 2013!



Sign up NOW

for the Valley 4th Run in downtown Harrisonburg. Last year over 400 people participated in the 1st Annual race and raised money for local charities. This year you too can participate, having a fun time with your family, friends and fellow community members, while supporting one of these great organizations:

Explore More Discovery Museum

Harrisonburg Downtown Renaissance

Rockingham Memorial Hospital Foundation

United Way of Harrisonburg and Rockingham County

Learn more about the race, the course, sign up to be a volunteer, or watch the promo video below....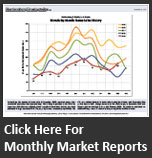 Subscribe

Receive notifications of new content on this blog, via e-mail or RSS reader.