Welcome! This blog tracks the real estate market in the Central Shenandoah Valley, featuring market data and analysis, an exploration of common buying and selling questions, and candid commentary on all things real estate.
If you are interested in discussing any of the topics on this blog, or the details of your specific real estate situation, call or e-mail me!
Marketing
Homes that are selling these days are doing so relatively quickly. In fact, more than 1 out of 3 homes (35%) that sells closes less than 90 days after being listed for sale. Include with that those that close in the next 90 days (30%) and we find that an amazing 65% of homes that sell have closed within six months of first coming on the market. This is not, however accounting for the many homes that never sell -- that linger on the market, or are eventually taken off the market.

Has your home been on the market for more than 90 days without selling? More than 180 days? Here are some thoughts to consider....

If you want your home to sell faster, you may need to reduce the price
In selling most homes, there are four factors at play:

Price
Condition
Marketing
Time


If the condition of your house is as good as it could possibly be, and the marketing is as thorough and comprehensive as it could possibly be, then we are left with two remaining variables to work with:

Time
Money (Price)


Every seller must then decide whether they want to wait for the right buyer to come along that is willing to pay the "right" price.....or whether they want to move things along more quickly by adjusting the asking price.

If you're tired (as a seller) of waiting (time) for your house to sell, then we need to talk about price. Reducing the price of your home can....

Put it into a price range where more buyers will now consider it.
Reinvigorate interest from buyers who have viewed your home in the past who now see it has a new price.

We don't have to adjust the price of your home, but if we don't, and we have already optimized condition and marketing, then we'll just be waiting it out as we continue to market your home and await the "right" buyer.



BEFORE....AFTER....

If you have spots on your driveway, or just a general layer of dirt / grime / filth, consider calling

Spotless Cleaning Company

(540.434.1292) located here in Harrisonburg, VA. They can take care of your spots, and

even more

!
This certainly has some implications as to where we should and should not be focusing our marketing efforts!
I know you've been wondering... what gift is every House For Sale hoping to receive this year?

High Quality Photographs

, taken with a wide angle lens to show the most of every room, with appropriate lighting and from all the best angles.

Full Color Property Brochures

, in a flyer box next to its yard sign, with plenty of high quality photographs, and a colorful property description to entice buyers.

A Web Site All Of Its Own

, with full property details, high quality photographs, and floor plans and restrictive covenants when available. (view a sample web site at

135BedfordPlace.com

)

This is a sample property brochure....

If you are getting ready to list your house, make sure plans are in the works for high quality photographs, a full color property brochures, and an individual property web site!
In the Harrisonburg Rockingham Association of Realtors MLS, your house must be off the market for 120 days before the "days on market" will start counting at zero again.

If you are planning to take your house off the market for the winter, but you wait until December 15 to do so, your "days on market" will still be accumulating if you put the house back on the market in early March.

Thus, now is the time to act if you want to give your house a break from the market, fulfill the 120 day requirement, and then be ready to list again in early March.
As I mentioned last month, after we have your house on the market for a month or two, if we aren't having many showings (or we're not satisfied with the feedback from those showings)

we may want to adjust our pricing strategy

to work towards a successful sale.

But then the question comes to WHEN to make the price adjustment. In some ways, as soon as you have decided you need or want to make a change in pricing strategy --- MAKE THE CHANGE!

However, one of my clients brought up a great point this past week, which is that there aren't always buyers for every house in the market at all times.

So....if the right buyer is in the market now, great, a price reduction will help them decide to make a move now versus later.

But....if the right buyer is not in the market now, the lowering our price now doesn't do much other than leave us with less negotiating room later.

There is no one "right" answer here -- as we can't conclusively know whether the buyer of your home is in the market right now, or whether they will be later. That said, develop a pricing strategy that works for your timing, your life situation, your motivation level to sell, and stick to it.
A property can do well within an oversupplied segment ofthe market if it has unique characteristics that set it apart from all or most otheravailable options.


Despite an apparent returning balance in the local real estate market, there are still many segments of the market that are oversupplied....

45 months of supply of houses priced over $400K
57 months of supply of building lots (less than 1 acre)

66 months of supply of land (more than 1 acre)

However.....there are still some houses and building lots that can (and do) sell much more quickly than those against which they are competing. How can this be? Why does it happen?

Sometimes a property can outperform its segment of the market because of price. If comparable homes are selling for $450K, but there are a LOT of them on the market, pricing a similar home for $425K or $410K will likely allow you to trump the oversupply in that price range.


Sometimes it's all about the marketing -- does your house have high quality photographs? Floor plans? Color brochures? Thorough exposure on the internet? Surprise, surprise, not all homes are well marketed these days --- if we create a solid marketing plan for your house, it may be able to outperform the market, and sell more quickly than the market would otherwise suggest.


Sometimes the condition of a property can allow it to outshine the other competing homes --- and make it much more attractive to many more buyers.

Price, condition and marketing are all under your control. Here's another factor that is not under your control, but it is important to determine whether your property fits into this category. Sometimes a property can do well within an oversupplied segment ofthe market if it has unique characteristics that set it apart from all or most otheravailable options. Those "unique characteristics" might be that the house (or building lot) has amazing views --- above and beyond any of the competing properties. Or perhaps it's the architectural style of your home. Or the undeveloped common area behind your property. Whatever those peripheral factors are, it is important to recognize that they can help elevate your property above others as you compete in an oversupplied market.



This post was going to entitled.....

Is it possible to price aggressively low and still priced too high?

But I figured I'd approach it from a seller's perspective mid-listing.

In a changing market, it's often hard to get pricing right -- especially with a unique property. When pricing your home, we'll be looking at recently (6-12 months) sold listings --- as well as currently available listings.

The ideal (but rare) scenario....

Recently Sold Comparable Properties: $295K, $300K, $305K

Currently Available Properties: $309K, $312K, $319K

Given the above scenario, we'd be wise to list for either $305K or $299K and hope to sell for $290K - $295K.

But........there are some things that you can't always accurately predict......and thus there oftentimes will need to be corrections once your house is on the market.

Perhaps most buyers of 4 BR, 2.5 BA homes that are currently in the market are looking for a main level master bedroom, and your home offers all 4 bedrooms upstairs.


Perhaps we picked the lower list price above, but it is not low enough to account for the fact that your house backs up to a moderately busy road --- while all of the other (sold and active) comparable properties do not.


Perhaps we viewed your closets as "somewhat small" but every single buyer that views your house would call them "prohibitively small"

Whatever the reason for the push back on price from prospective buyers, we can't argue with the market's general feedback if your house is being marketed well, and has been given adequate time on the market to be exposed to a large enough pool of buyers.

So......after we have your house on the market for a month or two, if we aren't having many showings (or we're not satisfied with the feedback from those showings) we may want to adjust our pricing strategy to work towards a successful sale.



My house is next to the railroad tracks

, but buyers who turned it down didn't complain about price, they complained about the railroad tracks.

My house has an unbelievably steep driveway

, but buyers who turned it down didn't complain about price, they complained about the steep driveway.

My house is needs many cosmetic updates

, but buyers who turned it down didn't complain about price, they complained about the need for cosmetic updates.

Guess what folks

--- unless you're going to move the railroad tracks (or the house), flatten the driveway, or make all of the cosmetic updates --

it really is an issue of price!

If you're getting consistent feedback about your house that is unrelated to price, in almost all cases, you need to adjust the price to accommodate for that specific issue.

If the price is lower then buyers might actually buy

despite

the specific issue that they were complaining about.
There are 17 homes on the market in Harrisonburg and Rockingham County priced over $750K --

view them here

.

How many of these impressive homes are likely to sell this year? Well, as it turns out, the high end home market ($750K+) is on fire in 2012 (with 1 sale thus far) as compared to 2011 when not a single home sold for more than $750K as reported by the HRAR MLS.

Yes, you heard that right, not a single home over $750K sold during 2011 through the HRAR MLS. Which brings me back to the question at hand..... How do you market and sell a $750K+ home in Harrisonburg or Rockingham County?

There are plenty of marketing strategies and techniques that can be employed (

e-mail me and we'll discuss them

) but the main point here is that a seller needs to set realistic expectations based on how large the pool of buyers is for their particular segment of the market.

If nobody has bought a home like yours (based on price, size, location, whatever) during the past year --- what are you going to do in the marketing and pricing of your home to get different results? Don't do the same thing that other sellers have done for the past year and expect different results.
OK, admittedly, I don't have any data readily available to back this one up -- but in almost all cases, it seems that a quick 6% price reduction (for example) will work better than two 3% price reductions over time.

For example, the quick six.....

House is listed for $300K on January 1
House is reduced to to $280K on March 1 (roughly 6%)

As compared to....


House is listed for $300K on January 1
House is reduced to $290K on March 1 (roughly 3%)

House is reduced to $280K on May 1 (roughly 3%)


Unless you think you have a great chance of selling the house after just one of the 3% price reductions, it's almost always better to make a faster, larger price reduction. This price change is more noticeable to buyers and more quickly gets you to a what will hopefully be a realistic selling point.

As a further example, I have seen sellers who have knocked off $5K every other month for an entire year. Oh, how I wish they had just knocked off $30K that first month. Each of the progressive $5K reductions had very little impact -- but a quick $30K reduction would have been much more news-worthy and may have inspired a buyer to act.



Some would say for every buyer there is a house, and for every house there is a buyer. That doesn't really apply in a buyer's market.

When there are more sellers in the market than buyers (now) as would-be seller you need to focus on what it will take to make your house one of those that will actually sell. Here are some quick tips to get you started -- consider them to be starting points for a conversation with your Realtor about how to best position, market and sell your house....

Accentuate the positives

- Focus on the most desirable aspects of your home (floor plan? age? condition? neighborhood?) and promote those features or characteristics heavily.



Overcome the objections

- Be realistic about what buyers will be concerned about (steep driveway? small yard? busy road? damp basement?) and create a strategy for making buyers comfortable with those aspects of your home, instead of pretending they don't exist or hoping that buyers don't notice them.



Promote creatively

- Think critically about who the most likely buyer of your home will be, and how to best reach them with the wonderful news that your house is for sale. One marketing strategy and one set of marketing techniques is not a cure all for all properties.

Price aggressively

- When in doubt, sharpen your pencil and offer an overly compelling price for your home that will raise the eyebrows of potential buyers and get them to act now to pick your house instead of stewing over the decision for weeks, months or eternally.

As suggested by the Venn diagram above, there are plenty of houses that won't be chosen by buyers this week, month and even year. If you want your house to be one that actually sells, be realistic about your house, and the market, and create an aggressive, creative, proactive strategy for moving forward.


In talking to several potential clients this past week, I have explained that there are two sets of buyers we need to consider when preparing to list, market and sell your home.

The first set of buyers - on the sidelines, ready to pounce . . .

Depending on the price range of your house, location, and other attributes, there may very well be a buyer searching for your home right now, and not finding it because you have not yet listed it for sale.

Local housing inventory is quite low

, after all, so some would-be buyers simply aren't able to find the house they would like to buy. Thus, we need to have your house in great shape and ready for several very serious, very interested potential buyers who may show up in the first few weeks of having your house on the market

The second set of buyers - actual and contemplative buyers, over time . . .

If we haven't sold your house in the first month of being on the market, in some ways we are then gearing up for the second set of buyers -- those who will be deciding to start looking for a house over the next few months and will then be perusing a wide range of houses as they determine what they are looking for, what they like, what they don't like, etc. This second set of buyers (who are stretched out over a longer time period) are not typically as specifically interested in your house as those first few buyers are who may show up in the first month of having your house listed for sale.

So we should aim for the first set of buyers, right?

Certainly, nearly every seller would like a buyer to commit to buy their home in the first few weeks that it is on the market. That is not always possible, but we can make that the goal depending on a few variables.

Some houses are in under-supplied locations, neighborhoods or price ranges such that there will be pent up buyer demand, increasing the likelihood of a speedy sale. You can't move your house, or adjust many of these attributes, however, so we're either going to have supply and demand working in our favor, or not.

You do, as a seller, have some control over pricing. The key here is to ask slightly less than what buyers will see to be a reasonable price. Conventional pricing strategy might suggest that we identify the fair market value of your house (for example $300K) and then price your home slightly above that (for example $310K) to allow for some room to negotiate. The problem with this strategy is that it doesn't make it compelling enough for buyers such that they'll want to act immediately upon seeing your house on the market. In this example, we'd be much better served to price your home at $299K such that a buyer can imagine being able to buy your home for $290K or $295K, and thus is willing to make an early, fast offer.

There is plenty that goes into preparing your house to go on the market, and understanding the segment of the local housing market that your house fits into, but one serious consideration is how to best position your home for the two sets of buyers described above.
Last February, 60 buyers signed contracts to buy homes in Harrisonburg and Rockingham County, and I expect about the same number to commit to properties this February. With 678 homes on the market, how do we make sure they pick your home?

PRICE

- First and foremost, we need to examine how your home stacks up to the competition when it comes to pricing. Are most other comparable homes priced below your list price? Very close to your list price? Perhaps we need to undercut the competition to make a buyer ready to commit based on the value and opportunity offered by your home.

MARKETING

- Is your property marketed broadly and effectively? Does the marketing plan for your home focus first on the primary three ways (internet, sign, Realtor) buyers find the homes they purchase? Do the property photos, brochures, and online presence accentuate your home's strong points?

CONDITION

- To the extent that we can generate showings through competitive pricing and appropriate and effective marketing, let's also make sure buyers are even more impressed when they view your home in person. Eliminate distractions and potential objections that buyers might perceive when walking through your home.

FOLLOW UP

- We'll also need to proactively and persistently follow up with buyers (or their Realtors) that have viewed your house. What are their questions, their hesitations, their objections? What additional information can we provide them, or solutions can we research for them?

There are certainly some aspects of selling your house that are

out of our control

, but we do have the ability to affect the price, marketing and condition of your home to maximize the possibility that a February buyer picks your home!

Have questions? Need help? Ready to sell? Call me at 540-578-0102 or e-mail me at

scott@HarrisonburgHousingToday.com

.
A custom-designed drone with a camera attached is now being used to capture fantastic views of high-end properties in California.

Read the article

(with an embedded video) for more details.
How much does it cost on a monthly basis to buy the median price home in our area, assuming 80% financing? Today, that adds up to a $791 monthly payment. That marks a dramatic 28% decline since 2007 when the monthly payment would have been $1,094.

The decline in median sales prices over the last few years (from $195K to $175K) combined with the decline in interest rates (from 6.2% to 3.9%) has brought average monthly housing payments down to very affordable levels.

Again, the graph above (

click here for a more legible PDF

) shows the mortgage payment including principal, interest, taxes and insurance (PITI) assuming 80% financing at November's average 30-year interest rate, and assuming Harrisonburg's real estate tax rate ($0.59 per $100).
Click the image above to watch a 4 minute video from the Wall Street Journal (and Smart Money) about the state of the current housing market.

From the video....

"As a buyer, if you're seeing properties on the market that have been there for more than two, three months, those properties aren't going to move. There's no real reason to make an offer on those properties.

If a property can't sell in the first two months, there's a problem with that price.

The price is not realistic for the market, the buyers aren't willing to take it. So, the only way that sellers are going to move their property if they need to sell now is you either are going to price it at what the average price is for your market, or, ideally, slightly below which will bring in more buyers and more attention. If your home is sort of on the market now for months, the chances are moving it at the current price are very slim."

So, if we believe the above (two months without a sale = problem with price) then it's interesting to note the following about our local market....

803 active residential listings (H'burg, Rock Cnty)

660 of those 803 listings are more than 2 months old

Thankfully,

405 of those 660 listings have had a price change

, but many have then gone another two months without selling.

Perhaps it's not true for every property (

two months without sale = wrong price

) but that logic can certainly be applied to many properties.
Please bear in mind, this is not related to the price of any homes currently on the market. It is, however, a reminder that if you are motivated as a seller that it is important that such a motivation carry over into your pricing as well.
Back in 2000, homes sold at an average of 97.4% of the list price --- now, they sell for an average of 94.7% of the list price. That's not actually much of a shift --- only a decline of 2.7%. A few other observations....

At the pace of the market improves, list to sale price ratios increase, likewise as the real estate market slows, the list to sales price ratio declines.


It is wild that homes were selling **on average** at 99.1% of the list price in 2005, as this must mean that quite a few were selling above the list price.


Somehow, 2009 was an exciting year with the list to sale price ratio shooting back up to 99.2% -- perhaps because 2009 included one of the expirations of the home buyer tax credit?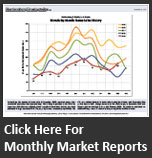 Subscribe

Receive notifications of new content on this blog, via e-mail or RSS reader.