Welcome! This blog tracks the real estate market in the Central Shenandoah Valley, featuring market data and analysis, an exploration of common buying and selling questions, and candid commentary on all things real estate.
If you are interested in discussing any of the topics on this blog, or the details of your specific real estate situation, call or e-mail me!
Financing
Anyone who thought mortgage interest rates were above 4% for good -- and perhaps climbing up to 4.5% or 5% -- seems to have been WRONG! I certainly thought we were headed for 4.5% or 5% -- but over the past three months, 30 year mortgage interest rates have continued to slowly decline to their current level of 3.88%.

Yet again, a great opportunity to lock in your monthly housing costs over the long term at one of the lowest possible monthly cost per dollar spent, given these tremendously low mortgage interest rates!
Here are the three sequences I see buyers follow most frequently....

As Late As Possible


Guess at what you can buy using online mortgage calculators.
Start viewing houses.
Make an offer.
Ratify a contract to purchase a home.
Start talking to several lenders.
Select a lender.
Become pre-qualified.
Make loan application.

Provide income and tax documents (etc.) to lender.
Obtain loan approval.


Incredibly Proactive


Start talking to several lenders.
Select a lender.
Become pre-qualified.
Make loan application.

Provide income and tax documents (etc.) to lender.
Obtain loan pre-approval.
Start viewing houses.
Make an offer.
Ratify a contract to purchase a home.

A Reasonable Middle Ground

Start talking to several lenders.
Select a lender.
Become pre-qualified.
Start viewing houses.
Make an offer.
Ratify a contract to purchase a home.
Make loan application.
Provide income and tax documents (etc.) to lender.
Obtain loan approval.

I try to encourage all of my clients to at least be in the "reasonable middle ground" sequence as outlined above. This gives them a firm idea of what they can afford and how a home price will compare to a loan payment. This also allows them to make a stronger offer, already having a pre-qualification letter in hand.

I strongly discourage my clients from following the "as late as possible" sequence as outlined above. This doesn't help them make the best decisions about which houses to pursue, how far to negotiate, etc. This also doesn't allow us to make as strong of an offer on a house.

Occasionally, one of my clients will fall into the "incredible proactive" sequence as outlined above, and wow, this makes the financing process a joy to work through! These buyers have already done so much of their work with the lender before even thinking about which house to buy -- which then allows them to focus on buying, negotiating, inspecting, etc., rather than be bogged down in the process of securing their mortgage.

Let me know if you have questions about how I have described these sequences -- and let me know if you would like a few recommendations for lenders in the Harrisonburg area.
OK, so, admittedly, mortgage interest rates were compellingly low last year -- at around 3.5% for much of the year. However, at their current levels of 4%, that is still very (VERY) low historically speaking. Buyers still have a great opportunity to lock in their monthly housing costs for the long term at what will likely be some of the lowest interest rates we see over the next few (several? many?) years!

If you're looking for a qualified, professional, responsive local lender,

let me know

.
What???

Average mortgage interest rates (on a 30 year fixed rate mortgage) are back below 4% again. I truly did not think we'd see that this year -- or possibly ever. It seemed likely we'd stay between 4% and 4.5% or even up to 5% during 2017.

Anyhow -- if you're in the market to buy, and have a contract signed on a house you are purchasing -- LOCK IN YOUR INTEREST RATE!

Of note -- if you can swing it to finance your mortgage over 15 years instead of over 30 years, you'll be even happier at 3.23%!
Mortgage interest rates ticked back downwards a bit yesterday to finish out the month of March at 4.14%. If we can keep going through 2017 between 4% and 4.25%, I'd be delighted -- though I suspect we'll end up in the 4.5% - 4.75% range.

All that said, despite not being sub-4%, interest rates should not necessarily be drastically changing buying behavior.
Well, things weren't looking so good for a while there. Just after the election interest rates shot up from 3.6% (+/-) all the way up to 4.3% (+/-). In that moment, it seemed that there wasn't any stopping rising interest rates, and we might see 4.5% followed by 4.75% before we knew it.

Now, however, things seemed to have shaken out a bit differently than anticipated (or feared) with interest rates now hovering between 4% and 4.25%. Yes, it was fantastic to have interest rates under 4% for the past year (and more) but if we stay just over 4%, I don't think they higher rates will have a significant negative impact on the buying market in 2017.
Well, it seems the mortgage interest rates might really, finally, be on the rise -- for good. Over the past several years there were several times when I thought they might be rising -- but then they'd fall again a few weeks later.

We have seen a rather steady increase in mortgage rates since November 2016 -- and it is not yet clear when that increase will slow down or stabilize. Maybe around 4.25%? Hopefully?

From June 2016 - October 2016 we saw average rates below 3.5%. We're now up to 4.3%. That types of a change in mortgage interest rates

impacts payments for buyers

and could affect

the number of home sales we will see in 2017

.

While I don't think we'll see rates fall back below 4% in 2017 -- I am hopeful that they'll stay between 4.25% and 4.75%. Stay tuned for further updates.
Just after the election, mortgage interest rates started rising. They started around 3.5%, and have since climbed to somewhere between 4.25% and 4.3%. It seems unlikely that they will come back own anytime soon -- if ever.

So, what do these new mortgage interest rates mean for home buyers? Well, higher mortgage payments, naturally. The graph above shows the potential change in a monthly mortgage payment for a median priced home ($190K) as well as a home priced at $250K and $350K. The payment scenarios above assume that you are financing 80% of the purchase price -- and yes, I know, plenty of folks are really financing 90% or 95% of the purchase price. If you are financing a greater portion of the purchase price, the monthly payment will be higher, and the increase in the monthly payment will be greater.

As you can see above.....

The buyer of a $190K home would be paying $65 more per month.


The buyer of a $250K home would be paying $86 more per month.


The buyer of a $350K home would be paying $119 more per month.

So.....

If you're about to buy a home, you'll be paying more per month than if you had purchased before the election. Hindsight is 20/20.

You will still be locking in a ridiculously low (4.25% more or less) mortgage interest rate.

It seems that mortgage interest rates will likely continue to (hopefully slowly) rise over the next year, so buying sooner rather than later may serve you well.

As always -- for actual payment scenarios, you'll need to consult a mortgage lender. Shoot me an email (scott@HarrisonburgHousingToday.com) and I can make some recommendations.




Mortgage interest rates

jumped

nearly 0.5% over the past week or two, but they are still below 4% given the current average of 3.94% -- and if we look at that rate of 3.94% in nearly any historical context, that is a TREMENDOUSLY LOW mortgage interest rate.

As shown above, that is below the average annual mortgage interest rate for every year since 1972 with only two exceptions -- the average rate of 3.66% in 2012 and 3.85% in 2015.

Interest rates could edge even higher after the first of the year, so if you like that first digit of your mortgage interest rate being a 3 instead of a 4, and if you'll be buying soon, you may want to start the buying process sooner rather than later.
Stay tuned for where interest rates go next week -- but following the election, they jumped nearly 0.5% up to almost 4%. This takes us back to where we were nearly a year ago -- and is not a tremendously high level, but is much higher than where we were a week ago.

Read more via

Google News

.
Mortgage interest rates edged up, barely, this week to an average of 3.52%. That pushes us above the 3.5% mark, after several months mostly below that mark.

Let's look at a slightly longer (5 year) perspective....

As shown above, we are currently seeing some of the best interest rates in the past three years. The only time we have seen similar rates was in Fall 2012 through Spring 2013.

Let me know if you need a recommendation for a mortgage lender for a purchase or refinance.
Mortgage interest rates were historically low a year ago, though they around 3.86%. Now, they are REALLY low, with the current average of 3.48%. But at the end of the day, they have been at or below (or just barely above) 4% for the past 12 months -- which means that it has been a fantastic year to lock in one's monthly housing costs.

But, will the interest rate be rising in December or January? There is some talk that the Fed will increase the "Fed Funds Rate" in December, which could lead to an increase in mortgage interest rates.

Oh, and just to put things in a slightly larger context, here is an illustration of average mortgage rates over the past three years....
Maybe mortgage interest rates will never rise??? I have been thinking they would rise for quite a while now (years) but they just keep getting lower. Today's average rate of 3.43% is an absurdly wonderful opportunity to lock in your monthly housing costs at extremely low levels.

Now, admittedly, Janet Yellen (US Federal Reserve Chair) has indicated that rates

could go up soon

.

But until then, enjoy the low rates. If you're buying in the next 6 to 12 months, right now (or soon-ish) could be an especially opportune time to lock in your mortgage interest rates.

Oh, and here are today's rates in a longer context, of the past three years....
How much does it cost on a monthly basis to buy the median price home in our area, assuming 80% financing? Today, that adds up to an $681 monthly payment -- which is right in the same ballpark as what we've seen for the past two years ($850, $856). How can housing costs be staying relatively level if home values are increasing? Well, it's the declining mortgage interest rates, of course!

The graph above shows how much you would pay in a monthly payment for each of the past 16 years if you financed 80% of the purchase price at the average interest rate for that year. These payments include an estimate for your insurance costs, and property taxes based on Harrisonburg's current rate of $0.80 per $100 of assessed value.

Another pretty wild perspective -- over the past 16 years, housing costs (understood as outlined above) have only increased by 9.6%.
Silly me!

Appraisal delays are NOT

only related to increasing sales

.

Teri Robinson, of

Vision Appraisal Services

, kindly educated me on some of the other factors that are affecting appraisal delays.

In summary....

The housing collapse lead to new regulations on appraisers.
Appraisal Management Companies were created as middlemen.
Appraiser income dropped as AMC's took a cut of the appraisal fees.
AMC's optimized for speed and cost, sometimes at the expense of competence.

Optimization on price reduced overall appraisal fees.
Lower income caused many appraisers to leave the profession.
Further regulations increased appraisers' reporting requirements.


So, it's not just more than just more sales, more fully, it is....


More Sales + More Paperwork + Fewer Appraisers = Appraisal Delays

Still want to read more? Keep reading, from Teri....

Since the 2008 downturn and subsequent housing collapse, the turmoil in the financial industry created many burdensome regulations on the only Licensed/Certified person in the financial process (prior to Loan Officers having to be Licensed/registered).

Many Appraisers quit doing Residential work and many left the profession altogether, as the rise of the middleman (in the form of Appraisal Management Companies) took a significant cut of the Appraisers' fees and farmed out work to the lowest bidder and quickest turn time with no regard as to whether the Appraisers were qualified or competent. Many Appraisers who were either struggling to make ends meet or were too new to the profession to build a client base took whatever fees they could get from the AMCs and agreed to whatever terms the AMCs dictated. This "cheapest and quickest mentality" led to a significant reduction in the number of Appraisers overall, especially experienced competent ones.

Then FNMA and the Consumer Protection act heaped more burdensome time-consuming requirements to be included in the Appraisal reports- extending the time necessary to complete each report. The time an Appraiser spends at the individual property is a fraction of the hours it takes to complete the total appraisal process and report the property's opinion of value – the research, compilation, analysis, confirmation and reporting of the Subject property's, Comparable sales' and listings' data is the bulk of each report, which takes place out of the public eye. At the same time, Appraisers are expected to perform the hours of additional work to meet the increased regulations for the same or less fee per report as received in the 1990s. What other fees have decreased or stayed the same for 20 years when the work requirements have more than quadrupled?

So, the result of all of the above? Fewer Appraisers left standing to complete longer and longer reports with more and more requirements for a stagnant fee dictated by the current system, which equals greater delays when the volume increases. In addition, the requirements to become a Licensed/Certified Appraiser are such that a quick replenishment of the supply of Appraisers is impossible, in part, due to the low return on the required time investment versus the low fees currently dictated by the system put in place by Regulators after the downturn.


So -- I stand corrected since yesterday -- yes, higher sales volume is contributing to slower appraisal timelines -- but there are other big picture factors at work here as well.
If I said, a year ago, that mortgage interest rates were going to rise soon --- I was WRONG!!!

Current mortgage interest rates are just below 3.5%, and while I am still thinking that they could or will start to increase soon --- I would not be surprised if they are still below 4% a year from now.

Buyer still have great buying power, and the opportunity to lock in super-low interest rates for the next 30 years.
Well -- there has never been a better time to lock in an interest rate this year than RIGHT NOW! The average 30-year fixed mortgage interest rate has continued to drop over the past month, to the current average rate of 3.54%.

Perhaps it's silly, but I don't even have "rates will be going up soon" as a part of my vocabulary anymore. I said that for years (because that is what everyone assumed) and I was wrong, year after year. Sure, rates would go up a bit, but they'd then come right back down a few months later.

So -- buyers, rejoice! If you are buying now/soon, you can lock in a super low mortgage interest rate on your mortgage!
Fear not -- cheap money is still available. By that, I mean that the interest you will pay on a new mortgage still remains at record low levels. The current average mortgage rate for a 30-year fixed rate mortgage is still at 3.58%, the same spot it was one month ago.

If I had to guess, I think we'll probably stay under 4% for the remainder of 2016. Crazy to imagine, I know, but that is my prediction. The low rates don't seem to be leaving very quickly.
Given continued low interest rates and some increase in home values, let's take a new look at the opportunities of buying versus renting.

RENT = $1000/m.

There are regularly options for renting a two-story townhouse in Harrisonburg for approximately $1000 / month in Avalon Woods, Beacon Hill, Stonewall Heights, Liberty Square, etc.

BUY = $865/m.

With a 95% loan, buying such a townhouse apparently may cost as little as $865 per month assuming a $140K purchase price and 3.875% interest rate per SunTrust Mortgage's

payment calculator

....

This shows an $135/month cost savings of buying instead of renting. If we then look at the difference between renting and buying over a five year time period, the advantages start to pile up.

As you can see, this builds a rather compelling case for buying instead of renting if you are going to be living in this potential townhouse for the next five years. Two other factors to keep in mind....

Your cost savings will potentially be even greater than outlined above based on your tax savings you will see each year because of having paid mortgage interest.


The analysis above does not factor in your closing costs when buying.


If you are renting a townhouse now, but suspect you will be living in Harrisonburg for the next five years, let's chat about what could make the most sense for your housing situation.
Mortgage interest rates have been at an average of 3.85 over the past 12 months. Fantastic, right?

But wait, they are currently hovering at 3.58%! Wow!

Perhaps this has been part of what has inspired

so many buyers

to sign contracts in recent months.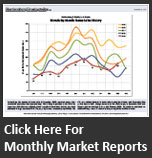 Subscribe

Receive notifications of new content on this blog, via e-mail or RSS reader.