Welcome! This blog tracks the real estate market in the Central Shenandoah Valley, featuring market data and analysis, an exploration of common buying and selling questions, and candid commentary on all things real estate.
If you are interested in discussing any of the topics on this blog, or the details of your specific real estate situation, call or e-mail me!
Economy
An

auction was scheduled

for

University Fields

back in September -- and now we know who purchased the property.

Vesper Holdings

, a real estate investment firm in New York City, purchased University Fields for $19 million on October 28th.

Five million dollars of capital expenditures are planned including renovating the interiors of the apartments, clubhouse and amenities as well as enhancements to the exteriors of each building and technology upgrades.

Pertinent details about University Fields....

1,152 bedrooms
(22) three-story buildings
Built on a 23.55 acre site.
Entirely four bedroom units, between 1,100 and 1,200 SF

Read the entire press release here.


Read today's Daily News Record article here.



View many more local economic indicators here:

HarrisonburgHousingMarket.com
Mortgage interest rates have stayed relatively stable over the past few weeks, despite the shenanigans going on in Washington.

The current average rate for a 30-year fixed rate mortgage is 4.28%.
Virginia is the best state for business, as ranked by Forbes Magazine for 2013.....

"Our study looks at six important factors for businesses: costs, labor supply, regulatory environment, current economic climate, growth prospects and quality of life. Virginia is the only state to rank in the top five in four areas—only missing on costs and growth prospects."


Read more here at Forbes.com

.
A private developer (

dpM Partners, LLC

) is proposing to build a hotel and conference center in Downtown Harrisonburg. The $40M project would be (per the proposal) paid for with $9.5M of public funds towards the 18,180 SF conference center.....and the remaining $39.5M of private funds would help build the remainder of the project to include a 205-room hotel and a restaurant.

Thus far.....

And the latest update is that the developer will likely be ready to present the detailed plans (and feasibility study) to City Council by early summer. Read today's DNR article for more details.




White Waves Foods

is expanding its Mount Crawford facility, with a recently announced $70M investment. This project will double White Wave's warehouse space, create three new product lines, and add 36 jobs.

Products from the brands shown above (Silk, International Delight, Horizon Organic and Land O Lakes) are all manufactured in the Mount Crawford facility.

Click here to learn more from the

April 19, 2013 DNR article

.
Back when

SRI International

opened a

research facility in Harrisonburg

(Rockingham County) in 2009 the hope was that this research facility would be a catalyst for new companies being launched in Harrisonburg and Rockingham County based on the research, discovery and innovations at SRI Shenandoah Valley. After all,

that is what happened in the Silicon Valley

at SRI International's primary research facility.


We may now be seeing the first spin-off company resulting from SRI International's presence in Harrisonburg.

The full details are in an

SRI press release

, but in summary, researchers at SRI Shenandoah Valley developed a proprietary bed bug detection technology that is being licensed to a new Harrisonburg-based company called

Redcoat Solutions, Inc.

"Scientists at SRI developed a rapid, sensitive test that recognizes molecules specific to bed bugs. Redcoat intends to market the device under the brand name RAPID PURSUIT™. Based on preliminary testing, RAPID PURSUIT presents a number of advantages: unlike other detection devices, the test requires no sophisticated equipment and registers a response in minutes, and RAPID PURSUIT is designed to detect only bed bugs, avoiding confusion that could be caused by the presence of other pests."


It certainly is exciting to see this first spin off company that will be based right here in Harrisonburg....

"Redcoat Solutions, Inc.'s Chief Executive Officer, John Hall, has drawn upon his knowledge of the bed bug detection and treatment industry in guiding the company toward the upcoming launch of RAPID PURSUIT. "We have assembled an excellent management team, and we have worked closely with SRI to develop a great product that will revolutionize bed bug detection in several industries," said Hall. "We look forward to taking RAPID PURSUIT to market very soon, and we already are at work on new products that we will introduce over the next several months. Redcoat has a great business opportunity, and one of the best things is that it will be based right here in the Shenandoah Valley.""


Read more via

SRI International's press release

.
Innovation Village @ Rockingham

is a 365-acre, Class-A planned community located in Rockingham County, Virginia, home of

SRI International Shenandoah Valley

, where innovators and entrepreneurs can collaborate and create their own businesses.

With strategic partner

James Madison University

, IV@R is destined to become a high-tech and bio-tech hub, perfectly suited for businesses and organizations in the life sciences, energy, information technology, and agriculture and crop science industries.

Learn more about Innovation Village @ Rockingham....
According to

population projections from the Weldon Cooper Center

we are will see significant population growth in Harrisonburg and Rockingham County over the next 30 years.

The City of Harrisonburg is projected to grow from 48,914 people (2010 census) to 75,015 people --- which would make it the third fastest growing City in Virginia.

Perhaps this continued growth will help our housing market continue to improve?

Read more in this weekend's

Daily News Record article

, or on

Old South High

.
Our local unemployment rates have fallen again (for the 3rd straight month) to 5.3% --- a tie for the lowest rate we have seen in nearly four years.

Read more from

yesterday's Daily News Record article

.
Did you miss it?

The Harrisonburg City Council spent $4.76 million last night.

These funds were "reserve suplus funds" --- which are undesignated funds that have built up over time --- not a surplus in a single year's budget.

How did the City Council decide to spend the funds?

$1,000,000 towards the expansion of Reservoir Street
$950,000 towards Chicago Ave / Mt. Clinton Pike improvements.
$750,000 towards the improvement of Carlton Street.
$750,000 towards December bonuses for city employees.
$600,000 towards the Northend Greenway, a bicycle and pedestrian path between Park View and downtown Harrisonburg.
$443,000 towards Bluestone Trail, a path to connect Purcell Park and Ramblewood Park.
$200,000 towards grading two soccer fields at Smithland Soccer Complex.
$100,000 towards a city compensation study


I'll check the official City Council minutes for confirmation of the above list, as there are some discrepancies between the

Daily News Record article

(today) and the

City Council agenda attachment

(yesterday).

So What?

Why does this matter? Wasn't it just extra funds that had to be spent? Why should we care where the funds went?

I believe these expenditures reveal the priorities of the City of Harrisonburg --- road improvements, sidewalks, bicycle and pedestrian trails, employee retention, parks, soccer fields. Personally, I think these are great priorities for the City of Harrisonburg to be focusing on to make it a safer, more enjoyable place to live.
This mixed use development located between Country Club Road, Linda Lane and Smithland Road is one of the only large developments left be built out in Harrisonburg. This project was approved several years ago, but development of the project never began.

As approved by the City, The Quarry would include commercial space, single family homes, townhomes, apartments and condominiums.

Click the Site Plan above for a larger version.

This property is listed by Tim Reamer of Cottonwood Commercial.
In great news for downtown Harrisonburg, Larkin Arts will be opening this Saturday which features an art supply store, gallery spaces, art classrooms for students of all ages, and studios for working artists.

Read more about Larkin Arts on the

Do Downtown Blog

, or at

LarkinArts.com

.

Better yet, swing by the grand opening tomorrow (Saturday) from 9A - 5P.
Last night the Harrisonburg City Council discussed a proposed conference center and hotel to potentially be built in downtown Harrisonburg. The proposal went before City Council because the developers are seeking public funding for part of the project.

City Council made a decision to seek competing proposals, which are due to the City by Nov 13, 2012. After competing proposals have been received, the City can decide whether to move forward with a feasibility study to provide more data with which to make a decision about whether to provide the public funding for this project. The hard costs of the potential feasibility study will be paid by the City with funds paid by each developer that submits a proposal.

The project team that is working on this proposed conference center and hotel include:

dpM Partners is based out of Gaithersburg, MD, has recently developed a Westin Hotel in Virginia Beach. Its principal, was the lead developer on the Stonewall Jackson conference center in Staunton and he is also a JMU graduate. The W.M. Jordan Company (proposed general contractor) recently completed the Hilton at Short Pump.

The proposed conference center facility would be 18,180 square feet --- twice the size of the JMU Festival Conference Center --- and would be the largest conference center between Northern Virginia and Roanoke. The hotel would feature 205 rooms and would have a full-service restaurant.

If eventually approved, the City would be contributing nearly $10 million of public funds to this project in the way Tax Increment Financing Bonds.


The specific site has not been publicly identified, for competitive reasons, but it is in downtown Harrisonburg within walking distance of Main Street.


I believe this is exciting news for Harrisonburg as it could potentially grow our local economy even further by bringing regional conferences into our area. It would also certainly be a boon for downtown retail businesses and restaurants.

Stay tuned -- within the next 60 days the City will be seeking competing proposals, and then they will be deciding whether to move forward with a feasibility study.




Here is the first half of the headline from today's Daily News Record....

(the only part that was really printed)

Here is what the second half of the headline could have been.....

So yes, it is true that this is "the biggest month­ly jump in nearly a year" -- but put in context, it's not as terrible news as some might otherwise suspect.

The bottom line here is that month by month analysis of local unemployment rates can cause you to have sudden mood swings. After all, last month we were celebrating a tie for the lowest unemployment levels in over a year.....and this month we're mourning a huge increase in unemployment.
Virginia home prices have increased 11% over the past year when comparing the May 2011 median sales price to the May 2012 median sales price.

Read this good news and more in the most recent

Home Sales Report from the Virginia Association of Realtors

.
Home prices seem to be starting to increase again in Harrisonburg and Rockingham County (

read more here

) so what impact (or relevance) does this new report from Fannie Mae have on our local market?

"Doug Duncan, chief economist for Fannie Mae, released a report saying growth for all of 2012 is expected to come in at roughly 2.2%."

Maybe so, though locally, home sales are up 7% thus far in 2012. (

read more here

)

"And before Americans finish off the year, they will continue dealing with a reduction in hiring, potential issues stemming from the fiscal crisis in Europe and a potential drag on the U.S. economy during the remainder of the year."

We have remarkably low unemployment rates locally, that are still declining. (

read more here

) Thus, any declines in national hiring seem unlikely to significantly affect us locally. And issues in Europe and with the general U.S. economy might peripherally affect us here locally, but our local economy has managed to remain relatively stable throughout the past five years despite significant negative impacts in many other parts of the country.

"Main measures of home prices have firmed in recent months, as the share of distressed sales has declined in a strong seasonal period," he explained. "Despite this recent encouraging trend, the (research) group continues to expect that home prices on a national basis will show a slight additional decline before bottoming in the beginning of next year."

I am guessing that we will not see an additional decline in home prices in 2012 and 2013 (as predicted above) for Harrisonburg and Rockingham County. I believe the 2012 median home price will be relatively similar to 2011 (+/- 1%).

National housing market and economic news is important to monitor, but it is important to keep it in context and to pay even more attention to what is happening locally.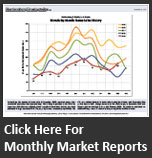 Subscribe

Receive notifications of new content on this blog, via e-mail or RSS reader.