Welcome! This blog tracks the real estate market in the Central Shenandoah Valley, featuring market data and analysis, an exploration of common buying and selling questions, and candid commentary on all things real estate.
If you are interested in discussing any of the topics on this blog, or the details of your specific real estate situation, call or e-mail me!
Economy
Here is the first half of the headline from today's Daily News Record....

(the only part that was really printed)

Here is what the second half of the headline could have been.....

So yes, it is true that this is "the biggest month­ly jump in nearly a year" -- but put in context, it's not as terrible news as some might otherwise suspect.

The bottom line here is that month by month analysis of local unemployment rates can cause you to have sudden mood swings. After all, last month we were celebrating a tie for the lowest unemployment levels in over a year.....and this month we're mourning a huge increase in unemployment.
Virginia home prices have increased 11% over the past year when comparing the May 2011 median sales price to the May 2012 median sales price.

Read this good news and more in the most recent

Home Sales Report from the Virginia Association of Realtors

.
Home prices seem to be starting to increase again in Harrisonburg and Rockingham County (

read more here

) so what impact (or relevance) does this new report from Fannie Mae have on our local market?

"Doug Duncan, chief economist for Fannie Mae, released a report saying growth for all of 2012 is expected to come in at roughly 2.2%."

Maybe so, though locally, home sales are up 7% thus far in 2012. (

read more here

)

"And before Americans finish off the year, they will continue dealing with a reduction in hiring, potential issues stemming from the fiscal crisis in Europe and a potential drag on the U.S. economy during the remainder of the year."

We have remarkably low unemployment rates locally, that are still declining. (

read more here

) Thus, any declines in national hiring seem unlikely to significantly affect us locally. And issues in Europe and with the general U.S. economy might peripherally affect us here locally, but our local economy has managed to remain relatively stable throughout the past five years despite significant negative impacts in many other parts of the country.

"Main measures of home prices have firmed in recent months, as the share of distressed sales has declined in a strong seasonal period," he explained. "Despite this recent encouraging trend, the (research) group continues to expect that home prices on a national basis will show a slight additional decline before bottoming in the beginning of next year."

I am guessing that we will not see an additional decline in home prices in 2012 and 2013 (as predicted above) for Harrisonburg and Rockingham County. I believe the 2012 median home price will be relatively similar to 2011 (+/- 1%).

National housing market and economic news is important to monitor, but it is important to keep it in context and to pay even more attention to what is happening locally.
This is one metric that we like to see declining.....
The national headline (and excerpt) from the Daily News Record over the weekend....

The local headline (and excerpt) from last week's Daily News Record....

Just as with the

housing market

, the local news is often quite different than the national news, thank heavens!
From the

Virginia Association of Realtors

this morning....

Home sales (# of sales) and median prices are both up across Virginia!

Click the image below to download the full Virginia Home Sales Report.
After several years in a row of relatively similar sized classes of first year students at JMU, the first year headcount will jump up a bit this coming year, as shown above.

Despite this jump in first year students, the overall growth trajectory will stay relatively similar to what JMU has experienced over the past several years.

These increases in enrollment will (gradually) help the over-supplied student housing market in Harrisonburg. If you haven't heard, there are many more places for students to live than there are students. (

read up here

)

These increases are also (continued) great news for the local economy, as JMU is a major economic engine for the local economy -- as both students and faculty/staff live here, work here, spend here, etc. This is not, of course, to ignore the significant contributions made to our local economy by Bridgewater College, Eastern Mennonite University and Blue Ridge Community College.

The data for the graphs above is based on

JMU's enrollment projections

. "Total On-Campus Headcount" is the number of students who are taking classes on the JMU campus.
Some observations without knowing much about the budget:

Income from property taxes would make up 23% of County revenue in the coming year, up from 21% of revenue in the current budget cycle.
The overall size of the County budget is proposed to decline -- from $310M to $298M.
The real estate tax rate is proposed to increase by 7%, from $0.60 to $0.64 per $100 of assessed value. More details here.

As per the Daily News Record today, the Finance Committee for Rockingham County has proposed an increase of the real estate tax rate --- from $0.60 per $100 of assessed value up to $0.64 per $100 of assessed value.

Here's how that would impact a few different price ranges of homes....

In many ways, it is actually surprising that we haven't seen an increase in tax rates before now --- many localities across the country have been forced to do so in order to continue to pay for public services.

Click

here

for the full article from the Daily News Record.
As more (potential) good news for our growing local job market, it looks like

CarMax

may be opening in Harrisonburg sometime in the near future.

From the record of

Harrisonburg Property Transfers

last week.....

South Main Ford LLC to CarMax Auto Superstores Inc. a parcel of land on the northwestern side of South Main Street, south of West Mosby Road, $2,900,000.

This follows the recent news of

Dick's Sporting Goods coming to Harrisonburg

.

As a point of clarification, the title of this article is not an indication that I am willing to bet $2.9M that CarMax is coming to Harrisonburg. ;)
(photo above is a store opening in Nashville, not Harrisonburg;

source

)

In further (potential) good news for the local economic climate, the

Daily News Record

reports today that

Dick's Sporting Goods

may be opening up a storefront at the Valley Mall in Harrisonburg as soon as this fall. Dick's would (potentially) be located in the space that Peebles vacated in 2006. This follows recent news of an Ashley Furniture store opening in the old Books-A-Million space on East Market Street.

Additional tidbits on this developing story:

The old Peebles space is 42,000 SF, as compared to a typical Dick's Sporting Goods store of 50,000 SF.
Dick's is hiring a Golf Professional/Apprentice for the not-yet-confirmed Harrisonburg store.
Dick's would be the second large retail tenant to land in Harrisonburg since the recession --- following the opening of Best Buy's 33,000 SF space in Harrisonburg Crossing in 2010.


Kudo's to

Doug Manners

at the

Daily News Record

for discovering this exciting news for Harrisonburg!
This is one economic indicator that I am happy to see heading downward. There are still lots of people who are not able to find work, but this trend is headed in a great direction.
In another positive sign for Virginia's economy and thus housing market, there seem to be more people moving into Virgina than out of Virginia.

Of note, Virginia is one of only 9 states where this is the case!

Source:

KCM Blog

If you don't have a job, it's hard to buy a house. If you lose your job, it's often hard to keep your house. Thus, it is welcome news for the housing market to see the unemployment rates continuing to drop on the local, state and national levels. Yet another

indicator

that we should see a further improved local housing market in 2012.
In very good news for the local housing market, foreclosures are declining in Harrisonburg and Rockingham County. The graph above shows the number of Trustee Deeds recorded at the courthouse per year for 2008-2010 and the number recorded in the first ten months of 2011.

It is clear that 2011 has marked a sharp turning point in the foreclosure rate in our local area. While we are not yet back to historically normal rates (70-100 per year), we have turned the corner from the peak of 270 in 2010.
Click here to download my full market report

(27 pages, 7 MB, PDF) or read on for highlights....

October was a relatively positive month for the local housing market:

Home sales increased 8% in October as compared to last October.
Year-to-date home sales increased 3% over 2010 sales levels.
Year-to-date median sales prices declined 3% as compared to one year earlier.
Average days on market increased by 8%.


Despite some negative trends (#3, #4 above) the positive trends (#1, #2 above) are an indication that we are likely in the early stages of recovery for our local housing market.

A strong sign of strength to come in the local housing market, October 2011 was a great month of buying activity, with 84 buyers committing to buy homes in Harrisonburg or Rockingham County. This marks a 65% increase in buyer activity as compared to October 2010!

Trends are very slow to reveal themselves in annualized sales figures (shown above) because they are an indication of 12-month rolling averages. That said, it seems that it may be a safe bet that home sales and home prices are on the mend when examining the graph above, which has now been showing increases in these long-term indicators for four months.

Some price ranges are recovering more quickly than others. The graph above shows that the price ranges under $300K have been starting to see increases in sales over the past several months. This should eventually roll over into the higher price ranges as buyers move up the price spectrum.

For an even more in-depth look at the Harrisonburg and Rockingham County real estate market, click the image above to download my

full market report

(27 pages, 7MB, PDF).

If you have questions about the report, or if I can be of assistance to you with real estate that you own, or that you'd like to own, please be in touch. You can reach me most easily at 540-578-0102 or

scott@HarrisonburgHousingToday.com

.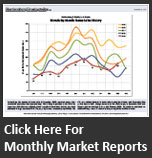 Subscribe

Receive notifications of new content on this blog, via e-mail or RSS reader.