Welcome! This blog tracks the real estate market in the Central Shenandoah Valley, featuring market data and analysis, an exploration of common buying and selling questions, and candid commentary on all things real estate.
If you are interested in discussing any of the topics on this blog, or the details of your specific real estate situation, call or e-mail me!



I still get this question from time to time and my general thought, at this point, is that it is quite unlikely that COVID will cause home prices to decline locally.




Home prices are typically most directly affected by supply and demand.




If supply is high (lots of sellers want or need to sell) and demand is low (fewer buyers want to buy) then home prices are likely to decline. This is called a buyer's market.




If supply is low (fewer sellers want or need to sell) and demand is high (more buyers want to buy) then home prices are likely to increase. This is called a seller's market.




Anyone want to guess which market we're experiencing these days?



We're definitely in a seller's market!





Over the past five years, there have been fewer and fewer (and fewer) homes on the market for sale at any given point.




During those same five years, buyer demand has increased -- not by as much as seller supply has decreased -- but buyer demand has increased nonetheless.




So, back to the original question - will COVID cause local home prices to decline. I still say that it is unlikely, because that would almost certainly require both...

an increase in the number of sellers who want or need to sell


a decrease in the number of buyers who want to buy

I'm not seeing either trend (increase in sellers, decrease of buyers) on the horizon at this point.




That said, here are two important caveats...

New construction can increase supply quickly. While we are seeing a decent bit of new construction right now (Preston Lake, South Peak, Crescent Ridge, Eastwood, Island Ford Estates) the net impact of those new developments is not significantly changing the supply of homes for sale. If a builder came in and started building out a new community of 500 homes and they were building 100 - 150 per year, that could affect supply, which could affect the relationship between supply and demand, which could affect home prices.

Seller supply and buyer demand are both tied to employment. If we saw major (negative) shifts in employment in this area that could cause a surge of homes to come on the market for sale and/or reduce the number of buyers able to or interested in buying. I'm not seeing any signs of forthcoming large scale shifts of employment happening in this area, but this is one impact that COVID could have on our local housing market. If 1000 people were to lose their jobs locally, that would likely cause at least somewhat of an increase in seller supply and a decrease in buyer demand.

So, for now, it does not seem at all likely that COVID will cause local home prices to decline - but stay tuned to see how new construction and employment/unemployment could play into that in the months to come.




Recent Articles: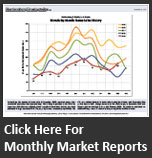 Subscribe

Receive notifications of new content on this blog, via e-mail or RSS reader.