Welcome! This blog tracks the real estate market in the Central Shenandoah Valley, featuring market data and analysis, an exploration of common buying and selling questions, and candid commentary on all things real estate.
If you are interested in discussing any of the topics on this blog, or the details of your specific real estate situation, call or e-mail me!



Here's a good opportunity to practice patience...




If your dream home is on the market -- either as a new listing, a newly reduced listing, or an old and stale listing -- it might be tempting to go ahead and make an offer to buy the house, even if you still need to sell your house.




I'll recommend, in almost all instances, that we wait to make the offer until we have secured a contract on your house. And here's why...




NOTHING GAINED - In almost all instances, the seller of your dream house will counter back (to our contingent offer) with a "kick out clause" allowing them to continue to market their house for sale to other buyers, and to allow them to move on to an alternative buyer who does not have to sell their home after giving you 48 or 72 hours to remove your home sale contingency after the new offer comes in. As such, unless you can buy without selling, having a contingent contract with a kickout clause is pretty similar to not having a contract at all. If another buyer comes along to buy your dream house, the only reason why you'd have an upper hand (over that new buyer) in already having a contingent contract in place is if you can somehow pull together a contract on your current house within that 48 or 72 hours period after that new buyers hows up. So -- having the contingent contract (with kick out clause) doesn't do a whole lot to defend your spot in line to buy your dream home.




NEGOTIATION - We are likely to do better in negotiating a deal for you to buy your dream home if we already have your current house under contract. The seller of your dream home is not likely to be willing to negotiate as much if you still don't have your house under contract (or if you haven't even listed your house for sale) as your purchase of their house will seem significantly less certain.





LEVERAGE - Any savvy seller (or seller's agent) will use your (contingent) offer against you. It's not personal of course, they're just trying to do their best to sell their home. If there have been other recent showings of your dream home, the moment your contingent offer is received, they are likely to notify all of those other buyers that they have received an offer -- and will try to use the existence of your (contingent) offer to generate enough interest and urgency for another buyer to also make an offer, which they would hope would not have a home sale contingency. Now, even if we make an offer once your current house is under contract, the seller will likely still try to generate additional offers to compete with us -- but at that point we can compete much better, already having your house under contract. Why allow the seller to use your contingent offer (with your house not yet under contract) to drum up other actionable interest from other buyers?





So -- as hard as it may be for you to do -- I will almost always recommend that we **wait** to make an offer on your dream house until we have your current house under contract.





Recent Articles: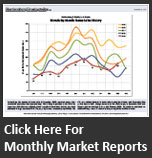 Subscribe

Receive notifications of new content on this blog, via e-mail or RSS reader.