Welcome! This blog tracks the real estate market in the Central Shenandoah Valley, featuring market data and analysis, an exploration of common buying and selling questions, and candid commentary on all things real estate.
If you are interested in discussing any of the topics on this blog, or the details of your specific real estate situation, call or e-mail me!



It is always my recommendation that we finish with a price when we conduct a market analysis of your home -- but sometimes it can be helpful to work the other way around as well.





FINISHING WITH A PRICE - With this approach we start with analyzing how your home compares to recently sold properties to determine its value. We are typically looking for homes that have sold in the past six months (or up to 12 months if needed) and are looking for homes that are in a similar location, with a similar structure (one-story, two-story, basement vs. not, etc.), of a similar age, and with similar finishes if possible. We then make adjustments to the sales price of those comparable properties to bring its attributes more in line with your home, and then the adjusted sales prices of those comparables will usually point to a potential market value (or value range) for your home. So, we start with your house, evaluate comparables, and finish with a price -- or market value -- at the end of the process. Sometimes we'll also then contextualize that potential value with currently active (or under contract) listings to see if they also support our theory on market value.




STARTING WITH A PRICE - We might also start this process with a price, instead of finishing with a price. In this scenario, we're starting by saying that we think (or hope) that your home is worth $X and we evaluating (broadly, not narrowly) whether market data (both sold properties and active listings) can support that theory on market value. We might work through the process in this direction because the first method is not leaving us with a clear picture of value based on very few properties being similar to the house that you will sell. We might also start with a price if you have a price in mind for your house, and would only sell if you are able to obtain that price.




Regardless of whether we are working through the market analysis to determine a price (finishing with price) or to try to affirm a price (starting with a price) it is important for us to have some candid conversations about market value before we put your house on the market. If we both have a clear understanding of market realities, then we will (hopefully) not be too terribly surprised by the feedback from the market once your house is listed for sale.




Recent Articles: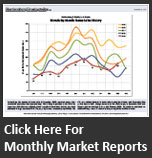 Subscribe

Receive notifications of new content on this blog, via e-mail or RSS reader.