Welcome! This blog tracks the real estate market in the Central Shenandoah Valley, featuring market data and analysis, an exploration of common buying and selling questions, and candid commentary on all things real estate.
If you are interested in discussing any of the topics on this blog, or the details of your specific real estate situation, call or e-mail me!
OK -- I'll point out, from the start, that I'm making things a bit more complicated here. I'll partially blame

Derik

, as he asked the question.

OK - the graph above, is the same one I posted yesterday -- a look at how many single family homes exist in the City of Harrisonburg in a variety of price ranges, based on their assessed values.

But -- if that's how many actually exist -- it is probably reasonable to wonder how many homes actually sell in each of those price ranges in each year.

So, here are the City single family home sales in the same price ranges for all of 2016....

You'll notice that the two graphs above don't look altogether that different.

Then, to combine these two, rather than just put really little numbers (how many sell) next to really big numbers (how many physically exist) I thought I"d look at what percentage of each price segment of the City housing stock sells in a given year....

I think this makes it more helpful, though slightly less specifically meaningful absent scrolling back up and also remembering how many houses we're talking about in each given price range.

For example, the chart directly above shows that:

11% of all existing homes under $100K sold in 2016.

3% of all existing homes between $100K and $150k sold in 2016.

OK -- next, a few flaws and disclaimers:

A perfect alignment does not exist between sales prices and assessed values. So -- this is not an exact comparison. For example, some of the homes assessed between $250K and $300K might sell for $240K or $310K, thus, slightly, throwing off this analysis.

Some assessed values are likely off base, perhaps one reason being what Derik outlined: "There is also a great deal of inaccuracy in the tax assessed values of some older homes. Especially those that have had improvements or additions. In my experience no more than 50% get building permits and thus alert the city to improvements and increased value in their property."

And finally, since I like to provide more questions than answers....

Is the number of sales in a given price range (for example, $500K - $600K or $400K - $450K) a result of a lack of buyer demand or a lack of seller supply??


Is the lower percentage (3% as compared to mostly 5% or higher) of housing stock being sold in 2016 in the $100K - $200K price range an indication that this is a price range where we need more new construction? Related -- what type of single family homes can be built for less than $200K?

Is the fact that a rather steady 5% - 6% of housing stock selling in a year in the $200K - $500K price range (other than $400K - $450K) an indication that there is not greater demand in one price range than the other?

OK -- it continues -- I think it is probably necessary to try to contextualize this with "active listing" data -- to see how some of these numbers compare to what is available today for a buyer to purchase.

Here is a breakdown of single family homes currently for sale....




As you can see, above, there are NOT a lot of homes for sale in the City of Harrisonburg right now. And let's see if we can flesh anything out if we break it down by how many homes are available to be purchased as compared to the overall number of homes that actually exist....




This graph might have been the one I was looking for -- at least to support my understanding of the world....

Right now -- almost 9% of the homes over $600K are listed for sale -- and 6% to 8% of homes over $400K are listed for sale in the City of Harrisonburg.

On the other hand, only 3% of homes between $300K and $400K are listed for sale, only 1% of homes between $200K and $300K and less than 1% of homes under $200K are listed for sale.

This would seem to be about as clear of an indicator as one could find that homes under $300K (or even better, under $200K) are in short supply and in high demand in the City of Harrisonburg.

Finally, lastly, ultimately, some "overall market" stats....

Housing Stock = 5,537
Homes Sold in 2016 = 235 (4.24% of housing stock)
Homes For Sale = 59 (1.07% of housing stock)

Questions? Thoughts? Observations? Insights? Suggestions?

Email me: scott@HarrisonburgHousingToday.com




Recent Articles: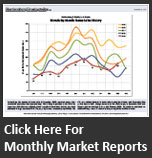 Subscribe

Receive notifications of new content on this blog, via e-mail or RSS reader.