Welcome! This blog tracks the real estate market in the Central Shenandoah Valley, featuring market data and analysis, an exploration of common buying and selling questions, and candid commentary on all things real estate.
If you are interested in discussing any of the topics on this blog, or the details of your specific real estate situation, call or e-mail me!
Find out more about the home shown above, with detached garage and apartment,

here

.

As Geoffrey Chaucer put it

- "all good things must come to an end" -- and August 2017 is when the "more and more home sales, every month, for ever and ever" came to an end in the Harrisonburg and Rockingham County housing market. OF NOTE -- this could be a temporary end, and it might be more about a lack of seller supply than a lack of buyer demand -- but I'm getting ahead of myself.

I just published my most recent

monthly market report

, and as usual, you can read on for an overview, download the

full report as a PDF

, read the

entire report with commentary

online, or tune in to my monthly video overview of our local housing market...

OK, now, if you're still reading after that super easy opportunity to just listen to me explain the entire market to you, here is some further context and explanation for you....

As shown above (#1), there was a significant (26.58%) decline in August home sales this year as compared to last year.

This lead to (#2) an overall decline in year-to-date sales of 3.19% when comparing 2016 to 2017.

Despite this slowdown in the pace of sales, the median sales price (#3) is still increasing year-over-year at a pace of 3.68% to the current level of $197,000.

Furthermore, the pace at which homes are selling (#4) continues to accelerate -- with a 37.25% decline in median days on market over the past year.

So --- slightly fewer homes are selling... faster... at higher prices.

So -- here is the pretty (not pretty) picture of the difference between last year's SOARING month of 158 home sales in August 2016 -- and in comparison, the LOWLY month of 116 home sales in August 2017.

Apparently, 158 home sales in the month of August is NOT the norm -- perhaps it was the result of a slow July 2016? AND -- if it is any consolation, the 116 home sales seen in August 2017 is within the range of two of the last three months of August.

Hmmm....still hard to get excited about only 116 home sales in August!

Here's another visual example of how things have changed -- every month thus far this year we have been "ahead" of 2016 home sales -- until August. We've now fallen behind (by 3%) and we only have four months to catch back up to match the overall pace of home sales in 2016.

I suppose it is worth noting that there was a massive 16.7% increase in home sales between 2015 and 2016 -- so if we fall slightly short this year, it will still mark significant net growth in the pace of home sales as compared to 2014 and 2015.

OK -- maybe I was looking for a bright spot amidst a so-so month of real estate news -- but here you go! As shown above, the median sales price of single family homes has risen 18% over the past three years!

Of note -- we're close (but not quite there) to getting back up to the all-time high for our area's annual median sales price for single family homes -- which was $226,800 back in 2006.

OK -- back to the not-quite-as-peppy news -- contracts were down in August as compared to last August. In fact, looking at summer (June, July, August) contracts -- there were only 340 of them signed this year, as compared to 377 last year.

Possible explanations for this decline in contract activity include:

buyers vacationed too heartily this year and were too busy to buy homes


buyers are less interested in buying homes this year

buyers have fewer options of homes to purchase this year.

I'm betting on explanation #3....

Indeed, as shown above, buyers today have 27% fewer options of homes to purchase in Harrisonburg and Rockingham County as compared to one year ago -- and 36% fewer homes to choose from as compared to inventory levels two years ago.

This decline in inventory is likely playing a role in the slight (3%) year-over-year decline we are seeing in home sales in this area.

OK -- I'll stop there for now. I will continue to explore the latest trend in our local housing market in the coming days on

my blog

.

Until then -- feel free to

download and read my full market report as a PDF

, or

read the entire report online

.

And, my reminders for buyers and sellers last month still apply....

SELLERS -- even though it is a seller's market in many price ranges right now, you must still focus on price, condition and marketing.


BUYERS

-- it can be difficult and frustrating to buy right now -- make it a bit easier for yourself by

knowing the market

,

knowing the process

,

knowing your buying power

, and

closely monitoring new listings

!

For further reading on buying or selling in this area, check out....


scott@HarrisonburgHousingToday.com

.

Recent Articles: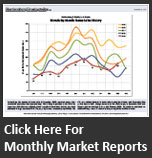 Subscribe

Receive notifications of new content on this blog, via e-mail or RSS reader.