Welcome! This blog tracks the real estate market in the Central Shenandoah Valley, featuring market data and analysis, an exploration of common buying and selling questions, and candid commentary on all things real estate.
If you are interested in discussing any of the topics on this blog, or the details of your specific real estate situation, call or e-mail me!
Altitude at Stoneport

will soon be built on Port Republic Road, with room for 425 students.

The Retreat

is nearing completion on Reservoir Street, with room for 700 students.

JMU enrollment

is growing

, but only by about 350 students per year.

And now, a

22 unit apartment building

is proposed for the edge of the Purcell Park neighborhood -- which is and is not applicable to the matter at hand....

So, here's the deal....

1. A local resident (developer) is intending to replace two older single-family homes with a mixed-use complex with restaurants, retail space and (22) one-bedroom apartments. STAFF recommends approving it. PLANNING COMMISSION does not. CITY COUNCIL might, or might not approve it. Read more here:

Planners Discuss Decision

.

2. Many neighbors of the proposed development are opposed to this potential development - because it would increase traffic, change the nature of the neighborhood, increase the population density in that area, and because some believe it will just be filled up with college students.

3. A JMU official (coordinator of off-campus life) wrote a letter on JMU letterhead to City Council and residents of the neighborhood indicating that JMU has no need for more off-campus housing. Read the entire DNR article here (

JMU: Official's Letter On Zoning Issue Not Official

) or an excerpt of the LETTER here....

"Additional apartment-based housing is not needed at this point in the community, and might actually be detrimental to current properties who are having difficulty reaching capacity with tenants and profiting,"

4. The developer's engineer indicates that the apartments are not designed for college students.

OK -- so -- let's sidestep the issues of the aforementioned letter not really being JMU's official position on the matter AND whether or not the apartments are or are not intended for or suited for college students.

Instead, let's think about (talk about?) whether Harrisonburg needs more off campus student housing.

So -- do we need more?

Most student housing developers coming to the area would say that we do -- but they might always say that? After all, the newest and nicest student housing (almost) always leases quickly.

In contrast, I would argue that all income college students (for 2018-19) could easily fit into existing on and off campus housing, even without the addition of The Retreat or Altitude.

So, why do these new complexes keep showing up? Because the newest and nicest complexes always lease quickly. And because a student housing developer can make money by building such a development in this area. And because the City and/or County continues to approve these developments -- perhaps not feeling it is their place to decide whether there is a need for more housing.

Side note -- should City/Council decision making bodies approve or disapprove student housing based on whether there is a need for more? I do not recall any instances when this is a question that these governing bodies discuss -- they seem to assume that the developer wouldn't be proposing it unless it were needed (which is not necessarily true -- see above) and then just move on to whether it is reasonable to develop the proposed land in the proposed manner.

So, if student housing developers will always want to build more, and local decision makers might keep approving the developments independent of whether there is a need or not, I might just be wasting my time to continue to think about all of this -- but I'll continue nonetheless.

I think we (citizens, tax payers, elected officials) need to realize what happens when more student housing is approved when there is not necessarily an actual need for more such housing. And the place to look to best understand this is the oldest student housing.

What typically happens when new student housing is built is that the oldest (and/or least conveniently located and/or least upgraded) student housing eventually starts having higher occupancy rates, and then eventually starts being leased to folks who are not college students. All of that is well and fine and good -- except that it means that the rental income often declines, the properties aren't maintained as well, vacancy rates climb higher, rental income drops lower, property maintenance declines further, etc.

So -- we end up having (or will end up having) older apartment complexes that used to be college student housing -- that are now rented to non-students -- often to low income individuals and families -- and that are often not maintained as well as when the rental income allowed for them to be better maintained.

Is this (college housing potentially becoming low income housing) a bad thing? Not necessarily -- but I think that we need to realize that this is often the eventual, market driven, impact of continuing to approve new student housing developments. Are we comfortable with this long term end to our short term decisions? Is this the way that we want to grow our housing stock?

Hopefully I have provided MANY more questions than answers. :) Feel free to

drop me a line

to discuss, or offer your opinions and perspectives.

Recent Articles: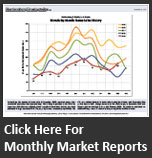 Subscribe

Receive notifications of new content on this blog, via e-mail or RSS reader.