Welcome! This blog tracks the real estate market in the Central Shenandoah Valley, featuring market data and analysis, an exploration of common buying and selling questions, and candid commentary on all things real estate.
If you are interested in discussing any of the topics on this blog, or the details of your specific real estate situation, call or e-mail me!
Some times, when I am working with a buyer, they or I will become aware of a "for sale by owner" property of interest to them. They almost always have the same question --- how would it work if we wanted to pursue

that

property? Here's how I see it . . .

In Virginia (and in most places) when a homeowner decides to sell, and work with a Realtor in doing so, they typically negotiate a percentage of the purchase price that will be paid as a "brokerage fee" at closing.

This brokerage fee (call it 20% of the sales price, for the sake of absurdity, and because there is not a standard brokerage fee) is almost always split between the Realtor (and his/her company) representing the seller, and the Realtor (and his/her company) representing the buyer. So, in my absurd example, 10% to the seller's Realtor and realty company, and 10% to the buyer's Realtor and realty company.

An interesting byproduct of this typical business practice is that a buyer isn't counting on "paying their Realtor."

As a buyer works with their Realtor to identify, view, evaluate, negotiate and close on a property --- they aren't necessarily thinking "and in addition to buying the house, I'll be paying my Realtor 10% of the sales price."

Here, some people would interject to point out that the buyer pays both Realtors, as they are the ones bringing the money to the transaction --- the seller just brings the house.

And thus, the questions begin when a buyer client becomes interested in a "for sale by owner" property. As a buyer looks at the sales prices of homes listed by Realtors (for example, $200k), they don't think about having to pay a brokerage fee on top of the price --- since the seller will pay it out of the sales price. But many "for sale by owner" sellers don't plan on paying a brokerage fee to any Realtors, and thus the sales price they would negotiate doesn't accommodate for the buyer's Realtor being paid.

So . . . if I have been assisting someone in looking for a home, and they decide they want to buy a "for sale by owner" property, here are the options I make available:

We can negotiate the contract with the seller to include a portion of the sales price to be paid as a brokerage fee to the buyer's agent (me).
We can negotiate the contract without the seller paying a brokerage fee, and you would pay my brokerage fee at closing in addition to the sales price.

You can pursue the property "solo" --- without my assistance or representation.

Every buyer makes the decision differently --- and reasonably so.

On a related note, a Buyer Brokerage Agreement helps clear up these options and facilitate these discussions to determine how a buyer would want to proceed.



Recent Articles: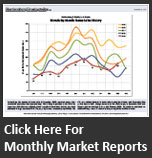 Subscribe

Receive notifications of new content on this blog, via e-mail or RSS reader.