Welcome! This blog tracks the real estate market in the Central Shenandoah Valley, featuring market data and analysis, an exploration of common buying and selling questions, and candid commentary on all things real estate.
If you are interested in discussing any of the topics on this blog, or the details of your specific real estate situation, call or e-mail me!
My article below was published in the Shenandoah Valley Business Journal yesterday. Apparently, it was somewhat controversial, as I received some very passionate responses from a few people telling me that they disagreed with my perspective. I welcome your perspective as well, in the comment section below, or by email at scott@HarrisonburgHousingToday.com.

Sometimes home buyers in the Shenandoah Valley are too polite for their good. Don't get me wrong, I am grateful that we have such a congenial local culture where most people show others decency, respect and kindness. But when it comes to purchasing a home, buyers need to be willing to be bold with their offering price or they may find themselves sitting on the sidelines, missing the best opportunities. Ask yourself this, would you be willing to make a $175,000 offer on a house that is listed for $200,000? Most buyers in this area would not be willing to make such an offer.

Last year, homes in Harrisonburg and Rockingham County sold for an average of 5.2% below their last list price. This means that a home last listed for $200,000 would have sold for $189,600. As you think of what offer you might make as a potential buyer of this home, you should quickly realize that if you hope to be an average negotiator and get to that $189,600 price, you likely need to start with an offering price lower than where you hope to end up. Perhaps that means an initial offer of $180,000 in order to aim towards a final price of $189,600.

One other perspective that buyers often forget about is that if a buyer doesn't come along soon, the seller of any given home may very well adjust their list price downward to attract a new set of buyers. Thus, if someone does not buy this $200,000 house soon, it might then be reduced to $195,000 or $190,000. Combining these two ideas above, we should quickly realize that if the seller might soon reduce the price to $190,000 at which time an offer of $175,000 would be reasonable, then you might as well go ahead and make that lower offer now.

In explaining these concepts to first time home buyers earlier this month they asked why most buyers don't make these low offers, even just to find out whether they can buy a home for a particular price. One reason, it seems, is that some buyers do not want to become emotionally invested in hoping to buy a particular house if it is likely that the negotiations will not work out. Some buyers also hesitate to make low offers because they don't want to insult the sellers and miss out on the opportunity to buy the house at all. Finally, some buyers don't want to deal with the process of determining offer terms, reviewing an offer, and dealing with all of the paperwork required for making an offer. Whatever their reasons, many buyers won't make a low offer that they don't believe a seller will accept.


All of this general counsel aside, it is important to recognize that a seller's willingness to negotiate will likely vary based on if their current list price is realistic and/or based on how much they owe on their mortgage and/or how motivated they are to not own their home any longer. But regardless of how much a seller is willing to negotiate, nearly all sellers would rather have more offers rather than fewer, even if some are quite low. And as one final word of encouragement for you to make an offer as a buyer, even if it is low --- let the seller make their own decision about how much they are willing to negotiate, don't assume that you can accurately guess how they are going to respond to your low offer.



Recent Articles: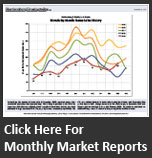 Subscribe

Receive notifications of new content on this blog, via e-mail or RSS reader.