Welcome! This blog tracks the real estate market in the Central Shenandoah Valley, featuring market data and analysis, an exploration of common buying and selling questions, and candid commentary on all things real estate.
If you are interested in discussing any of the topics on this blog, or the details of your specific real estate situation, call or e-mail me!
As published in the February 2013 Shenandoah Valley Business Journal....


When you arrive at the settlement table, ready to close onthe purchase of your next home, you will be asked whether you would like topurchase title insurance. Do you knowwhat your answer will be?

First off, "title" is a legal term for an owner'sinterest in a piece of property. When a property is sold, the seller conveys"title" to the buyer via a deed that is recorded at thecourthouse. Prior to settlement, theclosing attorney must conduct a "title search" to ensure the currentowner can convey ownership of the property to the Buyer. For example, if there are two owners of aproperty, both owners typically need to be participating in the sale of the propertyin order to be able to convey ownership to the purchaser.

If there are issues, or problems, with the title to theproperty that you are trying to purchase, you will not even make it to theclosing table. A title search, however,cannot reveal all of the potential title defects of a property. Some of the title defects that would not bediscoverable during a title search include forgery, impersonation, undisclosedor missing heirs, undisclosed (but recorded) prior mortgage or lien, fraud;erroneous or inadequate legal descriptions, lack of right of access, deed notproperly recorded, etc.

The possibility of these unknown and undiscoverable titledefects creates a need for title insurance, which is an insurance policyprotecting the holder from loss sustained by defects in the title to the property. For example, if you are purchasing a homefrom the heir of an estate, several years after your purchase took place, anundisclosed heir could appear at your front doorstep demanding that you moveout, since they inherited a portion of the estate before the property was soldto you.

As you consider the potential value of title insurance, youshould know that there are two main types of title insurance that may beinvolved in your transaction --- lender's title insurance and owner's titleinsurance. Your lender will require youto purchase a lenders title insurance policy on their behalf. This policy willbe based on their interest in the property (the loan amount) and will allowthem to recoup that money should the house be reclaimed by a prior owner due toan unknown title defect.

The decision you will need to make at the closing table iswhether to purchase an owner's title insurance policy. This policy wouldprotect you from sustaining any future financial loss due to the discovery of atitle defect. Title insurance involves a one-time payment at closing, and thepolicy lasts as long as you own the property.

While every situation is different, in almost allsituations, I recommend that you buy title insurance.

Recent Articles: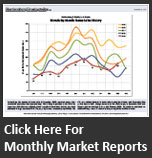 Subscribe

Receive notifications of new content on this blog, via e-mail or RSS reader.