Welcome! This blog tracks the real estate market in the Central Shenandoah Valley, featuring market data and analysis, an exploration of common buying and selling questions, and candid commentary on all things real estate.
If you are interested in discussing any of the topics on this blog, or the details of your specific real estate situation, call or e-mail me!
I always encourage (and enjoy) healthy skepticism about anything related to the state of the local housing market. If you think I'm off base with my analysis or predictions, let me know!

Revisiting some old exchanges with a reader of my blog, I find the excerpt below, from September 2009 (just over two years ago). This is just an excerpt of a longer exchange, but provides some interesting historical context....

On the other hand, Rockingham County real estate, while not "bubbling" quite like South Florida, California, and Arizona, is still outrageously overpriced. And, unfortunately, the area has yet to start correcting in any meaningful way. As my analyses have shown, the media house price to median family income ratio is still around 4 for this area (190k median house to ~50k median household income) – and the historic norm is closer to 2.5. This ratio will come back in line, which means a 30% + decrease in housing prices from current levels. Supporting this argument is the glut of houses on the market: there's over a 13 month supply of homes (and over 24 months supply in certain sectors). That's way too high. The law of supply and demand has to kick in sometime doesn't it?

So, were these predictions true? Did prices fall 30% from the levels seen in September 2009?

At the time of my September 2009 report, the median residential sales price for Harrisonburg and Rockingham County was $189,000 ($190K as rounded above). A 30% drop from that point would mean a return to a median sales price of $132,300. Did we make it there? Well, no, at least not yet.

The current median residential sales price (for 2011 YTD) is $175,000. This marks a 7% decline in sales prices -- so we apparently either have another 23% to decline, or perhaps it won't be a full 30% decline as predicted by my reader.

And how about those supply levels?

At the time (Sept 2009) there were 917 homes on the market and an average of 66.5 sales per month (Jan-Aug 2009) -- equating to 13.8 months of supply.

How about now? As of last month's market report, there were 810 homes on the market and an average of 65.3 sales per month (Jan-Oct 2011) -- equating to 12.4 months of supply.

So despite only a very small change in the oversupply of housing, we still have not seen very much of an adjustment in sales prices. Furthermore, if you believe my current predictions, we might finally be seeing a turning of the real estate market, as evidenced by:

The 2011 YTD sales pace is 3% higher than 2010 YTD despite last year's federal home buyer tax credit.
Contracts in 2011 YTD are 14% higher than 2010 YTD.
Inventory has declined 13% over the past year.
Foreclosures are slowing down after peaking last year.

OK -- now I'm ready for it. Tell me your predictions for the next few years in our local housing market. Feel free to comment below, or just shoot me an e-mail (scott@HarrisonburgHousingToday.com). Perhaps I'll hold onto your comments and reflect back on them two years from now!



Recent Articles: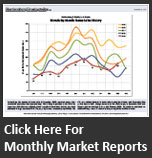 Subscribe

Receive notifications of new content on this blog, via e-mail or RSS reader.