Welcome! This blog tracks the real estate market in the Central Shenandoah Valley, featuring market data and analysis, an exploration of common buying and selling questions, and candid commentary on all things real estate.
If you are interested in discussing any of the topics on this blog, or the details of your specific real estate situation, call or e-mail me!
It is hard to do, but is still a reasonable approach.

I am working with three couples right now who each want to move to a new home. One family wants more space in the house, one wants more space around the house (land), and one wants to live in a different part of town. Each of these three couples must sell their home in order to buy a new home.

In our current market (with many more sellers than buyers) I always encourage seller/buyers (people who have to sell before buying) to put their house on the market before they make an offer on the replacement house. Since it is a lot easier to buy than it is to sell, it's usually best to start marketing your home for sale and seeking a buyer before you try to contract on the house that you are going to buy to replace your current home.

These three couples want to take a different approach, however, and it is quite understandable! As they look at the market to find homes that they might purchase they each find that there are not too many homes that meet their unique set of buying criteria -- size, price, location, etc. They thus conclude that they don't want to put their house on the market yet because if they don't find the right home, they won't sell their current home.

You might push back on that and suggest that they could and should go ahead and put their current home on the market anyhow, since they won't necessarily sell it right away, and because they could always turn down an offer from a buyer. Their position, however, runs deeper:

It can be a pain to get your house ready to go on the market.

There are often quite a few odd jobs that were never quite completed that need to be finished off on a home. Then there is getting rid of clutter, doing a really deep cleaning, and doing some staging. All of this seems quite unnecessary if you don't yet know if you will be able to find a home to buy in place of your current home!

It can be a pain to keep your house on the market.

I spoke to a homeowner this past weekend who was tired of selling his house. He was tired of people coming to look at his house and to then give him quite predictable feedback about what they didn't like about the house and what they think he should do differently. Again, putting up with all of this seems quite unnecessary if you aren't sure whether you'll be able to find a replacement home to buy.

So let's turn this all the way back around....

If you are hoping to sell your current home and buy a new home, the first step might not always be to put your house on the market. If you know of plenty of homes that you would buy as a replacement home, then it probably is appropriate to start by listing your home for sale. If, however, you aren't sure whether you'll be able to find a new home to buy, the most appropriate first step may be to start checking out the candidates for a replacement home before you go to the great lengths of putting your home on the market for sale.

Recent Articles: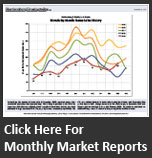 Subscribe

Receive notifications of new content on this blog, via e-mail or RSS reader.