Welcome! This blog tracks the real estate market in the Central Shenandoah Valley, featuring market data and analysis, an exploration of common buying and selling questions, and candid commentary on all things real estate.
If you are interested in discussing any of the topics on this blog, or the details of your specific real estate situation, call or e-mail me!
For each of the past four years, fewer and fewer home buyers have purchased homes in Harrisonburg and Rockingham County. The annual rate of home sales has declined from 1,669 in 2005 down to 816 in 2009 – a decline of more than 50%. Even though the first five months of 2010 indicate that sales activity may finally be starting to increase again, it is still a buyer's market. There are far more sellers needing, hoping or wanting to sell than there are buyers who need, hope or want to buy.

In many senses, this is great news for buyers – there are fewer buyers to compete with, and more houses to choose from. Add to that the amazingly low interest rates and you'll see why today's home buyer is excited to be in the market to buy. But despite this excitement, most buyers want to make sure they are making a wise investment. In years past, just about any home would do – when the overall market was increasing by 15% to 20% per year, just about any home would see great appreciation. Now, however, prices are holding relatively stable, so it becomes more important which house a buyer chooses. As you look at which particular house you choose, one perspective to consider is how you'll do when you re-sell the house you are buying.

Some homes currently for sale need updating – hardwood floors to be refinished, a roof to be replaced, wallpaper to be removed, or a driveway to be re-surfaced. These homes that are need of some updates can be a good opportunity for buyers – if the seller is pricing based on these imminent costs. An even better opportunity, however, is a home where

brand new value

can be added through your improvements. If you sand and stain the hardwood floors, you will have added value through improving the look and ambiance of the home – but you had hardwood floors before your work, and you still do. If you replace the roof, you will have added value through lower roof maintenance for the next buyer – but you had a roof before your work, and you still do. As you look at homes as a buyer you should not only look for updates that you might choose to or need to make, but also totally new areas where you can create space to add value. Homes with unfinished bonus rooms or unfinished basements offer lots of potential for adding brand new value. The layout of some homes invites the addition of a deck or screened porch – both of which add brand new value – or perhaps an existing porch can be converted into a sunroom. When you're just refinishing the existing spaces, you usually aren't changing the functional space offered to the next buyer – but if there is an easy way to add more functional spaces, this can offer you many options during your time of homeownership, and when you re-sell.

A second perspective to consider when buying in a buyer's market is the "

timeless value

" or quality found in a home you are considering. Look for appropriately sized rooms, the types of rooms that you use on a daily basis, and the quality of construction and craftsmanship that means your home will still look great in 5, 10 or 15 years. In this case, it's not just about buying the biggest house, or the house with the biggest yard. Some 2,000 square foot homes have layouts that won't fit most people's lifestyles, where an 1,800 square foot home down the street might be perfectly designed for comfortable daily use. In her very well read book,

The Not So Big House

,

Sarah Susanka

encourages us to think differently about the layout of a house:

"It's time for a different kind of house. A house that is more than square footage; a house that is Not So Big, where each room is used every day. A house with a floorplan inspired by our informal lifestyle instead of the way our grandparents lived. A house for the future that embraces a few well-work concepts from the past. A house that expresses our values and our personalities. It's time for the Not So Big House."

Saranka points out that it's not all about quantity in a house, but about quality – quality in design and materials.

Finally, it is very important to consider

location and neighborhood

, when buying a home in a buyer's market. A home can be beautiful, well designed, and desirable to all – but if it is located on a busy road, or in the far corner of the county, or on a street where most homes are old and poorly maintained, the future value of the home suddenly changes. Buying an older home, or one that needs work, can be a much better opportunity for you, as you have more control over the changes to the value of your home. You'll likely never reduce the traffic count on the road in front of your house, you'll never make city and employment growth stretch all the way out to your corner of the county, and you won't spend your free time fixing up the other ten houses on your block.

With many more homes for sale than buyers to buy them, and with amazingly low interest rates, and with fewer buyers to compete with when negotiating a deal with a seller, it can be a very exciting time to buy a home. When you do so, it is important to consider how well the home will fit your needs, but it is also wise to consider how the home you are considering will fare when you need to sell in 5, 10 or 15 years down the road.

Recent Articles: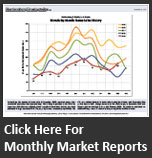 Subscribe

Receive notifications of new content on this blog, via e-mail or RSS reader.