Welcome! This blog tracks the real estate market in the Central Shenandoah Valley, featuring market data and analysis, an exploration of common buying and selling questions, and candid commentary on all things real estate.
If you are interested in discussing any of the topics on this blog, or the details of your specific real estate situation, call or e-mail me!
I was forwarded an

article from CNN Money

that offers an interesting perspective on understanding how home values may perform in the coming year(s)....

"In normal times, people won't pay much less to lease a house than to own it. After all, if you're paying rent instead of a mortgage and taxes, you still get to enjoy the same rec room, chef's kitchen, and casita for visiting grandparents. So the surest sign of a frenzy appears when owning becomes far more expensive than renting. That's precisely what happened during the last bubble."


This make sense to me. If it costs the same amount to buy as it does to rent, then someone would almost certainly buy instead of renting.

"On average, DB [Deutsche Bank] found that families across America were spending about87% as much to rent as to own in 1999. Hence, they were traditionallywilling to pay a premium as homeowners, though not a big one.

"

As one rough estimate, let's consider that new two-story Harrisonburg townhomes were selling for around $100k in 2000 (monthly cost of $720 with 100% financing at 6.75% fixed), and were leasing for around $725/month. Thus, per my rough estimates, the leasing and buying costs were quite similar.

"But by mid-2006, with the craze in full swing, the figure fell below60%. At that point, Americans were spending an incredible 66% more toown than to rent."


In 2006, these same townhomes were selling for $150k (monthly cost of $980 with 100% financing at 5.75% fixed), and were leasing for around $900/month. Thus, Harrisonburg also saw a shift in renting being much more affordable, but not nearly as significantly as in some areas.

"So how did that happen? During the bubble, rents -- the real enginethat drives values -- were inching along at more or less their usualpace. From 1999 to 2007, apartment rents increased only 32%. But homeprices jumped more than three times as fast, around 105%."


Per my numbers above, rents increased 24% in Harrisonburg (compared to 32% in the national study), and home prices jumped 50% (compared to 105% in the national study).

"At the end of the third quarter of 2009, the overall number stood at83%, meaning renting was just a tad more attractive than owning."


Interesting -- these townhomes are now selling at roughly $155k (monthly cost of $940 with 100% financing at 5% fixed), and are leasing for around $900/month. Still virtually equivant.

"Given that analysis, it's likely that prices will fall another 5% or sonationwide. The drop could even be slightly greater. One reason: Rents,the force that govern housing prices, are still falling.

"

Nationally, rental rates seem to be falling, though that is not largely the case in Harrisonburg. If prices had increased more drastically here, then prices would probably be falling more drastically here, and rental rates would also be falling more drastically.

Yet again, the Harrisonburg and Rockingham County housing market seems to have performed, and be performing in a more healthy manner than much of the balance of the nation.

Recent Articles: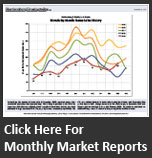 Subscribe

Receive notifications of new content on this blog, via e-mail or RSS reader.