Welcome! This blog tracks the real estate market in the Central Shenandoah Valley, featuring market data and analysis, an exploration of common buying and selling questions, and candid commentary on all things real estate.
If you are interested in discussing any of the topics on this blog, or the details of your specific real estate situation, call or e-mail me!
Much has changed in our local real estate market over the past threeyears, and yet, much has not changed at all. Let's examine today'smarket from the context of just three years ago. Back in November2006, my column in the Shenandoah Valley Business Journal includedthese excerpts:

November 2006

:"Today, many areas of the Shenandoah Valley are experiencing a buyer'smarket, which provides an excellent environment in which to buy a home…Today's buyers have the opportunity to aggressively negotiate on theirdream home."

In today's market we find that nearly everyarea of the Shenandoah Valley, in every price range, is experiencing abuyer's market. The supply of homes far exceeds the demand, providingbuyers with plenty of choices and negotiating ability when purchasing ahome.

November 2006

: "The average 30-year fixed mortgage rate is currently 6.4%, more than an entire percentage point below 2000 levels."

Today'srates are as low as 4.75%, with most buyer's rates hovering around 5%depending on their loan program and credit scores. It is indeedremarkable that the low interest rates from just three years ago arenow more than 1.5% lower today.

November 2006

: "With houses staying on the market longer, buyers have more choices than ever."

Inmost cases, houses are now staying on the market even longer than theywere three years ago, providing even more choices for buyers. Thissupply has not yet shown signs of declining, though the sales pace maybe solidifying after several years of declining numbers of home sales.

November 2006

: "Today's buyers have the opportunity to obtain unprecedented assistance in buying their home."

Thisstatement was in the context of sellers being willing to pay closingcosts, or to offer other incentives. There certainly wouldn't havebeen too many people, three years ago, who would have imagined that thefederal government would be offering an $8,000 tax credit to first timebuyers, and a $6,500 tax credit to long term owners of principalresidences. This statement from the past is true yet again, but in anew context – buyers have yet more unprecedented assistance in today'smarket!

November 2006

:"With so many benefits to homeownership, plus the advantages offered bypresent market conditions, anyone who was considering buying in thenext one to two years should consider doing so now. The future islikely to offer higher prices, higher interest rates, fewer choices andfewer buyer incentives."

Three years later, we aren't yetseeing higher prices, or higher interest rates, or fewer choices, orfewer buyer incentives. Thus, there are still great opportunities forbuyers in today's local real estate market --- but with one significantcaveat. Over the past three years, prices haven't fallen, which iswonderful, but they also haven't increased. Today's buyers, therefore,should only consider a purchase if they will stay in their home forthree or more (or five or more) years. The days of recent past when abuyer could sell a year later for a profit are certainly no longer areality.

As always, in real estate,

context is of utmost importance

. Over the past three years, median home prices in Harrisonburg andRockingham have fallen by 1.5%. In a vacuum, this isn't overlyexciting or depressing. Consider that most other areas in the countryhave seen value declines of 20% in the same time period, and it's a bitmore exciting. Consider that our local home values increased by 51% inthe preceding three years (2003-2006), and it's even more exciting!

Recent Articles: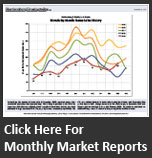 Subscribe

Receive notifications of new content on this blog, via e-mail or RSS reader.