Welcome! This blog tracks the real estate market in the Central Shenandoah Valley, featuring market data and analysis, an exploration of common buying and selling questions, and candid commentary on all things real estate.
If you are interested in discussing any of the topics on this blog, or the details of your specific real estate situation, call or e-mail me!
Archive for July 2008
These days, most real estate web sites allow you to view properties listed by any agent or company in the area.

My web site

works this way --- when you are

searching for properties

, you won't just find properties being marketed by Coldwell Banker Funkhouser Realtors.

But what you see on a Realtor's or Brokerage's web site is a subset of the information that is in the MLS (multiple listing service). Here's an example of what you would see for the property located at

409 Diana Court --- a spacious, like new duplex with 1900+ square feet on the south end of Harrisonburg

.

But perhaps you would like more information about a property that you are looking at online. If so --- just e-mail me (

scott@cbfunkhouser.com

) or call me (540-578-0102), and I'd be happy to provide you with the fuller report on the property available through the MLS. Here's what that looks like...

The information you find on my web site, or any other public web site, is limited to the fields that our local Realtor association allows us to display on a public web site. The other details can certainly be helpful, so please e-mail (

scott@cbfunkhouser.com

) or call (540-578-0102), if you'd like to see the full report.

OH --- and if you're looking for even MORE information, don't forget about the many

online resources for researching properties in Harrisonburg and Rockingham County

.
2991 Taylor Spring Lane is a three-level townhome in Taylor Spring subdivision with three bedrooms, two full bathrooms, and a half bathroom. In addition to the 1400 finished square feet above ground, the home has a 700 square foot unfinished basement. Oh --- and as is evident from the photo on the right, this is an end unit with a brick facade!

The property was originally purchased in March 2004 for $126,540. The deed of trust that may be foreclosed upon is dated August 30, 2004 and is in the amount of $135,000. Thus --- even if the principal balance had not been reduced at all by regular monthly payments --- a $62,900 opportunity may exist. This equity gap is based on the current assessed value of $197,900 and the original principal balance of $135,000.

If you're interested, the trustee sale will take place on July 15, 2008 at 4:30 p.m. at the Rockingham County Circuit Court.

A few other articles that might be helpful for understanding the foreclosure process include:

And if you'd like to see other comparable Taylor Spring properties currently on the market,

click here

.
The townhome located at 2979 Diamond Spring Lane (pictured to the right) may soon be sold at a trustee sale. The property was originally purchased for $200,345 on July 31, 2006. The mortgage that may be foreclosed on had an original principal amount of $160,000.

This townhome (circa 2006) features three bedrooms, two full baths, a half bath, and over 1500 finished square feet. The current assessed value of the property is $189,300 --- thus, compared to the original principal amount of the deed of trust, an opportunity exists for at least $29,300 of equity.

Click here to view other townhomes currently for sale in Taylor Spring.

The trustee sale is scheduled for July 16, 2008 at 3:30 p.m. at the Rockingham County Circuit Court. A deposit of $15,000 (cash or certified check) will be required at the time of the sale.

To learn more about foreclosures, you might consider reading these articles:
Driving around town, you might see quite a few "Price Reduced" riders on real estate signs.

Have you ever wondered whether most sellers are holding fast, or reducing their asking price?

Let's take a look....

In Harrisonburg and Rockingham County, there are currently 953 residential properties on the market (single family, townhome, condos) without a contract on them.

In the past 30 days (June 2008), 134 of those properties had a price change (that's 14% of the active inventory).

I'm going to assume most of those were price reductions, although some could have (??) been price increases. (It isn't possible via our MLS to see en masse whether the prices went up or down).

In the past three months (April, May, June 2008), 293 of these properties had a price change --- that's 31% of the active inventory.

And if we look at all of the listings to see how many have, versus have not EVER had a price change, here's what we find:

384 listings have had a price change (40%)
569 listings have NEVER had a price change (60%)

This is rather interesting (in my view), as I suspected that most owners may have reduced their price at some point while it has been on the market.

But in fact, most home sellers (60%) have NEVER reduced their asking price.



Here are some other interesting stats looking at

how long properties have been on the market

.
Some would say that as a Realtor, I am a salesman. In fact, when I am representing a Seller, I am working diligently to sell their house. But when I am representing a buyer, I view my role a bit differently....

Salesman vs. Consultant
When I am working with buyer clients, looking at homes, I am never trying to convince them to buy a particular home. I am not trying to sell them on the merits of a particular house. What I am doing is trying to understand their housing needs and desires and to help them evaluate each home to determine whether it will meet their needs, and fulfill their desires. I am a real estate consultant, helping them to examine each critical aspect of a home to make a wise buying decision.

And yet sometimes (in retrospect) it would have helped my buyer clients if I were a bit more coercive!
I have now had two clients in the past two weeks who knew what house they were going to buy, but held off (for valid reasons) on making an offer. Then, in the time that they waited, interest rates went up, the associated monthly payment increased, and they were not comfortable buying anymore. If they had made an offer sooner, they would have finalized their financing, locked in their rate, and they would have been able to buy the house they had hoped to live in.

Rates aren't likely to go up drastically in the next few days, weeks, or months, but they are increasing --- and an increased rate changes your monthly housing costs.

Given this interest rate context --- I advise you to act speedily once you know which house you would like to purchase!

Read a bit more about pre-qualification here.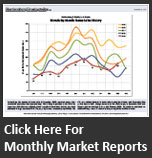 Subscribe

Receive notifications of new content on this blog, via e-mail or RSS reader.