Welcome! This blog tracks the real estate market in the Central Shenandoah Valley, featuring market data and analysis, an exploration of common buying and selling questions, and candid commentary on all things real estate.
If you are interested in discussing any of the topics on this blog, or the details of your specific real estate situation, call or e-mail me!
Josh posed the question

of whether Realtors make extraordinary profits on home sales, and suggested I shed some light on the matter. I'd be happy to do so --- and I'll start with Josh's proposed example of a $100,000 home (though there aren't too many of those out there).

One Quick Assumption . . .

Upon the closed sale, Realtors are typically paid an amount derived from a percentage of the sale price of the property being sold. This percentage (the "real estate commission" or "brokerage fee") varies from company to company, from agent to agent, and can be negotiated. The sellers of all of the properties that I am currently marketing will pay either a 5% or 6% commission. Thus, for this example, we'll split the difference and use 5.5% as the sample brokerage fee.

At First You Would Think . . .

Many people would simply multiply the sales price ($100k) by the commission (5.5%) and assume that once I sell this fictional $100,000 home, I'd pocket $5,500. Could that be true??

"Sellers Agents" and "Buyers Agents"

The total commission that the seller pays is actually split (typically in half) between the Realtor representing the seller and the Realtor representing the buyer. While it is legal for a Realtor to represent both buyer and seller in a transaction, and many Realtors do so quite skillfully, it is not a practice that I encourage, as it can limit the representation that each party receives. As a result, and since in 95% (plus) of my transactions I am only representing one party, we will now divide the $5,500 by 2, and have $2,750 remaining.

The Company Has Costs Too

The remaining $2,750 is now split (again!) between the Realtor representing the seller (or buyer) and the company for which they work. Different companies have different arrangements as far as this split --- ranging from 50% to the Realtor to as high as 90% to the Realtor. Most companies are within the 50% to 75% range, so I'll average the limits of that range, and use 62.5% for our example. This leaves $1,719 to the Realtor. However, in my case, we pay a small percentage of each commission to Coldwell Banker Corporate (since we are a part of a national franchise), which actually leaves me with $1,616.

And Then There Are The Agent's Costs

If we are to compare a Realtors income to anyone else's income, we must next take out my business expenses. Last year (2007) my expenses were approximately 21% of my gross income. Some of these expenses are related to a single transaction (marketing costs, for example), and some are related to my overall business (Realtor association membership, MLS membership, office expenses, education/training expenses, etc.). Thus, the figure above ($1,616) is now reduced to $1,277.

Let's Extrapolate!

That final "profit" on the $100,000 sale was $1,277 --- which is 1.28% of the sale price. Thus, if all of the variables remained the same, here are some additional profit points:

$100,000 = $1,277

$185,700 = $2,377 (April 2008's median sales price)

$300,000 = $3,840 (a very nice home)

$500,000 = $6,400 (a very, very nice home)

Let's Compare Again

When we began, some might have made the assumption that I would have pocketed $5,500 on a $100k sale --- when in reality, I only profit $1,277. Along the same lines, someone selling a $300,000 home might think I would be pocketing $16,500 (wow!) --- when in reality, I only profit $3,840.

The Question At Hand

Returning to the original thought/question --- do Realtors make extraordinary profits? In my opinion, no --- in some transactions I am paid appropriately for the service, knowledge, marketing, representation, negotiation and expertise that I provided to my clients. In some transactions, I am underpaid. And in some cases, I provide such services to a buyer or seller for months, and am never compensated at all (if they do not buy or sell).

I hope this has shed some light on how compensation works in the real estate world (at least in my real estate world), and I certainly welcome other thoughts, questions, and perspectives!

Recent Articles: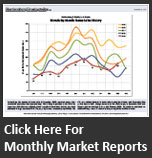 Subscribe

Receive notifications of new content on this blog, via e-mail or RSS reader.